It's a brand new Murder/Mystery for Arkham Horror and a new Dynasty Pack for Legend of the Five Rings this week from FFG!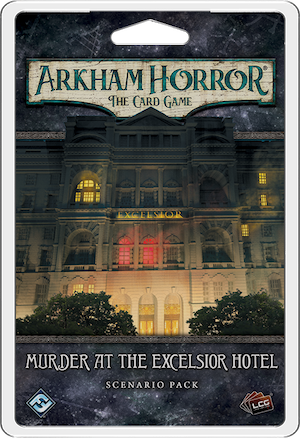 After reports of strange occurrences at Arkham's most prestigious hotel reach your ears, you are summoned to the location by a mysterious note. You are just beginning to properly conduct your investigation when you suddenly black out. Once you come to, you find yourself standing over a man's body. Multiple stab wounds perforate his chest and blood covers the floor. What the hell happened? And why can't you remember a thing? Now as the authorities are on your tail, it is up to your team of investigators to solve the murder and clear your name before you are thrown in prison for the rest of your life. Can you figure out the truth behind this grisly murder? Or will you be the next victim?
Investigators must solve the Murder at the Excelsior Hotel in this special scenario for Arkham Horror: The Card Game. With the clock ticking and danger around every corner, can you figure out the truth before time runs out? This scenario can be played as a standalone scenario, or inserted into a campaign as a side-story.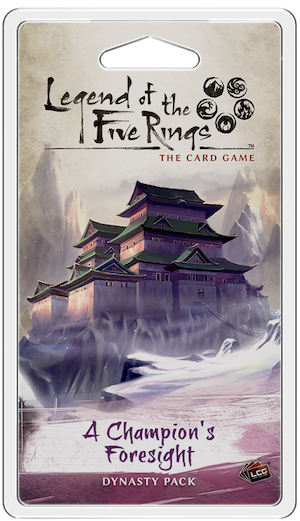 The future is difficult to determine in the world of Rokugan. Few could predict the increasingly complicated political situation the Emerald Empire has become embroiled in. But there is one who claims to have forseen the path of Rokugan: the enigmatic Togashi Yokuni. The Dragon Clan Champion has glimpsed the Rising Wave, the strife coming to Rokugan. But what actions has he taken? Where has he sent the Army of the Rising Wave and what do they hope to accomplish?
Fantasy Flight games is proud to announce A Champion's Foresight, the fifth dynasty pack in the Inheritance cycle for Legend of the Five Rings: The Card Game!
A Champion's Foresight continues the themes of the Inheritance cycle, lending support to the Bushi and Courtiers of Rokugan. It also introduces two new provinces, and a new Stronghold for the enigmatic Dragon Clan.
Can you solve the murder before you become the next victim?