Mansions of Madness getting a new expansion and this one takes you deep into the jungle – check out Path of the Serpent!
Fantasy Flight Games is taking back into the Mansions of Madness with a trip to the jungle – yep, you read that right. I know that the jungle isn't exactly where you picture Mansions, but stick with us – it's a thing in Arkham Horror. How exactly do you get from the fictional town of Arkham into the deep jungle? A garden party of course!
"Adventure calls to you from the darkest corners of the jungle in Path of the Serpent. This expansion for Mansions of Madness throws your team of investigators into dangerous adventures the likes of which you have never encountered before in Arkham. A simple garden party turns deadly when a sudden rumble shifts the landscape into a tropical forest; a mission to assist an expedition team is threatened by a mysterious entity hidden in the dark; and an eldritch rite within the halls of an impossibly ancient temple threatens to destroy the world as we know it."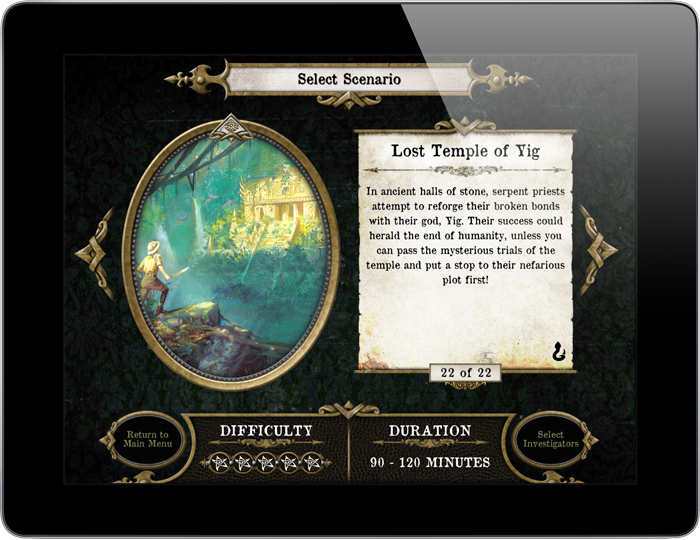 The Lost Temple of Yig has somehow drawn you in. Yig, of course, is a bit of Lovecraftian Snake God. In the Arkham Horror Universe, Yig is closely associated with Mesoamerican cultures. If you've played the Forgotten Age Mythos Cycle from Arkham Horror: The Card Game, then you're probably already familiar with this setup. Anyhow, having not played this particular scenario, my guess is that your garden party was a bit more involved with Yig and his temple than your host let on.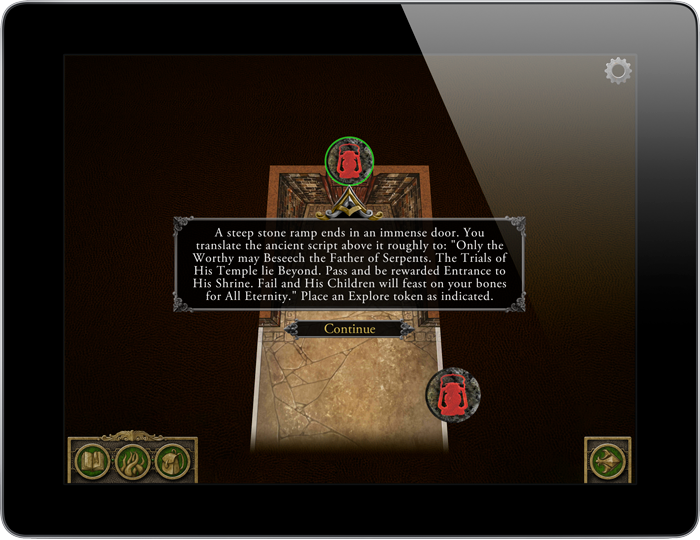 However you end up there, you're on an adventure to stop Yig's followers from completing their task – whatever nefarious task that might be. Also, I hope you're ready to deal with snakes because that's kind of Yig's thing.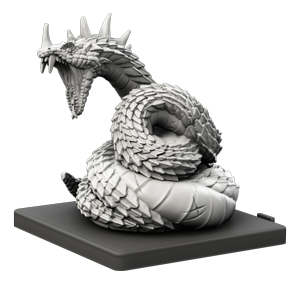 One other unique thing about this particular scenario is that the app has some tricks up it's digital sleeves.
"Instead of having a collection of pre-built alternate maps that you can explore during your adventure, the map in Lost Temple of Yig changes with every playthrough, drawing from a pool of pre-made rooms that may move each time. Whenever one of your investigators open a door in this scenario, the app picks a room behind it, and the vast, twisting temple has more rooms than there are areas on the map, so there is no way to see all the rooms during a single playthrough."
That's right, folks – it's going to be semi-random! This should increase the replay value and of course make each playthrough different. No word on how many different variations there are, but I'm betting it's going to be more than your typical gaming group will ever finish!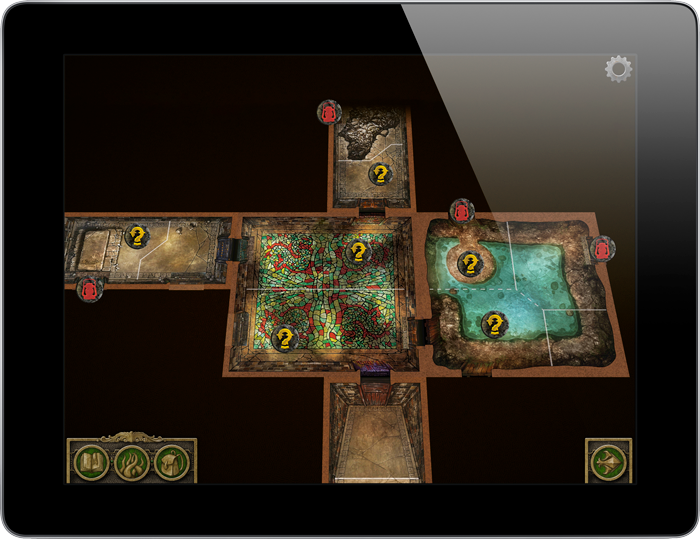 If you're new to the Mansions of Madness, you'll want to get the core game first and then pick-up this expansion. But the replay value alone makes this one very unique! Path of the Serpent is currently available for pre-order!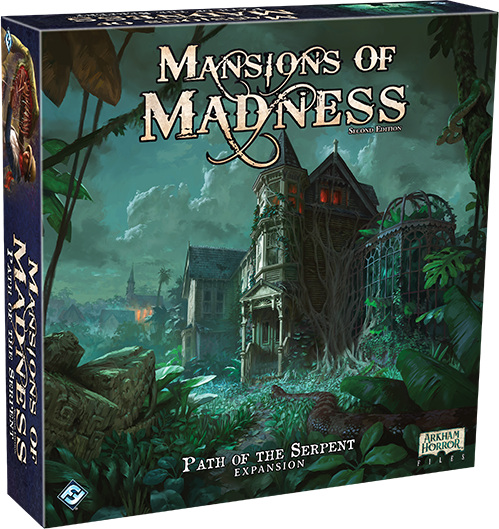 For all its primal beauty, the thick trees and lush greenery of the jungle conceal many perils. Unrelenting heat, limited supplies, and sharp-toothed beasts would be enough to drive any intrepid explorer back to the comforts of civilized society. Those that survive these ordinary dangers are rewarded only with more challenges: cursed idols, trap-filled temples, and long-forgotten gods await any who would dare to uncover them.

Path of the Serpent is an expansion for Mansions of Madness that sends investigators into the unexplored wilderness of the Amazon jungle. Investigators must discover ancient secrets of lost civilizations, stop a serpent's curse, and explore crumbling ruins in three new digital scenarios that introduce new investigators, puzzles, and mysteries to tempt the curious to travel deeper into the jungle. You will need to fight tooth and claw to survive as you battle horrifying serpent creatures, face stone monstrosities that come to life, and face the ever-present danger of becoming lost to the jungle forever. Journey into the forgotten reaches of this world and discover the secrets that await!