A truly modular castle system, fowl halfing knights, and adventures in mall drama and romance.  Come check out this week's batch of crowdfunding highlights!
This is the stand out for me this week – the system is elegant, offers a lot of options, and the creators have worked hard to make sure they have the right manufacturing partners to ensure backers get a top quality product. This system could work for skirmish games and modular pieces for larger scale battles, as well as RPG adventures.
Note: there are more kits and options available than what are shown in the video – including a set of modular dungeon floor tiles if you prefer a more open map experience. It's definitely worth checking out the KS page to see all of the options.
Castle! is a project about building castles. It's a project about tearing those castles down. Then building them again. Or building something else. This is a project about you being in control of the buildings you use in your games. We've been playing RPGs for over 60 years combined (oh MAN we're old!) and we wanted to create a system that did the stuff no other system does. 
 Fully modular – invest once and get a set of elements to infinitely redesign your castle to meet all your castle/tower/dungeon needs every session.
 Multiple Levels – that's right! For the first time ever, build a tower with unique rooms on each level! Easily unveil each level as the players progress through your creation.
 Durable – our patented peg system means that you can build your castle at home and then transport it without the castle collapsing.
 Quality – we have partnered with a quality manufacturer to bring you castle walls made from solid resin, not light hollow plastic.
 Realistic – with textures based on real stone and wood, our walls and floors look natural.
You can pick up the base set (The Blockhouse) that has 45 castle parts and 100 pegs for $109 – other options are available.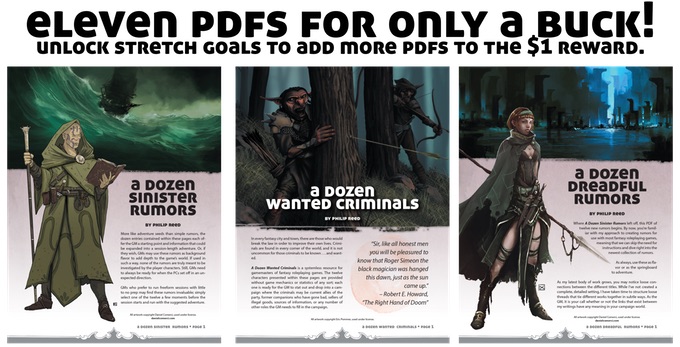 This personal project from Steve Jackson Games CEO Philip Reed is a no brainer add on for every GM's toolkit, especially for the price.
Rumors can be a blast to imagine; they give the GM a bit of flavor to sprinkle into the campaign's background and, at times, can inspire the GM to create a session-length adventure from the loose threads and ideas detailed in the rumor's description. Each rumor is designed to fit on a single page (with artwork), so that you may print only the page that you need for your next game session. A Dozen Sinister Rumors comes in at 14 pages and includes — as you may have guessed from the title — twelve different rumors + a cover page and a page outlining the anatomy of a rumor (as well as tips on using the rumors in your game).
You can pick up a PDF with stretch goals for $1.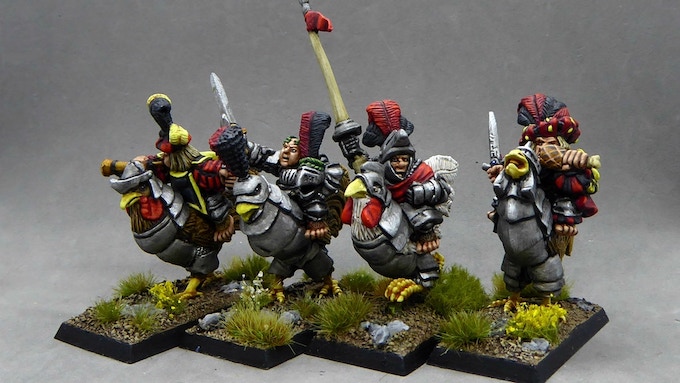 I'm a fan of whimsy, and these 28mm halfling rooster knights fit the bill. The 28mm multipart minis come in packs with ten halfling miniatures and four different armored roosters available.
You can snag a unit of ten for $53 – other options are available.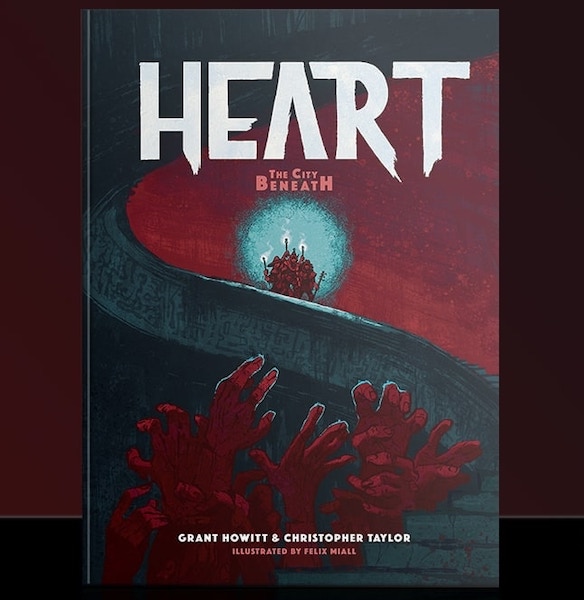 Form the creators of Spire, this stand alone adventure that has everything you need to further explore the universe. It has some fantastic art. All backers will gain immediate access to quickstart rules.
Heart: The City Beneath is a game about delving into a nightmare undercity that will give you everything you've ever dreamed of – or kill you in the process. It is a dungeon-crawling, story-forward tabletop RPG from the designers of Spire that focuses on what characters have to lose in pursuit of their dreams in the chaotic darkness beneath the world.
A hardback version with PDF is $45.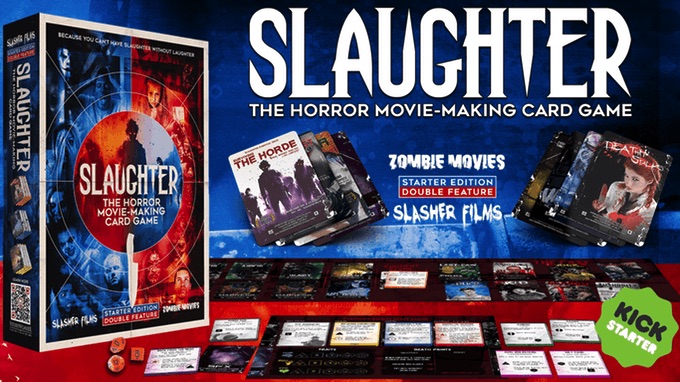 This looks like a great party game for horror buffs – the challenge will be creating something worse than Uwe Boll or more ridiculous than Night of the Lepus.
Slaughter is a card-based horror game where you and your friends collaboratively spin outrageous horror movies. Every story is unique. Every story wildly imaginative. With Slaughter, you will create lovable, fun and ultimately flawed characters… and then take sinful pleasure in killing them off in ghastly ways. Yes, this is a game all about the darker side of human – and inhuman – nature. But it also has a sense of humor. After all, you can't have Slaughter, without laughter! 
The game rules are decidedly simple. Perfect for introducing friends to gaming, or for getting the regular gaming gang together for an evening of murder and mayhem.
You can get the core game for $53 (early bird) – expansions are available.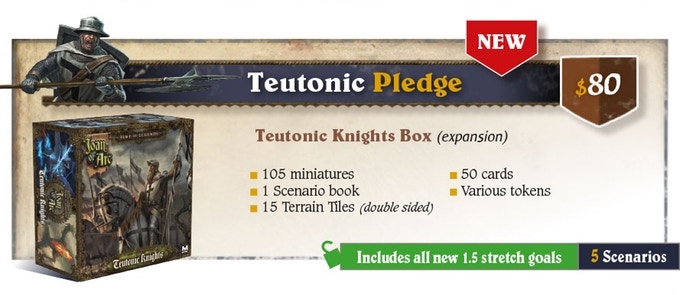 The smash-hit miniatures board game, Time of Legends: Joan of Arc, returns to Kickstarter this fall with a brand new expansion featuring scenarios with the characters, battles and mythology of the Teutonic Knights and their adversaries! The entire range from the original Joan of Arc campaign will be updated and available for new and returning backers alike!
The Knights expansion with stretch goals is $80 – other options are available.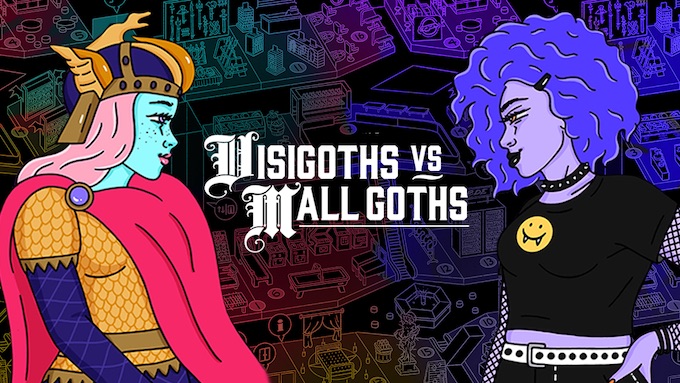 This week's wildcard is for fans of 1990s teen movies and retro culture that like open world RPGs. It's built for 4 to 6 players plus a GM aka Mallrat. The creators support Kickstarter United, if that's a factor in choosing what you back.
Visigoths vs. Mall Goths is a tabletop roleplaying game and dating sim about the conflicts and romances among the warriors who sacked ancient Rome and 20th century spooky teens, set in a shopping mall in a Los Angeles suburb in 1996. There are a lot of bisexuals. The plot structure of Visigoths vs. Mall Goths resembles an open-world videogame RPG. Designed for either one-shot or campaign play, each adventure episode offers several quests that you may choose to pursue (or ignore), and the mall setting is packed with many strange retro marvels to discover. Or you can just replay the game over and over to kiss all the kissable clerks.
A full color PDF is $12 and you can pick up a hardcover for $25.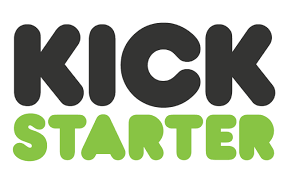 ~Which Of These Campaigns Caught Your Attention?