Age of Sigmar: Our Favorite Start Collecting! Box Deals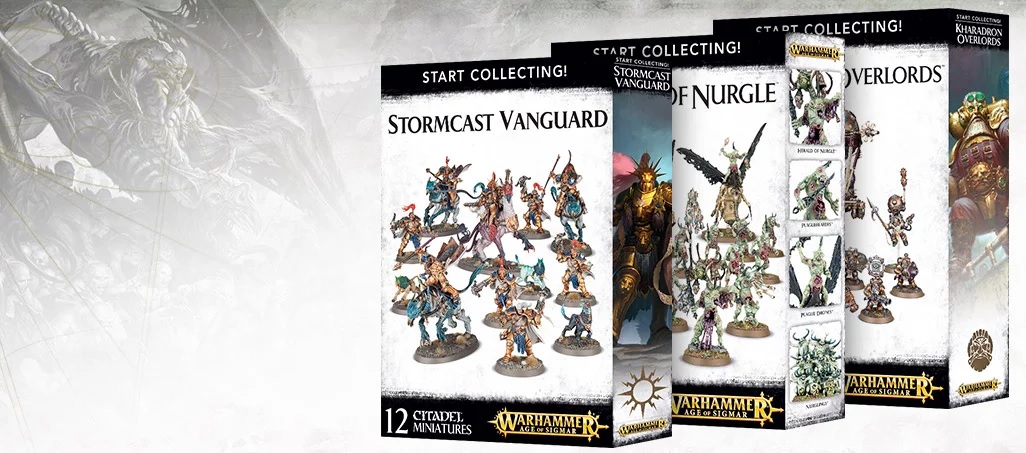 If you're looking to get the best bang for your buck the Start Collecting! Box deals from GW are a great start – Here are our favorites!
With the holidays coming up, now is the perfect time to start budgeting for that special hobbyist in your life. Or maybe you're just looking for a few hints to drop to your clueless family members for your OWN hobby needs. Regardless of who's buying, the Start Collecting! Box deals are a great buy for pretty much anyone looking to start one of these armies. That said, we've got our favorites for different reasons. Here they are and why we like them so much!
Note: If we didn't pick the army you're playing it's not that we didn't like it as a deal – it's just that your army is terrible and no one likes you we have a difference of opinion and that's okay, too. It's your army, you do what you want!
All The Chaos Daemon Start Collecting! Boxes

Is it cheating to list all 4 of the Chaos Daemon boxes first as a single entry? I don't know – but that's where we're starting! Why these boxes? Well for starters, you can buy these boxes in any combination for the army you want to play and all the parts are usable to some degree or another. Each box comes with at least 1 troop/battleline option and some of the "fancier" elite options, too. If you just wanted to run a straight Slaanesh force, buy a box or two of the Slaanesh daemons and you've got a solid start – same for any of these boxes. Or you could buy one of each and have an "insta-grow" chaos daemon army. Pick up a Daemon Prince or other suitable character and you're set.
But the best reason to buy any of these boxes is that it's two-armies for the price of one as you can use them in both AoS and 40k – although you will probably get some mixed results in either system.
Beastclaw Raiders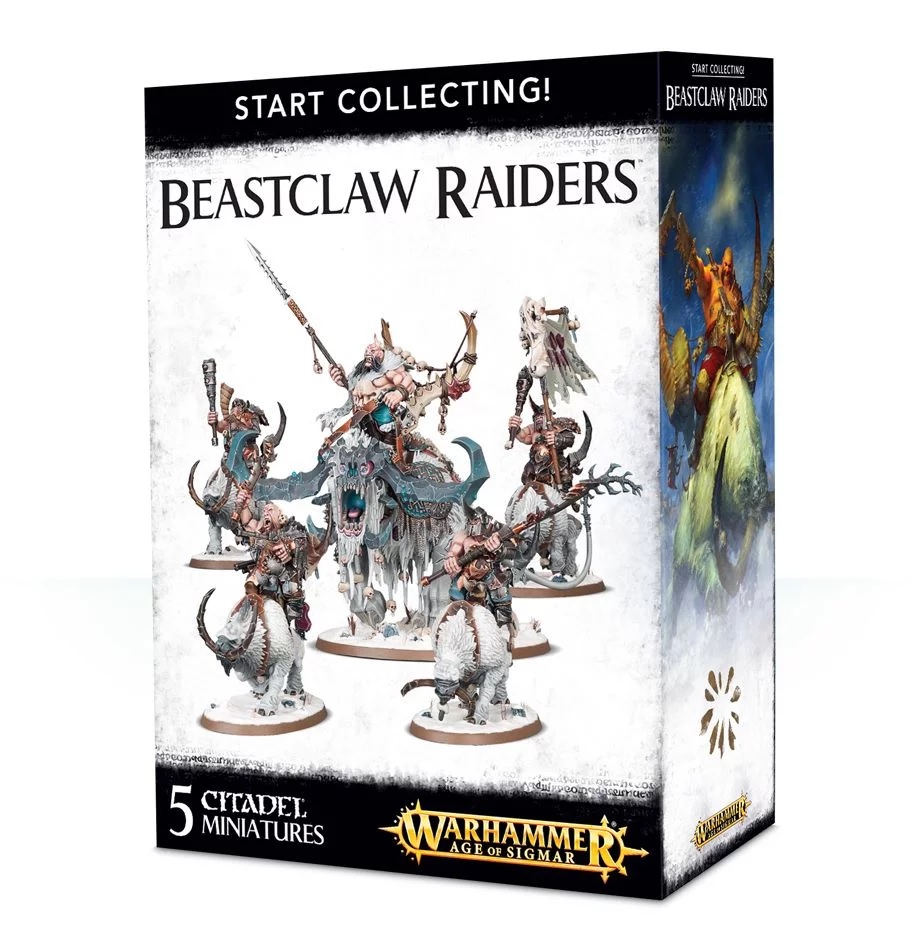 This is a great buy and a great addition for anyone who is using the Ogor half of Feast of Bones. The Stonehorn can also be assembled as a Thundertusk and gives you some options. And the Mournfang Pack is a mean cavalry option that also packs a punch! Heck, if you got two of these boxes, you'd have the core of a mean list – I know because I've seen it in action. You can take it in a few directions but it's a versatile enough that between this and Feast of Bones you can't really go wrong. Add a Butcher to your shopping list along with the Great Mawpot and you're off to the buffet!
Skeleton Horde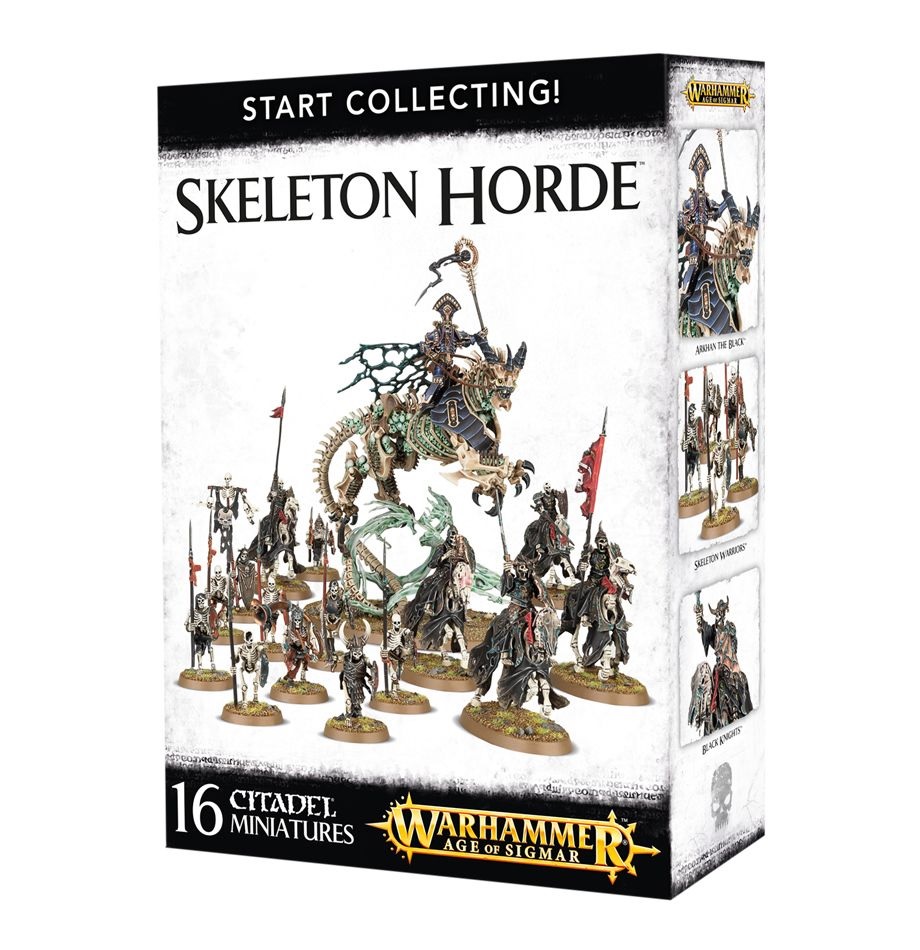 This is another box that is a steal of a deal. If you're playing Death – and I really mean any flavor of Death (except for maybe Flesh-Eater Courts which has it's OWN Start Collecting! Box anyhow), then you should consider this box. For starters Arkhan The Black is a really great kit that can be built in 1 of 3 ways – you can go with Vlad or Neferata as well as Arkhan. The Black Knights can also be built as Hexwraiths and Skeletons are …well Skeletons. If you're playing undead, you'll find a use for 10 of them and if nothing else, they can make some cool grave markers or terrain or SOMETHING spooky. Price-wise, Arkhan cost $80 USD and the boxed set is $90. Even if you're not planning on using any of those other models they could make for great trade bait or bits! That's a deal.
Skaven Pestilens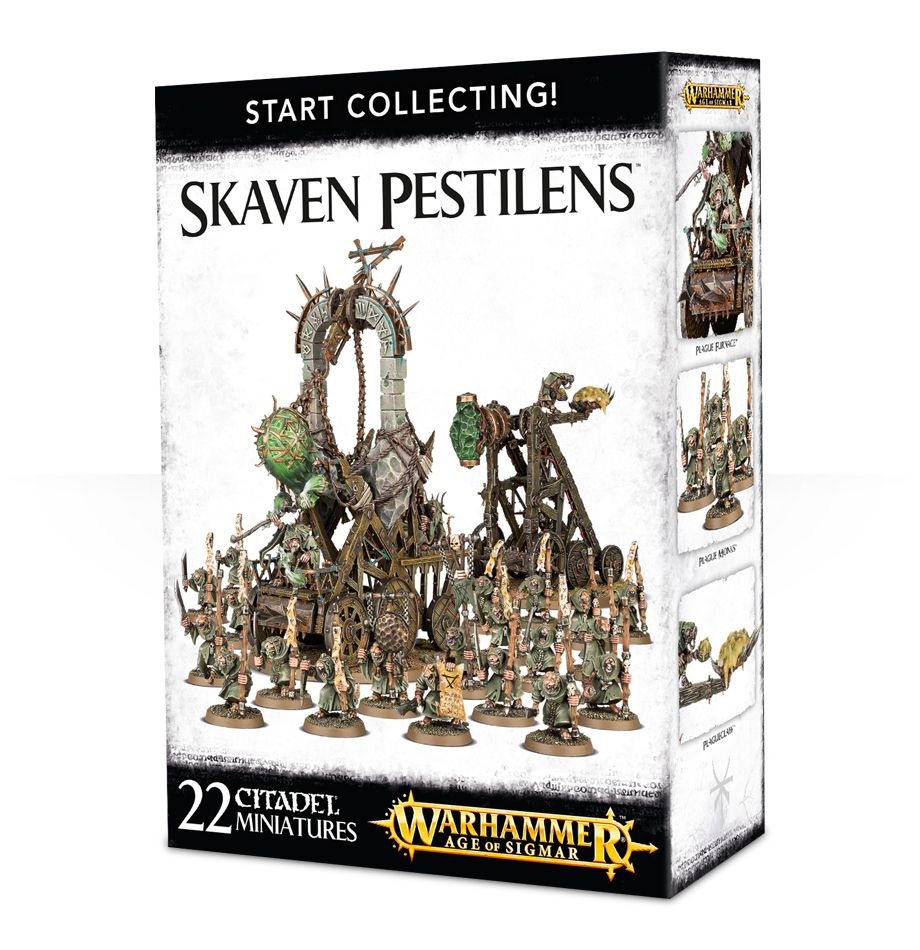 You get 2 Warmachines and 20 Plaguemonks for $90 – that's just a good deal. It's arguably a better deal than the new Battleforce Box which kind of copies this box and then adds more. That said, if you're going to start skaven the Battleforce is a pretty great deal. But at any other time of year, this is a great way to fill out your ranks. The Plague Furnace can also be assembled as a Screaming Bell which is just as fantastic. You really can't go wrong with this one.
Subscribe to our newsletter!
Get Tabletop, RPG & Pop Culture news delivered directly to your inbox.
Fyreslayers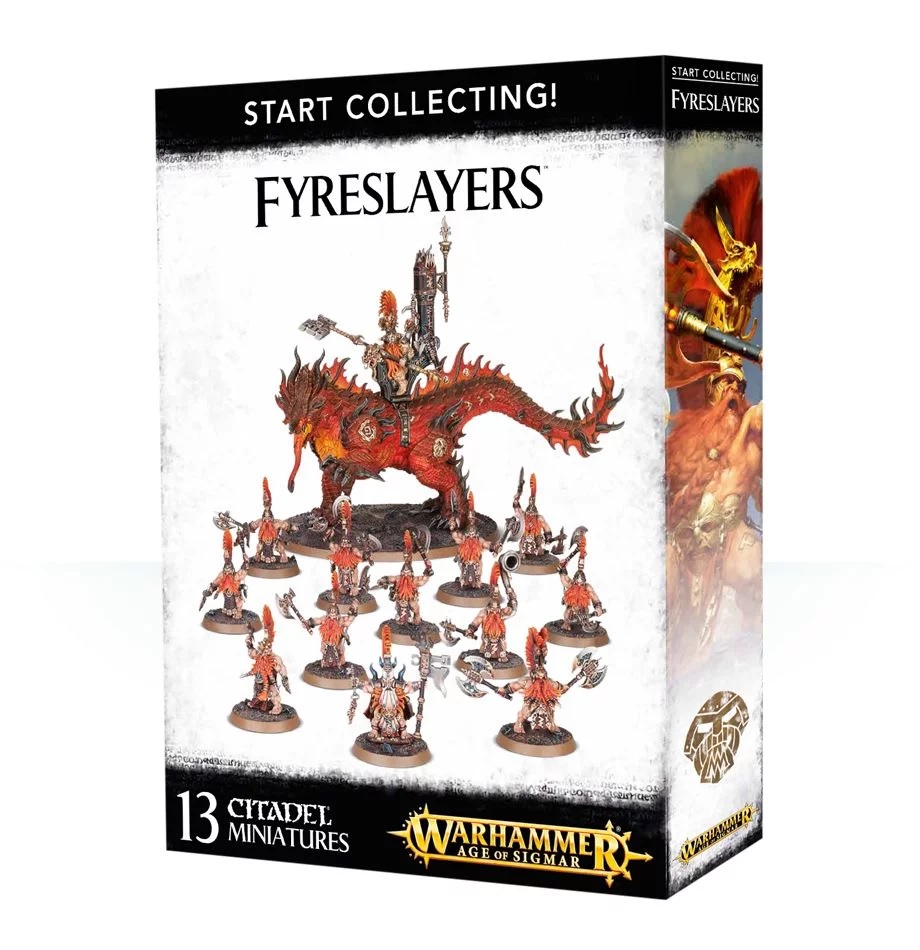 This ones seems like the biggest no-brainer of them all. This box retails for $95. The Magmadroth inside the box retails by itself for $95. Do we really need to spell this one out? If you were ever planning on playing Fyreslayers and wanted a Magmadroth (or 3) in a list just buy this box. It's the same price and you'll get a bunch of extra dudes!
What Age of Sigmar Start Collecting! Box deal is your favorite and why?