Fantasy Flight Games New Releases: Marvel Champions & More

Fantasy Flight Games is launching their brand new LCG with Marvel Champions plus a bunch of other offerings this weekend!
Rhino rampages through the streets of New York, Klaw peddles illegal weapons to the world's most dangerous criminals, Ultron threatens global annihilation. The world needs champions to stop these villains, are you up to the task?
Harness the power of a hero in Marvel Champions: The Card Game Core Set, a cooperative Living Card Game of super heroics for 1-4 players!
Marvel Champions: The Card Game sees players taking on the roles of the iconic heroes of the Marvel universe as they try to stop infamous villains from enacting their devious schemes. With  over 350 cards, 100 tokens, five hit point trackers, and more, The Marvel Champions: The Card Game Core Set gives you everything you need to start your journey in the Marvel universe. Choose to play as Iron Man, Captain Marvel, Spider-Man, Black Panther, and She-Hulk! Combine your powers to take down the rampaging Rhino, the devious Klaw, or the utterly terrifying Ultron!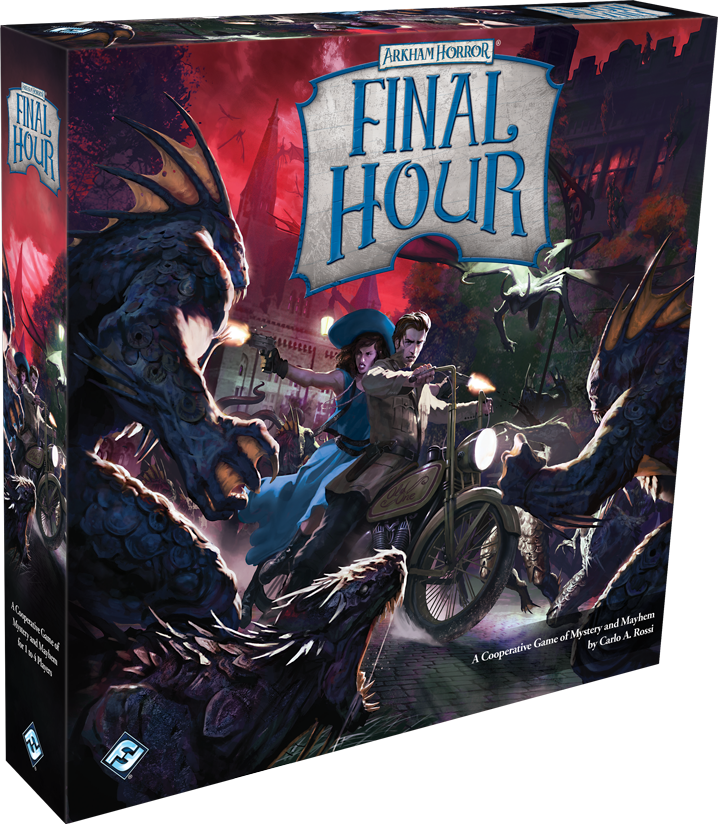 You arrived too late to stop the loathsome rite, and a monstrous, transdimensional Ancient One tears through reality. An iridescent rift slashes across the darkened skies, heralding the nightmarish creatures that pour into the hallowed buildings of Miskatonic University. As howls and screams cut through the night, there is only one path left for your fearless investigators—hold back the horde long enough to somehow reverse the summoning.
Arkham Horror: Final Hour is a fully cooperative, fast-paced board game for one to four players. An endless tide of monsters sweeps across the Miskatonic University campus, and you must hold them back, all while searching desperately for the ritual components you need to put an end to this insanity. Playable in under 60 minutes, your fate depends on cooperation between you and your fellow investigators. The odds against you are astronomical, but if you don't succeed, this will indeed be the final hour for Arkham… and the world.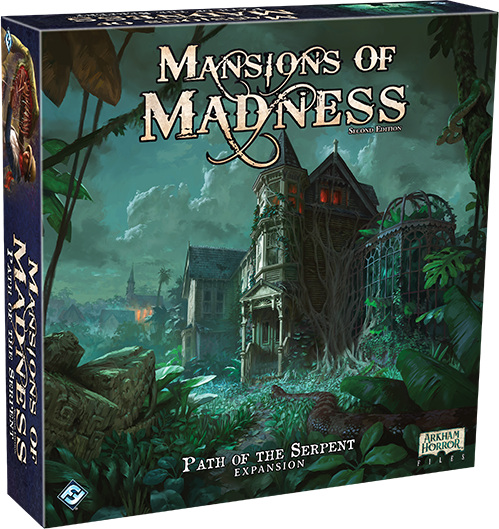 For all its primal beauty, the thick trees and lush greenery of the jungle conceal many perils. Unrelenting heat, limited supplies, and sharp-toothed beasts would be enough to drive any intrepid explorer back to the comforts of civilized society. Those that survive these ordinary dangers are rewarded only with more challenges: cursed idols, trap-filled temples, and long-forgotten gods await any who would dare to uncover them.
Path of the Serpent is an expansion for Mansions of Madness that sends investigators into the unexplored wilderness of the Amazon jungle. Investigators must discover ancient secrets of lost civilizations, stop a serpent's curse, and explore crumbling ruins in three new digital scenarios that introduce new investigators, puzzles, and mysteries to tempt the curious to travel deeper into the jungle. You will need to fight tooth and claw to survive as you battle horrifying serpent creatures, face stone monstrosities that come to life, and face the ever-present danger of becoming lost to the jungle forever. Journey into the forgotten reaches of this world and discover the secrets that await!
Subscribe to our newsletter!
Get Tabletop, RPG & Pop Culture news delivered directly to your inbox.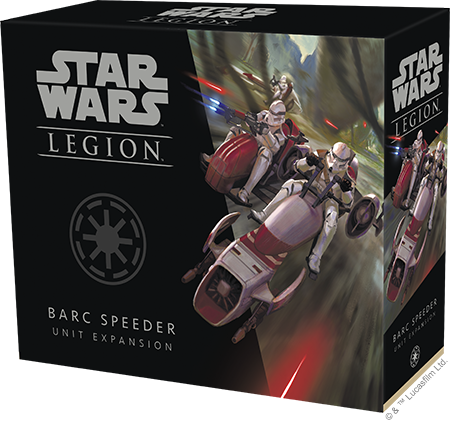 Versatile and swift, BARC speeders are designed to assist clone troopers as they scout the field, protect key targets, and launch rapid surprise attacks. These durable speeder bikes are armed with heavy blasters and fitted with powerful engines, making them useful in nearly any theater of ground war across the galaxy.
Within the BARC Speeder Unit Expansion, you'll find one unpainted, finely sculpted BARC speeder miniature featuring pilots in BARC Speeder Pilot armor. If you choose, this miniature can include a sidecar featuring a built-in M-45 Ion Blaster or a Mark II Medium Blaster. Similarly, a Phase I Clone Trooper can fire an RPS-6 rocket launcher from the sidecar. This expansion also includes a unit card and an assortment of six upgrade cards inviting you to outfit your speeder to fit your personal battle plan.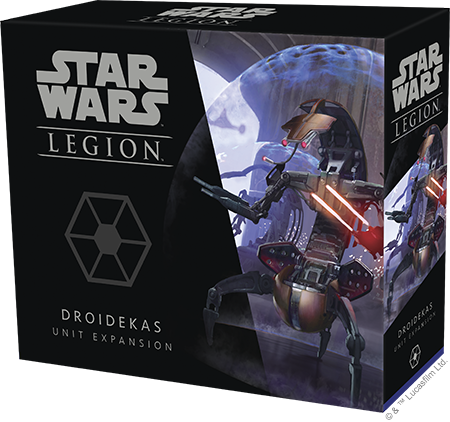 Versatile and extremely destructive, Droidekas are a threat to even veteran squads of clone troopers and skilled Jedi Knights—and when B1 Battle Droids fail, droidekas are often sent to execute their primary function: annihilation of their targets. Rolling swiftly into battle, droidekas unleash their arm-mounted twin blasters, pouring out withering torrents of fire.
The Droidekas Unit Expansion lets you support your droid forces with some of the most powerful combat droids in the galaxy. Four finely detailed, unpainted Droideka miniatures identical to those found in the Star Wars: Legion Clone Wars Core Set represent your Droidekas as they speed across the battlefield in wheel mode and unleash suppressive fire in their attack configuration. Meanwhile, a unit card fully outlines the Droidekas abilities while three upgrade cards give you the freedom to modify them with comms systems.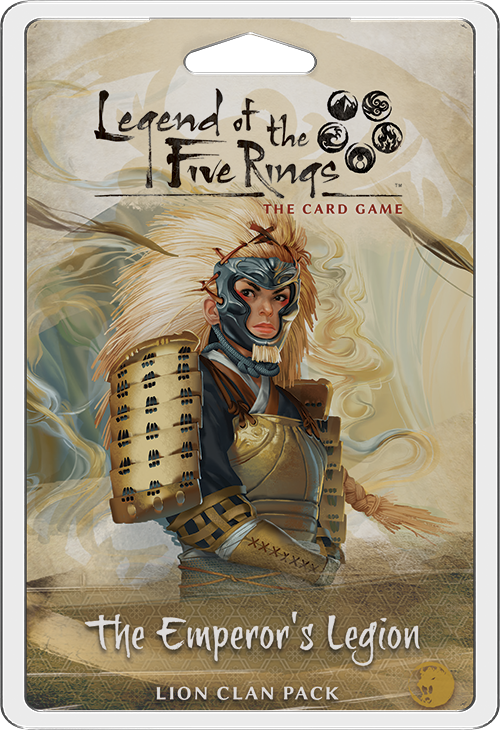 On the blood-stained battlefields of Rokugan, one clan stands head and shoulder above the rest. To face the Lion Clan in battle is an unenviable task for any clan. From their Matsu warriors to Akodo tacticians to the Kitsu who utilize the past itself to overwhelm their foes in combat. To face the Lion Clan in combat is an unenviable task for any clan.
Discover the path of the Lion with The Emperor's Legion Clan Pack for Legend of the Five Rings: The Card Game!
The Emperor's Legion spotlights the Lion Clan with 78 new cards (three copies of twenty-five different cards and one copy each of three different cards) for Legend of the Five Rings: The Card Game. Here, look for an emphasis on powerful recursion effects, unparralled Bushi, and cards that exact vengeance on your opponent for daring to challenge the might of the Lion.
Lots of fun stuff this week from FFG! What are you picking up?
Latest News From BoLS: