RPG Accessories: 5 Unique Dice Sets

Who doesn't have too many of those shiny click-clack math rocks? Add some more to your wish list with some of our favorites from around the web.
Everyone who plays D&D knows the struggle of finding that perfect set of dice for your newest character and putting down the twentieth set of dice you don't need. They're pretty, they're useful, and they make our goblin brains so happy to collect.

Polyhydra's solid brass dice are so different and pretty. Their metallic colors and unique pattern makes them feel almost uncanny and lovecraftian while managing to remain beautiful. They aren't available for purchase just yet, but Polyhydra has a kickstarter that's already been fully funded. Keep an eye out for their dice to become available for retail or go contribute to their kickstarter and secure a set of your own right away.
Price: $88 for a full set of 7 D&D dice on their Kickstarter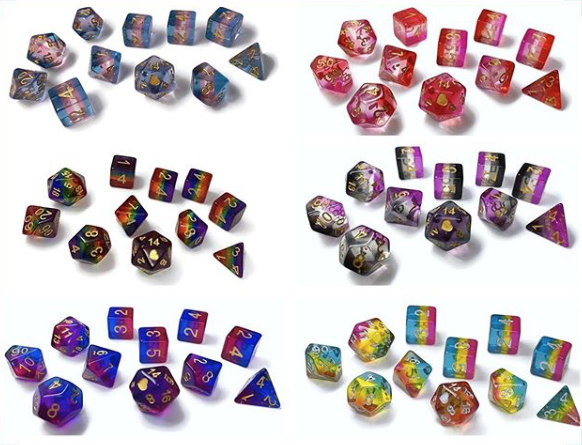 HeartBeat Dice lets you "roll with pride," casting their dice in a rainbow of colors to match a variety of different LGBT flags. Their array of options are fairly inclusive and the heart replacing the 20 on the ever important D20 is a very nice little touch. Plus, a portion of their sales are donated to groups that help at-risk youth.
Price: $15.99 for most sets

This is one of my personal favorite dice makers on the internet. Their handmade dice are always individual and gorgeous, making it no great surprise that they are often sold out or full-up on commission slots. For information on when they will have more available or when you can get an entirely unique set created just for your D&D character (or just to look at some beautiful dice) check out the Casting Elf on Instagram. You won't be disappointed.
Price: $40-$55 for a standard set, $50-$65+ depending on complexity for commissions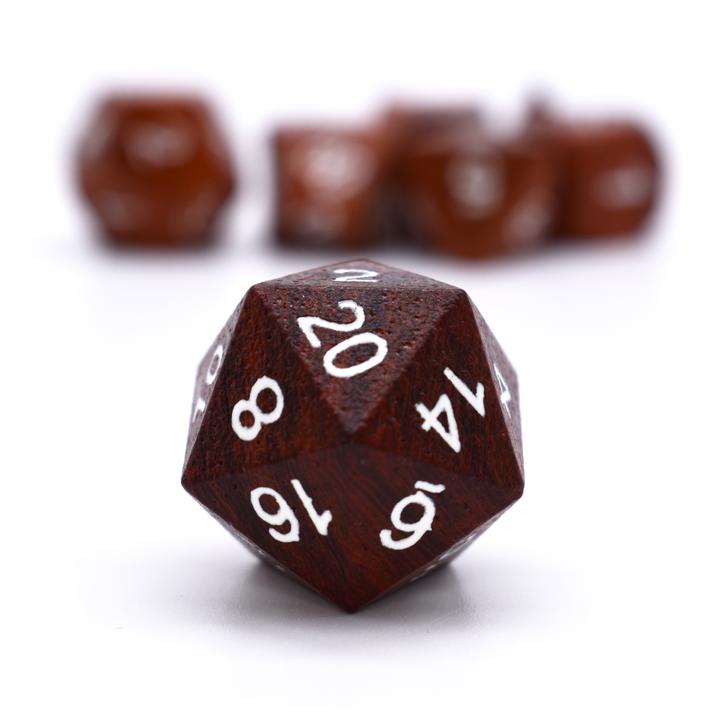 I so infrequently see nice wooden dice for D&D, and that is far from all they carry on Dice Envy. The wood makes the game somehow feel more adult, like replacing an Ikea table with a fancy gaming table, and is so easily themed with many of the game's classes and races. Besides that, their variety of materials, colors, sizes and styles will keep any fan of the polyhedral window shopping for quite some time and adding a few more to their cart for each character in play.
Price: $11.95 – $45
Subscribe to our newsletter!
Get Tabletop, RPG & Pop Culture news delivered directly to your inbox.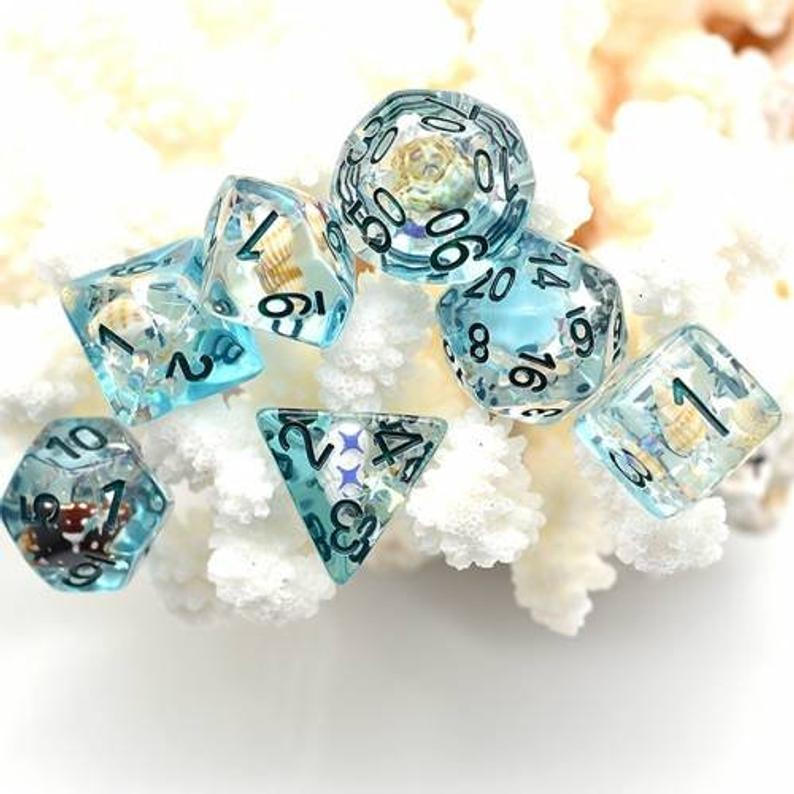 As you can probably tell, I am a sucker for handmade dice with things inside. The set above has sea shells, but is your character more of a snow and ice character? Do you play a druid who could have more luck rolling flower bud dice? Maybe flecks of gold are more your character's speed. This shop has a variety of sets as unique and complex as your character's backstory.
Price: $11.62 – $29.07
Dice are arguably the most important accessory you need in any D&D game, so roll with style. Pick out the most interesting dice you can and be the envy of your band of heroes.
Latest News From BoLS: