I hate to say it, but 8th edition has reached the point where we need the big stick to come back – Destroyer Weapons.
8th Edition has more rules variety than any edition before it. The combination of the keyword system, along with the datasheet specific rules, mean that GW has the ability to finely tune each and every weapon in the game if they so choose. This gives us a huge variety of weapons ranging from the humble Grot Blasta… to the cataclysmic Belicosa Volcano Cannon:


Gotta love S:30 weapons!
Houston, We Have a Problem
But it's not all sunshine and flowers on the grimdark tabletop. While the weapon rules themselves have a lot of variety, they just haven't kept up with the escalating arms-race of defensive buffs and special abilities. We are currently in an era where it's not about the ability to do damage to kill an enemy model. The issue is that the rules allow defensive shenanegans to ignore or redirect damage or just plain avoid being hit in the first place.
How bad is it?
It's bad enough that there are cases were the mighty Warlord Titan, certainly the big stick of the game, cannot kill certain units in a 6 turn game that cost 5% of its point cost.  That's how bad…

A Solution from the Past
But there's a solution. Remember Destroyer Weapons? Take a look back at 7th edition to their rules: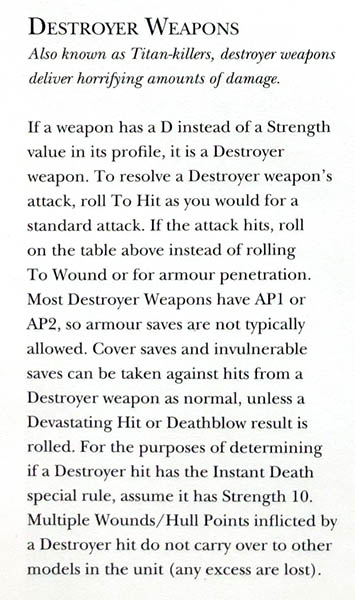 Here's the basics. Basically it was a rules construct to get around the powerful defensive abilities and saves some units had in certain cases. There was also a handy chart you rolled on when you hit based on the target type: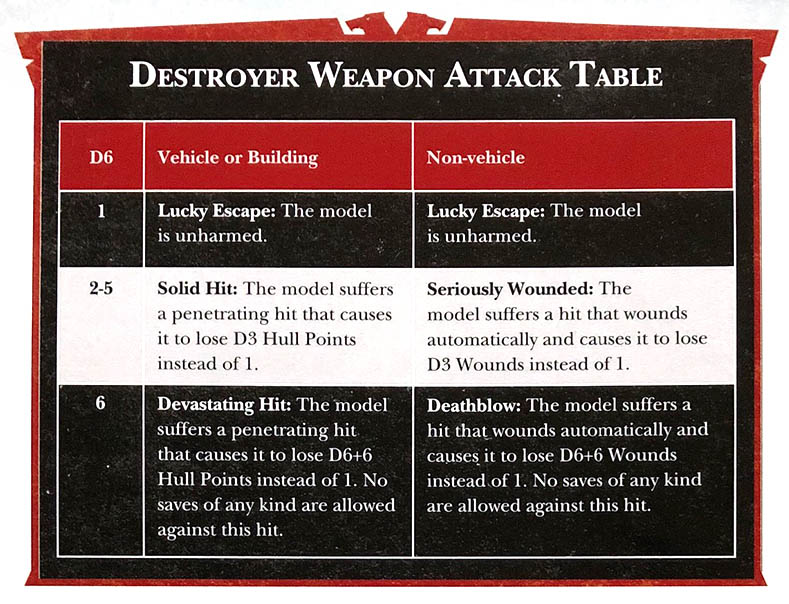 Effectively, you escaped harm on a 1, got messed up on a 2-5, and probably died on a 6.

Evolving for 8th Edition
Clearly a lot of these constructs don't work in 8th edition and will need modifications. Here's my first stab – aimed specifically at dealing with all the defensive tricks that we see in 8th.
Destroyer Weapons
Also known as Titan-killers, destroyer weapons deliver horrifying amounts of damage.
If a weapon has a D instead of a Strength Value in it's profile, it is a Destroyer Weapon. To resolve a Destroyer weapons' attack, roll to-hit as you would for a standard attack. If the attack hits, roll on the table below instead of rolling to-wound. Cover modifiers and Armor Saves are not allowed against Destroyer Weapons. Invulnerable Saves, and any rule that prevents damage from being applied to the target are ignored, if the hit is a "Deathblow"
Destroyer Weapon Attack Table
D6 To-Wound Roll
1: Lucky Escape – The model is unharmed
2-4: Solid Hit – The model suffers a hit that wounds automatically and causes it to lose the Damage characteristic of  the weapon in wounds.
5-6: Deathblow – The model suffers a hit that inflicts double the Damage characteristic of the weapon in wounds. This damage IS inflicted on the target unit and many not be prevented by ANY means.

Who Gets These
The next question is how to deal with weapons of such power. How common are they and who gets them? My suggestion is to keep them rare, but every faction in the game needs access to at least 1 for meta balance (see below). So things such as:
Titan Weapons
Limited Knight and Greater Daemon Weapons
Extremely rare "normal unit weapons" – for example an Eldar Highest power Prism Cannon shot,  Necron high power Doomsday Cannon shot, etc.
You get the picture.  I think the game needs such a higher tier category of weapon to "clear out the chaff" of normal units, and allow the really big and scary weapons to function as they should on the tabletop.  It also helps with the rock-paper-scissors game balance issues. Destroyer Weapons ensure that as various combos and tricks evolve over the meta (as they always will), armies will always have access to a hard counter, even if rare and expensive.
~Would you like to see Destroyer Weapons return to the game? How would you modify my test rules?