Be'lakor's Legion of Chaos Ascendant, arrives as a new faction in Wrath of the Everchosen. Here's what to look forward to with this brand new army!
Back in the world that was, Chaos Daemons players could field the servants of all four Dark Gods in a big unhappy family, matching Khorne brutality with Tzeentch spellcraft and Slaanesh speed with Nurgle tenacity. Now, thanks to the First Daemon Prince himself, you can bring back the glory days of that wonderful, horrifying alliance with the Legion of Chaos Ascendant, a new faction from Wrath of the Everchosen. Here's a quick preview of what to look forward to this weekend with this brand new faction.

Battle Traits
As if fielding all your daemons in concert wasn't cool enough, the new faction has a two new army-wide battle traits that are pretty snazzy. First, Infernal Realmwalkers returns to the semi-real daemonic incursions of old, giving all your Chaos Ascendant Daemons a 6+ shrug to ignore wounds and mortal wounds, representing how they don't fully exist in the mortal plane. Second is the Unyielding Legions trait, which allows one of your Daemonic Heroes to attempt to pull more warriors into the mortal plane. At the end of your movement phase, you can pick one Daemon hero and roll 3d6. Should you roll a 10 or more, you get to summon one of the following units to the battlefield, based on your hero's allegiance: Tzeentch Hero – 10 Horrors, Khorne Hero – 10 Bloodletters, Nurgle Hero – 10 Plaguebearers, Slaanesh Hero – 10 Daemonettes. Summoned units are then set up wholly within 12" of the hero and more than 9" from enemies. However, summoning Daemons for nothing comes at a cost, even if you're a Daemon yourself. Should you roll a double on your summoning roll, your chosen hero immediately suffers a mortal wound, or d3 mortal wounds on a triple. You can of course use the first battle trait to ignore them, but its a risk all the same.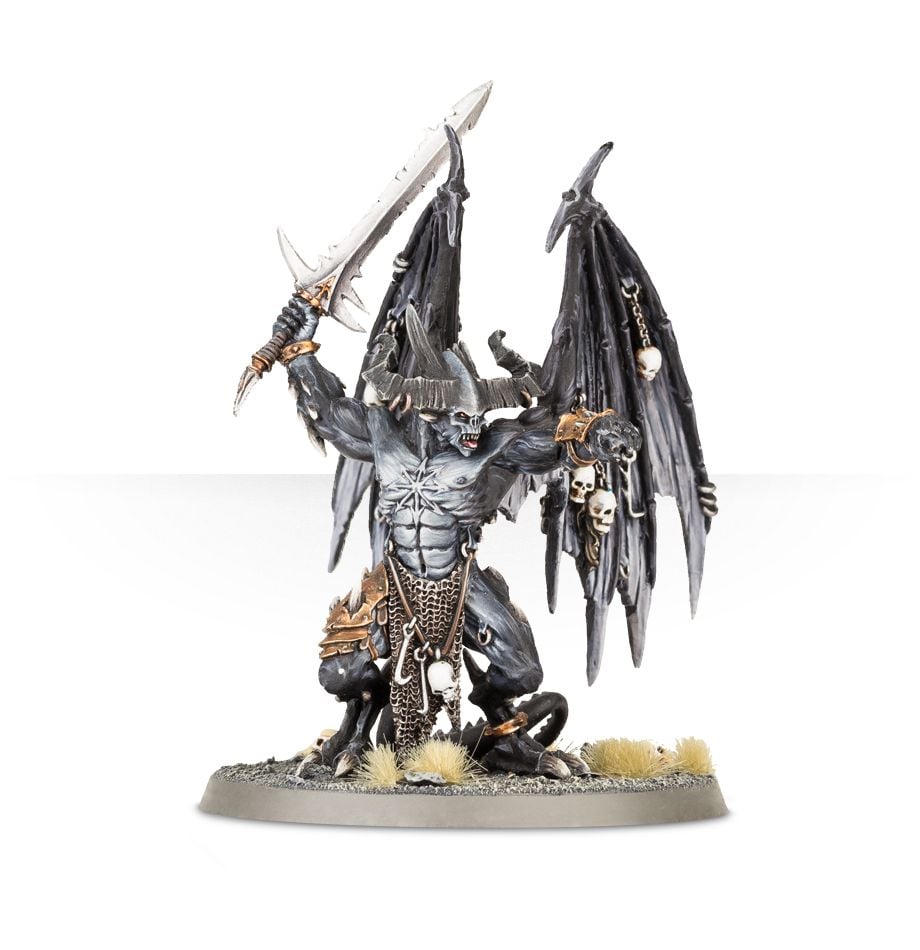 Here to save Archaon's butt from Katakros.
Command Traits
Since the Legion is technically a brand new faction, your Daemon heroes are given a new table of 3 new command traits. First, for the summoner general, you have Primordial Commander, which adds one to all of his Unyielding Legion rolls. Simple sure, but since it increases the likelihood of bringing more soldiers to the battlefield it is definitely worth a look. The next one is Ruinous Aura, a powerful defensive trait that allows all Chaos Ascendant Daemons wholly within 8" to ignore wounds on a 5+ rather than a 6+. And finally, for the angry war general we have the Infernal Charge trait, which allows all CA Daemons wholly within 12" to re-roll their charge rolls, getting them to combat all the faster. Definitely some fun stuff for the army, so no matter your playstyle there's something here for you, even with a small pool of choices.

Artefacts of Power
As above, the new army got its own Artefact table and spell lore, each with three distinct and powerful options. The artefacts are snazzy, and like the command traits favor damage, defense, and support (or in this case, debuff). The damage artefact is the Fourfold Blade, which allows you to pick one of the bearer's melee weapons and, on an unmodified 5+ to hit, deal d3 mortal wounds instead of normal damage. The Contorted Epitome feels like a good candidate for this artefact, since they have a huge number of attacks and are more likely to snag the 5+. On the the defensive, the Armor of the Pact allows the bearer to reroll saves against melee weapons, so you'll want to put this on an already tough model you want to dive into combat, or a squishier wizard that you want to live long enough to retreat. Finally, you can take the Saintskin Banner, which reduces the Bravery of enemy units within 1" by 1, which can be huge against high model low bravery armies like Skaven or Gloomspite, or if you want to utilize some Bravery shenanigans.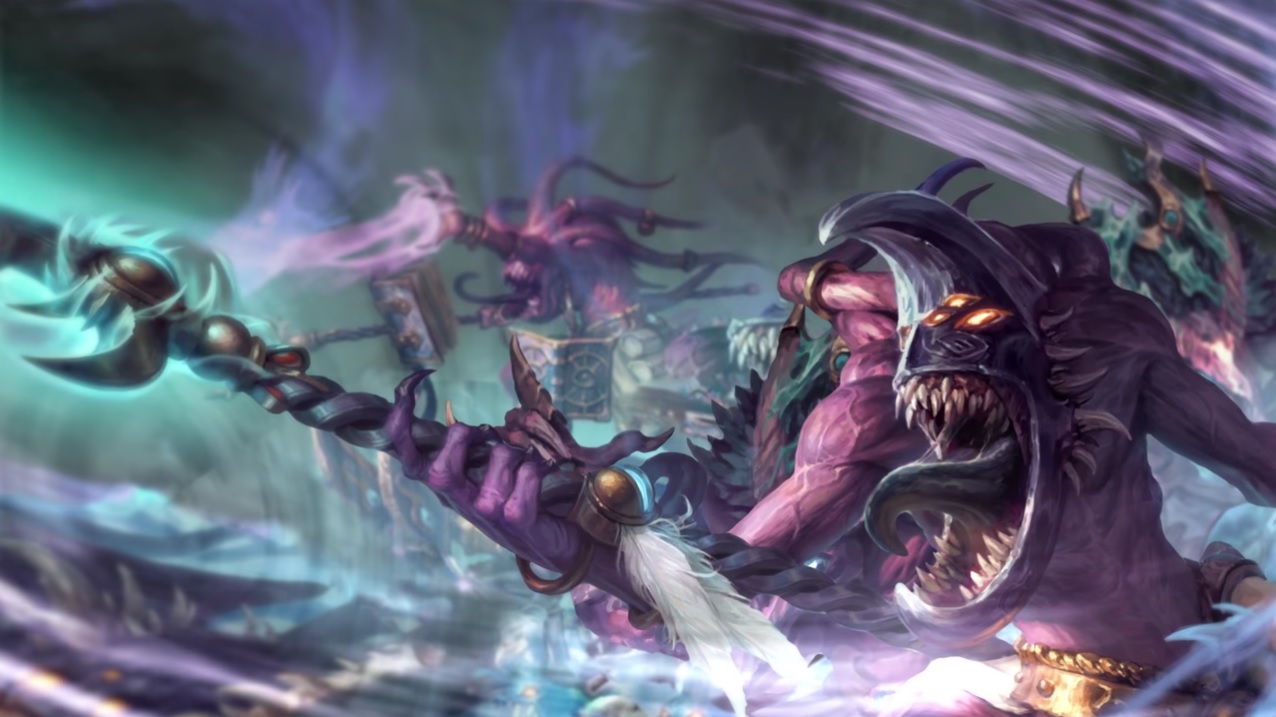 Spell Lore
The Spell Lore, Lore of Ruinous Sorcery, has some nasty tricks, one in particular that feels like a personal attack. The first spell, Bolt of Ruin, is your standard magic missile damage dealer. Casting on a 7, it allows the caster to choose an enemy unit within 18" and roll a d6, dealing d3 mortal wounds if you roll below the number of models in the unit. Not great for sniping heroes, but pretty good at softening up a unit for a charge. Once your infernal soldiers make it to combat, your next spell, Echo of Hatred, will come into play. It casts on a 7, and should it succeed you pick one friendly daemon unit wholly within 12". Until the end of the battle round, should any models from that unit be slain by a melee weapon, they can immediately fight before they get removed. Finally, if you want to spit in the face of your Death playing opponents, take the Soul Gouge spell. As with all the other spells in the lore, it casts on a 7, and once cast it allows you to pick a visible Death unit within 12", re-rolling both hit and wound rolls made with melee weapons against them until your next hero phase.

Battalions
Just like any good army, the Legion brings a few warscroll battalions to the battlefield, one for each of the Dark Gods. They all require 2-3 heroes devoted to the chosen god, pllus a number of lesser daemon units equal to the god's sacred numbers (so 8 for Khorne, 7 for Nurgle, 9 for Tzeentch, and 6 for Slaanesh). The Host of the Depraved, devoted to Slaanesh, costs 120 points, and allows models from the battalion to add 1 to their wound rolls on any turn in which they charged, an easy ask for the speedy forces of the Dark Prince. Nurgle's force, the Host of Corruption, costs 180 points, so it's a little pricey, but it allows units from the battalion to add 1 to the damage of melee weapons on an unmodified 6 to hit. Considering how much damage Nurgle units already do, this is pretty huge. The Khornate Host of Rage comes in at 160 points, and allows you to re-roll charges; straight to the point (quite literally) just as Khorne intended. Finally, the Host of the Arcane, dedicated to Tzeentch (surprise surprise) allows units from the battalion to add one to their casting, unbinding, and dispelling rolls while they are wholly within 9" of at least 2 other units from the battalion. You'll definitely snag your coveted Fate Points using this battalion.
Will you be trying out the new faction?