The Ogryn Rebellion is at hand! Or at least under hive – in Necromunda! Check out these new models from Games Workshop!
Well this was unexpected – new Ogryn models are coming to Necromunda and they look crazy good. If you ever wanted to play an Ogryn Gang, well, now you can with the upcoming House of Chains and these new models.
The Ogryn Slave Rebellion Has Begun
In the underhive, rumours abound about gangs of Ogryns that have rebelled against their overseers and now fight to preserve their freedom. In the upper hive such talk is dismissed, but House gangers know that these reports are true. Well, now you can show those snooty uphivers with your own mob of unruly abhumans. Let's take a look at their new models.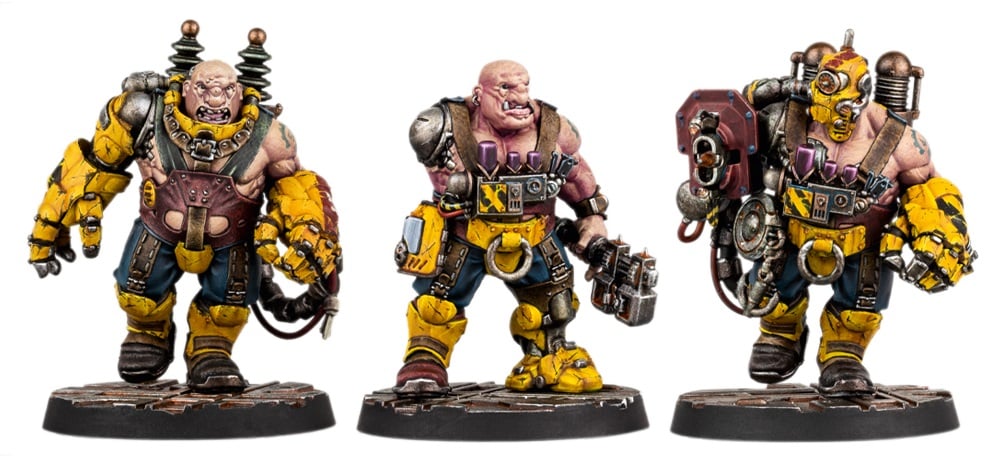 Here we see a trio of heavy hitting Ogryns! Ogryns are already genetically modified OGRYNisms and now they are surgically enhanced, too. I get the feeling that those surgeries might not have been voluntary – hence the whole Ogryn Slave Rebellion. You do NOT want to face down one of these guys in some dark alley in the Underhive – or one of those really tall gangplanks either.

They aren't super great at opening Loot Crates with an Intelligence of 9+ but they have it where it counts in physical stature. with 5s in both Strength and Toughness, they also come with 2 wounds and 2 attacks base. Not too shabby!
Ogryns are also know for their Loyalty to their comrades (but maybe not to the people bossing them around). When you fight with an Ogryn on your side, you can at least count on their Loyalty:

And those Augments aren't just for show – the Ogryns have access to some pretty amazing new weaponry, too:

Yeah – getting a hit from a Jotunn Fist isn't going to feel good.
House of Chains features a look at the history of Ogryn slave uprisings on Necromunda, rules for using the Ogryn gang and full details of the weaponry that they use. It also includes a unique Bounty Hunter that only the Slave Ogryn gang (and outlaw Goliath gangs) can hire. If you're struggling to stay free, give T.H.R.U.G. 12, better known as Sparky, a call.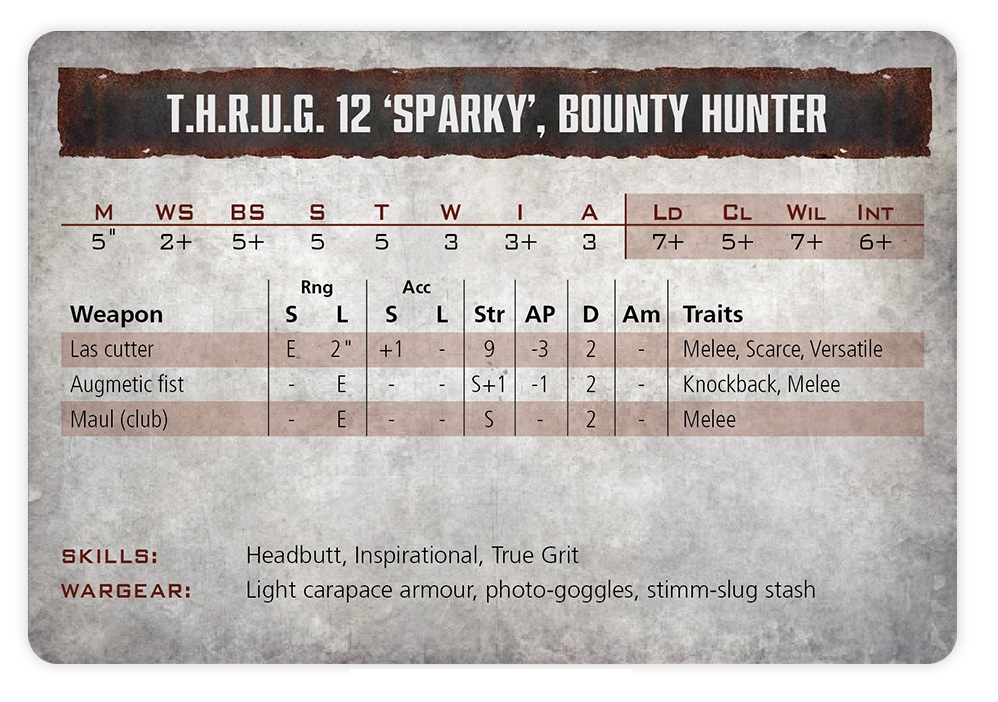 House of Chains is going up for Pre-order this weekend. Get your Goliath upgrades and the new Ogryn Gang Rules inside!
It's only 3 models…I can paint that up…