Still sad that your Iron Hands army got nerfed? Here are some armies you can play to help make it all better.
Hey folks! Have you heard that Space Marines, and Iron Hands, in particular, got nerfed?! Oh, you did, cool. Wait, what's that YOU'RE an Iron Hands player and you're really sad about it? You just got your whole army painted (so much Chaos Black spray paint) and now it's no good? Well shoot. Hey, we've all been there and I know that putting your barely beloved Iron Hands up on eBay this morning was really hard for you, after all, you had such hopes of winning events with them, but you know what all is not lost. It gets better with time. But until that time, or a new Codex/ Supplement /FAQ/Edition heals your wounds, here are five armies you might want to consider playing instead to help you get through this hard time.
5. Raven Guard
Pisst, hey comrade, have you ever heard about Raven Guard? I hear that with Iron Hands nerfed they are set to be The Next Big Thing ™ for Space Marines and maybe the meta in general. Sure they got nerfed too, but it was a little nerf, barely a scratch, and they've still got a lot of nice tricks up their sleeves. It's said a good player can do things with them you wouldn't believe. These guys have real potential and best of all if you haven't sold your army already it's super easy to repaint your black Iron Hands to black Raven Guard, barely an inconvenience at all. Feel free to sell the Leviathan dread though, those things are done.
4. Tau
Did you like running a bunch of unkillable mech suits? Was the Iron Hands ability to siphon wounds off to unimportant models a core part of your strategy? Do you love having superior overwatch? Well then friend, Tau just might be the new army for you. They do everything your Iron Hands army was doing, just with more Anime. Sure Iron Hands were being better Tau then the Tau, but now that the Iron Hands have gotten nerfed and Tau buffed the shoe is on the other blue foot. So pack away those Chaplain Dreadnoughts, Leviathans, and the expendable Intercessors and pull out your Coldstar Commanders, Riptides and expendable drones, chances are if you're a real bandwagon player you've already got the army on your shelf, and the dust hasn't even formed a layer yet.
3. Eldar Flyers 
Did you get into Iron Hands way back when the supplement first came out and fell in love with their flyer spam lists? Was one of your favorite parts of playing Iron Hands how no one liked your list and all your games caused the other player to break down into tears? Well then try your hand at Eldar flyer spam! It's a fast-moving list with tons of flyers mimicking the annoying feeling you got when fighting Iron Hands flyers lists, heck you can even take flyers with FNP! Better yet, no one enjoys fighting this army, it is considered a scourage on the game, so you'll be sure to make a real splash. It's been out of the top tier of the meta for a bit, but with Space Marines getting nerfed it might just be good again. Worth giving it a try at least.
2. Daughters of Khaine
You know what, maybe 40K is just too much right now. What with all the crazy changes, hordes of books and FAQs and a quickly shifting meta it can be a little overwhelming. I'd totally get if the loss of this latest half-painted cobbled together bandwagon meta chasing list was just too much stress. Maybe it's time to take a break from the Grimdark and try out a new and different game for a bit. I hear Age of Sigmar is really fun and it's not too far away from 40K, so it's a solid choice. And shoot, AoS has its own couple of totally bonkers broken bandwagon lists, so why not give Daughters of Khaine a go, they are doing well in the meta right now, or maybe those new Bonereapers? Finding a meta netlist shouldn't be that hard, just make sure you stay away from those Stormcast, I hear only the newbs play them.
1. Iron Hands
Ah, now I get it, you're not a bandwagon jumper at all, you're a hardcore old school Iron Hands player. You've been playing Iron Hands for more than 20 years and still don't really know what a "Primaris" Marine is. FAQs come and go, but you'll stick with the sons of Ferrus Manus come hell or high water. You've got no plans to ditch you're loving crafted and painted army, not after all the time you spent coming up with names for each Marine. For you Iron Hands are a work of love, and labor of sacrifice, you are a true old hand and a loving player of narrative, how good or meta the army is doesn't matter. Good on you friend, you keep playing your Iron Hands, just make sure you tell everyone how long you've been playing and that you're actually happy they got nerfed. After all, the pain of loss is what makes playing Iron Hands authentic.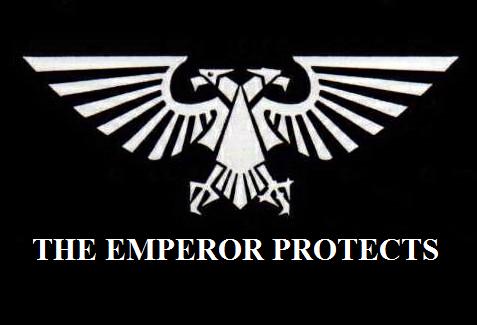 Let us know how you are coping with the FAQ, down in the comments!