Games Workshop will be up and running tomorrow to take your orders – but be prepared for some changes.
Earlier this week, GW announced it would be re-opening their webstore to take orders for select territories. This was big news for folks looking to resupply on their hobby needs. As noted in the announcement, they are taking steps and precautions for their workers. Because of those understandable requirements, they are also letting folks know that the web store is going to have some changes ahead.
Queuing Up
"We're expecting fairly high demand tomorrow, so we've put in place a queue system to limit the number of folk that can browse the website at a given time. You might have seen similar things put in place for other online shops over the past few weeks.

Those of you who find yourself on the queue page will be treated to a special video message, courtesy of James Workshop (worth visiting the site just for that, really…)."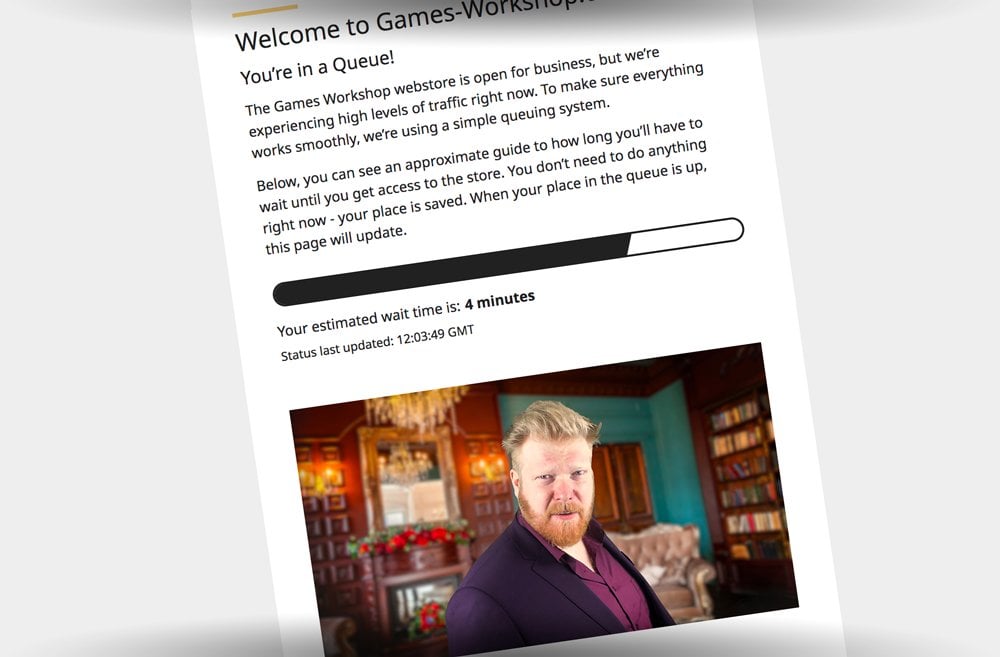 The queue system will work on a first come, first served setup and it will also remember your place in line. Once you're in, you'll be able to poke around as long as you like but if you go idle for more than 30 minutes you'll have to go back through the queue.
Limited By Country
As mentioned previous, the site won't be serving all territories at once. Here's the list of places that will be able to place orders:
UK
Finland
Ireland
Netherlands
Norway
Denmark
France
Spain
Japan
Poland
Sweden
Germany
Austria
Belgium
Rest of World
Rest of Europe
And here's the territories that won't be able to place orders just yet:
Italy
Australia
New Zealand
USA
Canada
Item Limits
Games Workshop is also limiting some items to 3 per order. This is in an effort to make sure they can get those hobby essentials (looking at you Nuln Oil) to as many people as possible. Here are the items that are limited:
Citadel Colour Paints
Spray Paints
Citadel Super Glue
Citadel Plastic Glue
Prophecy of the Wolf
What's really cool to see is that Prophecy of the Wolf is actually going up for sale, too! It's been on the delay for weeks now and Ghaz and Ragnar will finally be available in to the fans who have had to wait patiently.
"If you live in one of the territories that isn't opening up again just yet – we're putting some of these items to one side for you ready for when your webstore is back up and running too."
Shipping Changes
This was mentioned before, but GW wanted to reiterate about the shipping changes:
"Also, the ship-to-store option won't be available for now, as the majority of our Warhammer Stores remain closed for the moment. We know loads of you like to take advantage of this service, but don't worry – for those of you in territories where you'd normally be able to order to your local Warhammer store, and they aren't currently open, we are lowering the Free Standard Shipping threshold on orders by 50%."
It's also going to take more time to process orders due to the extra safety precautions – so keep that in mind when you place your orders as things may take a few extra days to get dispatched.

I'm glad to see GW has a plan to get back up and running. I just hope their employees stay safe and healthy while at work. If you're planning on ordering from GW just keep these new limits in mind and show them some patience as they get things sorted out. There are real people out there risking their own health and safety to get these hobby products to you – so show them some love!
Wash your hands and stay safe – even if you're just ordering online.