D&D Live 2020 – Full Schedule, Reality RP, New Adventure And Staff Changes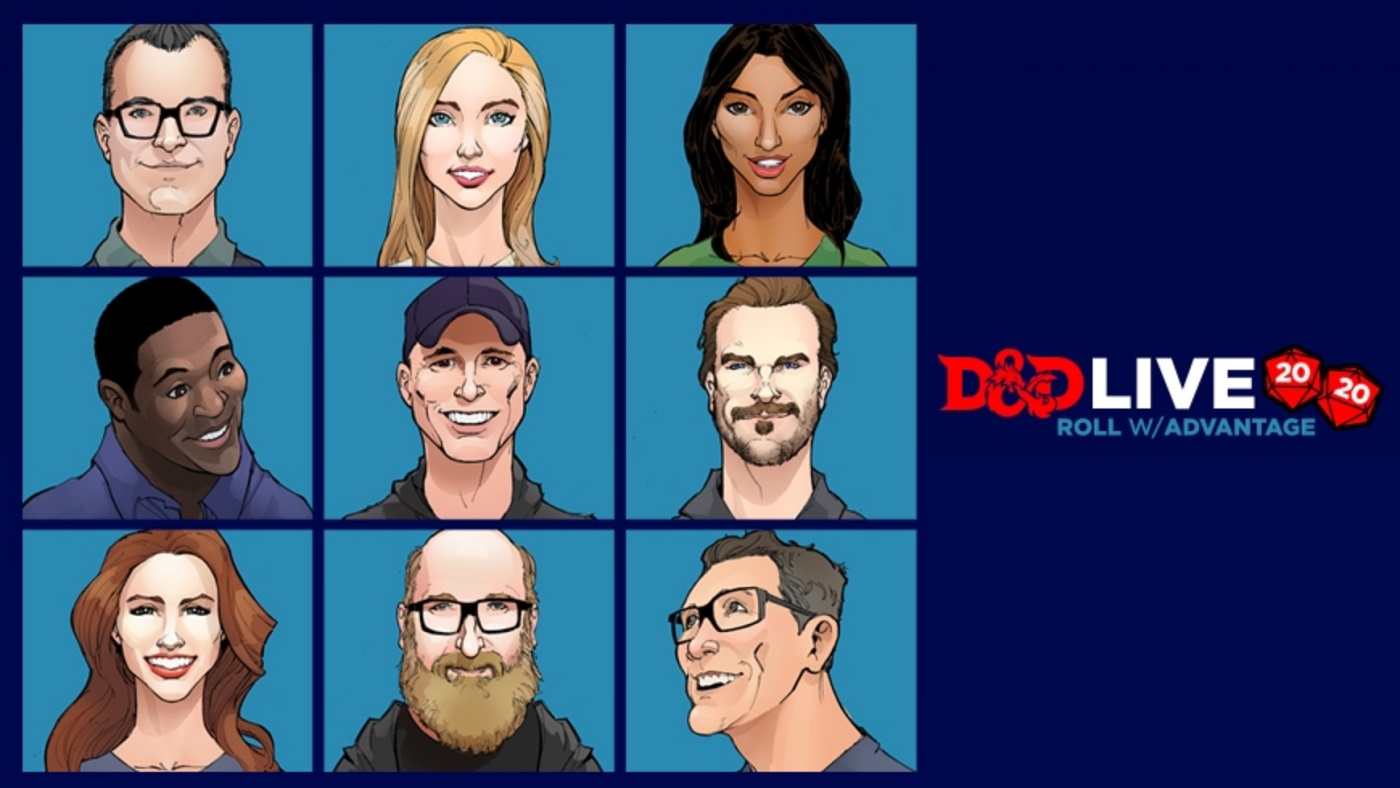 Yesterday D&D ran a big live stream to announce their big live stream coming later this year. They covered a lot, here are all the details you missed.
D&D Live 2020 is coming, subtitled Roll with Advantage, it's a new big live streaming event where WotC has partnered with Red Nose Day to help raise money for charities benefitting kids impacted by COVID-19, which is fitting because the whole convention is going to be held online this time. And it'll feature a number of celebrity guests, including the likes of Brian Posehn, Karen Gillan, and a whole WWE roster-filled game. You can read the general announcement here, but today we're covering what they went through in their big mystery stream, which was an announcement of the event stream.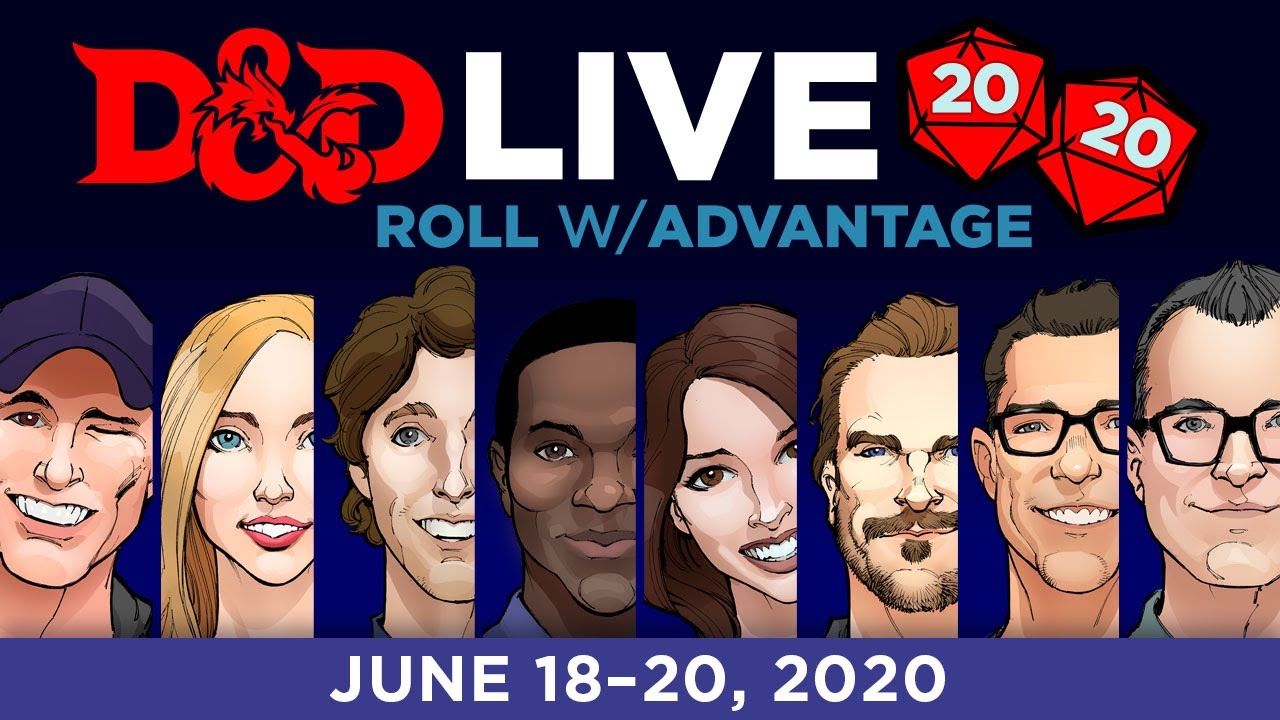 As social distancing impacts our ability to get together in person, we wanted to offer opportunities and resources for remote participation via our D&D Live Event Portal. The virtual side of D&D Live 2020 allows anyone to take part during the event from their own home. So gather your party together online for a long weekend of excitement, news, and play!
First things first, WotC talked about the transition to a "TRPG Studio" and formally introduced Ray Winninger as the head of D&D. Winninger talked about his excitement at getting to put together the team and work with legends, and announced that Mike Mearls, former head of D&D who had previously been reported as "no longer working on the RPG team, and hasn't since sometime last year" as of April 28th, was back full time on the RPG team, having previously been "splitting his time" between computer games and the RPG. This has stirred up controversy among the tabletop community. Mearls has been largely absent from the public eye following the blowup surrounding the accusations against Zak Smith last February, and Mearls' involvement in handing the names of victims to a serial abuser. His return to the game continues to generate similar commentary.
Watch Dragon Talk #DnDLive2020 from dnd on www.twitch.tv
It's not all controversial news from the stream though. As mentioned, WotC will be partnering with Red Nose Day and others to bring gamers a star-studded event full of streamed games, games that players can register to play in, and something entirely new called Reality RP. This last bit was expanded on a little in the stream… reality RP will let the audience throw their backing behind NPCs being portrayed in a mashup of roleplaying and reality TV.
Fans of D&D will learn all about the new setting and storyline as well as accompanying new products—plus, by donating a small amount to Red Nose Day (of $10 or more), fans will be able to register through the D&D Live Event Portal. Once registered, fans will gain access to advance registration for future D&D sessions (when available), with D&D Adventurers League offering four new short adventures everyone can enjoy. Fans will also be able to choose the character best suited to help the region through Reality RP, a mashup of fantasy storytelling, community engagement, and reality television!
Here's a look at the full schedule of events, including which guests will be playing in which game:
Thursday: June 18
10:00 AM: D&D Gameplay Reveal
12:00 PM: D&D Adventure and Product Reveal
Subscribe to our newsletter!
Get Tabletop, RPG & Pop Culture news delivered directly to your inbox.
2:00 PM: D&D Live Game
DM: Deborah Ann Woll
Players Include: Amy Acker, Janina Gavinkar, Matthew Lillard, and Sam Richardson,
4:00 PM: Aftershow/Reality RP
Friday: June 19
9:30 AM: Pre-Show
10:00 AM: D&D Red Nose Day Game
DM: Chris Perkins
Players Include: Felicia Day, Brett Gelman, Maitreyi Ramakrishnan, and Martin Starr
12:00 PM: D&D Product Deep Dive/Panels
2:00 PM: Comedians Play D&D
Players Include: Thomas Middleditch, Brian Posehn, and Kevin Sussman
4:00 PM: Aftershow/Reality RP
Saturday: June 20
9:30 AM: Pre-Show
10:00 AM: Lost Odyssey Heroes Game
DM: Chris Perkins
Players Include: David Harbour and Brandon Routh
12:00 PM: D&D Product Deep Dive/Panels
2:00 PM: D&D WWE Game
DM: Jeremy Crawford
Players Include: Alexa Bliss, Tyler Breeze, Dio Maddin, Ember Moon, and Xavier Woods
4:00 PM: Reality RP Finale & Goodbyes
The sheer number of celebrity guests brings up an interesting observation. The last couple of D&D Live events featured a number of popular streamers, now they seem to be replaced entirely with celebrities–does this signal the end of an era for D&D, where popular podcasters and streamers find themselves supplanted by TV and Film actors, comedians, and wrestlers? Likely not, but it's a shame not to see more of the up and coming actual play folk that make up the D&D community getting some screen time at this big event that's ostensibly all about celebrating the D&D community.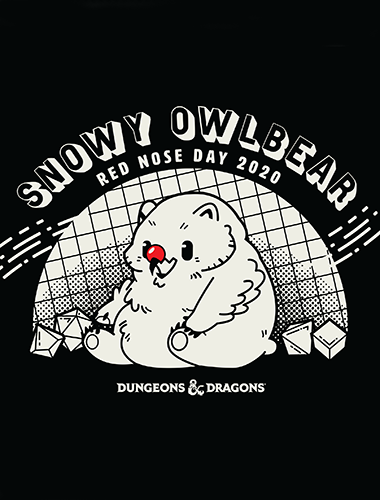 There's also two pieces of merchandise that support the event, a Snowy Owlbear t-shirt, pictured above, and a new adventure, this one centered around Orcs, because if you're going to poke one bear, you may as well poke them all, called Return to Glory that features a party of all-Orc characters who are tasked with reclaiming their ancestral homeland. It's a short adventure for level 6-8 Orc characters, and you can find it below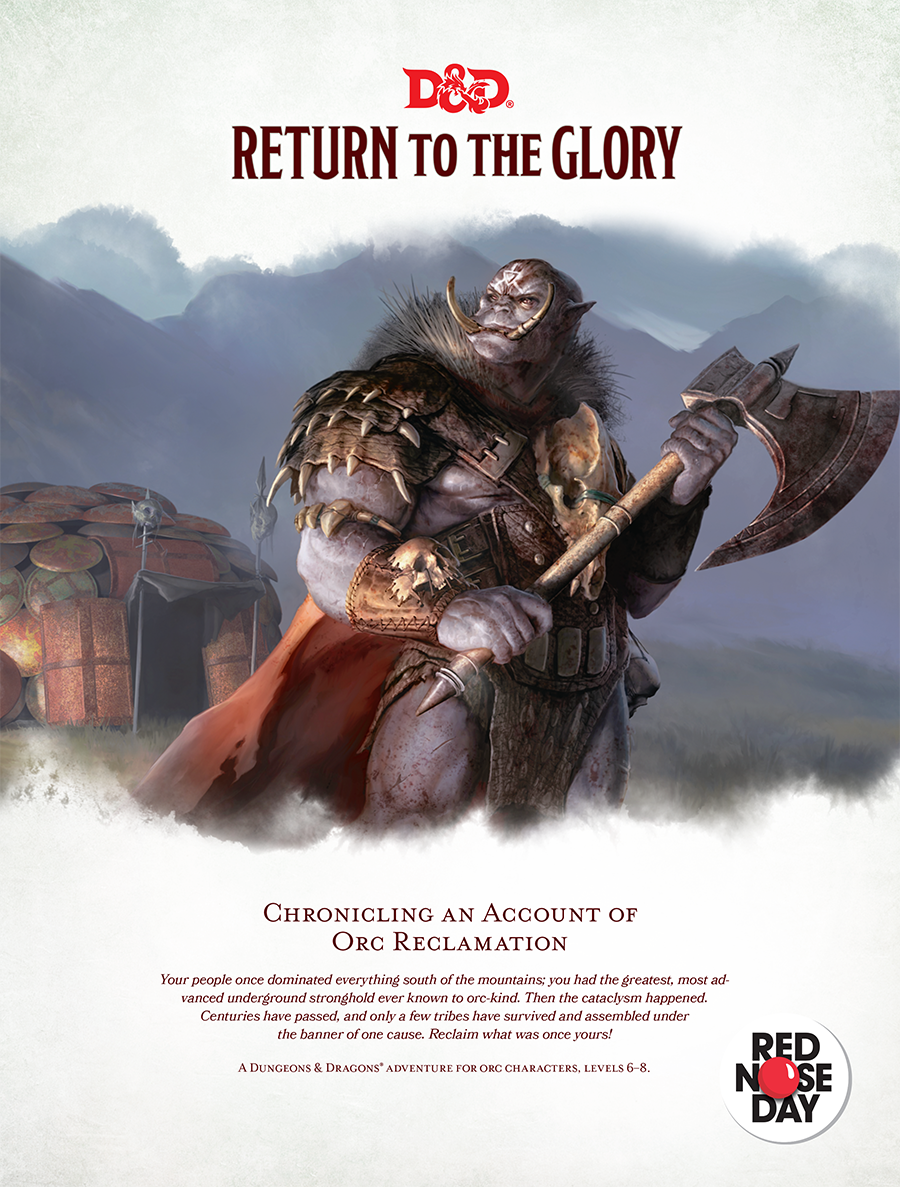 Your people once dominated everything south of the mountains; you had the greatest, most advanced underground stronghold ever known to orc-kind. Then the cataclysm happened. Centuries have passed, and only a few tribes have survived and assembled under the banner of one cause. Reclaim what was once yours!
This adventure is designed for four to six orc characters, levels 6 to 8.
All proceeds from your purchase are donated to Red Nose Day.
Red Nose Day is a campaign with the mission to end child poverty by funding programs that keep children safe, healthy, and educated. Through the power of entertainment, they bring people together to laugh and have fun, all while raising life-changing cash for the children that need it the most. Since their debut in 2015, they have raised $200 million and have positively impacted over 25 million children in America, and around the world.
Players looking to attend the D&D Live Event can register at the page linked above, and be sure to check back for more info as the event approaches.