With the Mythic Odysseys of Theros nearing its release date, Wizards of the Coast have just announced a new mystery stream this Thursday. What could it be?
Pretty much exactly what it says on the tin, folks. Yesterday evening, Wizards of the Coast released a look at their upcoming streaming schedule with a new surprise stream.
Here's what's happening on https://t.co/2KBortnMNv this week!

✨ Support friendly game stores around the country by watching their teams play #DnD!

✨ Learn how to play via VTT or virtual tabletop with @FantasyGrounds2 and @roll20app.

✨ And hmm… something else? pic.twitter.com/WxHiYXa9qe

— Dungeons & Dragons (@Wizards_DnD) May 19, 2020
Here's a closer look: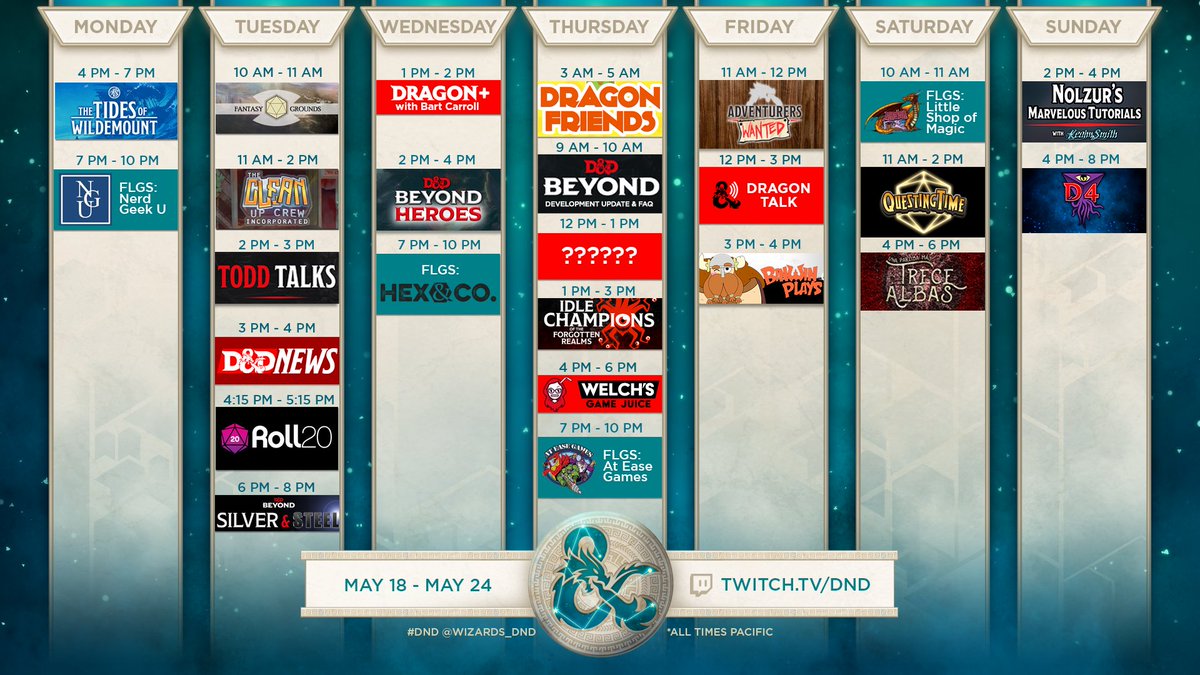 Thursday at 12pm Pacific Time, they'll be running an hour long mystery stream–which has folks excited. Some have speculated this could be the big new announcement we've been waiting for–and looking at past years, this is around the time that Wizards typically announces their September book. We've seen it with Baldur's Gate: Descent into Avernus, and as well with Waterdeep: Dragon Heist. With so many Unearthed Arcana these days, people are clamoring for the next big sourcebook announcement, though typically September has been the time for Adventures, while more setting/source type books have typically been held for November–that's when things like Xanathar's Guide and the Guildmaster's Guide to Ravnica have been released.
So, could we be seeing what the next big adventure/story is going to be from D&D? Odds are pretty good. It's in the right time window, there aren't any conventions happening, and with a D&D Live not likely to happen any time soon, this seems as good a chance as any. But what is it? Folks are guessing everything from something featuring psionics (like a Dark Sun book) to some kind of Spelljamming session–all we know for sure is that the team has been hard at work on it…
According to WotC narrative designer Adam Lee, the story team is hard at work on the next module to follow Descent into Avernus and that it will be "unlike anything that's come before." Speaking broadly about the module, Lee hints that the new adventure will introduce new innovations and concepts new to D&D–even to experienced players.
"In this one, this one that's yet to come, it's got innovative stuff in it. Innovative ways to start your characters off, innovative gameplay, innovative mechanics. When Descent Into Avernus comes out, I want to see how people like it and play it. I'd love to hear the stories people make about it. But I'm also excited about this next one, because there's a lot of stuff I'm excited about.

We're working on the next one right now … That's something that [D&D Senior Story Designer] Chris Perkins is working on. We've done a bunch of brainstorming, we did some initial story stuff, and we've been jamming it out and nearing completion. It's great."
This little tidbit is particularly exciting because Descent into Avernus introduces some fantastic new mechanics. You can feel the designers stretching their wings a little with systems like the Infernal Warmachines, which introduces new mechanics for vehicular combat in the form of infernal tanks, motorcycles, and buggies that can clash against each other, Mad Max style; or with Diabolical Deals for bargaining with powerful fiends. Even the preponderance of powerful magic weapons feels like a step in a different direction where before items tended to skew towards the lower end of the power tier.
So check back on Thursday to see what the mystery stream holds!