Skulls For The Skull Throne 4 – The Ultimate Warhammer Video Game Sale Happening Now

If you like Warhammer and you like video games, the Steam has got your number right now. Come see what's on sale as part of this massive savings event.
It's nearing summer and while time and space don't mean as much as they used to this year, it does still mean that Steam is plowing ahead with its traditionally massive summer sales, and that means another smashing SKULLS FOR THE SKULL THRONE event. The fourth one to date, this is your chance to score significant savings on some of your favorite Warhammer Fantasy and/or 40K titles. With savings of up to 85% on popular games, there's sure to be something for even the most avid Warhammer collector. Let's check it out.
via Steam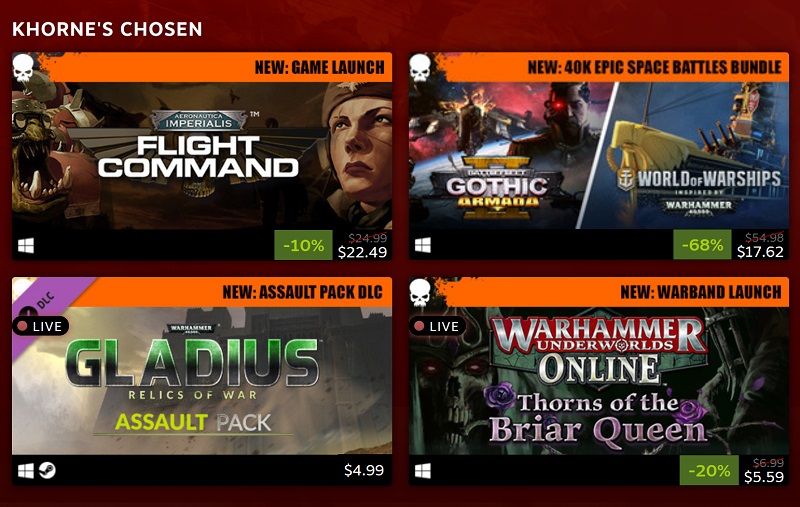 Every year, Khorne's influence overtakes games developers for a weekend, and they pack their creations with skull-themed content for you to enjoy! Starting now and running until 6pm (BST) on Monday the 1st of June, you can check out new games, new additions to some of your favourite titles, and even Warhammer-themed goodies for some of the world's most popular video games.

In addition, you'll be able to check out livestreams of loads of Warhammer games, including a two-day Total War: WARHAMMER II tournament. Check out the Skulls for the Skull Throne Steam page for more information, and read on to discover some of our favourite new content.
And there is a lot to dig through. Whether you want to get in on the launch of the new Aeronautica Imperialis game, which takes the tabletop experience and digitizes it:
Or you want to pick up new content for your favorite titles like Gladius, Warhammer Underworlds Online, or Gothic Armada II, there's a ton here. Take a look!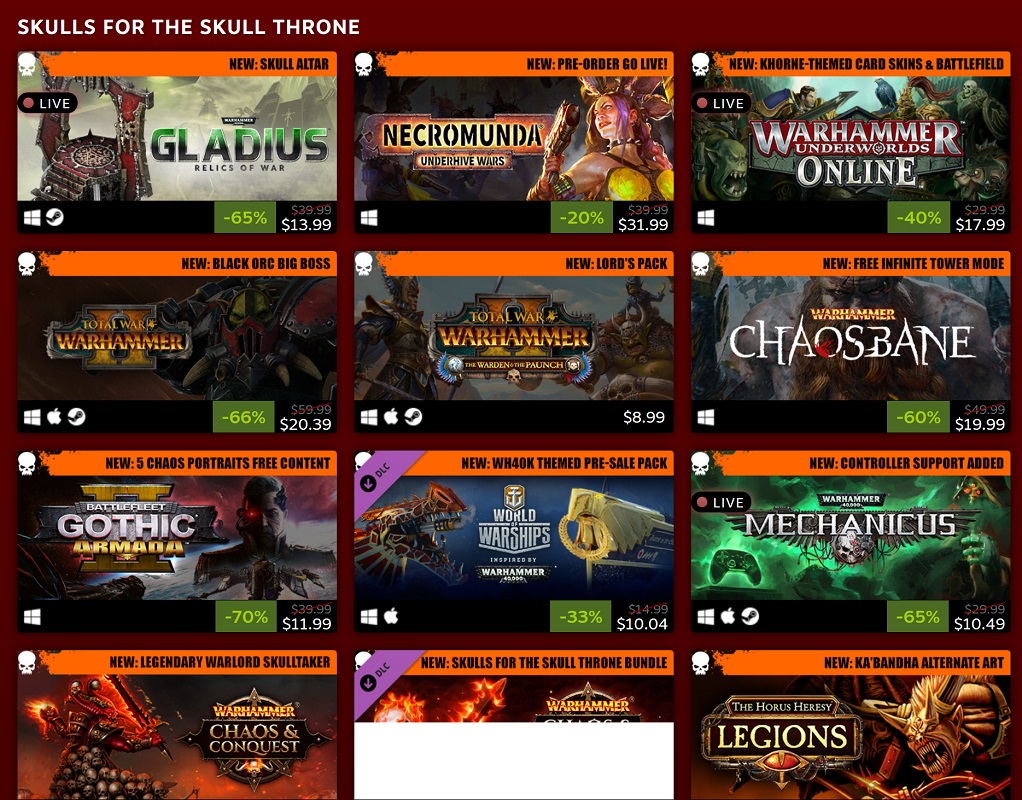 The sale only lasts until Monday, so head on over to the Skulls for the Skull Throne page and see what's what.
What's your favorite 40K game? Let us know in the comments!
Subscribe to our newsletter!
Get Tabletop, RPG & Pop Culture news delivered directly to your inbox.