Today we explore a seemingly loyal Knight household with a shrouded past. Take a look at Aventine's own – House Karactacus.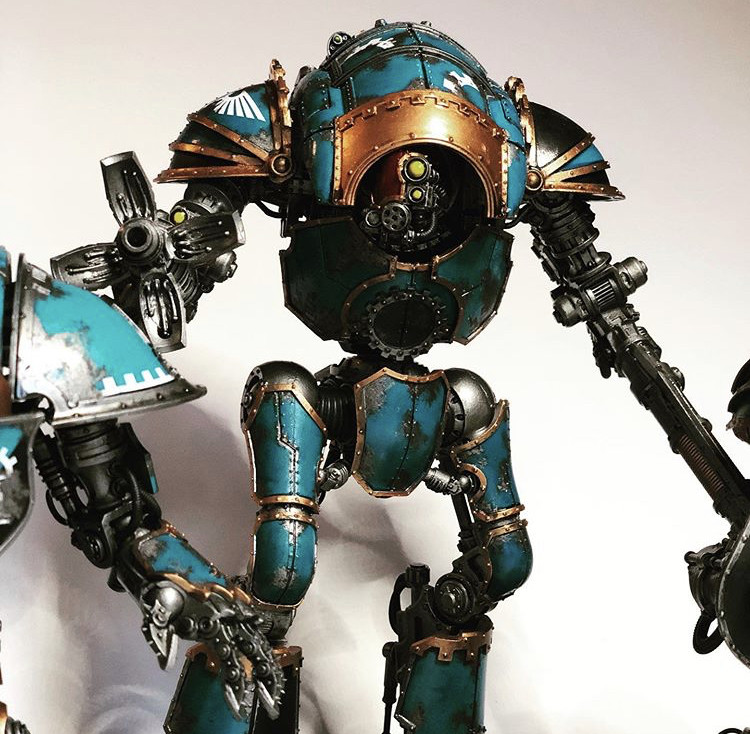 Imperial Knight House Index: House Karactacus
"A storied Knight House of the Segmentum Solar, House Karactacus suddenly and mysteriously appeared in Imperial records shortly after the Horus Heresy. All records of their world of Volhaven, spanning from the Great Crusade until M.32, have been expunged. Though some have speculated this is because of a question of loyalty during the heresy, House Karactacus has performed honorably in over a dozen campaigns in the millennia since."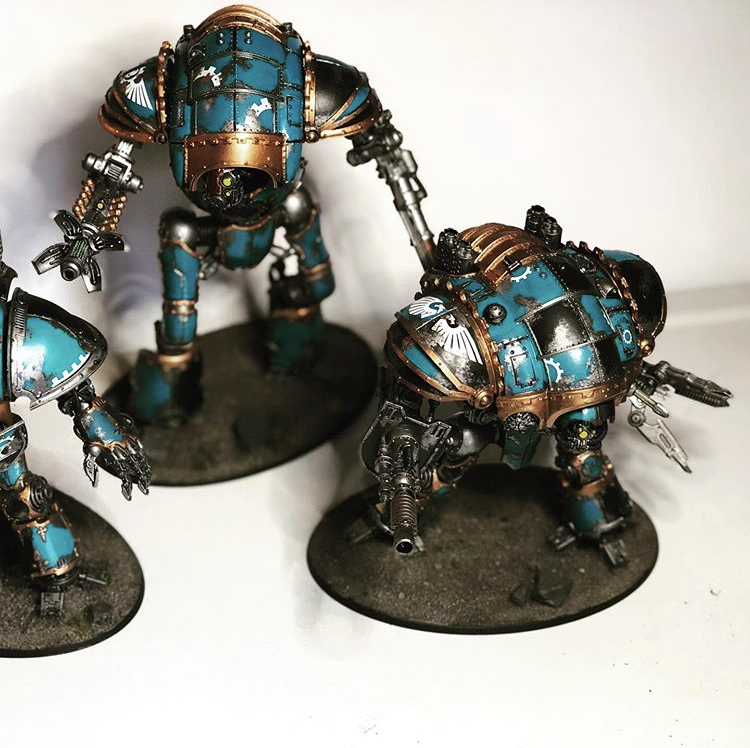 Untoward Origins
I originally painted up the Knights of House Karactacus to fight alongside my Loyalist 30K Alpha Legion army, but soon they found their way into 40K games as well. I gave them the same paint scheme my Legion sports and I imagine them still being controlled by the Hydra when they battle in the 41st Millenium.
The primary hull colours were airbrushed with GW Sotek Green, followed by GW Drakenhof Nightshade, and edged with GW Temple Guard Blue. For the metals I utilized Army Painter. The brassy parts were painted with AP True Copper, which were then dry brushed with Vallejo Brassy Brass. All silver parts were painted with AP Gunmetal and washed with GW Nuln Oil. I sponged on chipping and used Vallejo Burnt Umber pigments on the bases and around the feet/ankles.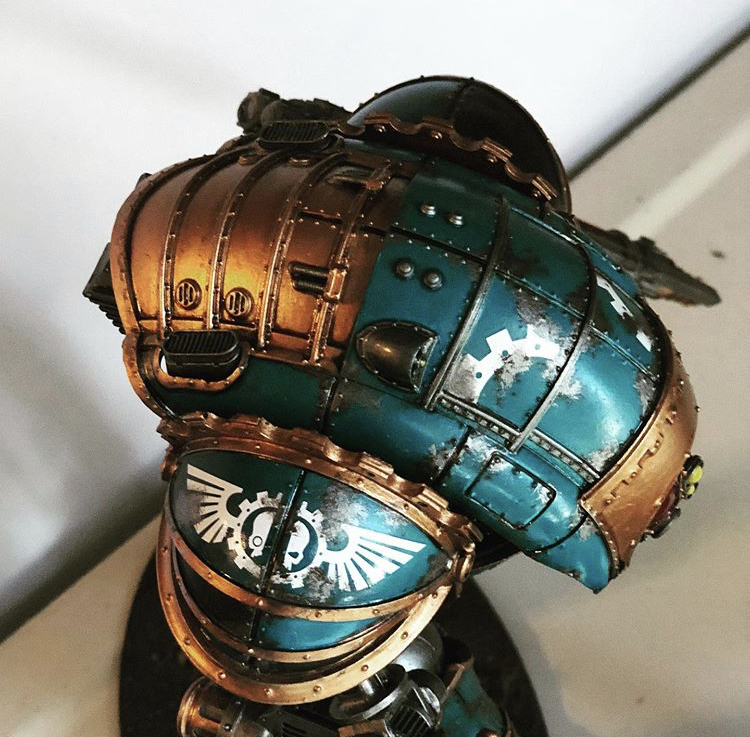 The upper carapace of 'Nonchalance', the Atropos Knight piloted by Baron Clytus.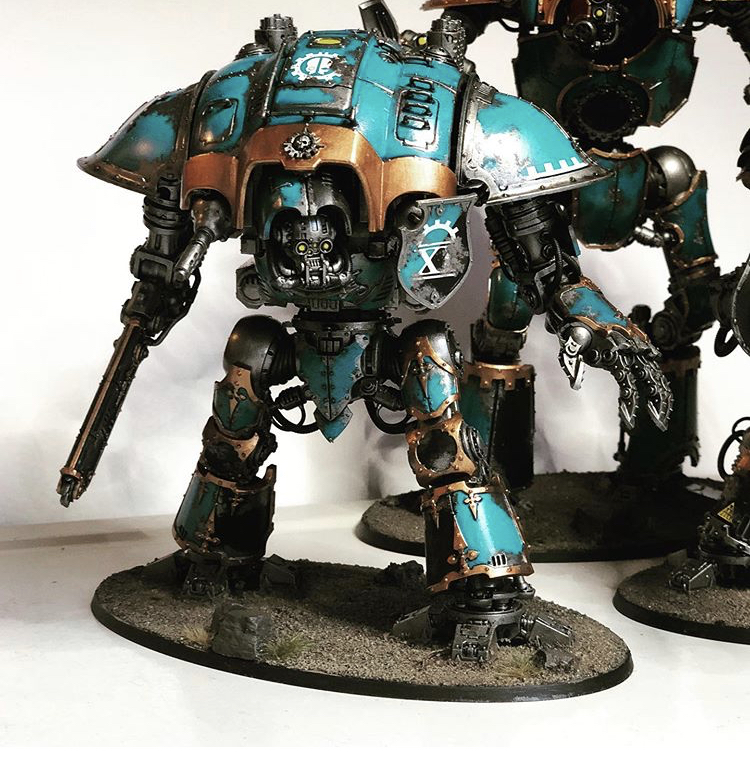 The Knight Gallant 'Pernicious', piloted by Ser Jarrol.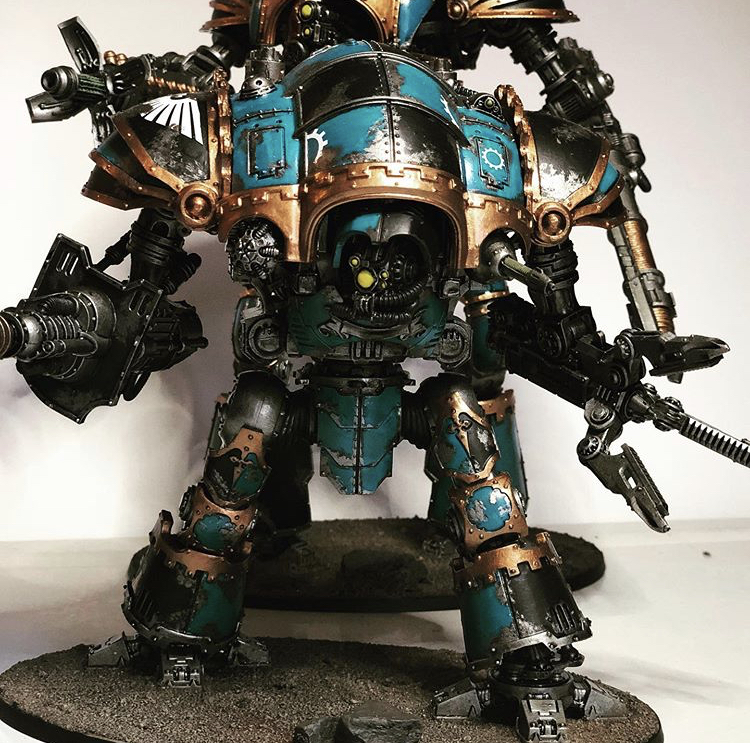 The Knight Magaera 'Forceful', piloted by Ser Bediger.
Tell us about your personal army's lore.