Goatboy here with my current 9th edition thoughts. We had some interesting changes from the previews so far.
There have been a few cries of anguish as dreams of removing a powerful interaction came back with a vengeance and then some nice tid bits that maybe things are not nearly as bad.  Of course until we see the full book we won't know – but it looks like we won't have a whole lot longer.  On top of that the Inquisition is getting updated soon too – so fun days ahead.

Overwatch & T'au Emotional Rollercoaster
The big reveal was that Overwatch was as stratagem now.  Of course the cries of joy to knowing that Tau lost one of their powerful abilities was heard throughout the land.  People threw armies up for sale on the book groups, eBay had a decent amount of anime warriors, and the memes were coming out with a vengeance.  I had a feeling this wasn't going to be the case with Tau as their ability by the raw reading still meant their whole army would shoot at one unit coming in anyway.  You mixed that with the other assault reveal of needing to make every model you declare a charge on or you fail meant it wasn't going to be a huge issue for Tau.  Of course they decided to not go that route and just show the Tau FAQ saying they all get to overwatch without spending a CP.  I don't really know what to feel about that as we still don't know enough of the terrain set up that there might be a ton of options to hide, charge, and get mixed in.  I think the bigger gotcha with Tau is the Drone rule and I expect that to get looked at – especially with any other throw off wound abilities.  We'll see as we get closer.

Fly Changes
The second big reveal is that units with fly can't leave combat and still shoot.  This is pretty huge as it levels the playing field for all those non flying tanks.  It also means getting into combat and taping a tank is still a good thing as yes they can shoot at you – but at a -1 to shoot with the gun it still eliminates some firepower.  It also means you are making Tau shoot what is touching them versus jump out and blasting the unit behind your friends with a ton of firepower.  This will be the bigger game changer and it lets the Breakout rule make a lot more sense since the strat lets you move thru the enemy.  So instead of breaking out and moving away you can move over and get that objective.

Missions & Board Control
The other day a well connected good buddy was online giving some thoughts about the new edition.  He didn't have anything to say about the points as that will be the big decision maker on if things are good are not – but he did talk a lot about how the missions are not just about killing your opponent.  With the boards getting smaller I expect terrain to get pretty cramped so big knight armies will most likely have an issue.  We will see as we get closer but I thought it was pretty interesting that board control and objective control mattered a ton.  I wonder if we'll move to the whole AoS method of you control and object and the unit can move off of it and you still "control" it.  That would be huge for armies like Orks who can Da Jump, cover a lot of board/objectives, and then just get in the way to ride out that win.  It also makes me wonder if just a ton of speed and MSU will be key to winning the game.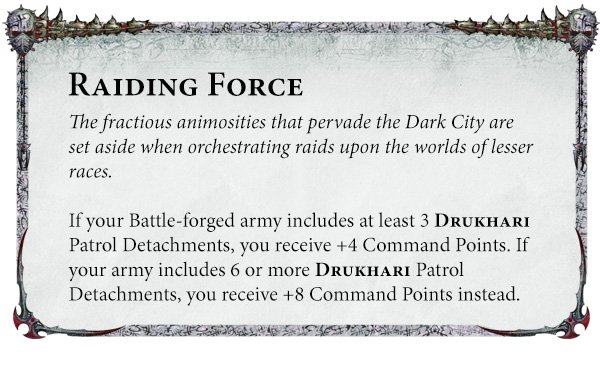 It felt weird that they just didn't say all the following detachments give you the CP back if you take your Warlord from them.  They just slow rolled out each detachment – Super heavy, Brigade, Battalion, and Patrol.  I did like how the Dark Eldar one will let you take a few Patrols and then you gain some extra CP.  That seems interesting and another weird option that maybe was there that long ago to seed 9th edition.  The last game of 8th had my play my Chaos knights with Sisters and the nice little hint that Knights were under 500 points still made me happy.  Right now I am just hoping the Lord of Skulls are not insanely expensive so I could still play my 3.
Overall we are just waiting for more rules to pop up.  I think the Missions will be an important thing as that will show us how we play the game.  I think they are pushing towards a less murderous need in the options so that could be awesome.  Or it could move to very weird looking armies that are all speed and dodging doing any real damage to an army.  I don't know how I feel about that – but will see.

Frontrunners
Things that have me excited.  It feels like Death Guard are poised to be very powerful in this new edition.  They have a ton of firepower at that 24″ range and seem to have a ton of options to kill just about any type of unit.  From the Grenade trick to powerful Daemon Engines this book looks to have quietly jump from the bottom middle to the top section of the game.  The only thing that "sucks" for them would be the lack of taking a second detachment to lose CP for that powerful Warp Time option from Chaos Space Marines.  It makes me think that Red Corsairs might be very strong detachment to gain Warp time and some other tricks for the cost of gaining 3 extra CP from 3 CSM.  It gives you some other bodies that can stay home, the rest of the army is making it to the middle, and you get Warp Time, Chaos Familiar, and maybe an interesting Relic toting Chaos Lord/Master of Executions that can advance and charge to clear out a building.

Goat-crons?!
I am excited for the new edition and as I am in a kinda lull for my own personal armies I might look at the Necrons.  Most of my buddies are into the Marines and the idea of a crazy Assault heavy Necron force has me excited.  Especially since there are a ton of new models I can try to use.  I also like that new scheme too.  We will see – let's hope for a preorder announcement soon with a price point.
~Until next time – Death to the False Emperor!