Gundam: Lath Winslet's Suit is Now Available as a Metalbuild Kit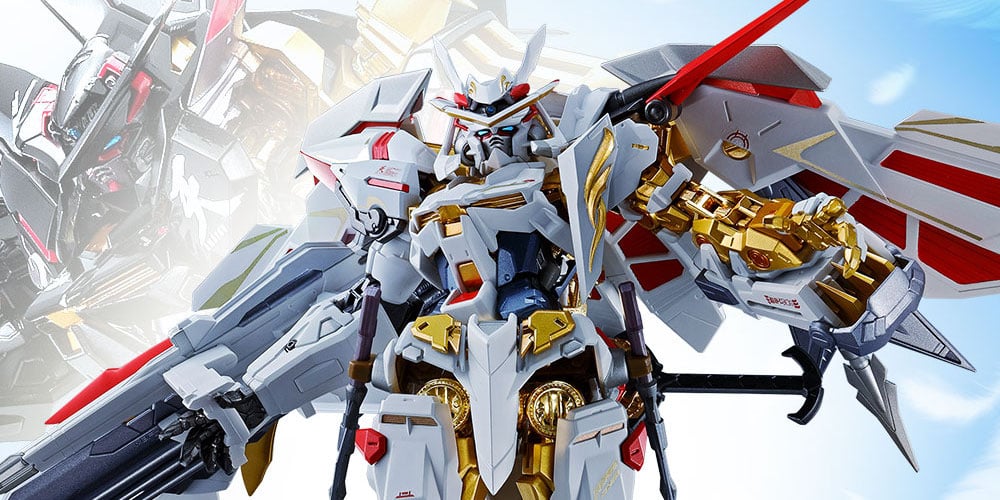 The Princess of the Sky's Gundam Astray Gold Frame Amatsu Hana makes its first appearance in the Metalbuild line – and it's  gorgeous.
The revamped kit is based on illustrations by designer Junichi Akutsu, based on the illustration by designer Junichi Akutsu. It comes with new equipment like the the Ame no Murakumo no Tsurugi swords on its waist, the Hana Kanmuri on its head, Kamudo no Tsurugi on its shoulders, and the Maga no Ikutachi Kai on its back. The die-cast parts on the frame have been electroplated, bringing a rich shine to the entire build and a beautiful contrast to its stark white armor.
Metal Build Gundam Astray Gold Frame Amatsu Hana – $260.00
Pre-Order – Ships in November
7.08 inches (18cm) tall
Made of ABS, PVC, and diecast
Includes a figure stand
Model:

Gundam Astray Gold Frame Amatsu Hana figure
Maga no Ikutachi Kai (backpack)
Ame no Murakumo no Tsurugi (sword and sheath)
Okitsu no Kagami (spear)
Tsumuha no Tachi (claw)
Trikeros Kai (right arm weapon)
2 Totsuka no Tsurugi (swords on waist)
2 Maga no Shirahoko wire units