GW showed off quite a lot in that that Space Marine codex reveal video. Take a look.
GW showed off the new Space Marine Codex and Necron Codexes that are coming this October.
"These two new codexes will be available for you to buy in October – stay tuned for more previews and more new model reveals in the coming weeks."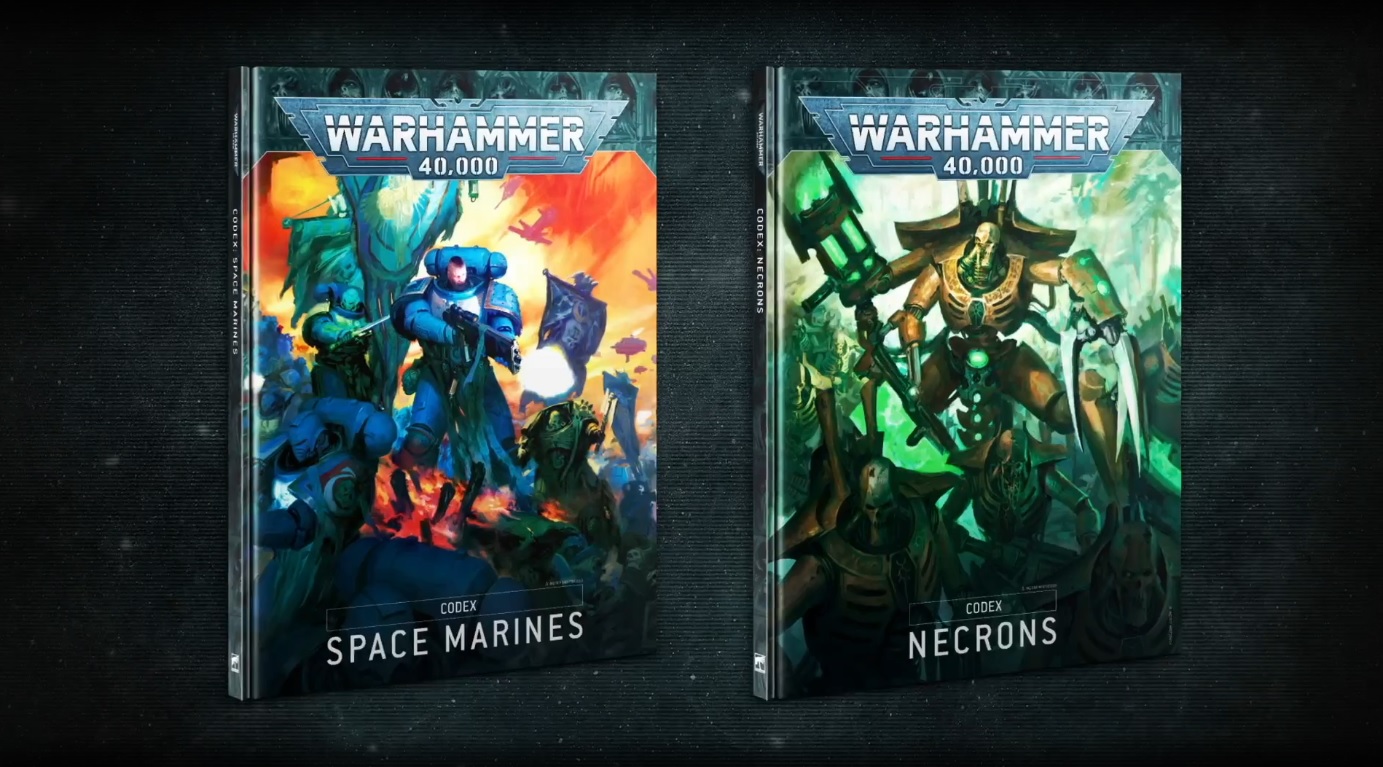 ENHANCE!!!
Immediately the community (all over the place, but we'll throw the great folks at B&C credit) started to tear in the video frame by frame and with the help of some magnifying glasses and eye-trauma found the following:

New Captain Mini
A new Captain sporting what looks like a grav weapon and a power sword.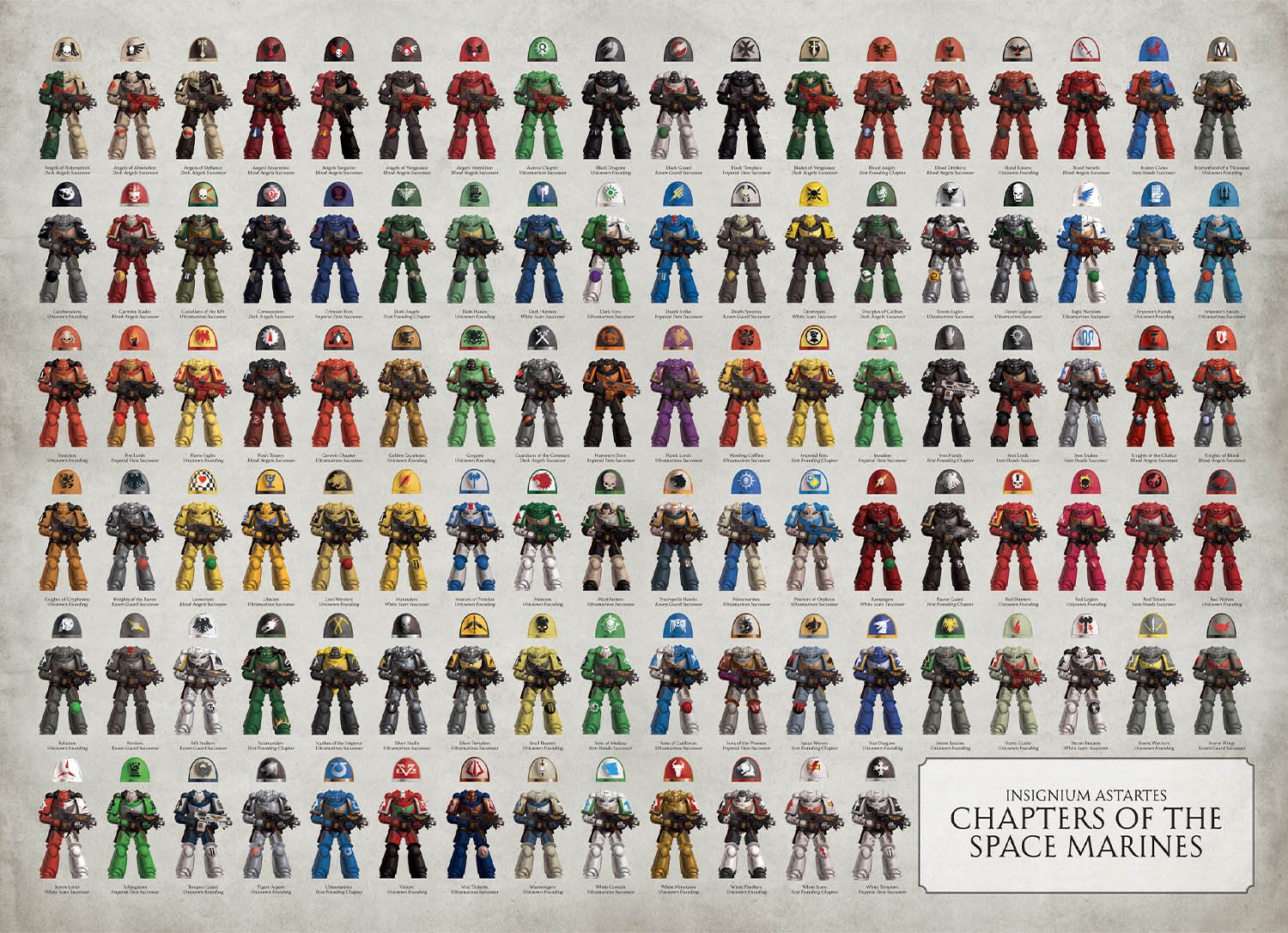 Chapter Rules
Dark Angels: 1) +1 to hit if the unit did not move in this turn and 2) something about Combat Attrition.
White Scars: 1) can Charge after Advance or Fall Back and 2) can fire Assault with no penalty after an Advance move.
Space Wolves: 1) +1 to hit in melee if the unit charged, was charged or HR and 2) units with this tactic can HR as if they were characters.
Imperial Fists: 1) ignore Light Cover and 2) 2 additional hits with unmodified 6s with bolt weapons.
Crimson Fists: 1) +1 to hit when the target unit contains 5+ more models than this unit (VEHICLE counts as 5) and 2) 1 additional hit with unmodified 6s with bolt weapons.
Black Templars: 1) reroll Advance and Charge rolls and 2) 5+ feel no pain against mortal wounds.
Blood Angels: 1) +1 to wound when charging, charged or HR and 2) +1″ to Advance and Charge rolls.
Flesh Tearers: 1) +1 to wound when charging, charged or HR and 2) -1 AP on unmodified wound rolls of 6.
Iron Hands: 1) 6+ feel no pain and 2) double wounds on the damage chart.
Ultramarines: 1) +1 Leadership and 2) can shoot in a turn during which it Falls Back, but at -1 to hit.
Salamanders:1) each time a model with this tactic is selected to shoot or fight, you can reroll one wound roll when resolving that unit's attack and 2) each time an attack with an AP characteristic of -1 is allocated…treat it as 0 instead.
Raven Guard: 1) count as being in Light Cover if the attacker is more than 18″ away and 2) INFANTRY only count as being in Dense Cover if the attacker is more than 12″ away.
Deathwatch: 1) each time a model with this tactic makes a melee attack against TYRANID, AELDARI, ORK, NECRONS or TAU, reroll a hit roll of 1 and 2) after both sides have finished deploying their armies, select one battlefield role. Until the end of the battle, each time a model with this tactic makes an attack against an enemy unit with that battlefield role, reroll a wound roll of 1.

Company Command
A new rule: a maximum of one CAPTAIN model and two LIEUTENANT models can be added to each Detachment in your army.

Unit Listings From TOC (incomplete)
PRIMARIS CAPTAIN
CAPTAIN WITH MASTER CRAFTED HEAVY BOLT RIFLE
CAPTAIN IN PHOBOS ARMOR
CAPTAIN IN GRAVIS ARMOR
CAPTAIN IN TERMINATOR ARMOR
CAPTAIN
CAPTAIN ON BIKE
PRIMARIS LIEUTENANT
LIEUTENANT IN REIVER ARMOR
LIEUTENANT
LIEUTENANT IN PHOBOS ARMOR
PRIMARIS LIBRARIAN
LIBRARIAN
LIBRARIAN IN PHOBOS ARMOR
LIBRARIAN IN TERMINATOR ARMOR
PRIMARIS CHAPLAIN
PRIMARIS CHAPLAIN ON BIKE
CHAPLAIN IN TERMINATOR ARMOR
PRIMARIS TECH MARINE
SERVITORS
TECHMARINE
INTERCESSOR SQUAD
ASSAULT INTERCESSOR SQUAD
HEAVY INTERCESSOR SQUAD
INFILTRATOR SQUAD
INCURSOR SQUAD
TACTICAL SQUAD
COMPANY CHAMPION
SCOUT SQUAD (possibly ELITES based on list position)
PRIMARIS APOTHECARY
APOTHECARY
COMPANY ANCIENT
PRIMARIS ANCIENT
BLADEGUARD ANCIENT
CENTURION SQUAD
ASSAULT CENTURION SQUAD
VETERAN INTERCESSOR SQUAD
BLADEGUARD VETERAN  SQUAD
COMPANY VETERANS
VANGUARD VETERANS
STERNGUARD VETERANS
JUDICIAR
REIVERS SQUAD
AGGRESSOR SQUAD
TERMINATOR ASSAULT SQUAD
TERMINATOR SQUAD
RELIC TERMINATOR SQUAD
CENTURION ASSAULT SQUAD
INVICTOR TACTICAL WARSUIT
DREADNOUGHT
CONTEMPTOR DREADNOUGHT
VENERABLE DREAD
IRONCLAD DREAD
REDEMPTOR DREAD
ASSAULT SQUAD
OUTRIDER SQUAD
INVADER ATV SQUAD
BIKE SQUAD
SCOUT BIKE SQUAD
ATTACK BIKE SQUAD
SUPPRESSOR SQUAD
INCEPTOR SQUAD
STORM SPEEDER HELLSTRIKE
STORM SPEEDER ???
STORM SPEEDER ???
LAND SPEEDER
LAND SPEEDER TORNADO
LAND SPEEDER TYPHOON
ERADICATOR SQUAD
DEVASTATOR SQUAD
CENTURION DEVASTATOR SQUAD
HELLBLASTER SQUAD
ELIMINATOR SQUAD
THUNDERFIRE CANNON
FIRESTORM SERVO-TURRET
HUNTER
STALKER
WHIRLWIND
PREDATOR ???
PREDATOR ???
GLADIATOR LANCER
GLADIATOR REAPER
GLADIATOR VALIANT
VINDICATOR
LAND RAIDER
LAND RAIDER CRUSADER
LAND RAIDER REDEEMER
REPULSOR
REPULSOR EXECUTIONER
RHINO
RAZORBACK
IMPULSOR
DROP POD
LAND SPEEDER STORM
STORMHAWK INTERCEPTOR
STORMRAVEN GUNSHIP
STORMTALON GUNSHIP
HAMMERFALL BUNKER
~Have at it Marine Fans. What are you seeing and most surprised by?