Goatboy here and hey – we just got 9th released so it's time to give some rules of thumb for the new game.
I am hoping to get a game in next week as Texas is a bit nutty with the Pandemic and my usual bubble of friends were busy this weekend.  We'll see as the week moves on how it works out.  But enough of the issues of the real world – let's jump into some 9th thoughts.

Terrain Matters
First – the big thing I feel from looking at the GT missions and the overall feel of the game play is that Terrain is very important.  In fact – any event organizers planning for next year needs to do a heavy rework of their terrain.  These boxes that utilized the old "ITC" bottom floor covered rule needs to actually have their windows boarded up.  For a true ease of gameplay and the new interactions of Obscured and true LOS, we need to make sure games are able to function turns 3-5 with valid terrain.  The Big L's, huge walls, and other covered buildings we see in a lot of events should work out fine and we just need to make sure.  This game is very dependent on valid terrain and now with our year being fairly shut down we can look at having next year be amazing with strong terrain and a reinvigorated group of 40k players ready to go out, see friends from all over the country, and try to be the best dice slinging warrior you can be.

MOVE! MOVE! MOVE!
Second thing I think we all need to think about with building lists is movement is key.  In fact – if your army is planning on staying still and trying to shoot the entire time expect to lose a good deal of games as your opponent jumps out ahead, doubles up on objectives, and then just leaves you in the dust with a 40 point primary lead.  You need to have the ability to move in this game and get to all sections of the shortened board.  Look to add in units that can haul butt. Bikes, monsters, cavalry, vehicles, etc – are now needed in truly competitive lists.  It is why the old boogie-man of ITC – the Knights players – are going to be in a bit of trouble just from not having enough options to move out and hold the prize.  This is why I looked at Chaos Spawn for Death Guard – or just all Daemon Engines that can haul butt.  You need to have some sort of ability to move – and if you can mix that with abilities to shoot people off the objective than even better.

Going First – Maybe?
The go first or second chatter is interesting as until I can play a game I really won't have a thought on it.  I know getting on an objective is important and I expect a lot of the armies doing this well by going first can either haul butt onto things or at least get to a few and are extremely difficult to pull off.  This would indicate how Dark Eldar might not be as horrible as some people think they could be – just due to having access to a somewhat annoyingly tough transport – the Venom.  This would also indicate that the Harlie things are also a pain with the double decker bikes and their own version of a slightly wider Venom.  I think a lot of players are still looking at their 8th lists and building off of that but will see as I try some games out.

Selecting Secondaries
The Secondaries feel off a bit – but I am sure it is from myself being used to ITC and playing armies that either forced specific Secondaries or basically always picking the same.  I know will see some specific ones come out for each army so will be able to see how the game goes as we see more codexes come out.  So far I think the better plan is to see if you can hit 45 for the Primary and make sure the majority of your points are locked in turn 3-4.
Speaking about Secondaries – the new leaked Marine one where you have to remember what unit killed what unit with what specific weapon during a Doctrine activation is a whole lot of mess.  I don't think it is unscorable – it is just – well complicated.  I am hoping the other army based ones are "easier" to keep up with rather than this weird bookkeeping mess.  Of course if other armies got similar style rules like Doctrines then I would be happy to have a weird secondary – it means I feel on par with the Marine book and how it shifts how the army plays.

Hurry Up then Wait
I feel for Marine players as they just got a new book and now have to wait till October to get another one.  I think players are pretty safe to build the new stuff and some of the newer Primaris stuff.  I expect most things like War Suits and other fun Primaris things to not be found as easily locally.  It is just hard to really define your competitive army if you are playing Marines right now.  This means play weird stuff to get a good solid understanding of the rules.  This also means those Necron players should just be painting the new Indomitus stuff as everything cool they are waiting for is coming later this year.  They just dangle that carrot and we all have to wait.  I guess you can practice your paint scheme and find something new and unique for those sweet 10 extra points you get during a game.

My Gut Instincts
Currently I feel my "competitive" army will be Custodes or Death Guard.  I hear chatter a new DG book is coming especially with the little Character preview we saw this past weekend (It has to be a Winged Daemon prince as the current DG one is Finecast).  I like the idea of the Custodes as I can zoom around the table top.  I was thinking of doing some kind of Janky build with Dark Angels to get an assassinating Talon Master – but most likely with them shoved into the big Marine book they might lose some sweet stuff that sounded interesting.  It also means I can look at an Assassin if I really wanted to have an ability to pop a character or two.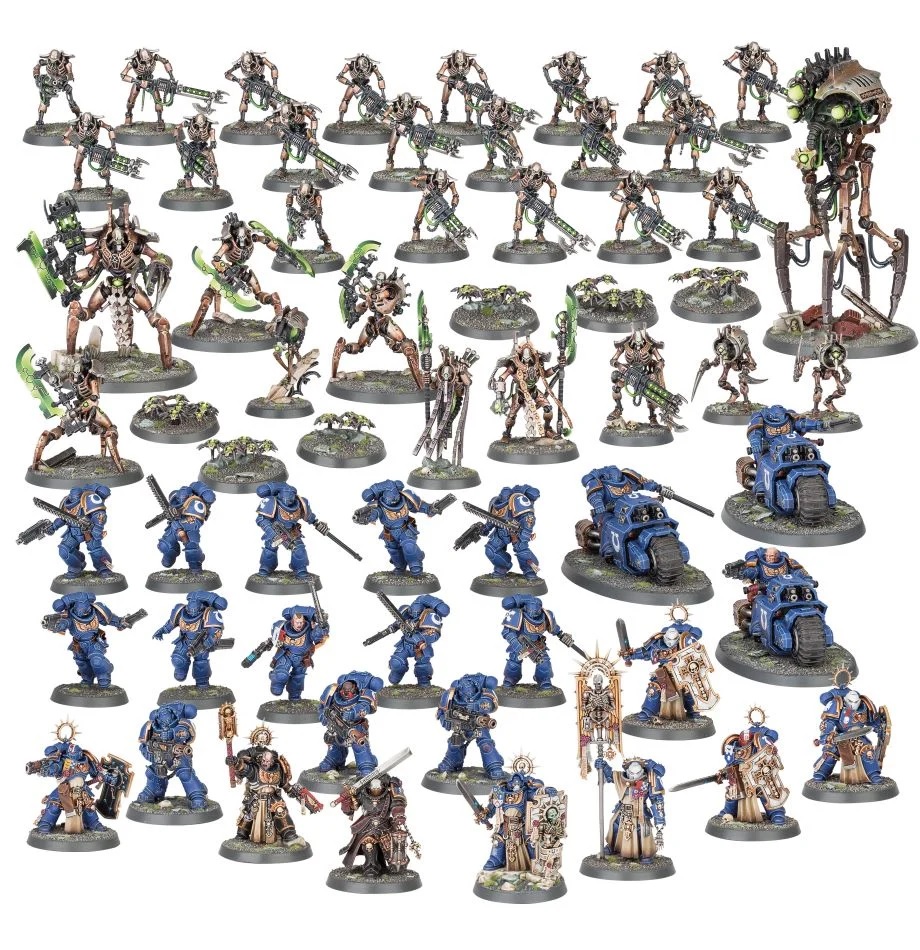 What are you guys building?  I get a feeling I will have some Indomitus orders for clients soon as well as my own personal build out.  My local shop I got my box from sold out and another shop also sold out of theres.  This is pretty awesome as that helps a store get some much needed orders and by the looks of it a lot of players bought other things at the same time.  I am hoping GW makes some more well costed boxes and see if they can ride out this Pandemic with everyone painting their plastic armies of grim dark doom.
Welcome to 9th Edition Friends!