The latest patch for Warhammer Underworlds Online wants you to reconnect… to your matches. Come see what's new in the latest update.
Good news for all you Warhammer Underworlds Online players out there, a recent patch is bringing an experimental reconnection system online, in its beta version. This system will be put into place to help smooth out the experience of folks beset by connection issues or crashes, though this new system  only works once your match actually begins. Details are below.
via Steam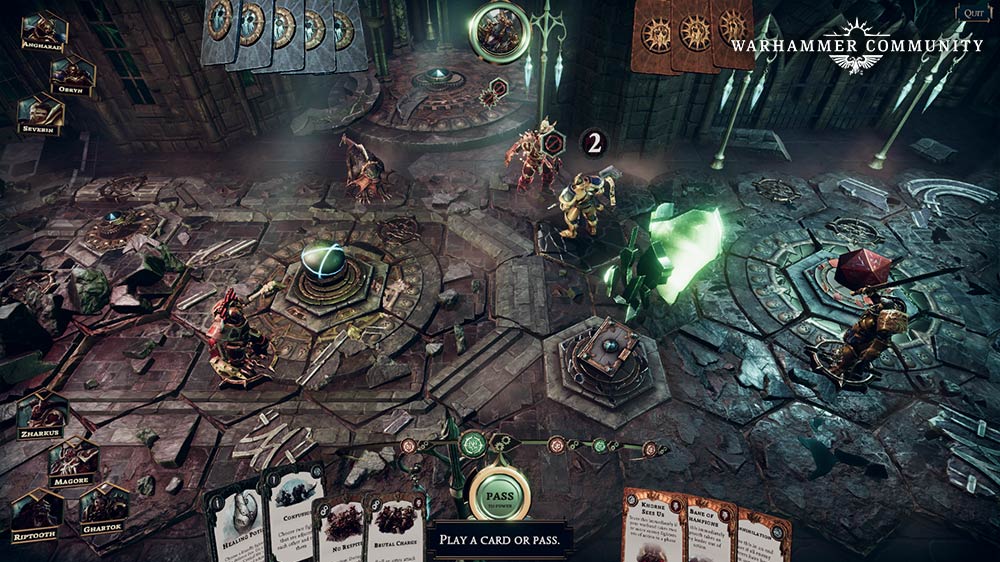 Reconnection System
This system is in a beta phase. Our initial goal is to support players who have client crashes, and players who are disconnected due to server issues.
Getting disconnected during a match will take you back to the main menu and will only give the option to 'Reconnect' to the same match. Pressing this option will make the client try to reconnect to the server you were dropped from.
The server will continue to the match after a player has disconnected. It will stay active for three timeouts by the disconnected player. If that player doesn't reconnect in that period, it will grant a concede victory to the remaining player.
Disconnecting during board setup or re-drawing your hand is still counted as a concede, only disconnecting during or after fighter placement will enable the reconnection system.
You cannot reconnect to bot matches.
UI Clarity
We're working on clarifying a lot of in-game info, one of the key steps in this is showing more valuable information on fighter HUDs.
Added Move and Defence characteristics to fighter HUDs.
Added popup text when a fighter's attacks have a special effect, such as Cleave, Trapped, or Ignore Knockback.
New fighter HUD visualisation for the number of upgrades a fighter has.
Card Fixes
On Your Feet no longer removes Shardgale damage from other fighters.
On Your Feet now allows you to choose a target if there is more than one valid target fighter.
My Turn no longer triggers if the potential target is dying.
Multiple cards that applied +1 damage were stacking incorrectly during attack reaction chains. We have reworked the effects for these cards so they are individually applied, instead of having a generic '+1 Damage' effect.
Lightning Strikes now only triggers off of the specific charge-attack.
Stopped Reflected Injury from triggering with dead fighters.
Updated Scything attacks to check if they should be canceled by Maddening Cackle.
Multiple consecutive Gorefist reactions no longer lock the game. This is the first part of a reaction rework where reaction cards won't run their own effect logic, meaning cards that can react to their own effects (eg. Gorefist vs Gorefist) won't stop after the first effect or get bugged.
Good luck, commanders