Frostgrave Pre-Orders are up and Frostgrave Second Edition sets to release for August 20th, 2020.
Osprey Games
shared a few teases about what to expect and I really want to get my hands on this book. This post focuses on the places where you can pre-order the book. Of course, you can continue to order from these sources (and others) once the pre-sales are over too. Today, we look at the sales on North Star Military Figures, Osprey Games, Brigade Games Miniatures, and Badger Games. Before getting into the pre-order deals, I will talk a little more about Frostgrave Second Edition.
Frostgrave Second Edition
For those that don't know, Wizards battle for supremacy and artifacts in Frostgrave. The action takes place in the frozen ruins of an ancient city. There, a Wizard and Apprentice takes on a warband of up to 8 others against their opponents (and the random monsters on a gaming board) to collect treasure off of the tabletop. The game is a ton of fun and I had a blast with first edition.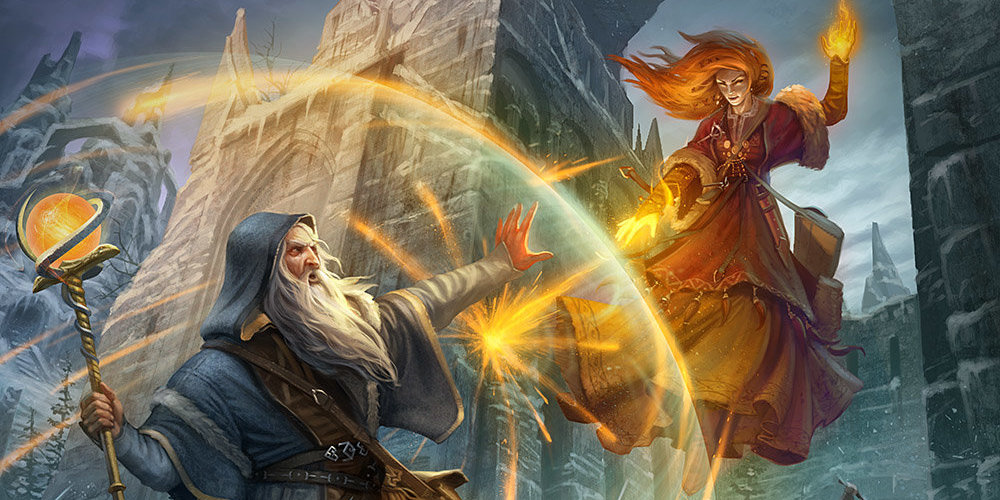 Frostgrave runs on a D20 system and very much feels to me like an RPG experience in a miniatures skirmish game. Between each mission, your Wizard and Apprentice improve, and you can decide how to upgrade your Warband too. This makes for some great campaign games. In fact, three back-to-back games of Frostgrave in an afternoon makes for a great gaming experience in my mind. Frostgrave Second Edition takes what worked in First Edition and makes it better. I expect that we will see some rule changes that will make the system more in line with
Frostgrave Ghost Archipelago
with your crew members. Joseph, the author, also revamped the 80 spells in the main rule book to make all of the spells more useful. In the
First Edition
, certain spells worked better than others. After seeing which spells became most prevalent over the years, Joseph figured out a way to make all of the spells desirable. I am looking forward to seeing those changes myself. Despite the changes, Osprey Games has come out stating that all of the supplements (except
The Grimorie
)
are fully usable in Second Edition
. If you want more yet, Osprey Games has some more teaser articles too. You can check
their blog
or read this one here
introducing Frostgrave Second Edition
.
Frostgrave Pre-Orders
Now to the meat of this article. Frostgrave Second Edition releases on August 20th. Now, where can you get this book as a pre-order? Well, the best places include North Star Military Figures, Osprey Games, Brigad Games USA, and Badger Games. The best being North Star Military Figures because you can get a free mini. If you
buy from North Star Military Figures
, they will give you a free miniature of a Thaumaturge Apprentice along with the purchase of any of their Frostgrave Second Edition Pre-Orders on the books. You buy the book from them, you get the miniature.
When I think of Frostgrave pre-orders, I think of North Star Military Figures. They manufacture the miniatures and have close ties to Osprey Games. I outlined just a few of their pre-order deals. Head to
their site
to find more. I believe the Frostgrave 2 deals and bundles are good until August 20 (2020). Don't want to order direct from the miniatures manufacture?
Osprey Games is also running pre-orders now. I find the North Star Military Figures pre-sales options much more interesting, but Osprey Publishing is a great company and I certainly won't discourage anyone from supporting the company directly. You could also purchase some of Osprey's many other books while you are there.
Brigad Games is North Star Military Figures North American partner. If you want order deals similar to what North Star runs (but in the USA), this is where to go. They have the same deal where you get the Apprentice miniature for free if you buy the second edition rule book. You can find this on their Frostgrave 2 pre-order page along with the plastic Frostgrave Knights.
Badger Games also sells Frostgrave Products in America be sure to check them out if you are looking for a supplier in the USA.
Wrapping it up…
Hopefully, you enjoyed this quick article about Frostgrave Pre-Orders. I am a huge fan of the Frostgrave game system and am really looking forward to the new edition. I can't wait to see what is in there. If you are in a similar boat, you can pre-order the game too. Places I would direct you to do so include North Star Military Figures, Osprey Games, Brigade Games Miniatures, Badger Games, and Amazon. If you want more Frostgrave content, there is
plenty more available
. I also recently wrote a fun article speculating on what
Frostgrave in Space
might be like with Stargrave.
Until next time, Happy Gaming Everyone!!!

Read more about great Indie and Historical games on my site!
This article
first appeared on Must Contain Minis
. Over there, you can plenty of articles about all sorts of miniatures games. I also wrote my first newsletter article for the site recently. Please
come over and take a look
. Perhaps leave a comment or two. What I love most are games that others might consider obscure. You will find posts about tons of indie games, historical games, and games from small publishers. You can also follow me on Social Media. I am very active on 
Facebook
 and share posts of a wide variety. I upload my best pictures to
Instagram
 and am fairly active on 
Twitter
.
My aim is to promote gaming with companies outside of those that already dominate the gaming market.