Goatboy here to talk about the additional wound the "firstborn/classic marines" will get in the coming months.
I also think the change to Heavy Bolters are worth a talk too – but let's get on with the wound thing and then wax poetic on the "Marine" killer the heavy bolter will become.  Overall I am pretty excited about the extra wound as I am a Chaos player at heart but will talk about why the extra wound for a regular Marine is looking like more of a trap.
We all know how GW released a new type of Marine in order to get Marine players to buy some new Marines.  As I didn't really play Marines it didn't affect me too much – but I do remember a lot of complaining about this update.  Initially the new Primaris marines were shown to cost a bit to much and with early 8th edition rules they were not – well nearly as good as they needed to be. I just liked them due to how they were easier to paint with the bigger body parts and usually less chotskies. The new Marine book (soon to be old Marine book) changed that and we saw a massive shift into the dynamics of the troop options in the so called good guys of the Imperium.  Sure we had some stragglers playing the old Marines (Blood Angels, Centurions, Devastators) but overall you could do a lot with the Primaris stuff.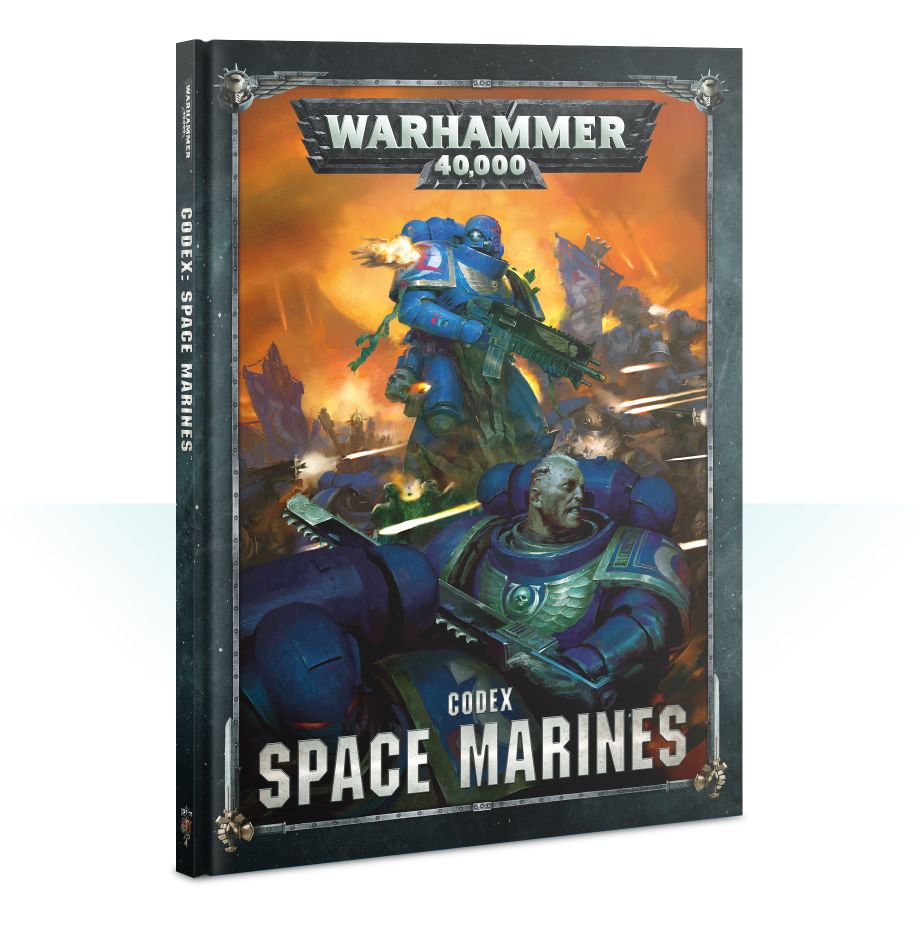 Two Wound Implications
This leads me into thinking – while yes the firstborn got an extra wound they also got a lot more expensive.  When you add on a special weapon they start to get more expensive than a Primaris – minus 1 attack.  I also think the basic Primaris guns are just better than bolters – even added 6 more inches to their range.  The Assault Bolter for a Primaris seems to be extremely powerful in the upcoming White Scars counts as meta that I am sure will all be complaining about.  I get the feeling the points we see for the Primaris in Chapter Approved are probably going to stay with all the "Firstborn" stuff getting the appropriate upgrade to let players play with their stuff – without knowing that their stuff got a bit worse.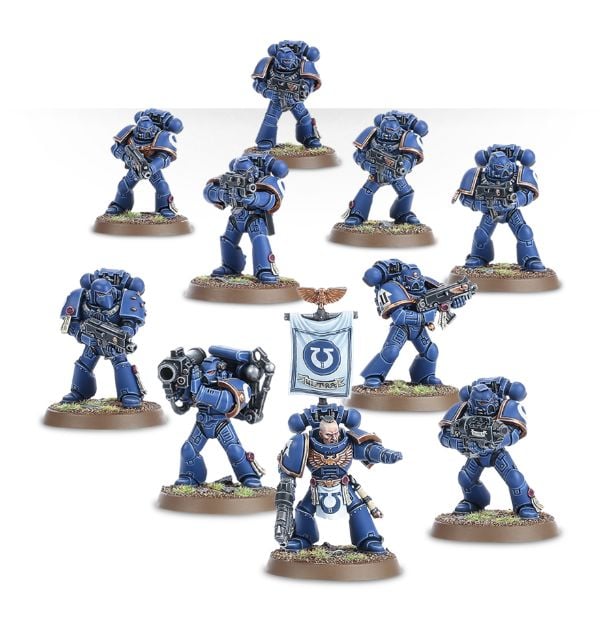 The extra wound is just about making the model tougher.  Its pretty simple – double the wounds you double the amount of damage they can take.  You also start to make weapons that don't do just 1 damage a heck of a lot better at the same time.  This forces a lot of armies to change their normal load outs for something well – more devastating.  It changes the game from a quantity game to a quality game which might be good.  It probably also does a number on the Xenos races as the majority of them seem to be left at the 1 wound troop mixed with the more wound Characters.  I don't know if we'll see the other armies shift but it seems to be kind of telling that we might see a new year full of 30k style battles as brother versus brother dominates the playing field.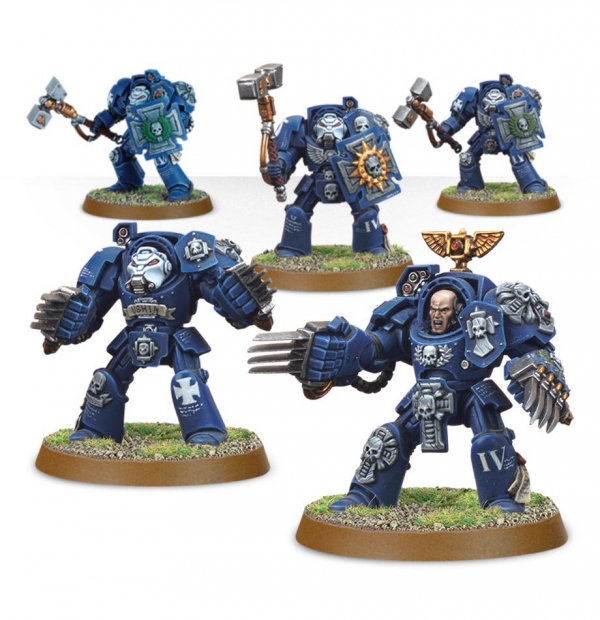 Now this isn't to say I am unhappy with the 2 wound update.  I think where this update shines is how they are "fixing" a lot of the issues with Terminators.  You cannot make their save any better without either introducing a bad mechanic (saves on 2d6, no modified armor saves, etc) so making them tougher is a better option.  Pushing them to the 3 wound limit means most of the better multi damage guns don't just kill one in a single hit – they need to dump usually 2 hits to remove one of them.  This is pretty awesome as it just makes these guys a lot more beefy.  I also wonder if will see regular bikers go up to 3 wounds as well.  It would make sense and again it breathes a little life in the biker option for some armies.  I think we could very well see some "assault" terminator goodness coming out of White Scars that just haul butt up the entire field, charge in, and get to swinging damage 4-5 t hammers.

Chaos!!!
I think the bigger winner in all of this is of course Chaos. They do not have Primaris marines so giving their default troop an extra wound on top of their cult troops, terminators, and gasp maybe Bikers is a great thing.  The army suffers a lot from what is kind of annoyingly meh troop choices that while interesting take specific Legions to truly activate.  I have read a ton of chatter how Death Guard were very strong in testing and now I can see it with 2 wound Plague Marines and 3 wound Blightlord Terminators.  Heck I can see an MSU army of Plague Marines full of Feel No Pain Rhinos, flails everywhere (they do wonders to remove Primaris marines), and a ton of Daemon Engine back up.  This middle control army just feels built for 9th edition and I am happy I have eight units of 5-Plague Marines built for this new edition.  Sure we have things going up 20% – but there are always tricks to shave off points here and there to get the bad guys I needed.  I really hope we see Chaos bikers updated as well as Red Corsairs bikers mixed with Chaos Space Marines can create some crazy pressure with regrowing jerks, fast bikers, and just the normal bad guy back up.  Heck 10 Chaos Terminators moving, advancing, and moving/advancing again is a lot of phat coming in hot into an army.  Heck 2 wound Thousand Sons sound really hard to remove off the table top as well.

Bolters & Meltas
All of this is why I expect a lot of armies to start to shift to "higher" quality fire power versus massed shots.  I talked a bit about the upgrade Heavy Bolter and I wonder if will see a renaissance of those guys coming out of the wood work.  A unit of Havoks coming out of a Rhino or Drill throwing out 12 damage 2 shots might be good.  Heck I can see a ton of Sisters of Battle bringing heavy bolters to the table top too.  It is crazy to think one little shift in profile can help "fix" a weapon.  Will have to see how good it becomes but it is something to truly look as it was one of the "visually" representative options in 40k for awhile.  I still remember the old Xbox game where you could plant your feet and cover a corridor with Heavy Bolter fire.
I like the Multi-Melta change as it helps cover the curve better and makes the gun feel better.  I don't know if it will show up that all of them shoot 2 shots – but if so it makes you wonder what is the point of a Lascannon?  I guess we have to wait for another edition before we get the "weapon" update needed on the laser beam death weapon.  All of these weapon fixes though make me think that Knights are in a rougher space then when 9th started.  Initially they just had issues scoring – but if weapons start to shift to higher quality shooting then will see a lot of giant robots kneecapped, sent home, and lose their scholarships to the 40k top 8's in upcoming events.
Are you excited about the changes?  Do you think they make sense? Do you have a crap ton of Classic Marine like I have?  Do you think I am wrong and Classic Marines will become the staples of the competitive scene?