The CORE rules are here to stay, but these units are screaming foul!
Goatboy here again with some more thoughts on the whole "core" keyword.  It really shifts a lot of what used to be very smashie characters and changes up a lot of how you look at your "leaders".  It really feels like they are moving away from complete bad asses and instead moving towards "competent" leaders.  This is a big shift as a lot of the game was defined by having very killy do more damage then its points would be.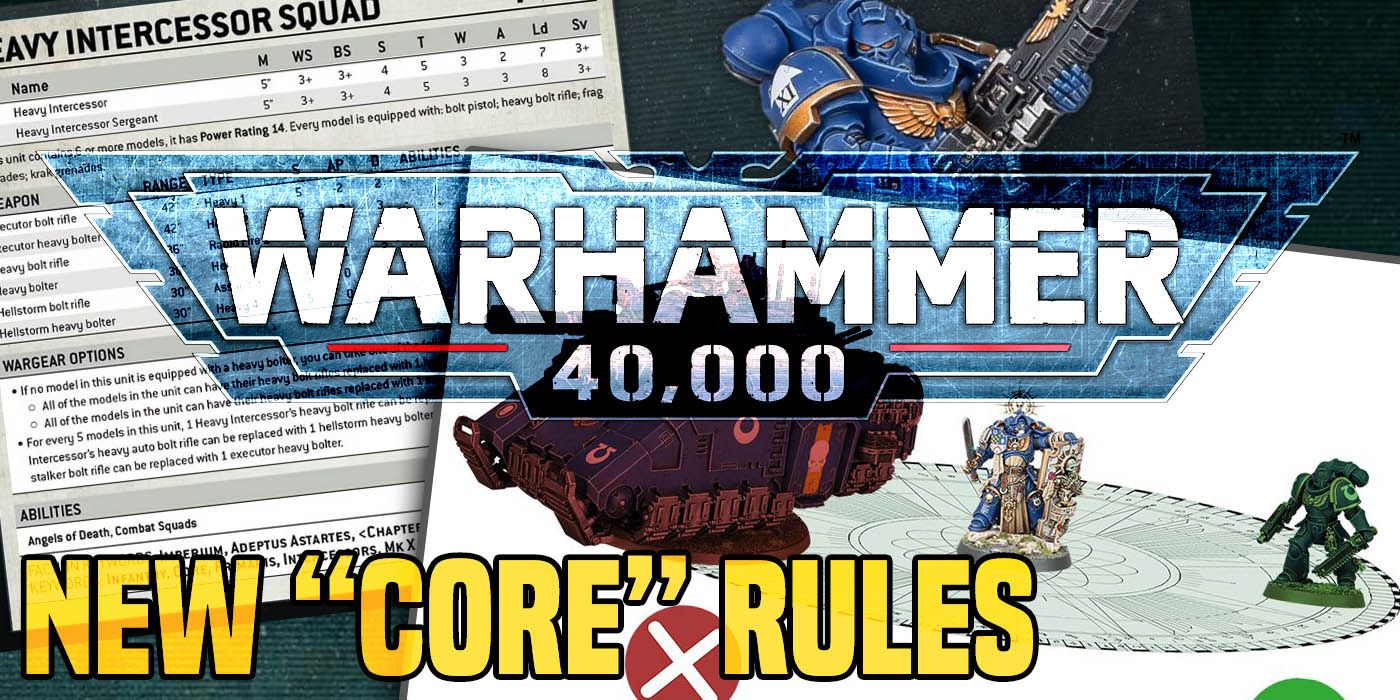 I can remember many a game where my Blood Angels Smash captain charged 3 things and killed all 3 things.  The best was when one hit 3 Leman Russes, blew up all 3 due to the unfortunate luck of my opponent rolling 2 6's for explosions.  Charge between two, kill one, consolidate around the other to get near the 3rd one, attach again, kill the tank and then watch it explode.  The most Nick Rose thing I have done in all my games of 40k.  Of course this all wouldn't have happened if I didn't get a chance to reroll some of my misses.  Add this onto a hammer bro and now those 1"s and 2's look really rough to deal with.
Let's go through what I think are the top 5 effected units by this change in rules.  These are the guys that will most likely use their Aura's bonus and how they will change from a beat stick to someone telling your army to do something.
Smash Captain
First of all the big loser is for sure the basic Smash Captain.  The loss of the reroll 1's is huge when running around with a weapon that is already a -1 to hit.  This shift means I expect most Captains and upgraded Chapter Masters to just go back to being as cheap as they can – either with some kind of power weapon or just a sweet master crafted bolter.  I also expect a lot of wasted CP to go away as you don't really want to upgrade and create this insane beat stick.  It is frustrating as the Thunder Hammer looks to be extremely expensive on a character so don't expect them to show up as much – instead the hidden sarge with one will be important.

Daemon Prince
The next big loser is for sure the Daemon Prince.  They got a lot more expensive and while they are still deadly losing the reroll 1's to hit means your 6 to 8 attacks are going to have some misses showing up.  Without some crazy reroll wounds from somewhere you end up not doing nearly as much damage as you would like.  Does this mean you won't see them?  Well – depending on what you need in the game they could still show up as while they are not going to go kill a 5 man unit of guys a lot of the time they can easily push some damage onto something or they end up being just tough to remove and thus one of the choices you pick in that keeping your guys alive secondary.

Big Daemon Engines
I think another lose will most likely be the big Daemon Engine options that got better with the rules and lack of -1 when moving but losing a reroll to hit means they will have to rely on your Master of Possession casting their Infernal Power to make sure you get a reroll to hit.  Of course this is all based on the spells staying the same – which we don't know if they will.  Still – this aura change means my lovely little Lord of Skulls might lose that really annoying reroll 2+ hits.
As an aside – the reroll + hits were always a really annoying thing in the game.  We all know by the math we should get a decent amount of hits – so rolling really bad with a reroll 2+ means you as the player are not having the much fun.  But if you hit a ton then the other player isn't having a ton of fun.  This was always the other side of a game that tried to mitigate failure in a way to appease some army builders.

Chaplain
The next guy who loses out it seems is the Chaplain.  A bit of chatter showed that the Litanies are going to include the CORE keyword meaning the Chappie themselves just don't feel the power of Prayer.  It starts to get really weird as they can get the models into combat but they are left behind a bit.  They are also another form of Smash Captain like thing so not getting to reroll to hit is kind of sad for this power of prayer model.  I guess they will just tear a phonebook in half for the Emperor.

Vehicles
A question I have is are the Astra Militarium going to have this CORE  keyword show up?  This way they can really separate who can get orders and who can't?  Like the Tank Commanders not being able to tell themselves and other Commanders to do something cool?  Are they going to get limits to how many can show up in a detachment like the new Marines are shown too (1 Captain and 2 Lt per detachment)?  Man a ton of questions to look forward to as the game continues to come out with new stuff.
All the vehicles losing rerolls is a huge thing too – which I delved into a bit with the Daemon Engine builds but thanks not getting rerolls could be extremely hard to deal with for Marines and other armies.  I think it is for the best as there was nothing worse than watching a brick of tanks with a guy in the middle twiddling his thumbs.  Hell we should have made some kind of motorized Lazy Boy the model could putz around in like the people from Walle.

Odds & Ends
Speaking of that – would Tau lose Rerolls not on characters but some of the other bigger suits?  They are in a rough space right now as their  Castle style of play doesn't fit well for the new edition.  The suits themselves not being able to jump out of combat and shoot is such a huge hit to them that any other ones that come could just make this army not nearly as interesting to play as they were before.  Woof for the poor anime fights in space.
Beyond just basic characters a ton of the special guys and gals look a lot worse.  The Saint losing some of her Auras for herself or the other Saint Katherine not getting her own options would be really weird.  Ragnar becomes a lot different as well which is unfortunate.  Looking at the one big bad of the universe – Abaddon doesn't look nearly as mean when he could roll a ton of 1's to lose the fight.  It also makes the whole rule of Ghaz not letting himself advance and charge start to make some sort of sense.

Right now we expect a whole slew of unit updates, rules updates, and now it seems maybe some Datasheet updates coming once Marines come out?  Or are we just going to have to wait for the new rule books to come out with older books keeping their sweet reroll auras till they get some new book?  Do you think will get a bunch of updated sheets in the app?
What other units are going to be changed a lot due to "CORE" add on to auras?  I wonder how many changes to Death Guard will show up to as well.  Arch Contaminator not working for your vehicles is a huge change that could be very rough for the army to deal with.
 ~Who do you think will go back onyo the dusty shelf thanks to CORE?