GW Pre-Orders: Pricing & Links – Lumineth Realm-lords Weekend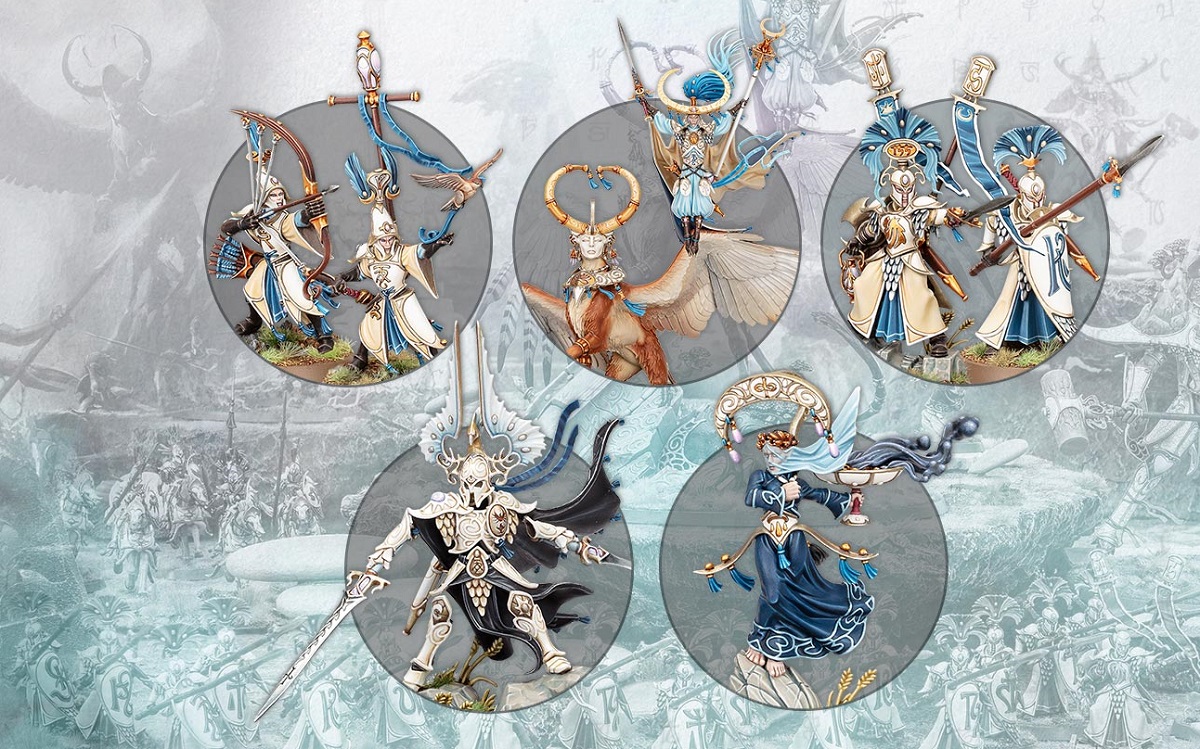 The Lumineth Realm-lords are getting reinforcements this weekend! Pre-order are now available.
via Games Workshop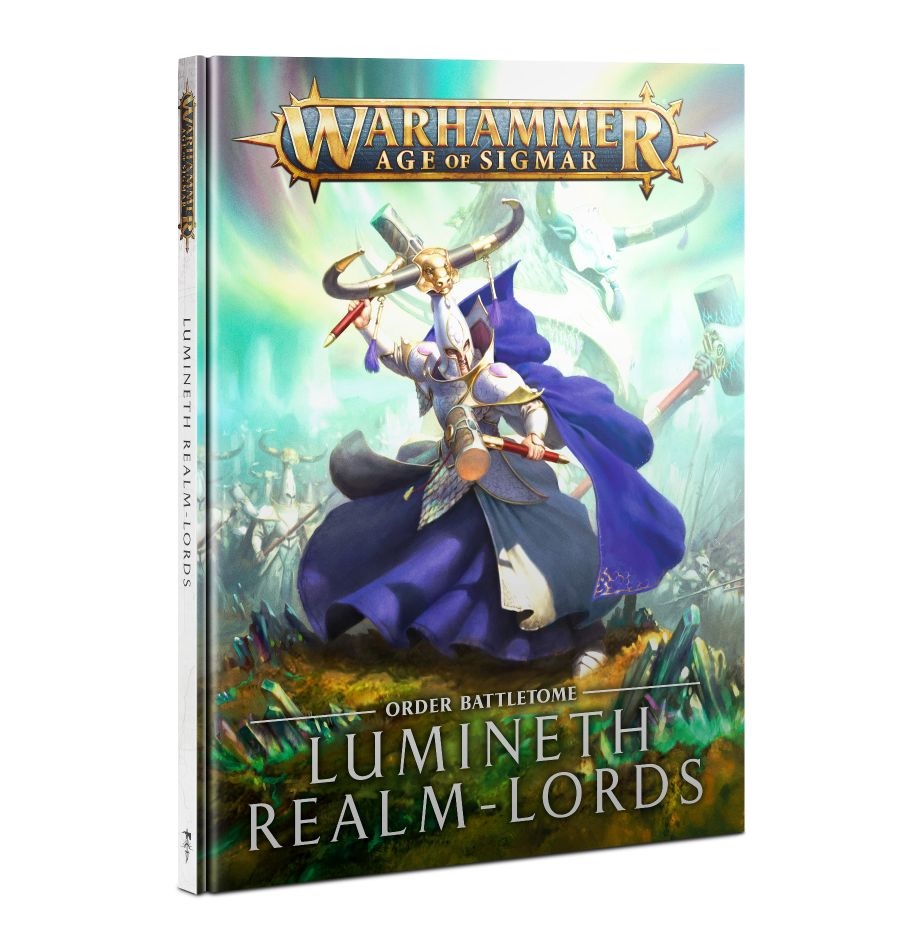 The Lumineth are masters of magic. Through their immeasurable skill, they will save the Mortal Realms from disaster – no matter the cost. Only the Lumineth would be arrogant enough to claim the title of Realm-lords, yet such is the close bond they have forged with Hysh that they have earned that right. Their immaculate shining companies fight as one, whilst the devout warriors of their aelementiri temples call upon the war spirits of the elements to lend them supernatural powers and even battle alongside them.
Master a new generation of aelves with Battletome: Lumineth Realm-lords – your guide to the light-wielding, elemental-mastering inhabitants of Hysh. Whether you're a veteran of the world-that-was looking for the spiritual successors to your High Elves of yore or a new player looking for a rewarding, tactical and powerful army, this book is your complete guide. Discover the history of the Lumineth Realm-lords with rich lore and beautiful art, get inspired for your own personal hobby with a showcase of stunning miniatures and painting tips, and field an army with warscrolls, allegiance abilities, spell lores and more.
This 90 page hardback book contains:
– Allegiance abilities for Lumineth, including a variety of battle traits
– 2 spell lores
– 2 battleplans that allow you to fight thrilling narrative battles that suit the Lumineth Realm-lords ways of war
– Rules for creating a Lumineth warband for Path to Glory, including Champion and Followers Rewards Tables
– 4 warscroll battalions
– 13 warscrolls, and 3 endless spell warscrolls
– Pitched battle profiles for all units and endless spells featured in this battletome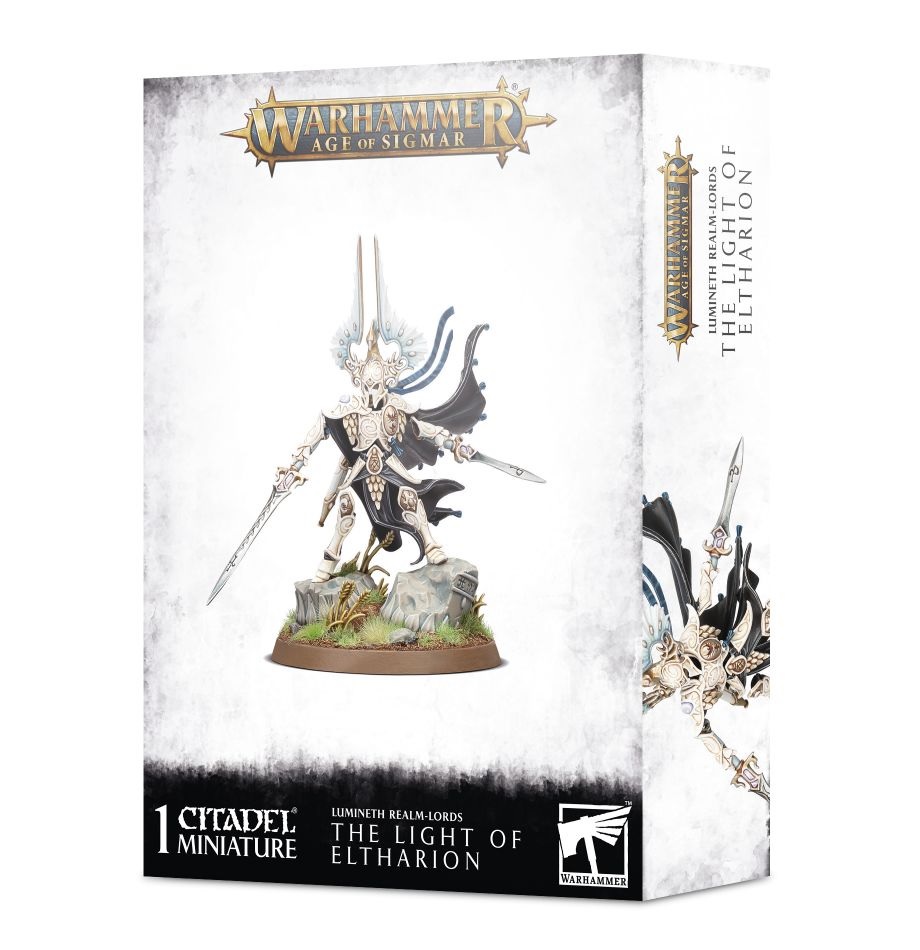 Eltharion has no physical form, only a spiritual essence given uncanny strength through Teclis' magic. An ancestor of the Lumineth race, his avenging spirit is a puissant warrior and an inspiring hero to those aelves who witness his shining light.
Whether you're commemorating the world-that-was or just want to chop enemy champions to bits, you can't go wrong with the Light of Eltharion. This legendary Hero is an excellent duellist, at his strongest when facing off against other Heroes. What's more, the Light of Eltharion will ensure that your other units don't flee even when under heavy pressure!
This kit builds one Light of Eltharion miniature. Innovative design makes this a model like no other – a hollow, animated suit of armour! Even if you're not using this in a Lumineth Realm-lords collection, it's worth picking one up just to paint. This set is supplied in 15 plastic components and includes a 50mm round base.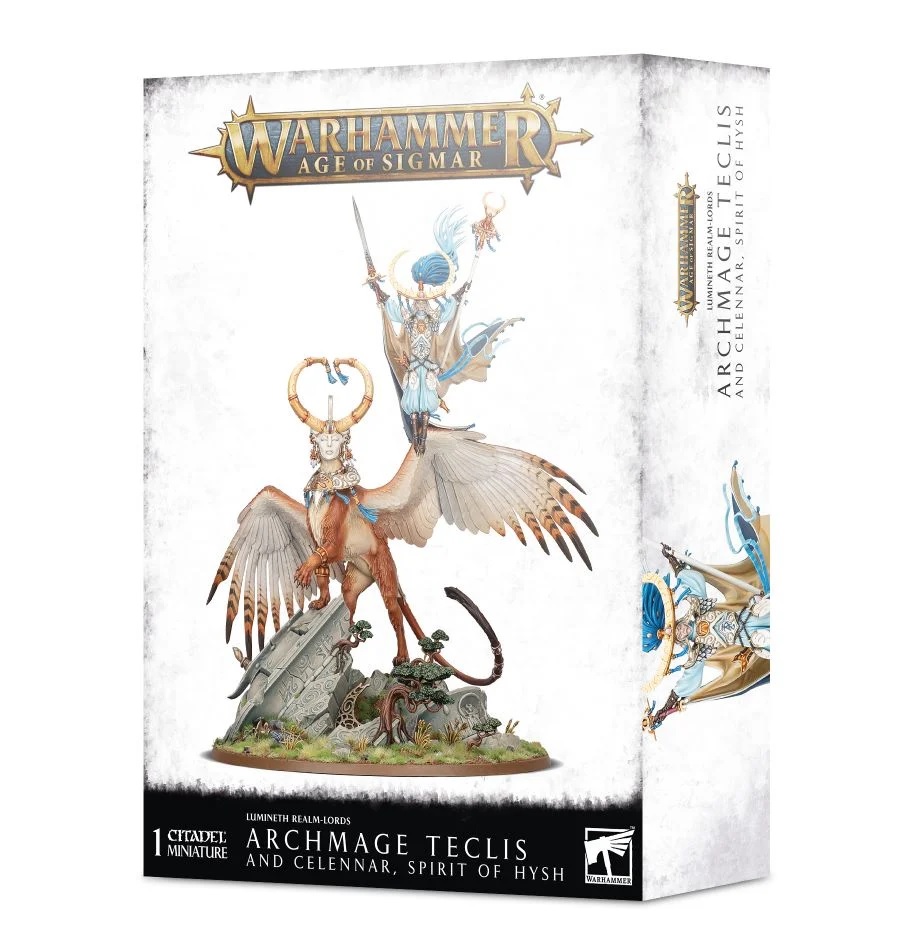 Subscribe to our newsletter!
Get Tabletop, RPG & Pop Culture news delivered directly to your inbox.
Teclis is a paragon of magical talent, a deific presence who has only become more powerful since uniting his soul with the lunasphinx Celennar. Their mastery of light protects the Lumineth armies whilst searing the foe to scattering ashes.
Behold, the god of light! Teclis is the ultimate sorcerer of aelvenkind – and, some say, the mortal realms themselves. This dynamic duo are among the most powerful options available to a Lumineth Realm-lords army, letting you blitz your enemies with a dizzying array of powers or just chop them to bits in close combat. This stunning kit makes for a fantastic piece not just for gamers but painters looking for a rewarding way to show off their skills, lore fans dedicated to Teclis' long history, and collectors looking for a truly magnificent centrepiece to their Lumineth Realm-lords collection.
This set contains Teclis and Celennar, Spirit of Hysh, a single miniature supplied in 70 plastic components with 1x 160mm round base.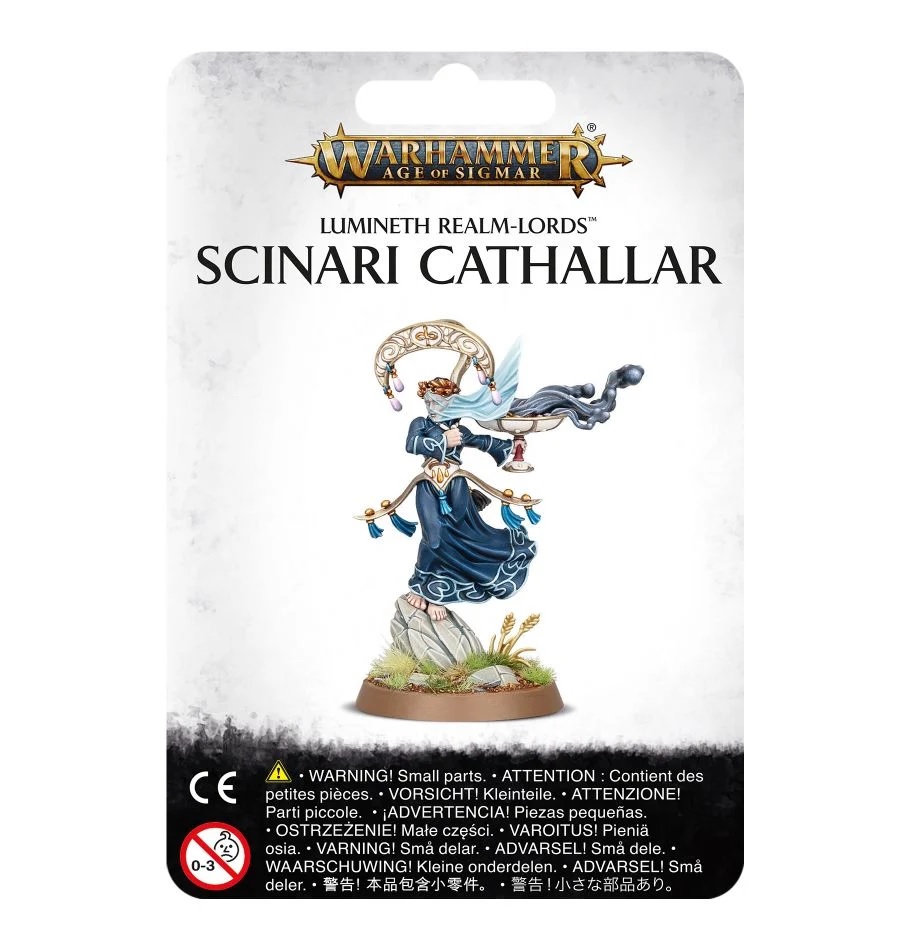 The Scinari Cathallar is the single point of darkness in the shining host of their fellow Lumineth. They take the emotional trauma of their kin and weaponise it, unleashing this torment at the foe to render them crippled by angst and despair.
The Cathallar is a key strategic unit for any Lumineth Realm-Lords force, offering magical support and letting you get the most out of your aetherquartz reserves. With her on your side, this valuable in-game resource won't just be a boon to you but a peril to your enemies as you cripple their Bravery characteristic!
This set is supplied in 12 plastic components and includes a 32mm round base.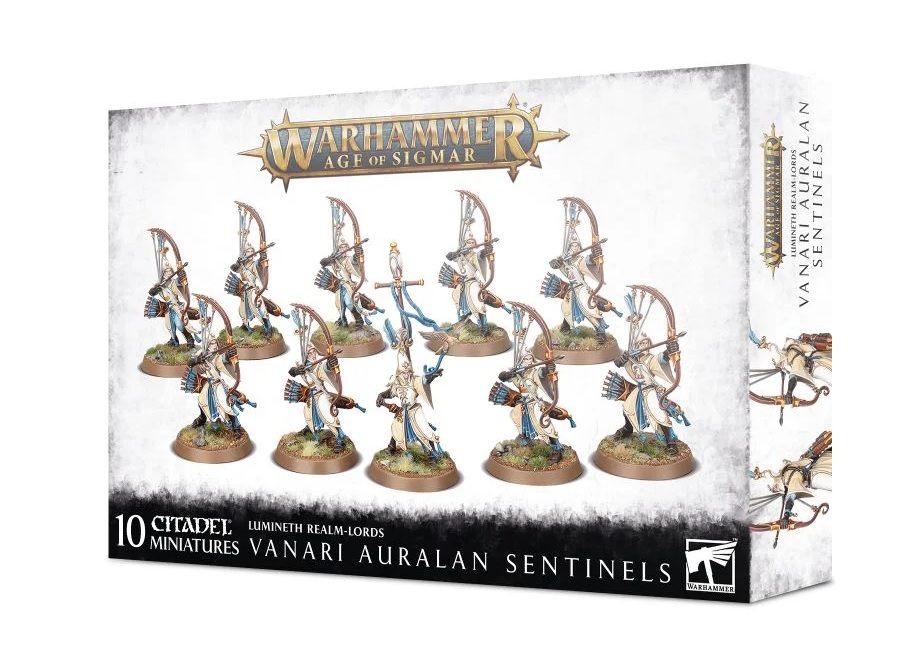 Master archers, the Auralan Sentinels wield complex aelven bows that can either fire straight and true or loft arrows high in the air to curve down onto distant foes. When their High Sentinel channels power into their arrowheads, they are all the more lethal.
Auralan Sentinels are a superb ranged unit in your Lumineth Realm-lords army, capable of bombarding enemies at long range with hails of arrows. Enhanced with magical power, they'll make short work of even heavily armoured foes. Meanwhile, the unit's Scryhawk Lantern ensues that none can hide from their fusillades.
This kit builds 10 Auralan Sentinels, in a variety of interchangeable and customisable designs. Thanks to a choice of bows, quivers and more, you'll be able to ensure that even the most massive line of archers looks distinct. This kit also contains the options to build one Auralan Sentinel as a High Sentinel with a Scryhawk Lantern.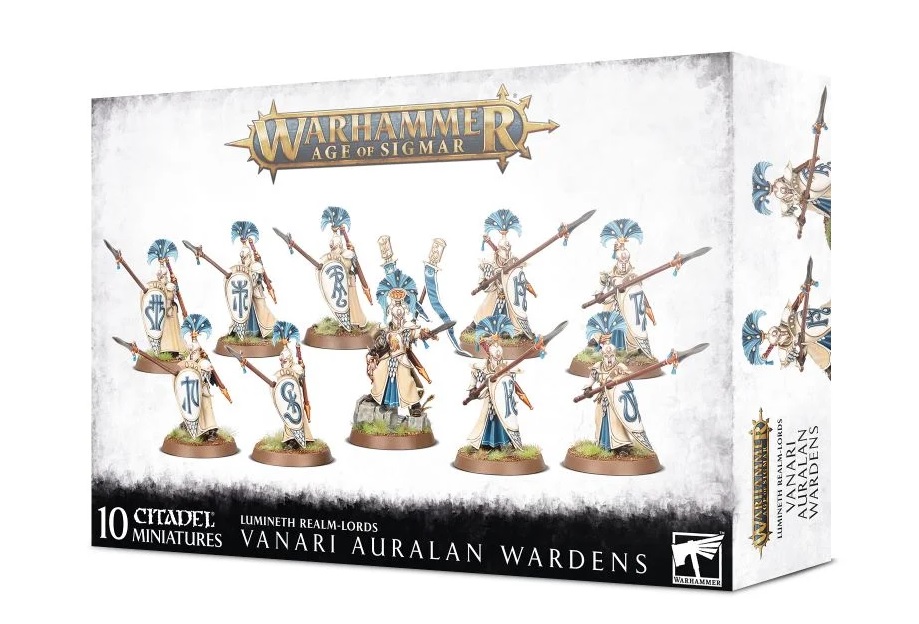 The Auralan Wardens fight in close formation, using long pikes that they set to receive the charge of the foe. The Wardens guide their sunmetal tips into the enemy's chests at the last moment; those pierced by them are slain in a heartbeat.
Auralan Wardens are the front line of any Lumineth Realm-lords force, forming a nigh-impenetrable wall of pikes that's ideal for repelling enemy charges and dominating the objectives. Capable of making themselves even deadlier with magical spells, they're essential in nearly any force.
This kit builds 10 Auralan Wardens in a variety of interchangeable and customisable designs. With various weapons, shields, helms and accessories, you'll be able to ensure that your pike block looks distinct. This kit also contains option to build one Auralan Warden as a High Warden.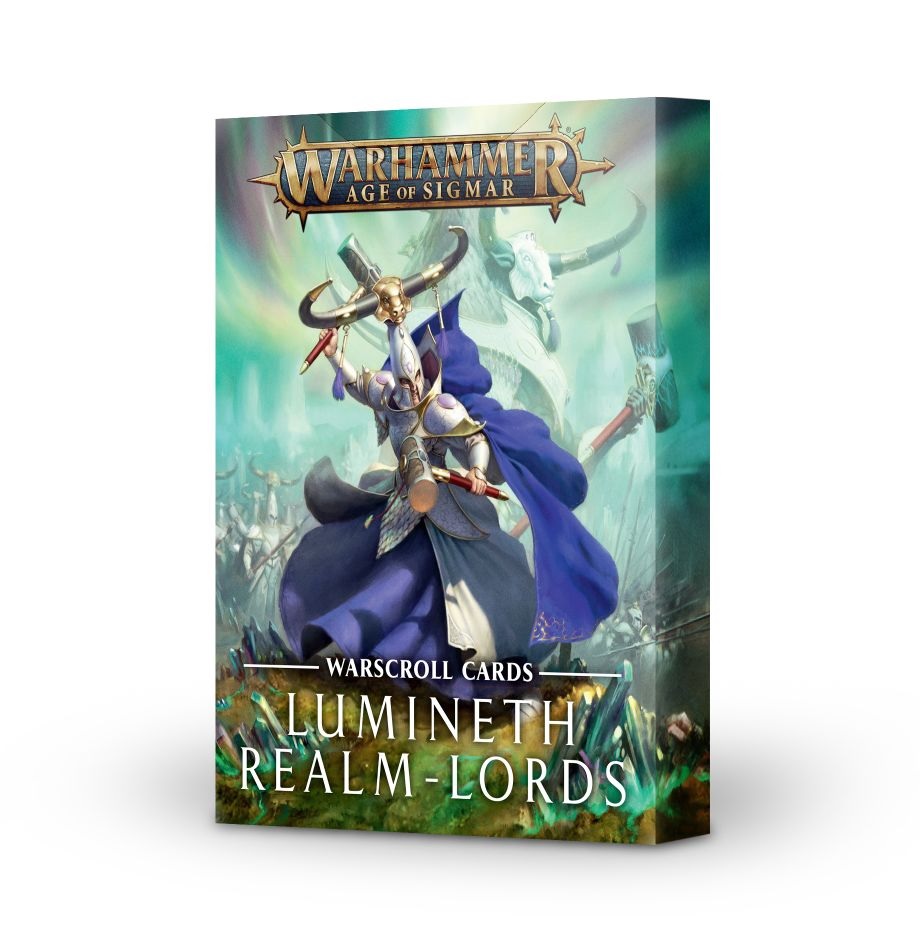 Thanks to aetherquartz, Lumineth Realm-lords can plan new battle strategies in moments with flawless mental acuity. Mere mortals like us, however, need a little help – which is where these Warscroll Cards come in. This essential reference resource takes all your Lumineth Realm-lords warscrolls and transforms them into easily referenced cards – grab the ones you need for battle, lay them out, and referencing your rules will be a breeze! What's more, this set includes tokens for keeping track of ongoing effects, meaning you'll be able to focus on the battle at hand rather than whether or not you have as much aetherquartz as you remember.
This set includes 13 warscroll cards for referencing units and endless spells, plus two double-sided sheets of push-out tokens.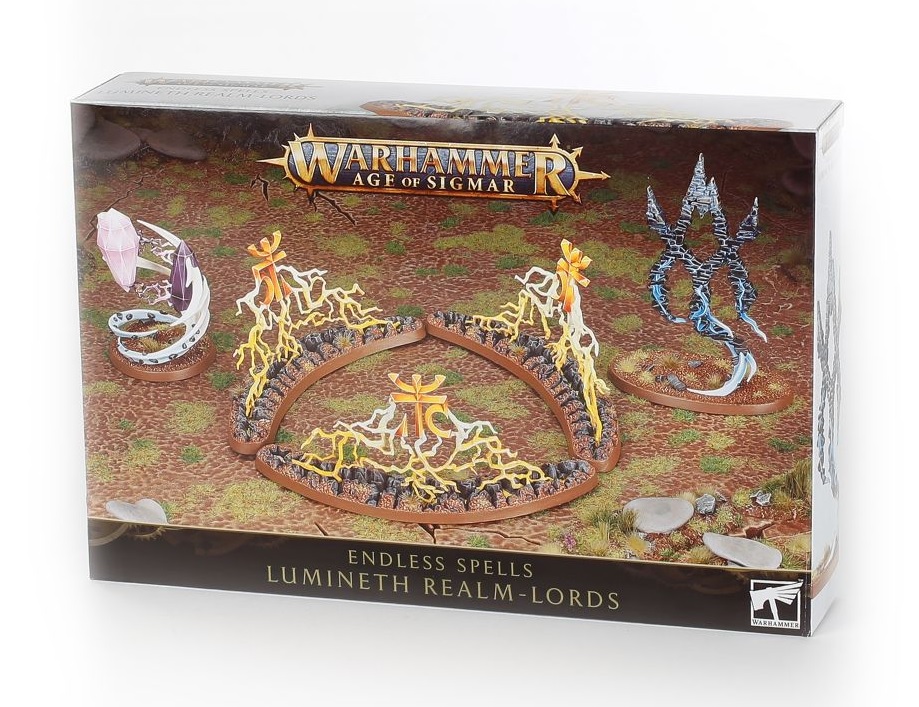 The Lumineth Realm-lords are carefully attuned to both the winds of magic and the elemental forces that define their realm, with powerful mages marrying the two in devastating endless spells.
Unleash the full magical might of the Lumineth Realm-lords with this endless spells set! Inside, you'll find the models you need to use the following summoned sorceries in your battles:
– Sanctum of Amyntok: a magical shield for keeping your favourite Wizard safe
– Rune of Petrification: a hovering harbinger of destruction that wreaks havoc with your enemies
– Hyshian Twinstones: a pair of magical batteries that allow you to store up excess power for when you need it
This set is supplied in 16 plastic components. One spell features an integrated base, while the other two are based on a 50mm Round and a 75mm x 41.5mm Oval bases, which are included in this set.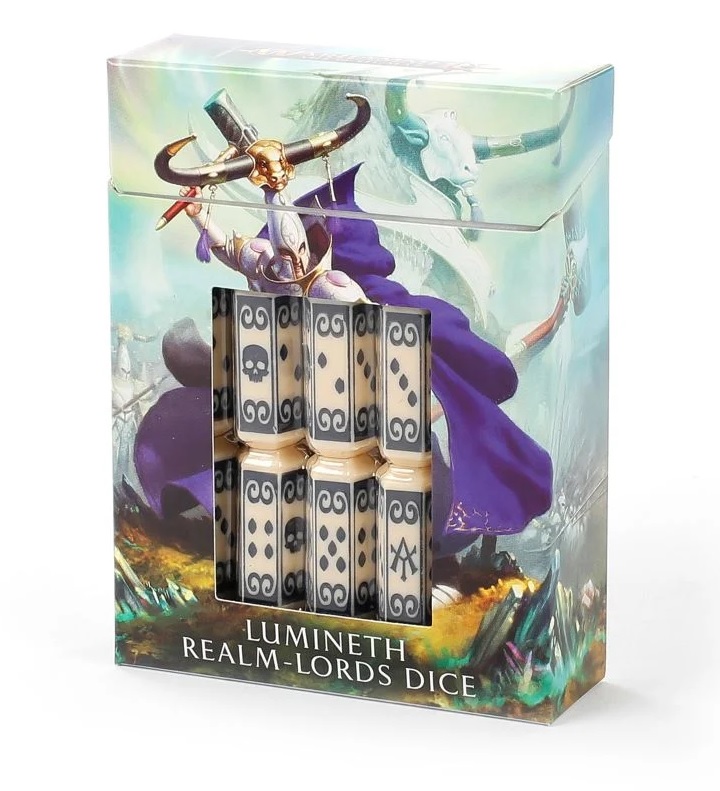 The light of Hysh is here!