Star Wars Swag For Grown Ups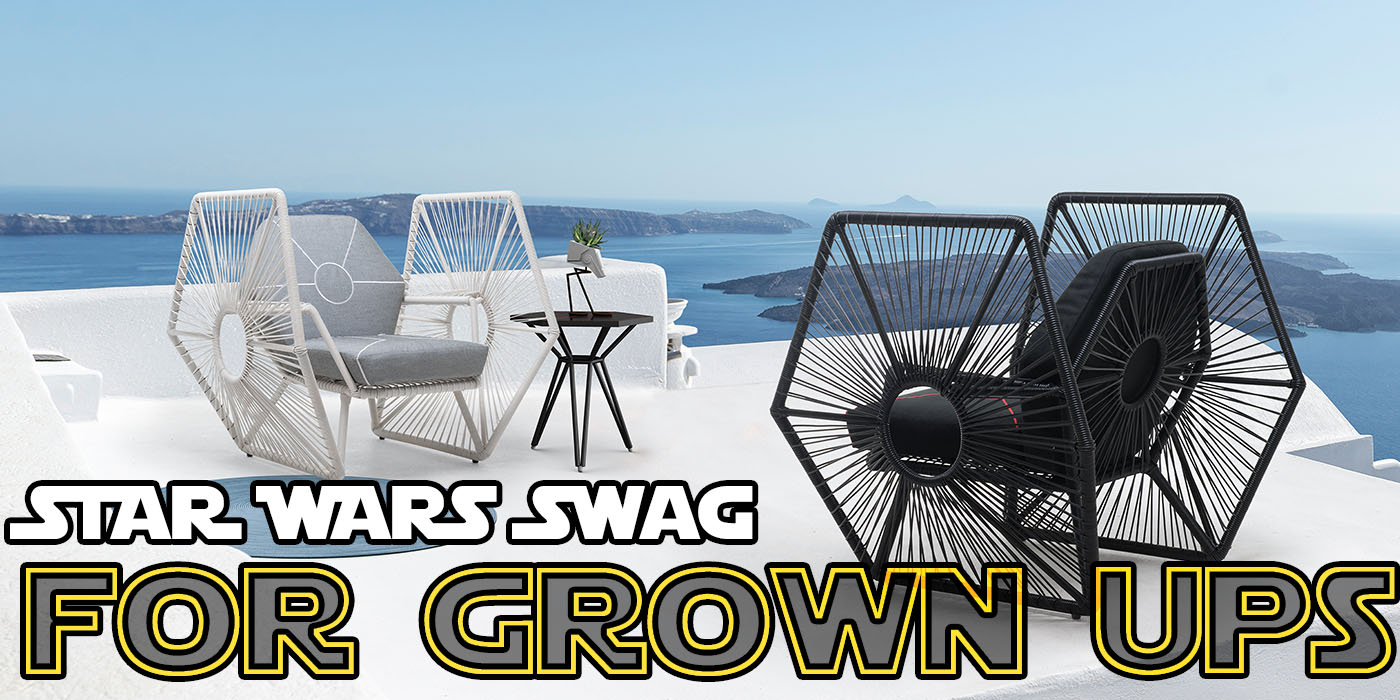 Growing up is part of life but growing out of your favorite nerd niche doesn't have to be. Let the galaxy far away mature with Star Wars swag for grown ups.
Sometimes being part of a fandom involves having a well-meaning window blinds installer ask about the children you don't have because they noticed all of the geeky stuff around your house. Sometimes though, you can show off your passion for your favorite fandoms with pieces as sophisticated and mature as you are.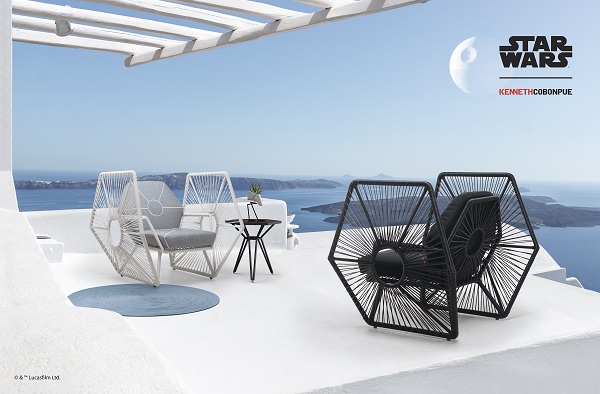 Chairs that looks like starships, lamps that you wouldn't notice are actually dueling Jedi until you get up close, and an ottoman that looks like it used to live on Kashyyyk, this set isn't exactly subtle, but it isn't very overt either. There's a thin line between making things that everybody would recognize but nobody could ever mistaken for children's furniture and Kenneth Cobonpue found it with this collection.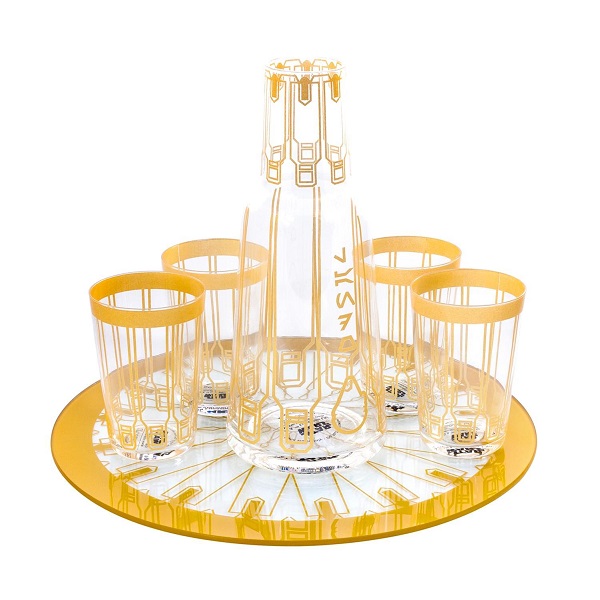 Aside from the aurebesh embellishments, your friends may not even recognize this barware set as being related to Star Wars at all. Inspired by scenes from the Solo standalone film, this set is a little over the top and showy and that honestly makes it perfect. Wear your fanciest cape and sip in style.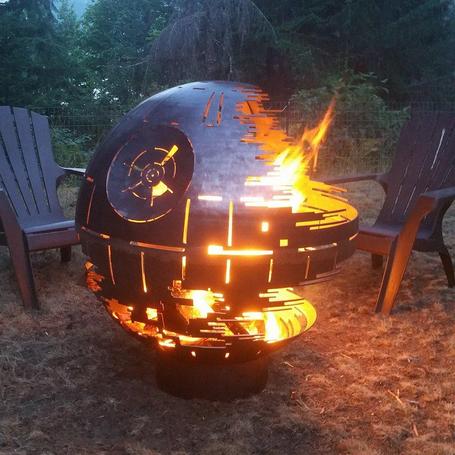 There may be nothing nicer on a cool autumn night than sitting around a fire pit and maybe having a few drinks or roasting a few marshmallows. This particular pit looks like the unfinished Death Star mid fiery explosion for an effect that's a little funny and very cool to look at. Plus the deign has lots of built in exhaust ports and a handy huge open space for any of your open flame and stick cooking desires.
Subscribe to our newsletter!
Get Tabletop, RPG & Pop Culture news delivered directly to your inbox.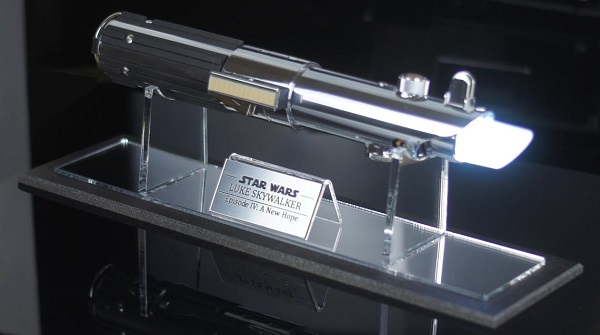 Most of us have lightsabers. It's almost impossible to walk past the booths at conventions that boast high quality duel ready sabers with custom lights and your choice in hilt. And that's why I have three in the corner of the room I'm in right now. While most of us own a lightsaber, we're not all displaying them the way they deserve to be displayed, so why not change that? This particular display design is simple, clean, and to the point, but there are a vertical stands, stands that allow you to keep the blade in place, stands with various logos and symbols. The only thing keeping your lightsaber from being art is making sure it's well displayed.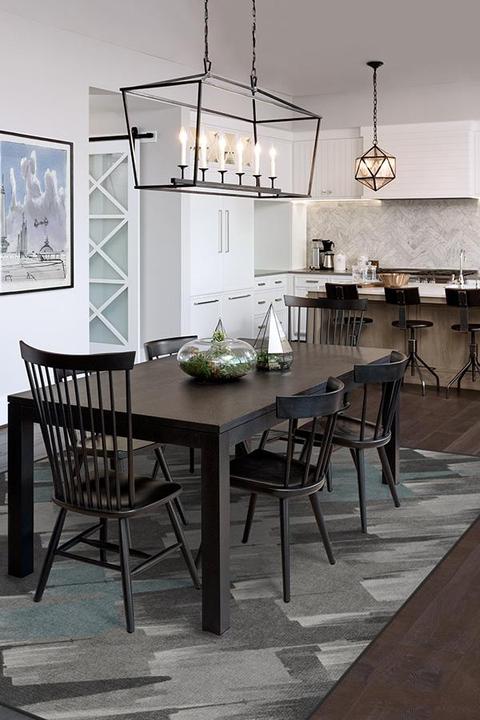 These rugs cover the entire gamut of fandom featuring in your house. This particular rug is a little more subtle and will look like abstract art to the average visitor, but the right person will immediately see the X-Wings flying past you. Some of their designs are very obvious, others you will see clearly from one angle but not others, and many like this rug are like nerdy magic eye puzzles on your floor.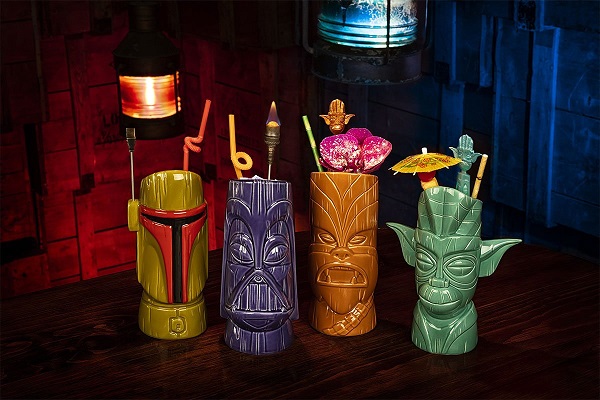 One day we'll be able to safely throw parties and get together with our friends again, and when that day comes you'll want to be serving the bet drinks in the best cups. And that's where these delightful Star Wars tiki mugs come into play. Aside from the ones pictured above there's a 24oz Death Star with a lid, the child, and sets featuring the Rancor and Oola and Jabba and Bib Fortuna with all of the size differences you'd expect. I own some of these mugs and they impress guests and put us in a great mood every time.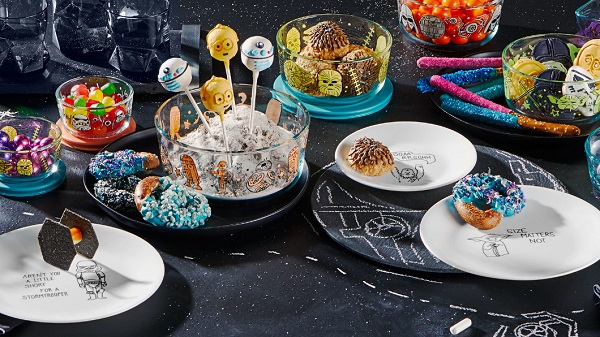 Nothing says "grown up" like having strong feelings about your lidded tempered glass food storage options. Perfect for snacks, leftovers, and traveling the Pyrex Star Wars collection features all of your favorite characters in a cute and unique art style. And they're dishwasher safe; I don't know about you but that's a huge point of merit in my book.
How do you enjoy fandom in your adult years? What "grown up" Star Wars swag do you have? Will any of these be joining your wish list? Let us know in the comments!
May the force be with you, adventurers!