Tabletop Kickstarter Round-Up: September 23, 2020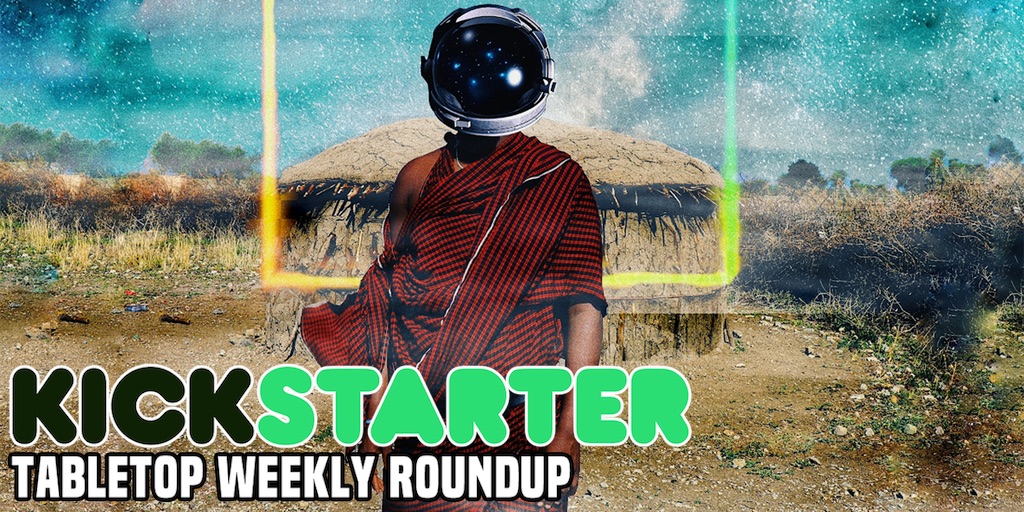 Come check out this week's batch of crowdfunding highlights!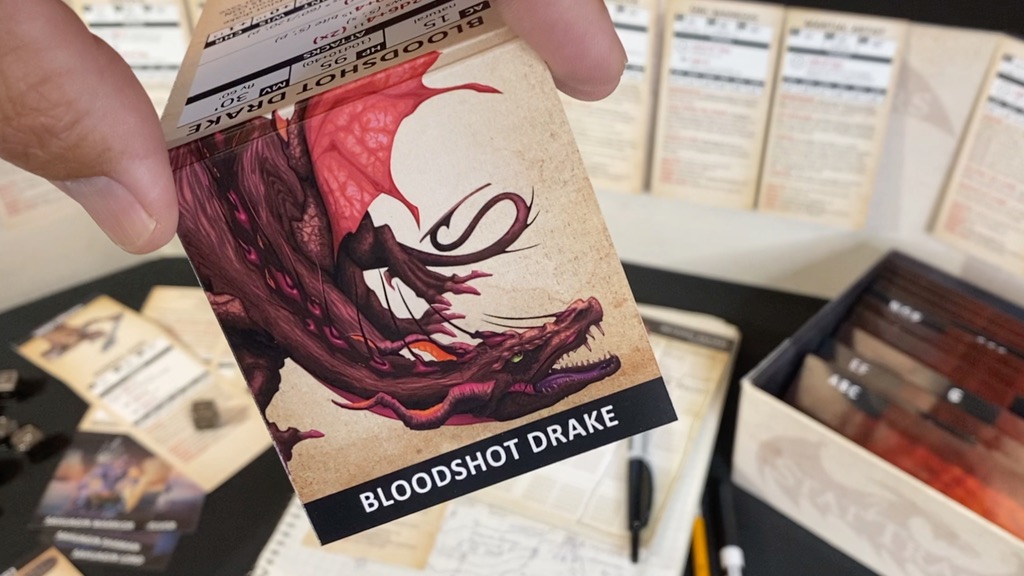 Stat Trackers are a simple, but super-effective tool for GMs of 5th edition. They were launched on Kickstarter 3 years ago! Stat Trackers are a combined initiative tracker and stat reference card for the GM all in one. You just hang them over the GM screen in initiative order and running encounters is now a snap! 
Pledges start at $35 for the box set plus unlocked stretch goals.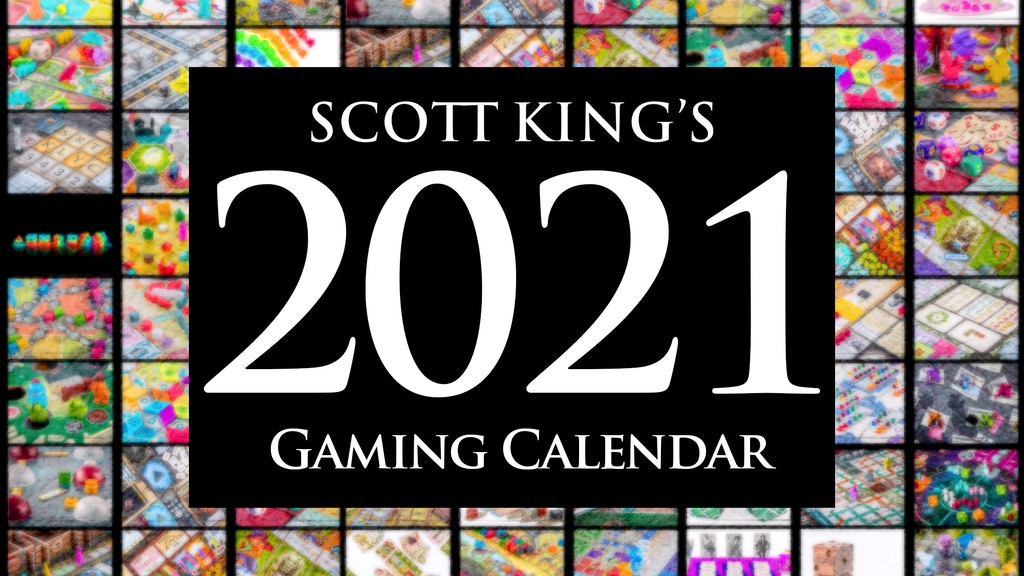 The 2021 Gaming Calendar is the eighth annual gaming calendar produced by Scott King! The 2021 Gaming Calendar will cover twelve months and comes in two versions. A Base Calendar, where the photos are pre-picked, or a Custom Calendar, where you get to pick the photos that go in it!
Base Calendar
12 months.
11×17 inches when open.
Major Holidays & Geek Holidays
I have a King's base level 2020 calendar. If you're a fan of using physical calendars, this is well worth it. High-quality paper, it's ring-bound, the layout is clean, and it has great photos of this year's top games plus classics.
 Pledges start at $10 for digital wallpapers and $26 for the base calendar.

A new city range of [28-32mm compatible] terrain designed for easy stacking, set up, and unique layouts. The kits use strong 5mm magnets to attach the different sections, rooves, and addons together to make cities of any size. Each building has a series of magnets in the top and bottom. Using these magnets you can quickly snap the buildings onto roof panels and then onto other buildings. The edge of each roof has further magnets allowing for the attachment of various items such as railings, bridges, and much more. Everything you need to build these kits is included.
Subscribe to our newsletter!
Get Tabletop, RPG & Pop Culture news delivered directly to your inbox.
Pledges start at $18 for a mini set and you can make your own table starting at $65.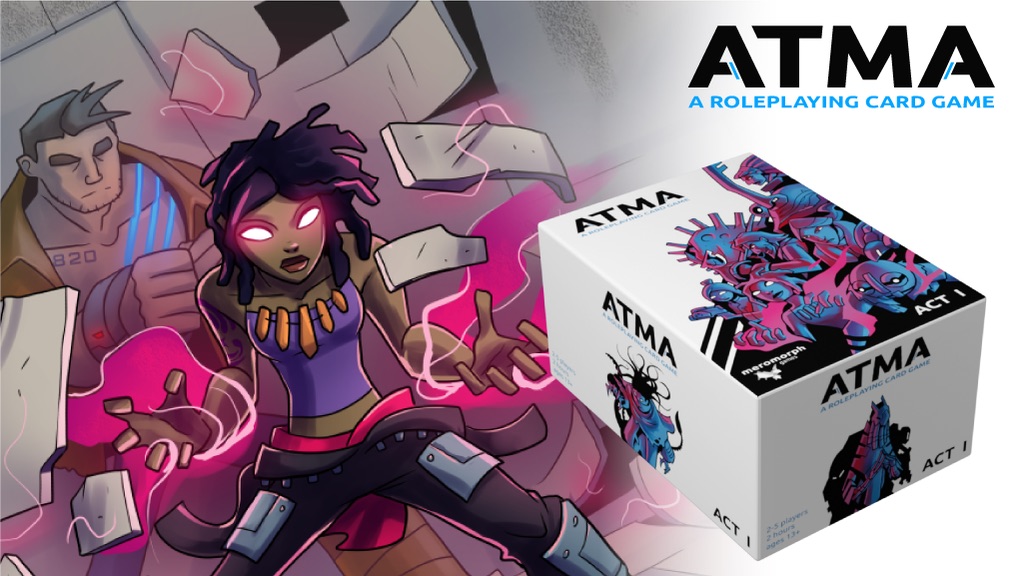 Welcome to a world near our own. The volcanic mineral atma empowers the living and entwines the dying, while artificial intelligence and alien titans join humanity in this daunting new century. Yet in the Restless Zones, beyond society and law, trouble lurks. Gather your fellow adventurers and prepare to test yourself against the world's most dangerous frontiers. The sky's getting darker…
Atma is a complete roleplaying game in a tiny package. It's portable, quick to set up and teach, and plays in just 2 hours — perfect for game nights or pop-up sessions! A Game Master and 1-4 players use illustrated tarot cards to fuel RPG gameplay focused on creativity and quick thinking. Atma excels as a tutorial for first-time GMs who've always wanted to run an RPG, while also allowing limitless creativity for roleplaying pros.
Pledges start at $15 for the starter and $40 for the starter with expansion.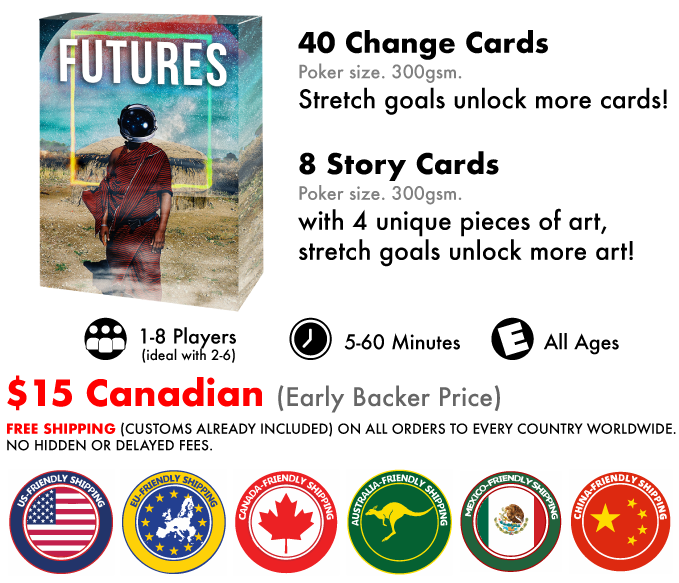 Futures is a game of transformative storytelling. You will create and share stories of future worlds that are different from the one you know. You will create space for alternative realities, and collectively envision a future world where we actually want to live. Together, you will smile, laugh, think, and cry, ultimately feeling inspired and ready to go out and change the world. Futures helps you to tell your story of transformative worlds never before seen or talked about. You already have the courage, and Futures will help you to see.
The funds raised here will go to facilitating making the Futures game and delivering it to you. Separately, from our personal funds, we want you to know that at the end of this crowdfunding campaign we will be donating $2000 to organizations working on social and environmental justice issues.
This week's header image is from this game.
Pledges start at $19 for a copy of the game plus stretch goals.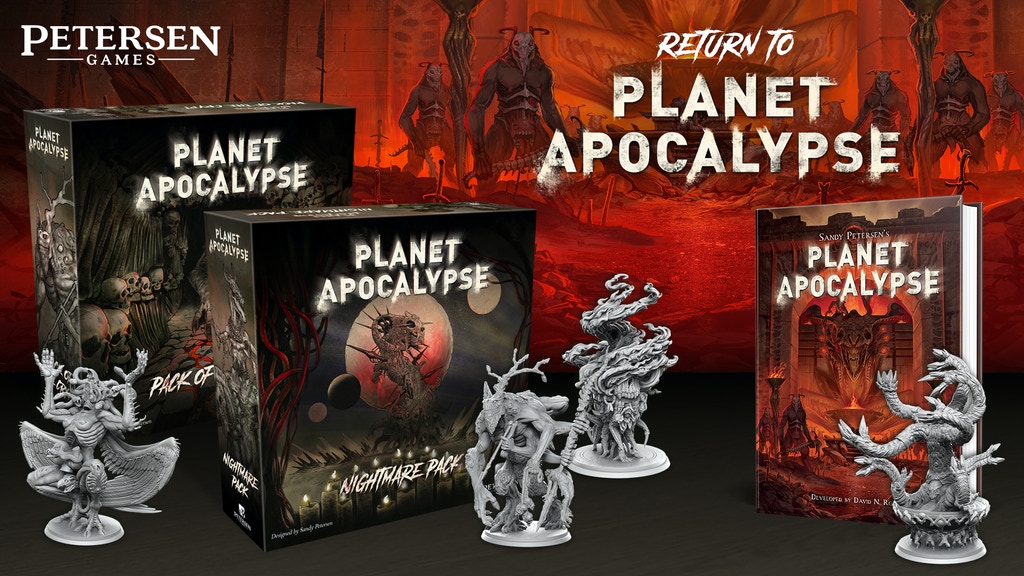 It is the End Times, and the hordes of Hell are invading our world. Destroy the Hellgate & save our world! Planet Apocalypse is a cooperative game. The players battle and kill demons as a team. The game is primarily a battle game, but also has a tower-defense element and a roleplaying element as you build up your heroes over time. It has large high-quality plastic figures, scaled to 28mm so they can be used in other games.
Planet Apocalypse was designed by Sandy Petersen, one of the best-known designers in horror gaming. In the early eighties he wrote the Call of Cthulhu role-playing game for Chaosium. In the nineties, he was a key designer for the ground-breaking video games Doom, Doom 2, and Quake. And in 2015, he released Cthulhu Wars.
This Kickstarter offers two separate tabletop experiences:
The board game (core

game reprint) with

new expansions

A 325+ role-playing book for 5th edition D&D
Pledges start at $19 for a PDF of the RPG and $99 for the board game.