Let's take a look at how you could field the massive Bandai Marine in a regular game of Warhammer 40,000. We have rules!

For many, the GW/Bandai collaboration on a large Space Marine action figure was a dream come true. This massive figure is incredibly cool, and fans around the world are enjoying them right now. They were popular enough that GW and Bandai are releasing more Marine figures. Having a large Marine action figure to display or make choppy sounds with it is great and all, but we are gamers, and we do like to play games with our toys. So we asked ourselves: how could you use your Bandai Marine in a game of 40K? What would that look like?
The "Legend"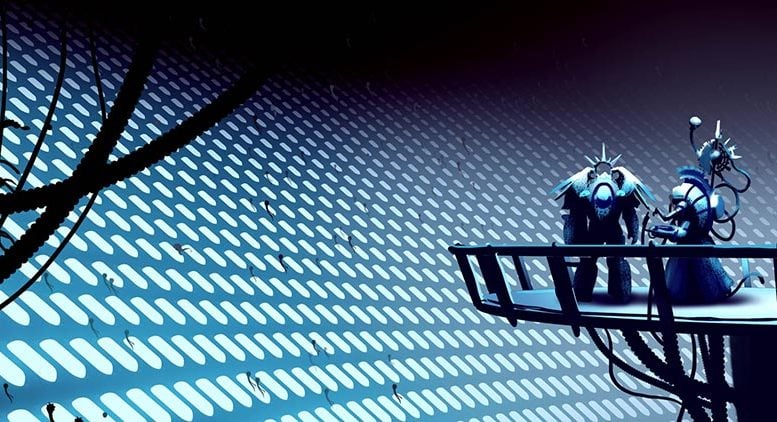 For some 10,000 years, Belisarius Cawl labored in secret on his great work – the creation of the Primarius Marines. It is known that he created several prototypes as part of the process. One, Alpha Primus, is still in action at Cawl's side in the current year. Alpha Primus is both larger and more powerful than a regular Primarius Marine, as well as being a supremely powerful psyker. It is said that his powers come from Cawl attempting to make new Primarchs. While that failed, there are whispers that Cawl attempted other experiments as well. One of them leads to something large…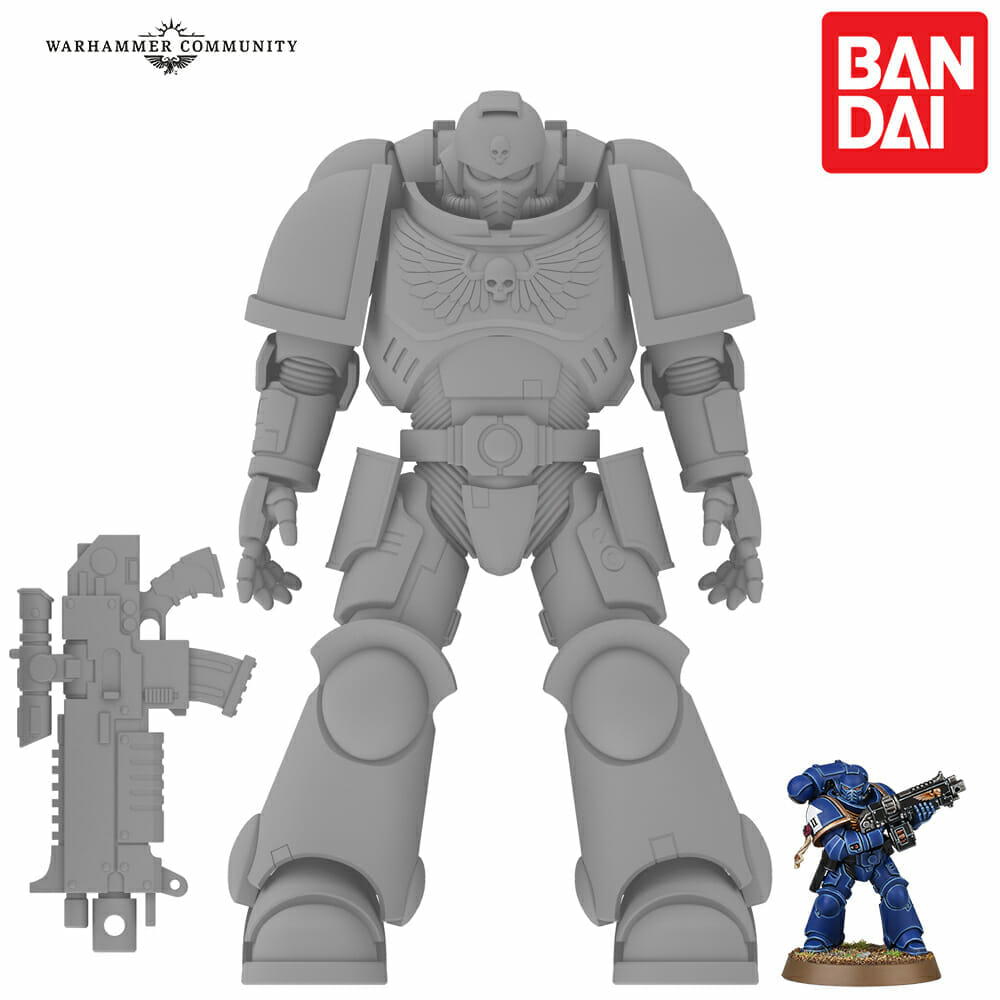 Secret reports among the Mechnicum suggest that Cawl was able to create a batch of super-sized Primaris Marine prototypes. These warriors were several times larger than a typical marine, towing over even mighty Imperial Knights. Cawl, the rumors state, even went so far as to make large-sized armor and weapons for these Marines, before deciding that the project was a failure, perhaps it was too heretical even for him. At his order, the specimens were locked away. Reports now indicate that after centuries these… things are lost. How they were released no one knows, not even Cawl, it is said. Though it should be noted that his memory is notoriously spotty.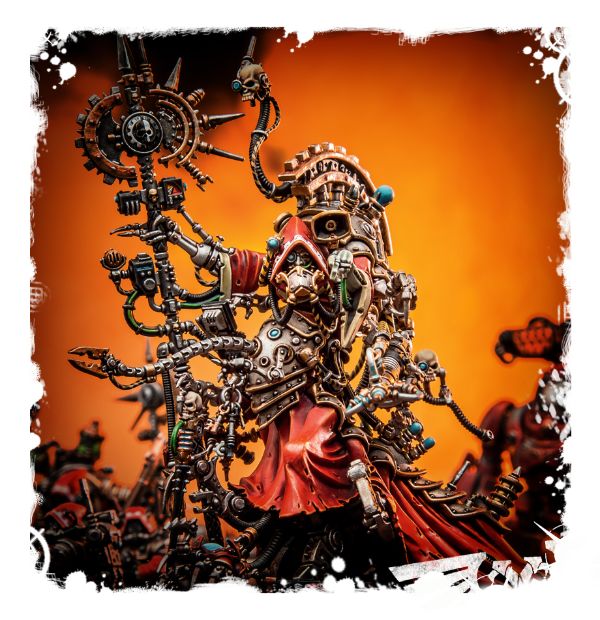 Now loosed, these oversize Marines are fully trained killing machines that believe themselves to be part of their parent chapters.  Reports have cropped up of them, somehow, traveling across space to support their brothers. Their numbers are unknown; reports indicate that Cawl must have made small batches for each of the major gene lines. Information is hard to come by, howeer – at each encounter, members of the Adeptus Mechanicus have shown to cover up the event. They have even gone so far as to kill agents of the Inquisition investigating the sightings. While we can't know the whole truth, one thing appears clear, these beings are out there, fighting for the Emperor.
The Bandai Marine's Rules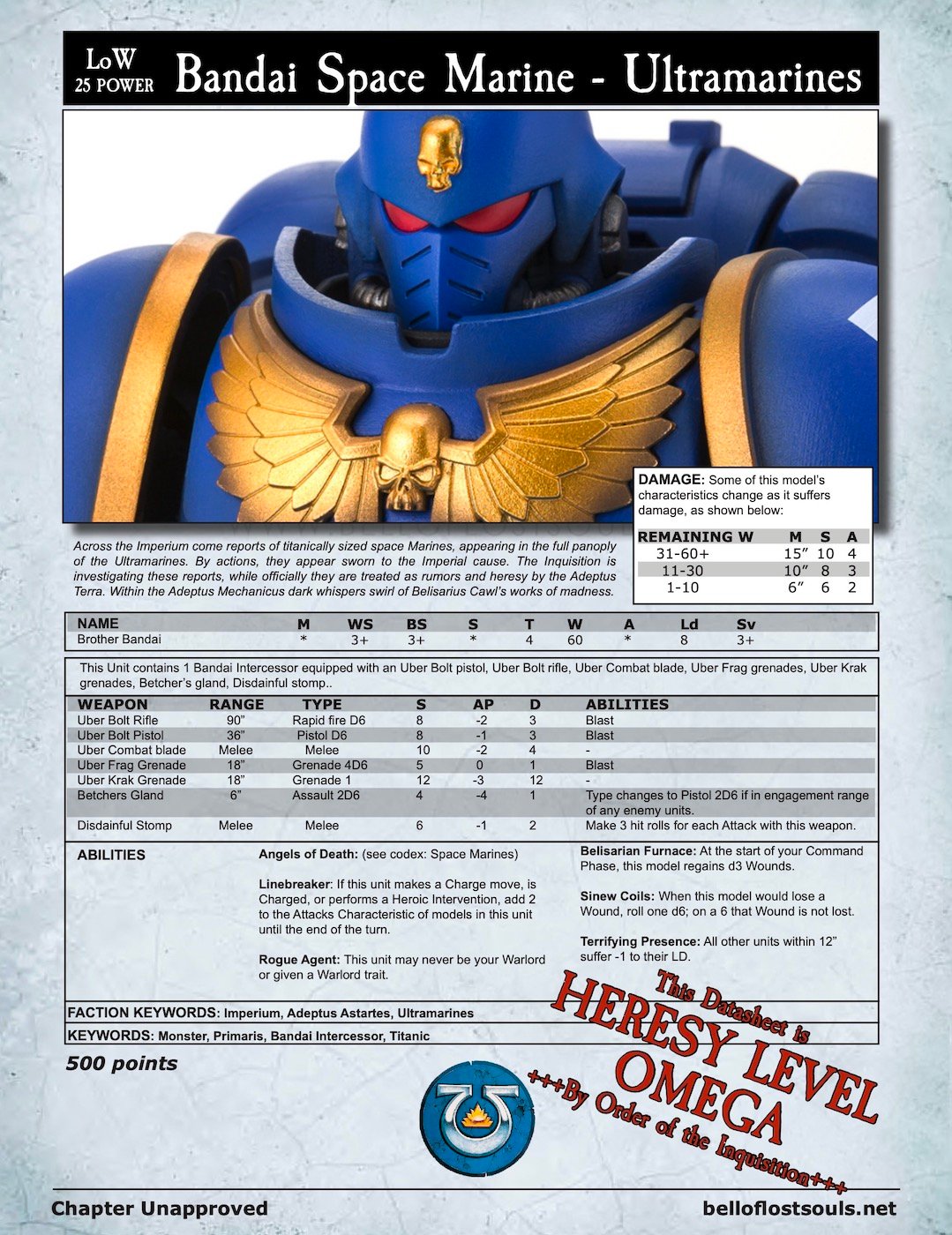 So how do you field this boy in a game? Well, just use the datasheet provided above and a copy of the Marine Codex. Also, make sure to ask permission first – we are in homebrew territory here, afterall. It's all about playing with our toys.
Designer Commentary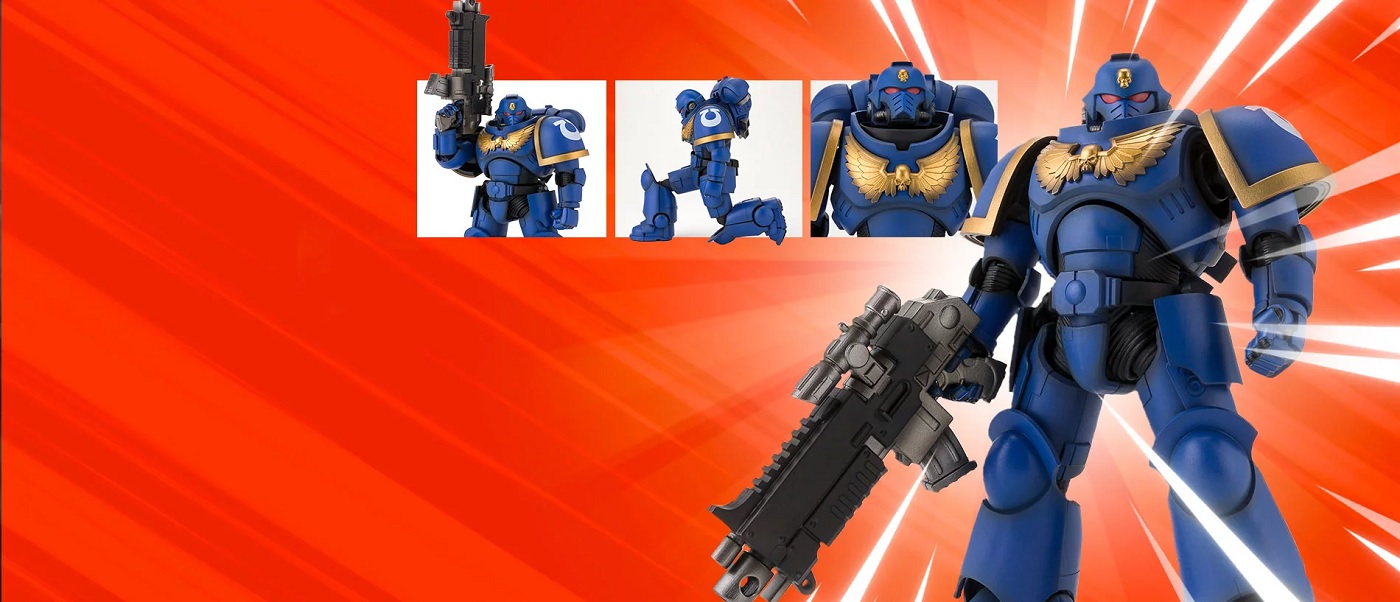 Trying to design rules for the Bandai Marine was a lot of fun. The obvious starting point for something like this is the existing Lords of War, and in particular, Knights, which are sort of similar. However, I knew off the bat I wanted to do something a bit different with this Marine and make him feel and act uniquely.
For movement, I wanted something that would represent his large stride and the speed of a Marine. Initially, I was going to put him at 18 inches, but that felt a little too much so 15″ it is. Weapon and Ballistic Skill, of course, are known factors. That brought us to Strength, which I put at a 10, because well, look at that dude, he's huge!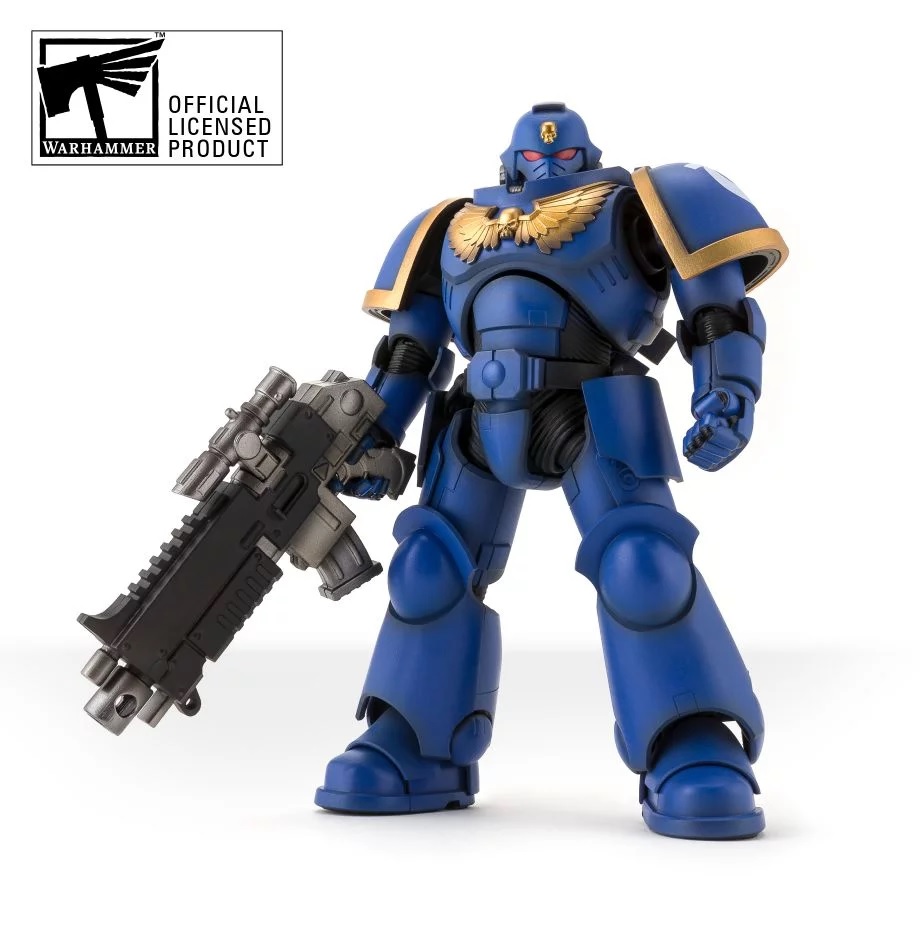 Toughness and wounds are where I wanted this unit to stand out. While the Bandai Marine is huge, in theory, his skin and flesh are still the same as a regular Marines, so I thought, what if we make him easy to hurt, staying at T 4, but just give him a whole ton of wounds. I think this gives you an interesting dynamic, and almost makes him a sort of Kaiju like monster where lots of soldiers can combine to cripple him. I gave him a base of 4 attacks, which is pretty standard for LoWs and also how many a Veteran Intercessor Sgt. gets. Leadership and Armor also came from the same source.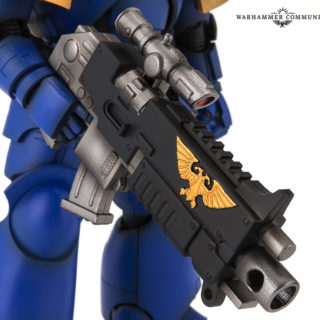 For weapons, he would have the regular Intercessor loadout (admittedly, the Bandai Marine doesn't come with a bolt pistol or grenades, but these often aren't modeled in 40k either) but bigger. Since we know what the weapons broadly do, I didn't want to change the number of shots. Being bigger wouldn't make a Bolt Rifle fire more, but I did want to acknowledge that getting hit with a bolt round as big as that would hurt like heck and that they are explosive. The combat knife isn't a regular weapon on the Intercessor Datasheet, but the model does come with one.
I added the Betchers Gland for a little more firepower. While the acid spit might not do much at regular Marine size, I felt that a massive dude like this could spit a WHOLE LOT of acid. It does look like he has a ton of weapons and firepower, but it's important to remember that most of them can't all be fired together; most of the time he's picking one to use depending on the targets.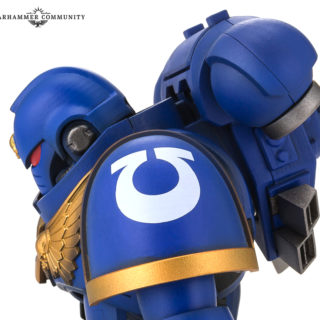 I wanted to give him a few extra rules to make it interesting. Being a Space Marine, he gets Angels of Death but I also gave him Linebreaker (which stacks with Shock Assault) to represent just how much damage a several stories tall Marine could do. Rogue Agent is there to help prevent any silly shenanigans. I gave him a pair of abilities to make him a little more durable and then Terrifying Presence (which affects friends and foes), to represent how unnerving it would be to see a Marine like this, even for other Marines, on the battlefield.

For points, I put him at 500. This puts him in the price range of a normal Knight (and might honestly be a bit too high). I do feel he is reasonably comparable to one. He's generally worse at shooting than a shooting focused Knight and has a lower top damage output than close combat focused Knight, but should outperform a run of the mill mixed Knight. This makes him a bit of a jack of all trades, which is a Marine hallmark. Though he has a ton of wounds, it's important to remember not only is he only T4, but he doesn't have an Invulnerable save – making him in many instances easier to kill than a Knight. Nor does he have access to all the Knight buffs. On the other hand, he does get Marine buffs that can be very powerful. I suspect he would be a good target for things like Transhuman Physiology, Honor the Chapter, and Might of Heroes.
While the rules might not be perfect, I do hope they are at least fun. While we've presented him as an Ultramarine, based on the model, if you've repainted yours, feel free to swap out the Ultramarine Keyword with the Chapter of your choice.
You better believe we will revisit him and his brothers as more of the action figures come out.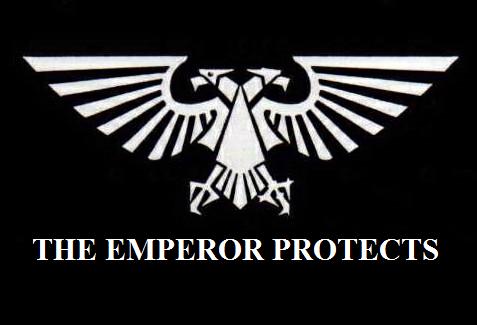 Let us know what you think of these rules, and if you'd use them, down in the comments! 
Also… WE WANT PICS of your Bandai Marine battles!