We all know weapon updates are coming – but who's going to get the benefits besides Space Marines? Games Workshop has some answers.
The Space Marine weapon updates have been kind of all over the place. There has also been a LOT of speculation as to who else is going to be on the receiving end of these weapon updates. But "a rising tide lifts all boats" or so the saying goes. Today, GW has given us a glimpse at the changes and who else is getting the buffs. Let's dive in.
"However, it's not just the Adeptus Astartes who will benefit from all of the shiny new rules found within the next codex. These changes will also be rolled out to all other factions that utilise the same wargear* – even xenos races such as the T'au Empire and Aeldari – at the same time the codex is launched!
Today, we're showcasing a selection of these new weapon profiles, as well as highlighting some of the units that will likely benefit the most from the changes."
Note: The units listed as "winners" might not be the only units getting impacted by the changes – these are just the ones GW is confirming.
Flame Weapons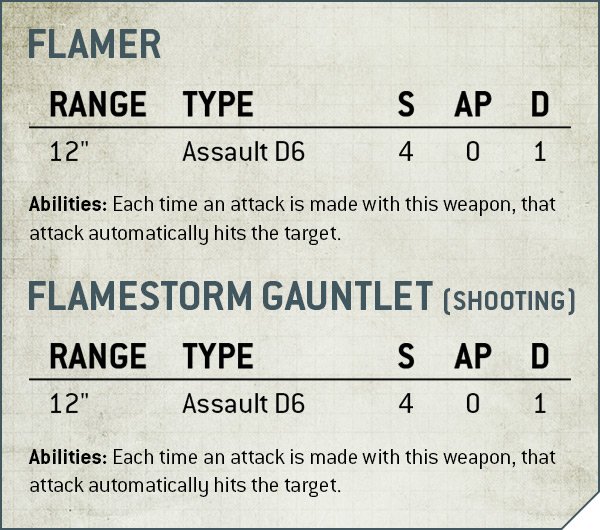 Winners:
T'au XV8 Crisis Battlesuit Teams
Adepetus Sororitas Dominons
Space Marine Primaris Aggressors

Winners:
Chaos Space Marine Terminators
Space Wolves Wolf Guard Terminators
Space Marine Sternguard Veterans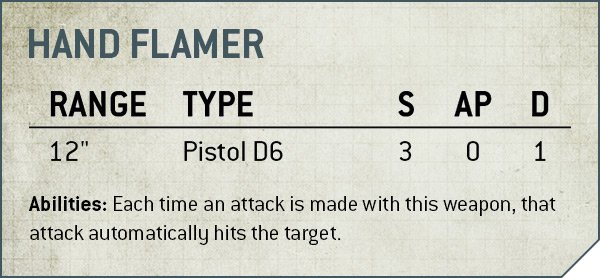 Winners
Genestealer Cults Acolytes
Blood Angels Death Company
Adepta Sororitats Seraphim Squads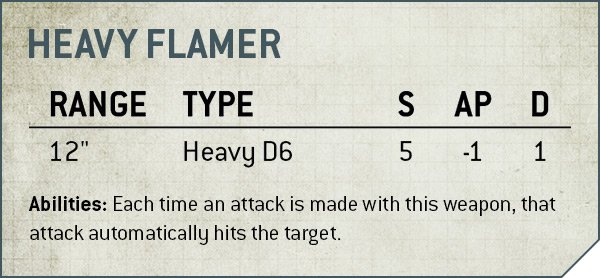 Winners
Adepta Sororitas Retributors
Blood Angels Baal Predator
Astra Militarum Chimera
Melta Weapons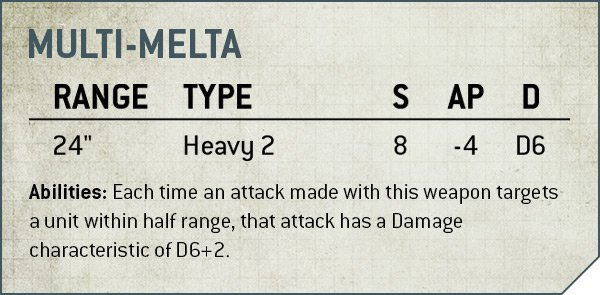 Winners
Adepta Sororitas Retributors
Space Marine Attack Bikes
Space Marine Devastators Squads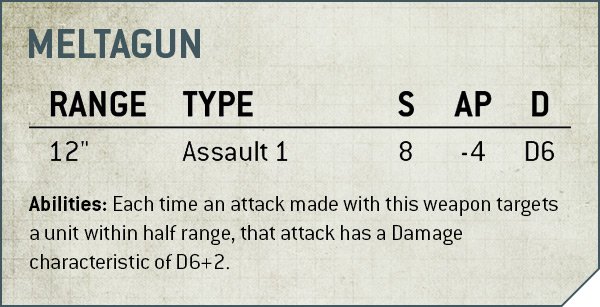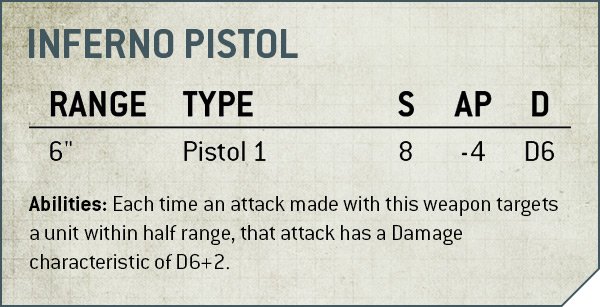 Winners
Adepta Sororitas Dominons
Blood Angels Death Company
Chaos Space Marine Terminators
Heavy Bolter

Winners
Adepta Sororitas Retributors
Astra Militarum Leman Russ Exterminators
Astra Militarum Baneblade (because they can have the equivalent of 10 heavy bolters)
Hunter-Killer Missile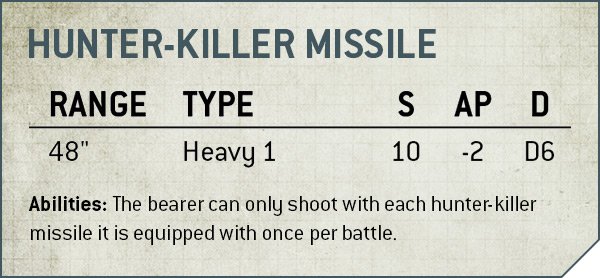 Winners
Astra Militarum Sentinel Squad
Space Marine/Adepta Sororitas Rhino
Every Vehicle That Can Take Them
Melee Weapons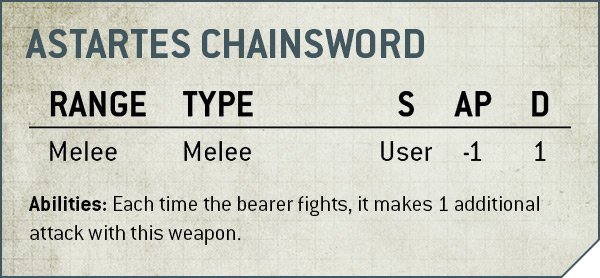 Winners
Space Wolves Blood Claws
Chaos Space Marine Khorne Berzerkers
Space Marine Assault Squads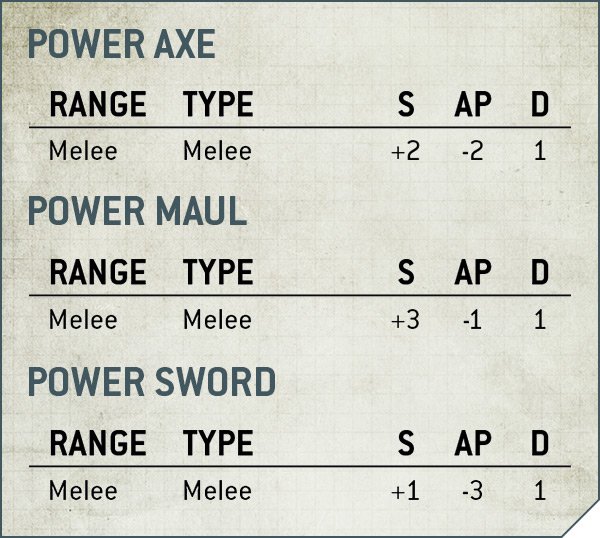 Winners
Craftworld Howling Banshees
Space Marine Vanguard Veterans
Adeptus Ministorum Crusaders
Storm Shields

Winners
Space Marine Terminator Assault Squads
Adeptus Custodes Custodian Guard
Dark Angels Deathwing Knights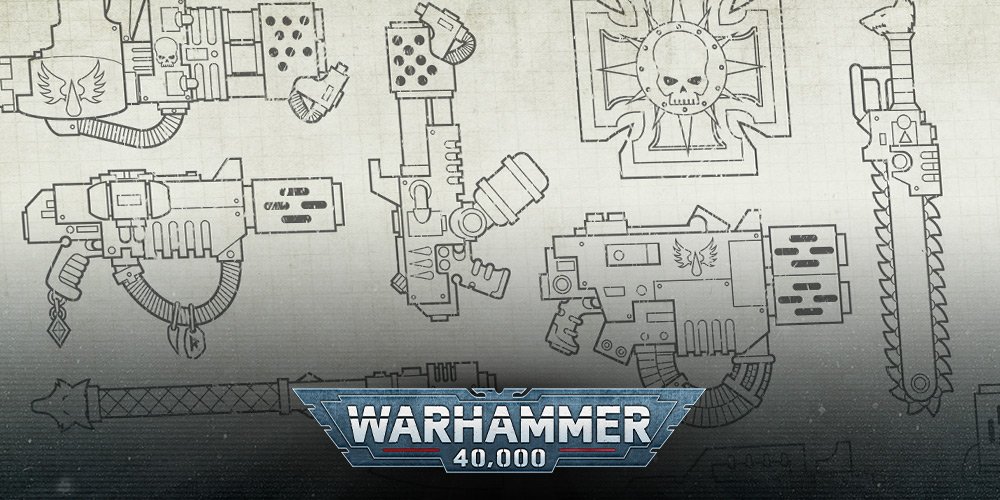 Thoughts
This is a pretty big list of confirmations for weapons and wargear changes. It also confirms a lot of the suspicions we've had about the weapon roll-out and who's getting them. Again, this is not a complete list. However, it does give us more data as to which units and armies will actually get the weapon changes.
Clearly, the Adepta Sororitas are going to benefit as well as Chaos Space Marine Terminators. The Storm Shield change is also pretty huge as many of the units that could take them were already in the 2+ to 3+ armor range and now they will have that 4++ invulnerable in addition to a +1 to their armor saves. Again, we had our suspicions on how that would work for everyone but yikes!
Anyone that can take a flamer, melta or heavy bolter has also just gotten a pretty big boost – and that was clearly not just Imperium based armies. Genestealer Cults and T'au got tossed in the mix, too. Things are about to get even more interesting in a post-Space Marine Codex October…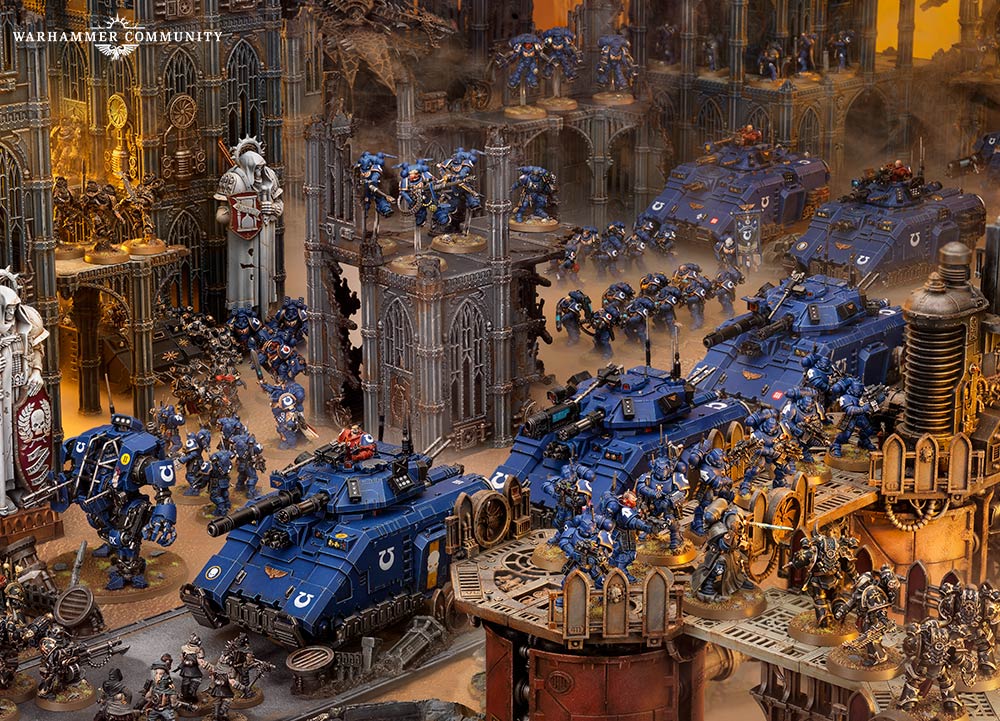 What do you think about these confirmations. Any units you're excited to drop on the tabletop with these changes?