Geekery: Fantastic Spy Movies That Aren't Bond, Hunt, or Bourne
There's more than one John le Carré movie on this list – and I'm not sorry.
The Conversation – HBOMax & VoD
This paranoid thriller from Francis Ford Coppola is the director at his best. Its commentary on privacy, responsibility, and technology is as relevant today as it was in 1974 – maybe more so.
Surveillance expert Harry Caul (Gene Hackman) is hired by a mysterious client's brusque aide (Harrison Ford) to tail a young couple, Mark and Ann. Tracking the pair through San Francisco's Union Square, Caul and his associate Stan (John Cazale) manage to record a cryptic conversation between them. Tormented by memories of a previous case that ended badly, Caul becomes obsessed with the resulting tape, trying to determine if the couple are in danger.
Tinker, Tailor, Soldier, Spy – Netflix & VoD
The first le Carré. The cast really makes this dense, slow burn of a movie stand out from the flashy, action-based spy movies that have dominated the genre over the last 20 years. The production design really drops you into the era, as well.
In 1970s England the head of MI6, Control (John Hurt), dispatches an agent (Mark Strong) to meet with a Hungarian general who knows the identity of a Soviet spy in the organization's ranks. However, the mission goes wrong, and the general dies before he can reveal the information. Undersecretary Oliver Lacon calls veteran agent George Smiley (Gary Oldman) back from forced retirement to ferret out the mole and stop the flow of vital British secrets to the Russians.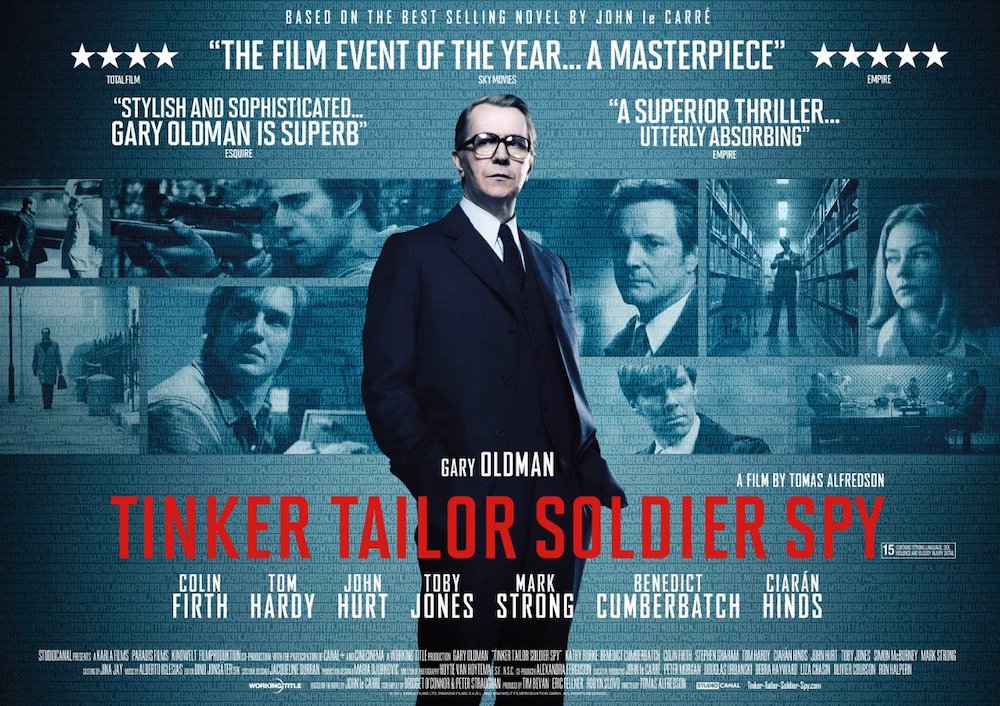 Charade – Amazon Prime & VoD
This caper mixes danger, romance (the chemistry between Grant and Hepburn is amazing), and comedy brilliantly. If you're a fan of the early Bond movies, I think you'll enjoy Charade.
After Regina Lampert (Audrey Hepburn) falls for the dashing Peter Joshua (Cary Grant) on a skiing holiday in the French Alps, she discovers upon her return to Paris that her husband has been murdered. Soon, she and Peter are giving chase to three of her late husband's World War II cronies, Tex (James Coburn), Scobie, and Gideon, who are after a quarter of a million dollars the quartet stole while behind enemy lines. But why does Peter keep changing his name?
Subscribe to our newsletter!
Get Tabletop, RPG & Pop Culture news delivered directly to your inbox.
The Man From U.N.C.L.E. – VoD
This take on the iconic TV series has a lot of style and a pair of charming lead actors. I'll admit the story isn't exactly original, but that doesn't make it any less entertaining.
At the height of the Cold War, a mysterious criminal organization plans to use nuclear weapons and technology to upset the fragile balance of power between the United States and Soviet Union. CIA agent Napoleon Solo (Henry Cavill) and KGB agent Illya Kuryakin (Armie Hammer) are forced to put aside their hostilities and work together to stop the evildoers in their tracks. The duo's only lead is the daughter of a missing German scientist, whom they must find soon to prevent a global catastrophe.

Black Book – Amazon Prime & VoD
Black Book is one of the very few feature-length movies Paul Verhoeven has done in his native language. It has intrigue, treachery, betrayal, gunfights, and all the hallmarks of a pulpy spy thriller with Verhoeven's dry social commentary bubbling just below the surface.
After narrowly escaping death, young Rachel Rosenthal (Carice van Houten) becomes part of the Jewish resistance, assuming the name Ellis de Vries. Her superiors order her to seduce a Gestapo officer named Ludwig (Sebastian Koch). Ellis is successful in her mission but soon finds herself falling in love with her mortal enemy.
The 39 Steps – HBOMax & VoD
Based on the novel by John Buchan, who worked in the Intelligence Corps of the British Army during WWI. The 39 Steps is filled with twists and turns, this early Hitchcock classic is a must see for fans of the genre (or the director). Follow this up with Notorious and North by Northwest to
While on vacation in London, Canadian Richard Hannay becomes embroiled in an international spy ring related to the mysterious "39 steps." Then he meets agent Annabella Smith, who is soon killed in his apartment. He must elude the police, who are hunting him for murder, while he tries to stop Professor Jordan from sending secrets out of the country. Hannay is assisted by Pamela, an unwilling accomplice who discovers the truth.
A Most Wanted Man – VoD
The second le Carré. Anton Corbijn's smart, absorbing thriller will have you on the edge of your seat. Like Tinker, Tailor, Soldier, Spy it has an amazing cast and uses layer upon layer of tension.
An escaped militant's (Grigoriy Dobrygin) attempt to claim an inheritance gives a German agent (Philip Seymour Hoffman) the chance to lay a trap for a well-regarded Muslim scholar who is suspected of financing terrorists.
The Lives of Others – VoD
This character-focused spy thriller won an Oscar for Best Foreign Picture for damn good reason. Director Florian Henckel von Donnersmarck (this was his feature-length debut) doesn't shy away from the realities of Eastern Germany and how it affected people.
In 1983 East Berlin, dedicated Stasi officer Gerd Wiesler (Ulrich Mühe), doubting that a famous playwright (Sebastian Koch) is loyal to the Communist Party, receives approval to spy on the man and his actress-lover Christa-Maria (Martina Gedeck). Wiesler becomes unexpectedly sympathetic to the couple, then faces conflicting loyalties when his superior takes a liking to Christa-Maria and orders Wiesler to get the playwright out of the way.
Lust, Caution – Netflix & VoD
Ang Lee's lush, haunting story of espionage is gorgeous. It's based on a 1979 novella by Eileen Chang that took inspiration from actual events in a setting we don't see much of. It's filled with psychological games and is a unique look at the human cost of war.
During World War II a secret agent (Tang Wei) must seduce, then assassinate an official (Tony Leung Chiu Wai) who works for the Japanese puppet government in Shanghai. Her mission becomes clouded when she finds herself falling in love with the man she is assigned to kill.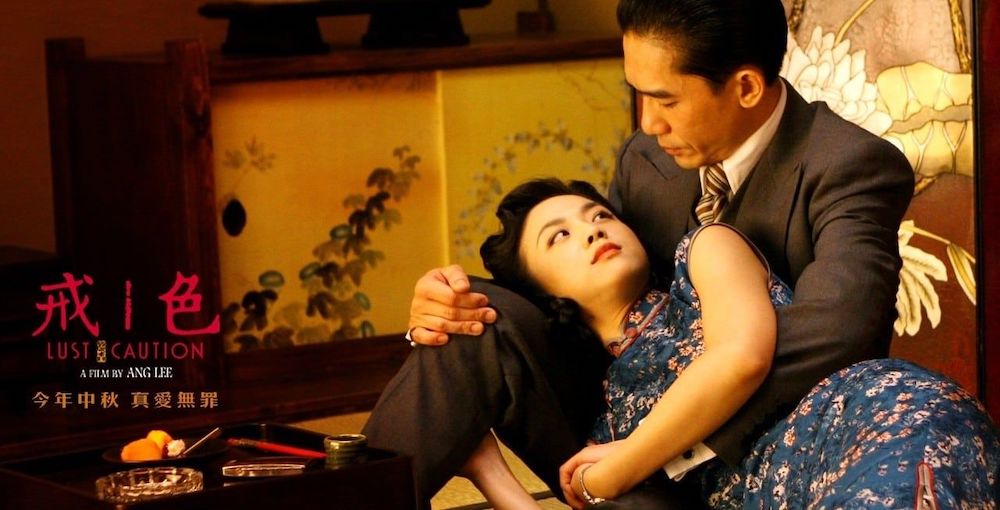 Burn After Reading – VoD
A Cohen Brothers farce that contains some of Malkovich's best rants and an endlessly meme-able performance from Brad Pitt.
When a disc containing memoirs of a former CIA analyst (John Malkovich) falls into the hands of Linda Litzke (Frances McDormand) and Chad Feldheimer (Brad Pitt), the two gym employees see a chance to make enough money for her to have life-changing cosmetic surgery. Predictably, events whirl out of control for the duo doofuses and those in their orbit.