Goatboy here to see if Firstborn Astartes Bikers can still cut the mustard. Let's ride.
I've been working on my reworked White Scars horde.  Of course, as it is a White Scars army I had some people say – where are the bikes.  Even I have tried to fit some bikes in but the overall vibe and build of the list is to get as many boots on the table as I could.  I mean if they took Khan off of a bike then I should make an army that doesn't need bikes.  Of course, this isn't always for the best so thus my continued thought into making bikes work. Thus – the article for today.
We got a bit of time before we see some new army rules and while we got two new codexes out – we'll stick with Marines for this bit of chatter.  The next time I want to look at some of the Assault elements of Necrons and if making an assault based list actually works.  So with that let's just go ahead and dive into the biker options we got for some basic Marine armies.  I think I will stick with White Scars for now as the ability to advance and charge is very powerful with a 20-inch moving model.  Plus I can use my sweet Chappie on a Bike, the Khan on a bike, and whatever else I can fit on a bike.  The big issue is I need to take a single troop choice so I am stuck with a set of bros who are just going to hang out in the back, maybe pepper some shooting, and hopefully will be decently tough.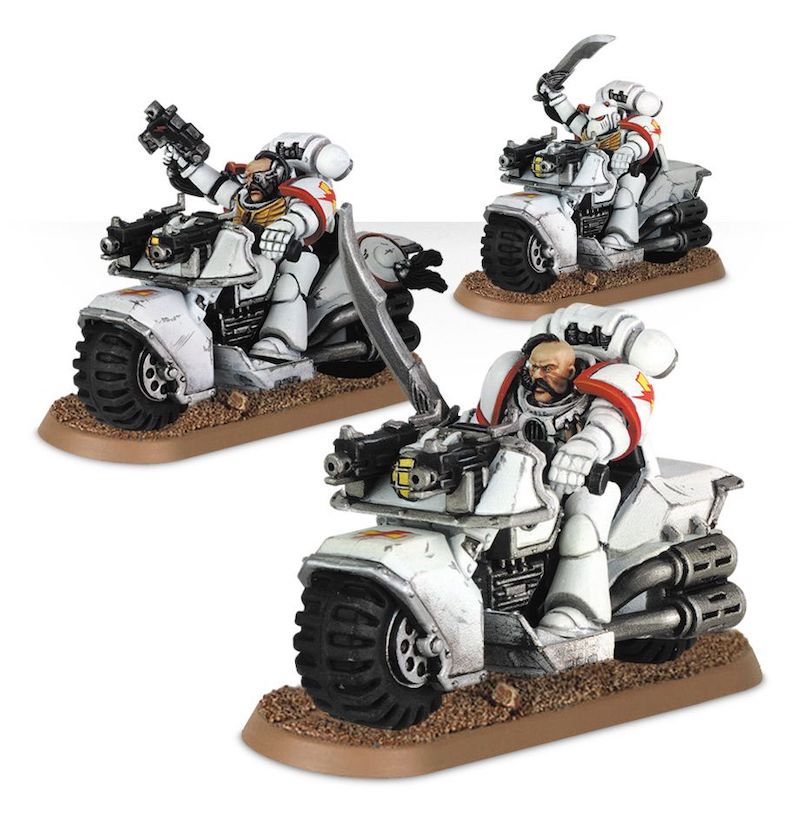 The biker is a 30 point model with 3 wounds, a twin boltgun, and the ability to swap to a super fancy Chainsword.  On top of that, they can take 2 Special Weapons and the Sarge can take another.  With the White Scars trait, you can go 3 Meltaguns and get a chance to move 20 inches and throw out 3 deadly heat blasts to something tasty – like the Silent king.  But does that make it worth it?  You could also throw a Hammer on the Sarge instead of the Meltagun which could be better.  Or you could get another Chainsword to help give you some more punching ability in close combat.  I am not sure what is worth it but it is something to math out a bit to see what fits in this blob of bikers dudes.
So with that – let's start with the Initial setup as we need to start with a Patrol or a Battalion.  As I am sure you have seen with a lot of the more competitive mindset online, 1-2 Patrols seems to be the building blocks for most armies.  Heck, I have talked about how you can set up 3 Patrols to get 6 HQs, 3 Troops, and upwards of 6 Heavies/FA/Elites as needed.  You only burn 4 CP for this so it isn't a crazy thing when you want to try and fit in as many Captains doing the lords work with Hammers, Fists, and whatnot.  But we won't go in this direction as I think I can maximize the number of bikers by just going a Patrol and then an Outride detachment for burning only 3CP.

Riding With the Khan
Space Marines Patrol – -0CP
White Scars Chapter
-HQ-
Primaris Chaplin on a Bike – Master of Sanctity, Warlord – Wise Orator – 150pts
Captain on a Bike – Hero of the Chapter (-1CP) Rites of War, Relic – Teeth of Tera – 100pts
-Troops-
Heavy Intercessors X 5 – Helstorm Bolt Rifle X 5 – 140pts
-FA-
Outriders X 3 – 135pts
Outriders X 3 – 135pts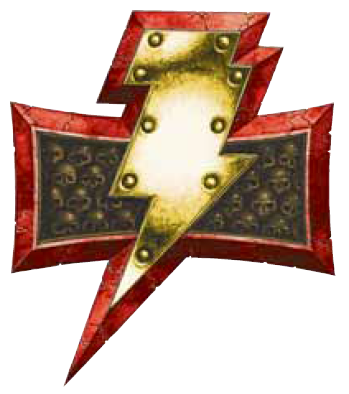 Space Marines Outrider Detachment – -3CP
White Scars Chapter
-HQ-
Khan on a Bike – 100pts
Captain on a Bike – Power Sword, Relic of the Chapter (-1CP) Burning Blade – 105pts
-FA-
Outriders X 3 – 135pts
Bikers X 5 – Meltagun X 2, Astartes Chainswords X 2, Combi-Melta- 180pts
Bikers X 5 – Meltagun X 2, Astartes Chainswords X 2, Combi-Melta – 180pts
Bikers X 5 – Meltagun X 2, Astartes Chainswords X 2, Combi-Melta – 180pts
Invader ATV X 3 – Multi-Melta X 3 – 255pts
-Heavy-
Redemptor Dreadnought aka Bubba the Back Field protector – Gatling Cannons Galore – 180pts
PTS: 1975 CP: +7

Easy Riders
This is a mostly full biker army with 6 "feet" on the ground with 5 Intercessors and 1 Redemptor.  I went with the Redemptor as he keeps his 5 buddies safe in the backfield.  He can also hustle if need be, to punch someone in the dingus.  The Warlord trait set up is to allow for the Bikes to get objective secured as needed and I have a few good close combat options here and there.  I didn't go with Hammers as not being able to reroll to hit can be a bummer unless I get lucky with the Chaplain throwing that hate litany and the better charge litany.  I just don't trust myself to roll them 2+'s all the time.
~Will this mess work?  Who knows it at least look like a crazy biker army.