Goatboy here again with a walking nightmare from the Eye of Terror to beef up your CSM army – the Decimator!
Goatboy here again and until we get an updated Chaos Space Marine codex I can convincingly say that most Chaos Players need to look at the Decimator.  I talked a bit about it when the FW book first came out but as I looked at it more it really seems to be something that will help Chaos Space Marines stay relevant.  The reason why it is so good is that it's a Daemon Engine and it is one of the only few ways that you can do a large amount of target Mortal wound damage.  This ability to just say – whatever you are playing takes a wound that ignores your basic saves is an amazing unit choice for Chaos Space Marines.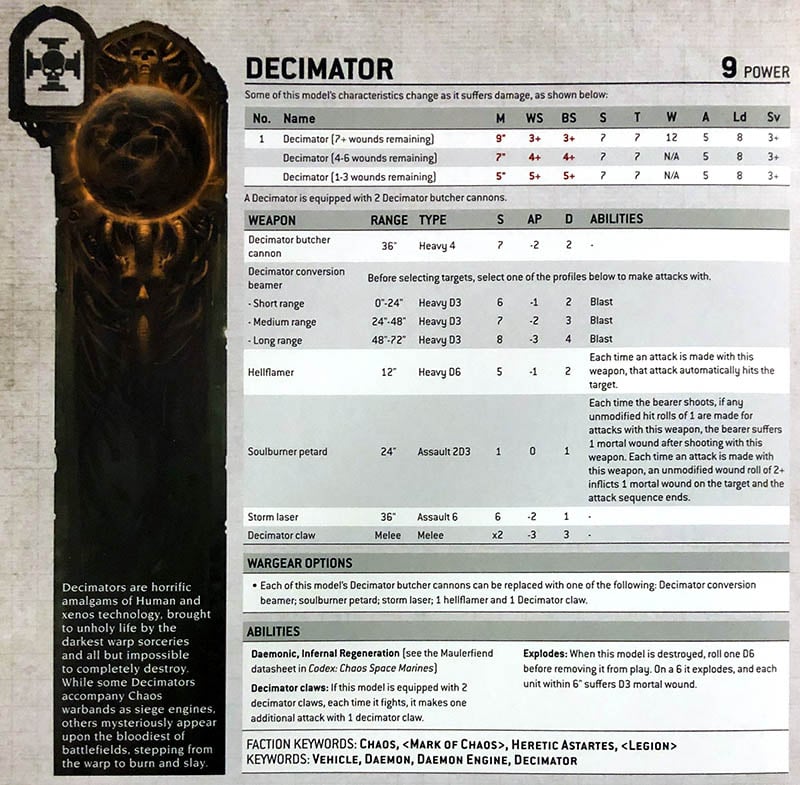 Meet the New Guy
Checking out this sheet the big change from the last edition is removing the whole auto hits equal auto mortal wounds.  While wounding on a 2+ is a nerf the model did gain some wounds, keep its Daemon Engine status, and still is fairly inexpensive.  That is the trick to this entire thing as it is pretty cheap.  It also takes up a slot that isn't nearly as heavily used by Chaos currently (could change if they ever get more wounds) so you can easily have these guys and say some Obliterators to give you some better rate of fire.
I think as we get closer to having more events around the world will see these monsters start to come out of the woodwork. The basic double Soul Burner Petard is 180 pts of fairly tough daemonic nonsense.  Lord Disco's buff em, Master of Possessions buff them, and then of course all the other things add up to a ton of awesome in a little weird looking model.  I am not the biggest fan of the model – beyond a few things that look pretty neat as it is kind of odd looking.  But still, if you are playing Chaos and want to be relevant to the game – grab 3 of these jerks to have on the tabletop.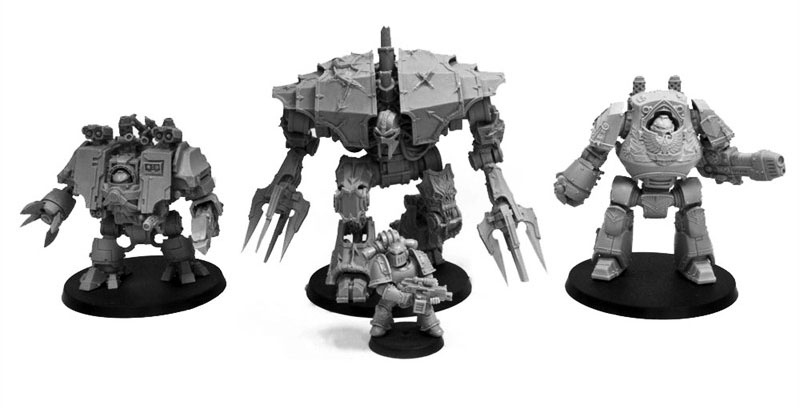 The chunky Chaos monkey
Basic Setups
I can see most lists looking at a basic set up of a Master of Possession, Lord Disco, and then 3 of these guys in a simple Spearhead Detachment.  This simple unit will give you enough damage output to help cover anything a Chaos army could need to deal with.  Depending on how the Death Guard roll out this could show up there too – again if either get Decimators or just want to have an evil friend show up.  Heck with the way the wound set up is it might be worth it to go with the Purge to get some sweet reroll action and ability to easily throw a wound or two on someone.

My Red Decimator Corsairs
I went with Red Corsairs as the lack of an extra wound really hampers some of the design choices.  I think if we had 3 wound Bikers we could throw a unit of two into an army to make a 20 inch threat option running up the field and punching something as needed.  This is just set up to be aggressive and let you have as many turns of shooting Decimators at your enemy.  Is it amazing?  Probably not but it will most likely win more than lose I would think.
Red Corsairs Battalion – 0CP
-HQ-
Master of Possession – Mark of Slaanesh, Psychic – Infernal Power, Cursed Earth – 95pts
Sorcerer with Jump Pack – Mark of Tzeentch, Jump Pack, Psychic – Warptime, Diabolic Strength – 115pts
Lord Discordant – Autocannon, Mark of Slaanesh, Relic – Intoxicating Elixir, Warlord – Exalted Champion – 195pts
-Troops-
Chaos Space Marines X 5 – 70pts (+1CP)
Chaos Space Marines X 5 – 70pts (+1CP)
Chaos Space Marines X 5 – 70pts (+1CP)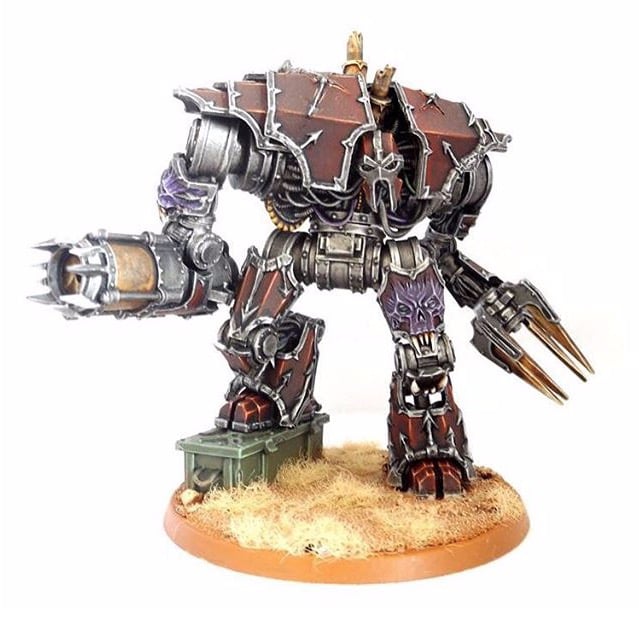 -Elites-
Chaos Decimator – Soul Burner Pertards X 2 – 180pts
Chaos Decimator – Soul Burner Pertards X 2 – 180pts
Chaos Decimator – Soul Burner Pertards X 2 – 180pts
-FA-
Chaos Spawn X 5 – Mark of Slaanesh – 115pts
Chaos Spawn X 5 – Mark of Slaanesh – 115pts
-Heavy-
Obliterators X 3 – Mark of Slaanesh – 315pts
-Flyer-
Heldrake – 150pts
Heldrake – 150pts
PTS: 2000 CP: +15pts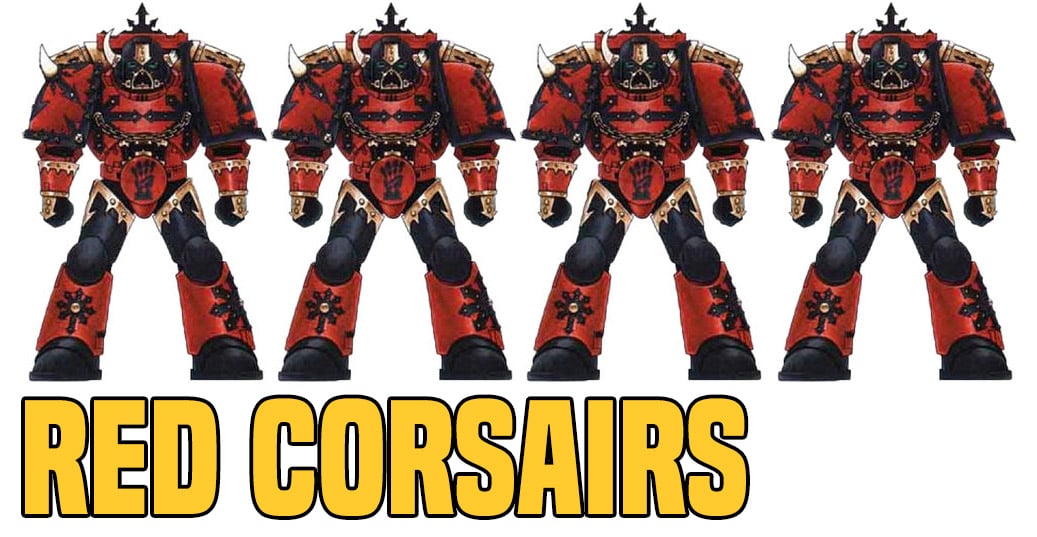 Do you think this will end up being the backbone of a lot of Chaos Armies?  Is it worth it to have targeted Mortal wound options even though armies will gain more wounds and thus 1 mortal wound to a unit of troops might not be worth it?  Is this just better than trying to do damage with big anti-tank options?
What are you excited about in the new Forge World Chaos Space Marines update?