With Ragnar getting a release this week, we travel back across decades of the grimdark to see all the versions of Ragnar Blackmane to fight for the honor of Fenris.
Hello, Loremasters.  Before we dive into this retro, some ground rules. Ragnar came into being in the 2nd Edition codex from 1994, and in all that time till today's 2020 Primaris version, he has only had his original miniature. So let's get those both out of the way.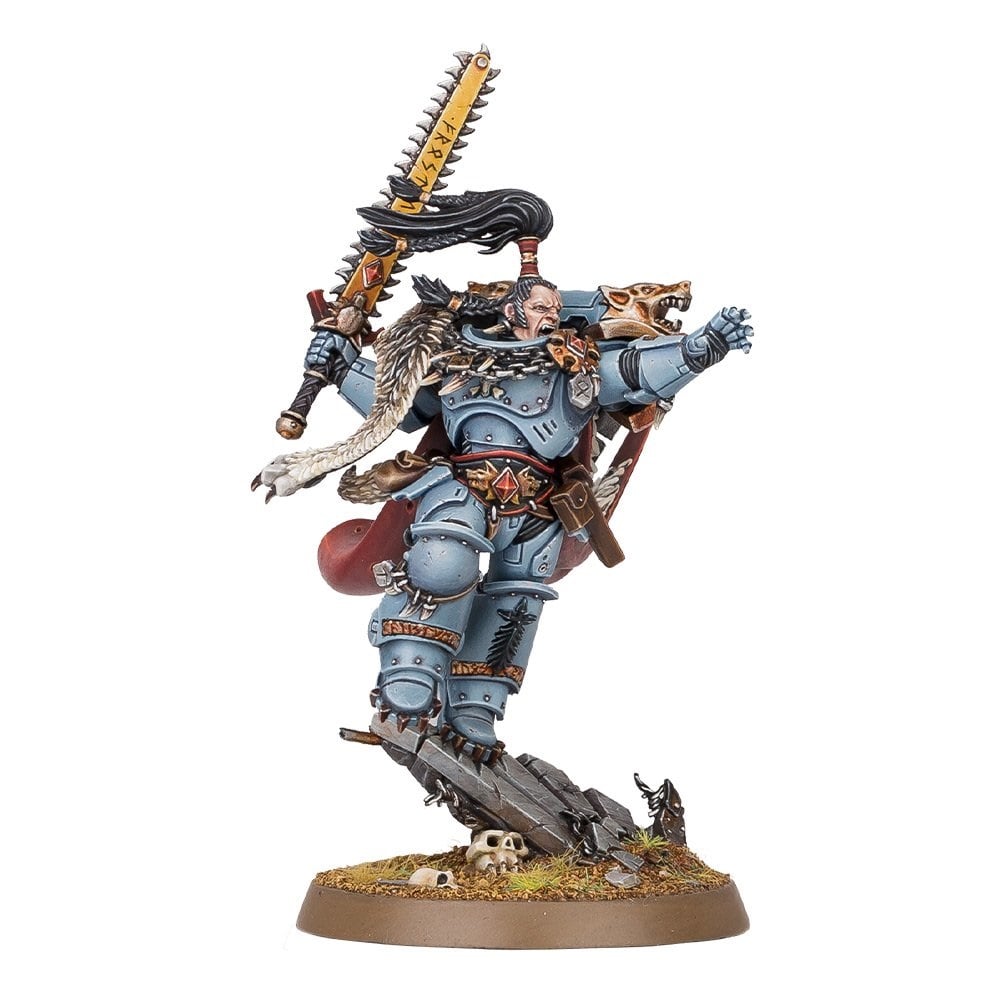 New angry Ragnar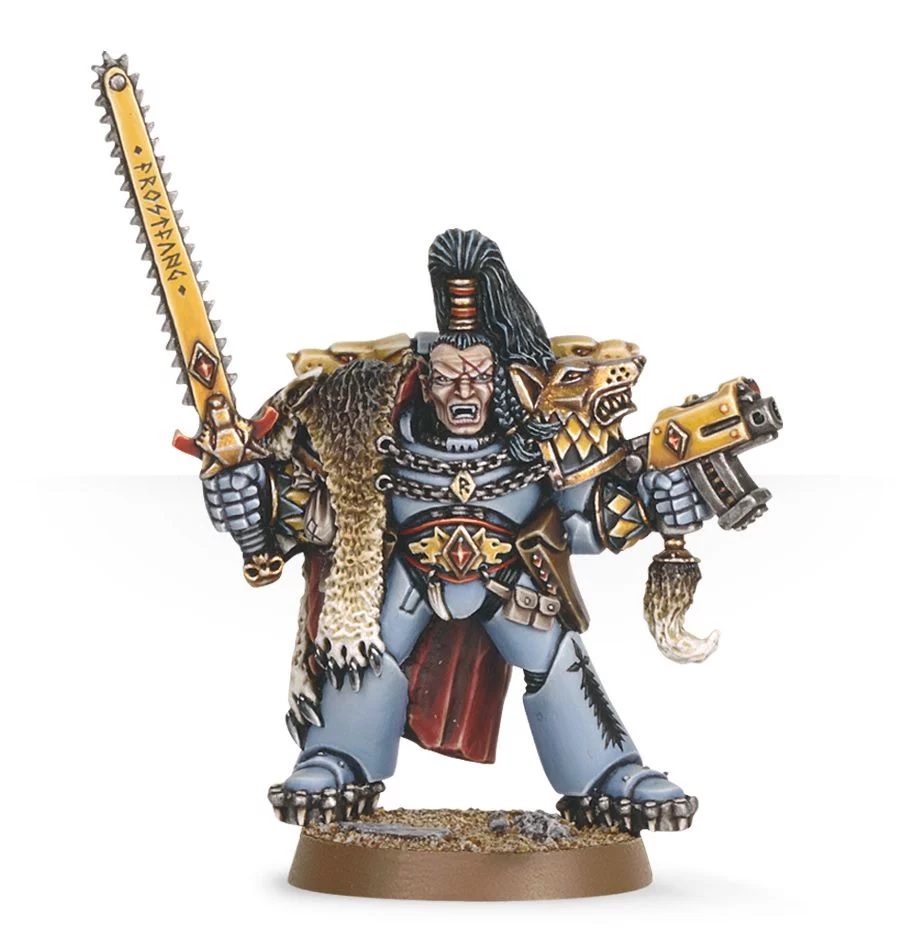 Classic angry Ragnar
Today we are here to talk about Ragnar's rules. We will start in the present and move back.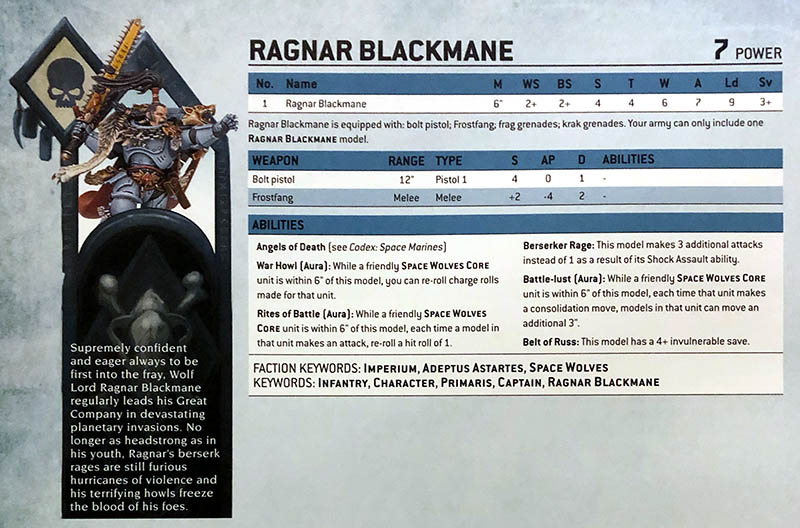 Today's modern monster. He's crossed the Rubicon Primaris (technically back in Psychic Awakening), ditched his wolves (awwww…), and but got an extra wound and 2 attacks in trade. He has his all-new mini, but has his two main rule improvements. Berzerker rage is much better than Insane Bravado (see below) turning Ragnar into a woodchipper for hapless foes, and Battle-lust keeps his buddies on the move. Got to love his triple aura threat!
The last of the Classic Ragnars, He still has his old mini, but has his two wolves, and the combination of Insane Bravado and War Howl keep Ragnar in the same vein as editions past – if just a tad dull.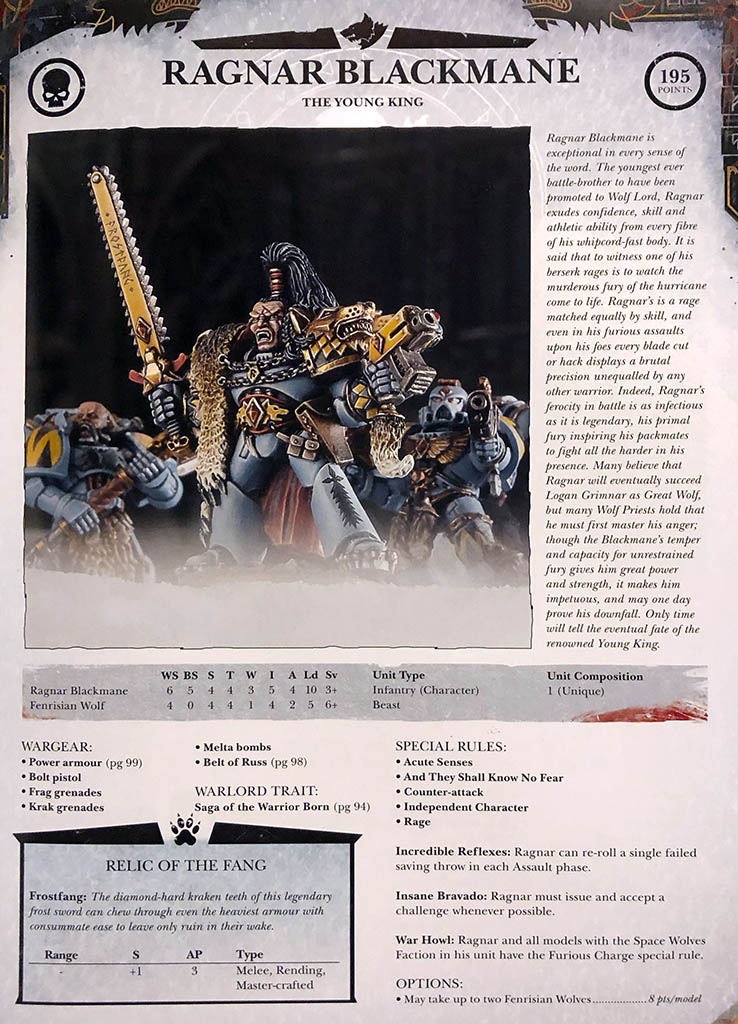 Ahh, the full page of rules and special abilities for 7th Edition. Ragnar retains the option for his wolves from 4th Edition and still makes Space Wolves near him better in combat, but overall – he's a bit watered down compared to the Ragnar or editions past. He must have been feeling his age…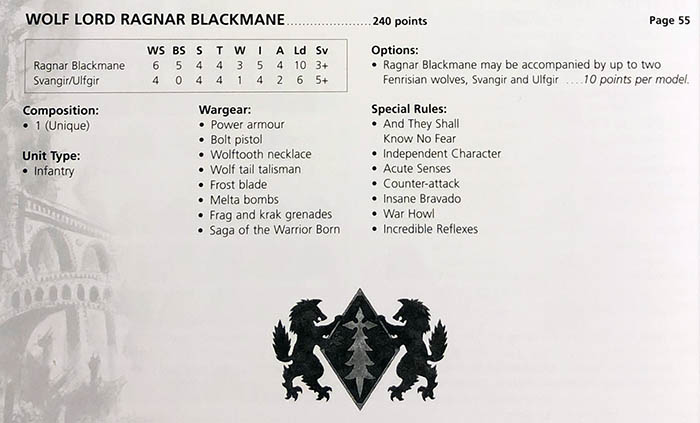 Welcome to the cleaned-up slim and trim Phil Kelly 5th Edition codex. While the entry for Ragnar was sparse, GW didn't scrimp in handing out USRs like candy. Just look at all that stuff to keep track of. This is the first edition that gave Ragnar the option for his two wolves, Svangir and Ulfgir. Insane Bravado gave Ragnar +3 attacks on the charge and War Howl granted Furious Charge to nearby Space Wolves. A  fitting reinterpretation of the original.
I LOVE 3rd Edition Ragnar's artwork. This was from the super-thin codexes that GW cranked out in 2-3 weeks apiece, so everything had a rushed quality. This version is all about charging but doesn't affect the entire army. He's still got the 4+ save, and can now take a bodyguard. Note the point restrictions of only 1500 pts and larger armies. This type of thing was common for Named Characters back in 3rd. This thin codex would hold out for 9 years. Can you imagine if you told a gamer in 2020, they would have to use their current codex for 9 years!!!

The first Ragnar was fresh with his brand new miniature and origin story. 2nd Edition was a little bonkers and just glancing at Ragnar's rules gives you some idea. He rolls double dice when he charges, and when he unleashes his howl, the entire army charges at triple speed! You also get some lore on his weapons right down to his bolt pistol. This is the true original – WS8- Ragnar unchained!
~Who's your favorite Ragnar?