Is the Thunderhawk actually good now? Let's discuss.
We've got a new Forgeworld Compendium and it's a thiccc boi. Even after weeks of pouring over it we are still finding little gems and things to to talk about with it. One thing it does really well is take a lot of units that just weren't playable, for one reason or another, in the past and make them viable again. A great example of this I've found is the classic Space Marine flyer; the Thunderhawk Gunship (pure chance that we at BoLS happen to have one). Today let's look at how this ship has been revitalized and why it just might be good now.
Reforged In His Glory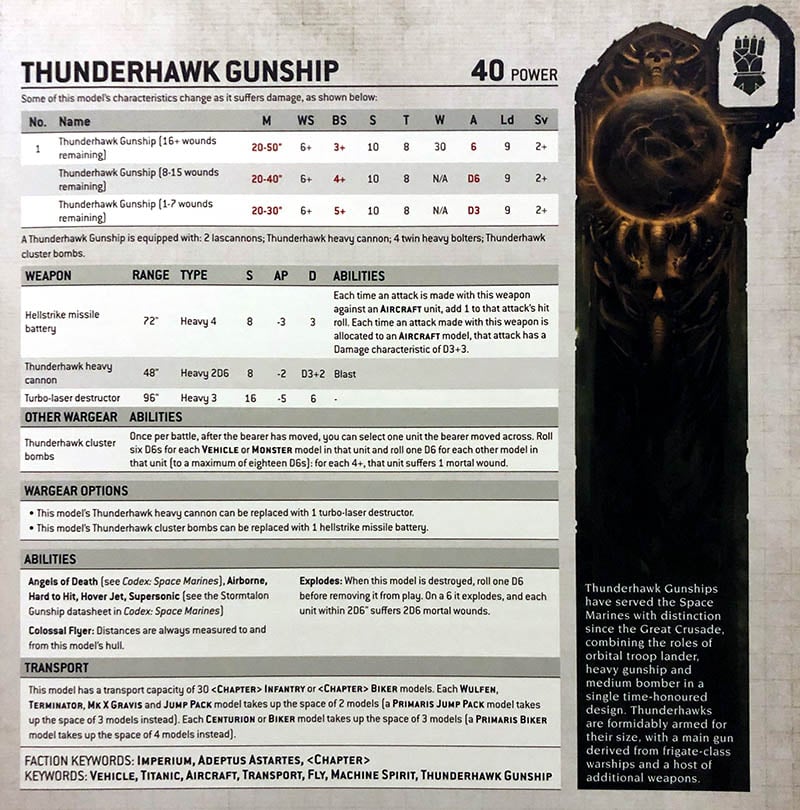 The Thunderhawk has undergone a major update and rework since the last book. The first thing to know about the rework, and possibly the most important, is that its had a massive point drop. Prior to this book a Thunderhawk would run you about 1500ish points, its now dropped down to 800 pts, or roughly half of its old cost (though it will cost you CP to run it now). This is really big and goes a long way on its own to making the ship fieldable. In a 2000 pts game (let along 1750-1850 pts that some GW events run at) a 1550 ish point unit just isn't a realistic option. Sure it's technically useable, but you just don't have anything else to go with it, once you take a character or two and maybe a minimum size troop choice you're done, the Thunderhawk is your army.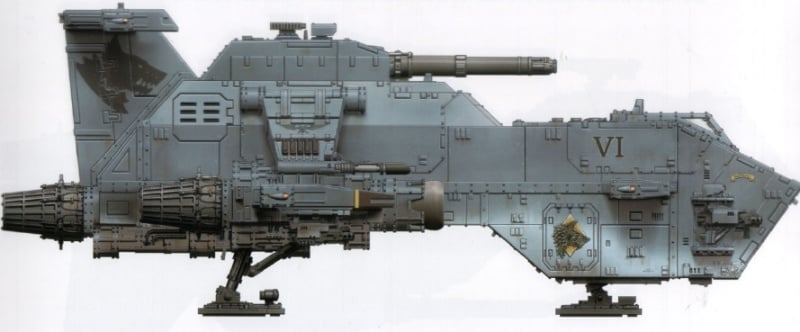 At 800pts however its a much more manageable cost, it's still really expensive, but you still have more than half your points left to take a real army to support the superheavy with, or you could go crazy and field two….. well a man can dream right? 800 pts also puts it in a range where it might ever earn its points back. At 1500+ it basically has to kill the whole enemy army, which it won't. At 800 it just has to kill a few key units, which it can. So the points drop is a big win and really important.
Armored For the Void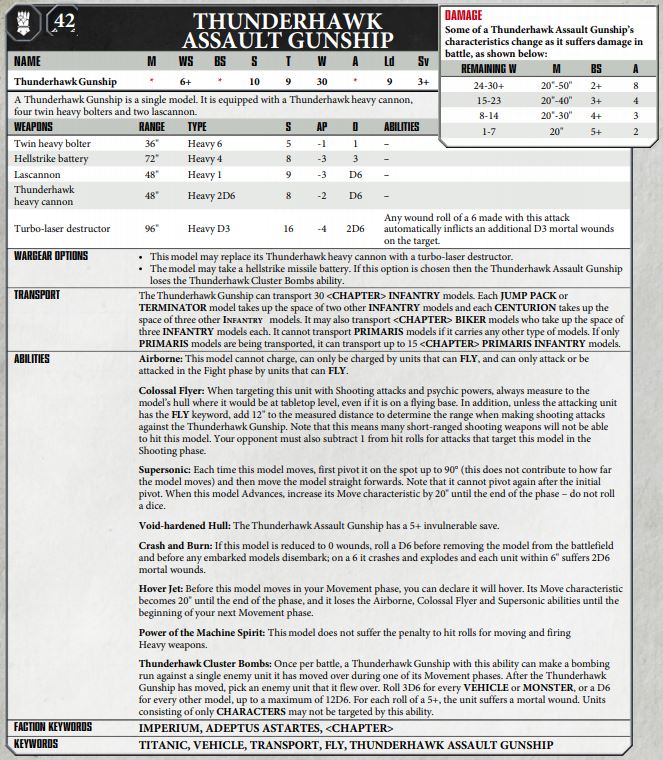 Old 8th Edition datasheet
The points drop is not without some cost as the Thunderhawk has had its stats changed. It lost a point of T, going down to a still solid 8. Not as good as it was, but better than being T7. It also lost two attacks but who cares, it's a heavy flyer, not a combat unit. Worse for it its dropped a BS to 3+ and in the biggest blow it lost its 5++ save, though it did go to a base 2+ save, so it is a bit of a trade-off. Overall this makes it a little less survivable to big hits than it was before, though it has actually gained versus small arms fire. Given the points drop it's more than worth it I'd say. Of course if positioned correctly it could take advantage of the Psychic Fortress power to get the 5++ save back and also be buffed with a Techmarine's Awaken the Machine Spirts to effectively go back to BS 2+. The unit also has gained from flyers being a bit easier to use this edition.
With Guns Blazing 
The Thunderhawk's weapons have also undergone some changes, and here they are almost all buffs. While its two lascannon haven't changed, its 8 heavy bolters have been upgraded to the new stats, which is a significant buff, and 24 heavy bolter shots alone make it pretty deadly (Imperial Fists anyone?). Next up both its main weapons have changed. The Turbo-laser destructor has technically taken a nerf, going from 2d6 damage to a flat six and losing its mortal wound rule. However given that it also went from d3 shots to a flat three this is a change I'll take as it makes it much more reliable overall. It is pretty likely to kill a heavy tank each turn. The heavy cannon also got a lot better, changing from d6 Damage to d3+2 Damage and gaining blast. This again makes it much more reliable, and really good at killing heavy infantry and smashing tanks. Between it and the heavy bolters you could pretty reliably wipe out a couple 10 man squads of MEQ a turn.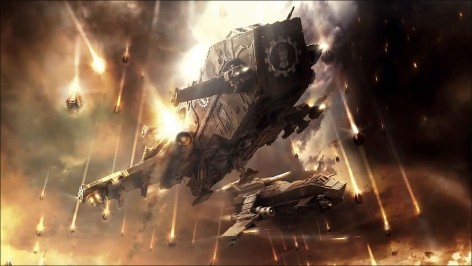 The ship's other two weapons have also gotten buffed. The Hellstrike battery remains the same vs most targets, but against other flyers it gains +1 to his and +d3 damage, making it pretty solid. The Thunderhawk cluster-bombs also got a lot better, going up from a max 12 dice to 18 dice (and rolling twice as many vs monsters and vehicles) and now do mortal wounds on a 4+ rather than a 5+. At full strength it now averages 9 MWs instead of 4, so it's more than twice as good. It's still a one use only weapon, so I think the Hellstrikes will get you more long term, but it is a buff. Overall the Thunderhawk's weapons have not just gotten better but they've gotten significantly more reliable, with less chance of dud shots.
Filled With The Greatest Warriors 
Thunderhawks are of course transports, and one of the big bonus of dropping to 800pts is that you can now afford to fit units into them. Its transport capacity has also changed a bit, and for the better. Previously the Thunderhawk was one of the few vehicles that could transport both classic and Primaris units, however it couldn't do both at once. Now that restriction is gone and you can mix and match units. In addition Primaris basic Infantry, such as Intercessors, no longer take up two slots, so you can put a full 30 in a Thunderhawk. Interestingly Primaris bikes take up four slots, but this includes Invader ATVs (unless they FAQ), allowing you to cram no less than 7 into a Thunderhawk for some real fun times (with the extra two slots you could toss in an Apothecary to bring them back to life even).  The Stormbird can actually carry the fully 9 hilariously. Overall this makes the Thunderhawk not only a good gunship but a pretty solid transport that can get any unit across the table.
Final Thoughts
Overall I think the Thunderhawk looks pretty solid these days. It went down a ton in points and got better at shooting and transporting things. Is it competitive? Probably not at high level, but I think it is verging on good and is certainly playable. One important thing to note however is a change to the Colossal Flyer rule, which now simply has you measure all distances to the models hull. If you, like we at BoLS did, put your Thunderhawk on a flying stand this could cause you issues as a tall enough stand can make it technically impossible to deploy from the Thunderhawk and it out of range of any auras/effects you have. This wasn't an issue with the old version of the rule, but is now, which means if you want to do any of that you'll probably have to take it off its stand and awkwardly place it on it table, which will block movement and stuff. Hopefully this is something they can FAQ, but keep it in mind for now and get those big birds on the table!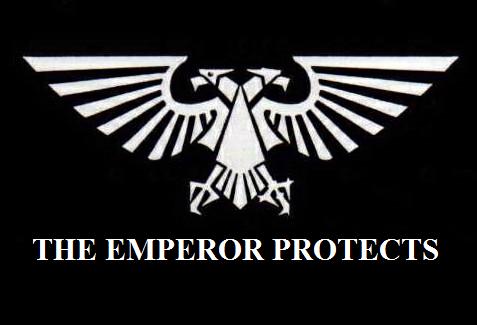 Let us know what you think of the Thunderhawk, down in the comments!