Goatboy here digging into a Space Wolf unit that might actually be decent now. Let's talk Swiftclaw Bikers of Fenris.
We all know how old marines got an extra wound – including bikers – so while on the regular side of the Marines the regular Biker unit isn't nearly as exciting – in Space Wolves they got a small tweak that might make them just as useful as the Outrider bikers are for some of the other 3+ armor save goodie two shoes.  First – let's get into why I like the Space Wolf version more.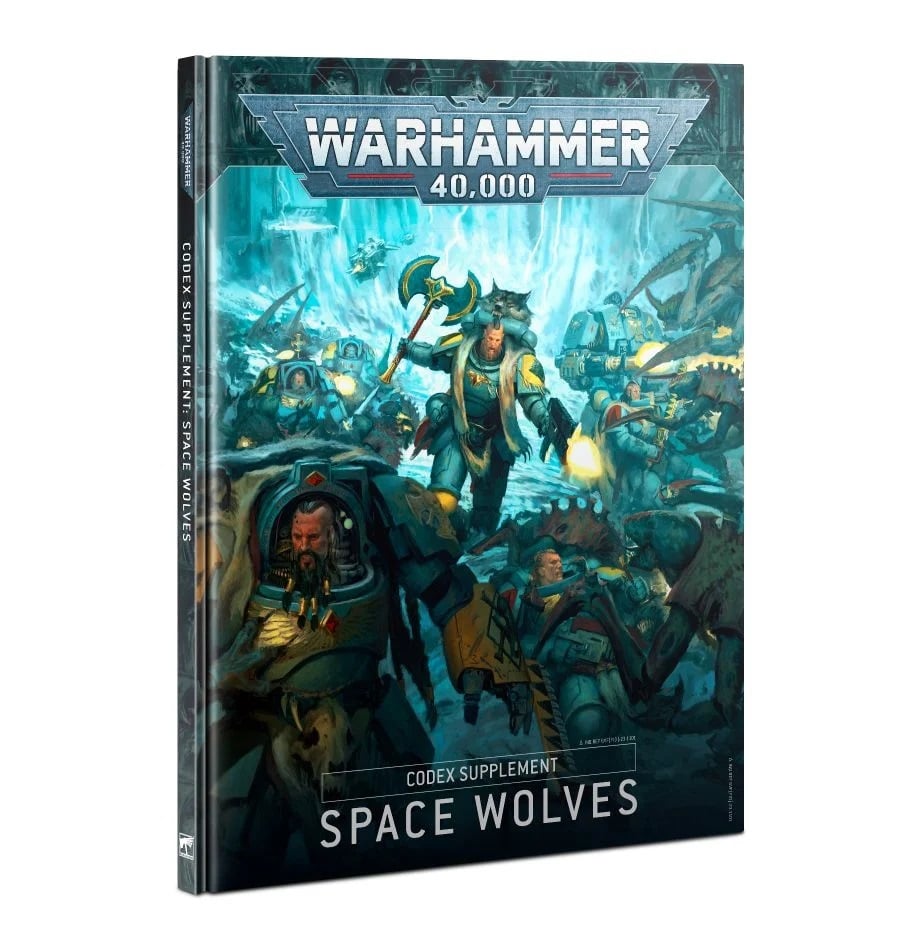 Hello Swift Claws
The Space Wolf versions are basically Blood Claws on bikes. This means they get an extra two sets of rules that make them interesting.  First they have the Headstrong/Berserk Charge ability to make them like Blood Claws and you can somehow get a unit of 15 of them versus the normal 9 from a biker unit.  You don't see that weird tweak in the normal Space Wolves supplement – but in the regular Marine book if you make them Space Wolves the unit size goes from 3-9 to 3-15.  This is pretty crazy and you can start to create some really interesting Biker style armies that just cover the table in a ton of wounds, bolter fire, and some crazy number of close combat attacks.  Just think – with a Bolt Pistol and a Chainsword you start to have regular Marine bikers throwing out 4 attacks a piece that hit on a 2+ with the Space Wolf trait.  Throw in a Powerfist/THammer on the Sarge (that isn't a Wolf Guard so he gets Berserk Charge) and you get some funky fun attacks out of the unit.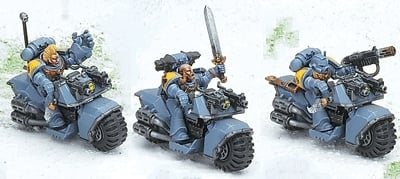 Of course – you ask the question is it worth it and I am not sure.  A unit of 15 sits at 450pts plus whatever special weapon you give the Sarge if you want.  Heck if you throw in an Attack bike to get another 4 wounds and more attacks it goes up to almost 500 points before you figure giving the Sarge something spicy.  Do I think this is pretty expensive?  Sure it gets pretty nuts to have that many models in one unit without some true set of protection – but I don't think that is where the sweet spot is with these guys.  I think the interesting thing about them is to keep them cheap and as fast as you can get them.  This means we are looking at them as Engage on all fronts options and board control instead of a big fat unit of saucy nonsense.
If you take 4 of them you are spending 120 points for 12 wounds, 17 attacks, and a decent foot print.  This sits you right in the realm of Outriders with the issue of needing to assault the closest unit if you can and not having access to some of the Primaris Strats.  It does though make you cost a heck of a lot less and you can throw in some kind of spicy close combat weapon for 1 less attack if you want.  A sneaky Powerfist sounds pretty good for a very cheap and simple unit.  Heck if you pump it up with one extra model and go with a Power fist you are sitting at 25 more points but for 15 wounds, 16 basic attacks, 4 Powerfist attacks, and a much bigger footprint.  You are also built to be a little less hungry on Strats and more designed to go 20 inches, get into a zone, and block out some area as your other stuff comes in closer and does the damage you need.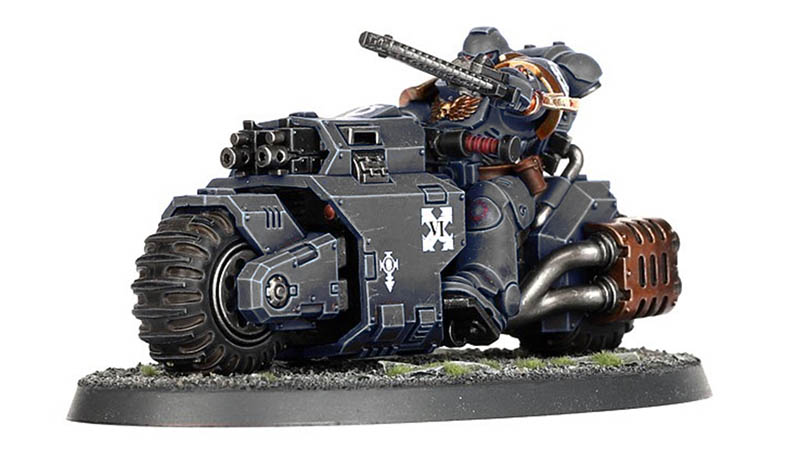 I still like Outriders as yes they can put out a lot of attacks and have access to Primaris options – but I still think Swiftclaws are something to seriously think about – especially as you start to look needing units to go hold objectives, block out some zones, and let you ensure you get your hooks into all those movement based secondaries.  If you wanted to be more cheeky you could lose some attacks too and go for a 3 set of Meltagun combo if you feel like it.  Between all the bolter shots they keep and 3 Melta shots you could be a nice little "surgical" knife unit that is designed to be cheap, effective, and easy to use.  You could even throw in an Attack Bike with a Multi-Melta to get a ton of firepower in specific places to pop a tank, put wounds one some new big bad monster, or just be a pain to remove.
Sample Units
Here are the 4 sets of units I can see as useful for the Space Wolf Player.
Surgical Melta Strike
Swift Claw Bikers X 3 w/Attack Bike – Meltagun X 2, Combi-Melta, Multi-Melta – 175pts – 13 Wounds, 5 Melta Shots, 16 Bolter Shots
Bully Assault Unit
Swift Claw Bikers X 5 – Astartes Chainsword X 4, Powerfist – 160pts – 15 Wounds, 20 Bolter Shots, 16 Chainsword Attacks that hit on 2+, and 4 Powerfist attacks
Sneaky Wheelie Hammer
Swift Claw Bikers X 3 – Astartes Chainsword X 2, Thunder Hammer – 105pts – 9 wounds, 12 Bolter Shots, 8 Chainsword, 4 Thunder Hammer hits on a 3+
Somehow I got 15 Bikes AROOO!
Swift Claw Bikers X 15 – Astartes Chainswords X 15 – 450pts – 45 Wounds, 60 Bolter Shots, 61 Chainsword Attacks
The crazy thing in all of this is you could go ahead and start to build out your own custom Space Wolves Chapter – call them the Pissed Off Paw Patrol and do a Successor chapter with Hungry for Battle and Whirlwind of Rage to have an army that charges extremely far and starts to generate more hits on unmodified hits of a 6.  This starts to get nutty just to build out a crazy biker assault monster army all due to the fact you can get more then 9 bikes in a dang unit of crazy bikers.
Meet the Swift Claw Army
With that – let's throw in a crazy bubble of Swiftclaw Bikers and see if an army would actually work.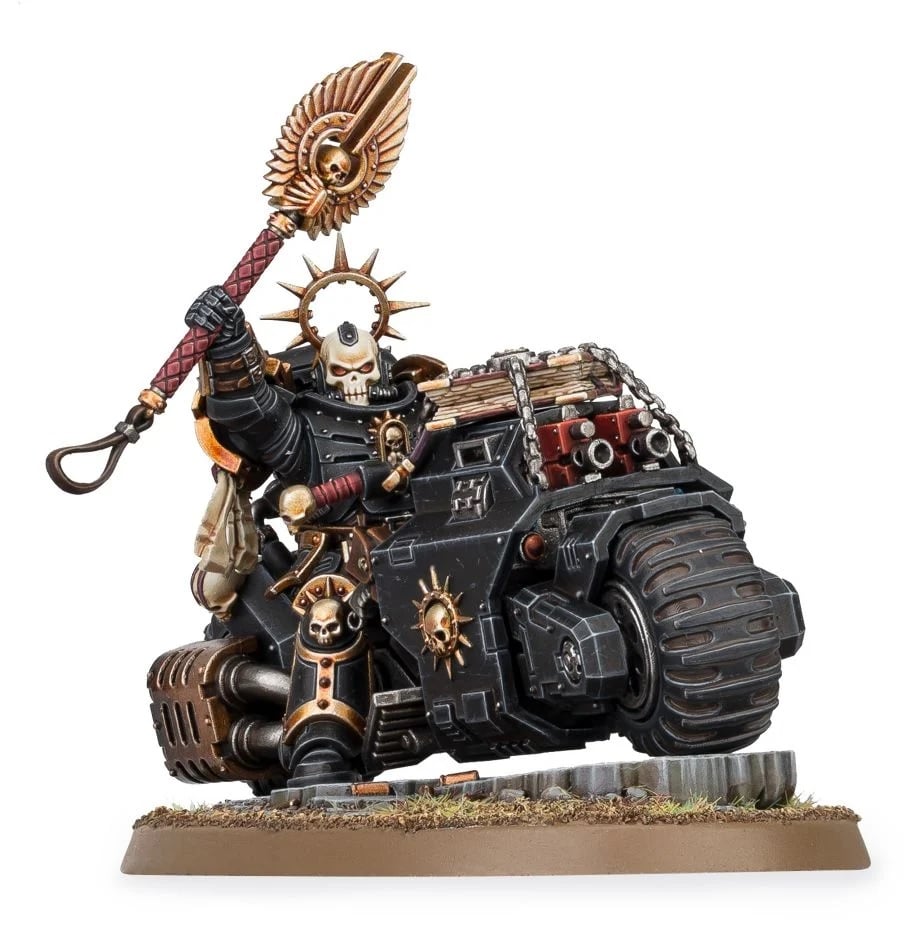 Space Wolf Patrol | 0CP
-HQ-
Primaris Chaplain on Bike – Master of Sanctity, Warlord – Wise Orator, Warrior of Legend (-1CP) Resolve of the Bear – 140pts
WGBL on Thunder Wolf – Relic of the Chapter (-1CP) Teeth of Tera, Storm Shield, Hero of the Chapter (-1CP) Rites of War- 115pts
-Elites-
Judicator – 85pts
-Troops-
Assault Intercessors X 5 – 95pts
-FA-
Swift Claw Bikers X 15 – Astartes Chainswords X 15 – 450pts
Outriders X 3 – 135pts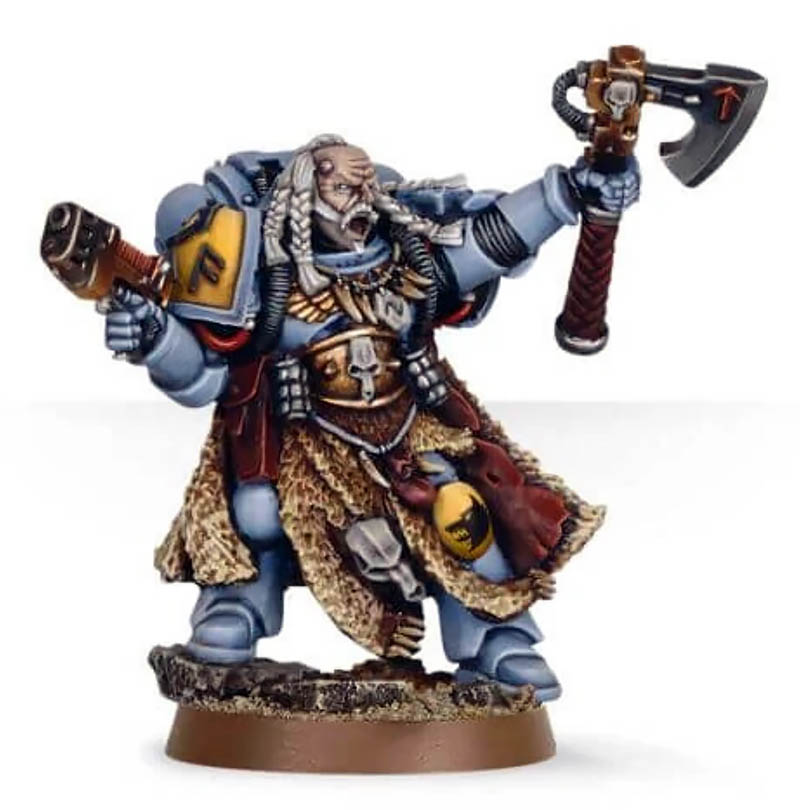 Space Wolf Patrol | -2CP
-HQ-
Wolf Lord – Jump Pack, Relic – Armor of Russ, Powerfist, Storm Shield – 130pts
Rune Priest – Jump Pack, Psychic – Murderous Hurricane, Instincts Awoken – 115pts
-Troops-
Assault Intercessors X 5 – 95pts
-FA-
Swift Claw Bikers X 15 – Astartes Chainswords X 15 – 450pts
Outriders X 3 – 135pts
PTS: 1945 CP: +7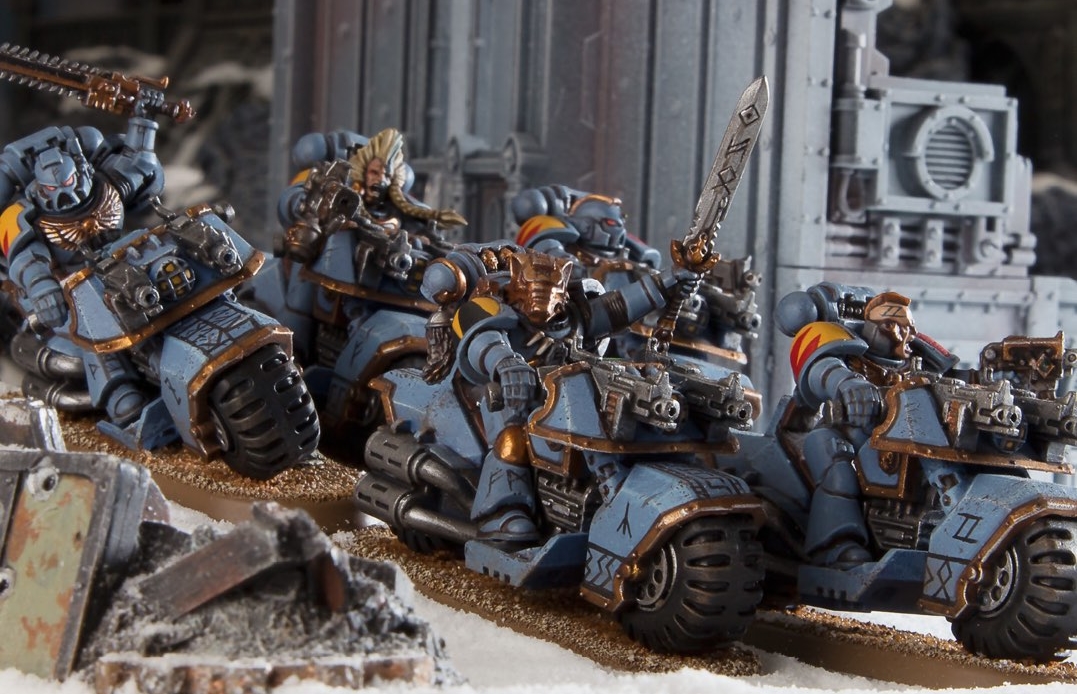 Swift Claw Tactics
This list is built out to cover the table in bikers, force opponents to be pushed back, and have HQ's with large footprints to push out their Auras.  The set up is to quickly get Objective Secured to Areas we could use it (thus the WGBL on Thunder Wolf – and this set up is the only way to get him a Storm Shield) and have 3 ways to shut off assault units or strike first units (Psychic, Armor of Russ, and Judicator).  I have enough points left I could upgrade the Wolf Lord to a Chapter master of the Rune Priest to a Chief Librarian if I wanted to.  I don't know if it is worth it for the Rune Priest but having another Flat way to get full rerolls on a unit of 15 bikers is probably worth it.  What do you guys think?
As I build up some Space Goats I look at having units that are designed to help win the Secondary Game as I have the rest of the army to get close, push the opponent into a section, and don't need to finish the game to win the game.  These are the type of hyper-aggressive plans that need units to go out and score points for my army as the rest of the Thunder Juggers get mixed in.  I am leaning toward a mixture of the Bully Assault Unit with a set of Outriders to help get some Stratagem love out of the army as I have a ton of "non" Primaris options in there.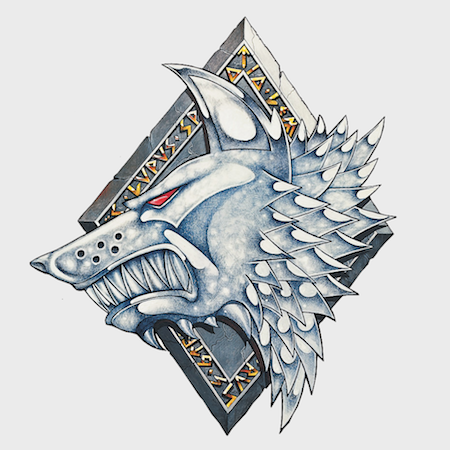 Have you thought of any other units that are not Primaris and looking good?  I know the Wolf Guard options seem really strong right now?  I think there is some play with Stern Guard as well as some of the Vanguard Vet options too.  I think utilizing these units as Sacrificial units with a ton of upside damage is the way to go.  Or – you just need to stuff to do the objectives and win the game.
~Do you think Swift Claws are good enough to hold onto in our new Primaris World?