Do you like the Enemy Within but want to get your hands on a swanky new version? Check out the latest Collector's Edition from Cubicle 7.
Grim and perilous adventure waits in the Old World, but for the discerning collector there's a new edition ready to bring the next leg of the Enemy Within Campaign: Power Behind the Throne to your tabletop full of gorgeous extra art, a slip case, silver foil detailing, as well as some extra surprises that lie in store.
The new collector's edition is up for pre-order, which means you can get your hands on a .pdf of the adventure now–but you'll have to wait for a physical version of the book. And given that Death on the Reik, which is part 2 of the Enemy Within campaign still hasn't released its physical copy, you might be waiting a while indeed. Especially with the UK going back on lockdown. It wouldn't be the 2020's as we've known them so far without being ruled by covid-19, after all.
Even so, the collector's edition promises a ton of stuff for fans of the Old World. You'll get the full set of books for Power Behind the Throne as well as the Companion book, and a few other things. Check it out.
via Cubicle 7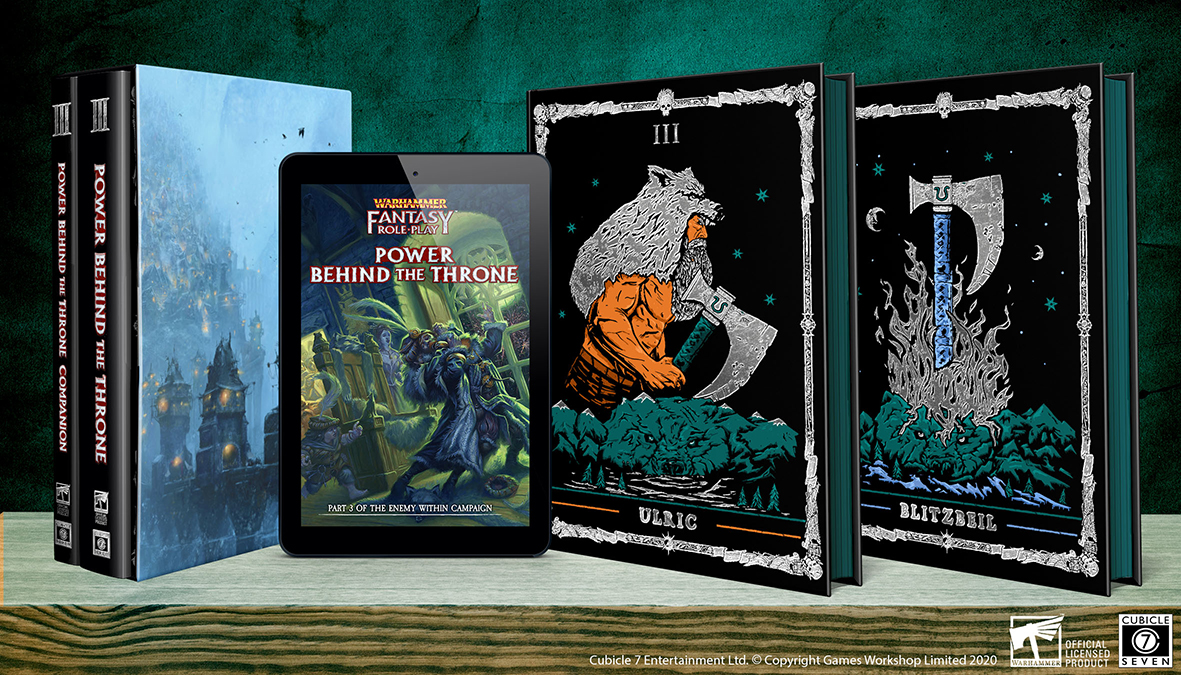 The Enemy Within Collector's Edition contains the revised and updated Director's Cut of one of the most highly regarded roleplaying campaigns ever written. The beautifully finished, exclusive Collector's Edition set includes Power Behind the Throne and the Companion presented in a slipcase featuring the artwork from the standard editions.

The white elements of the design are imprinted in silver foil – items such as the borders, skulls, the grasping arms of the dead, and so on will have a really vibrant finish.

The printed elements have been kept to a minimum tonal palette in keeping with WFRP's distinct style, and will have a Spot UV finish layered over them, so they'll have something of a special finish as well.

As with Volume 1&2, the books are case bound, with a few extra little surprises tucked in that we won't spoil here. We really enjoy creating these Collector's Editions, and know that they'll take pride of place on our own bookshelves for years to come as well.

The Enemy Within is the campaign all roleplayers should play at least once in their lives, making Power Behind the Throne an essential purchase for all gamers.
Happy Adventuring!