Blood & Plunder: So… You Want to Be a Pirate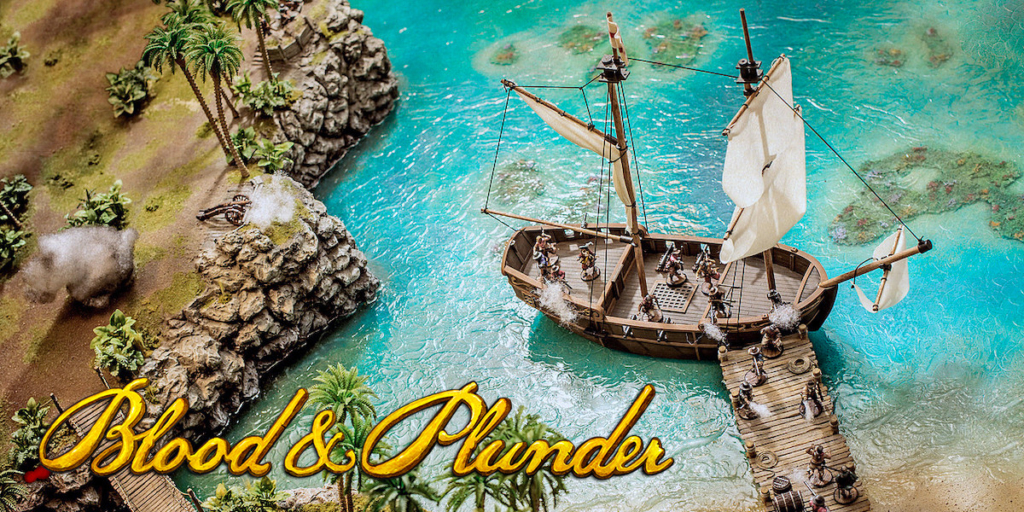 So, I hear you want to be a pirate… uh, get involved in Blood & Plunder. Well, here is how to start playing this gorgeous high seas miniatures game!
First off, Firelock Games has their Blood & Plunder: Raise the Black 2-player starter set still available for late Kickstarter Pledges. A much more immediate way to get into the game is either by buying the current starter set or picking out a starter army. Right now, there are 8 different starter sets that you can get for the different nationalities. Today, we are going to quickly go over these options and make mentions of some places that you can go to learn more about the game.
The Blood & Plunder 2-Player Bundle
This two-player bundle from Firelock Games is currently the best way to start playing Blood & Plunder.
In this Bundle, you get two decks of cards (used for activation), four dice (Blood & Plunder uses d10s), 26 miniatures, and the rule book. Firelock Games gives you a lot of choice in the forces you get. You may choose any two out of eight forces with this starter set.
I hear you! Where are the ships! Well, we will go over that in the next section, but for now, let's talk a little bit about how the game plays.
Now, I am really generalizing here. But you can kind of look at this miniature set as a way to learn the game. Land Battles and Sea Battles have slightly different rules, but they mix together well. You can learn to play on land and learn all about movement, shooting, and resolve without having to complicate things with figuring out the movements of a ship or how to reload a canon. Once you are happy with this, add in some buildings.
Ships, buildings, and forts are all considered structures. The game treats ships essentially as moving forts or buildings. Add in a cannon or two and you will get all the rules down right for when you add in the ships. Learning in this manner makes the game much smoother for new players to grasp.
At the time of this post, this starter set comes in at $124 USD.
But I want more!
Okay, I hear you. You want more. You want the ships and more miniatures. Firelock Games has you covered. Choose the nationality that you like, and they have a bundle deal for you. Choose any nationality and they will sell you a ship and activation deck along with 25 miniatures for your force at a reduced price. This is how I got in on the game. I got the rulebook alongside one of these with a French Crew and sloop. To follow that up, Firelock games sent me an independent starter box of Spanish miniatures.
Notice that the bundle does not come with the rules. You need to buy these separately. These bundles start at $102 USD. I recommend that you get the sloop as your starter ship. It is good in the game and easy to handle. To get this bundle with the sloop, you are looking at $127.99 USD.
So, if you want to go down this route to start, you are looking at $162.98 to get a good starter set for one nation along with the rulebook. If you buy a digital copy of the rules there, you could save some money too.
That's not too bad to get in on a miniatures game that looks absolutely stunning on the tabletop.
Subscribe to our newsletter!
Get Tabletop, RPG & Pop Culture news delivered directly to your inbox.
What Nationality Starter Boxes are Available?
As stated above, there are 7 Starter Boxes available for purchase at this time. Each for a different nationality or force. All but one of these boxes are available with the ship bundle above. You can also get them on their own (as I did with my Dutch and Spanish forces). I will go over here the ones you can use with just the core rulebook. The others you can use if you buy No Peace Beyond the Line, or get creative with Firelock Games' Blood & Plunder Forcebuilder Program.
No Piece Beyond the Line
The starter sets above are going to be your easiest entry into the game. You can use them with just the core rulebook. If you want to expand on them or try another nation though, the No Peace Beyond the Line expansion is for you. Again, you can also try to use the forcebuilder to build a list from No Peace Beyond the Line for free.
The Dutch – Best Nationality with Artillery (Cannons) and they come with one of the best hand-to-hand units in the game.
The North American Natives – These guys are hard to shoot and have the ability to start with their units hidden.
European Colonial Militia Set – Get these guys if you want to run a land-based force. They have cavalry on horseback and a cannon on a field carriage.
Pirates & Privateers – This boxed set is best suited for those who want their forces on a ship. The entire box is made up of sailors.
Blood & Plunder Resources
Before ending out this article, I want to let you know where you can find more resources about Blood & Plunder.
The first and most important resource for you is obviously the Firelock Games Website. There they have all of the products that you need for the game. They also have a Forcebuilder website that builds lists. This page is very helpful in my opinion and I really like that they host and offer it free for use. You can also use this builder to help you figure out which miniatures to buy for your forces.
Next, I want to let you know about my personal site (Must Contain Minis) and my YouTube Channel. There I have a section dedicated to Firelock Games and another one that zeros in on just Blood & Plunder. Very recently, I published a video on YouTube sharing exactly what is in the Dutch Nationality Starter Set for Blood & Plunder. My angle is as a reviewer, and as someone that likes to show people that there are other games out there instead of just the ones by Games Workshop.
Finally, if you want in-depth coverage and analysis of Blood & Plunder, Blood & Pigment is the place to go. They are getting pretty big and their focus is on just Blood & Plunder.
Wrapping it up…
Thank you for joining me in this article about how to get into the beautiful game, Blood & Plunder. This game looks fantastic on the tabletop and plays well too.
If you want to buy in, I really do recommend that you buy the two-player starter bundle and start with land battles. Then build your force from there as you go along and learn the game. If you are like me though, those Nationality Bundles with the ships are the right way to go. You can find them off of the Firelock Website on their bundles page.
Until next time, Happy Gaming Everyone!!!

Read more about great Indie and Historical games on my site!
Must Contain Minis is my personal reviews, showcases, and battle reports website where I look at mostly Indie and Historical Games. Mainstream games and products also enter the mix. You can also follow me on Social Media. I am very active on Facebook and share posts of a wide variety. I upload my best pictures to Instagram and am also on Twitter. Oh, I am on YouTube now too!
My aim is to promote gaming with companies outside of those that already dominate the gaming market.
Latest News From BoLS: