FFG: Now Available – Arkham Horror & Marvel Champions Products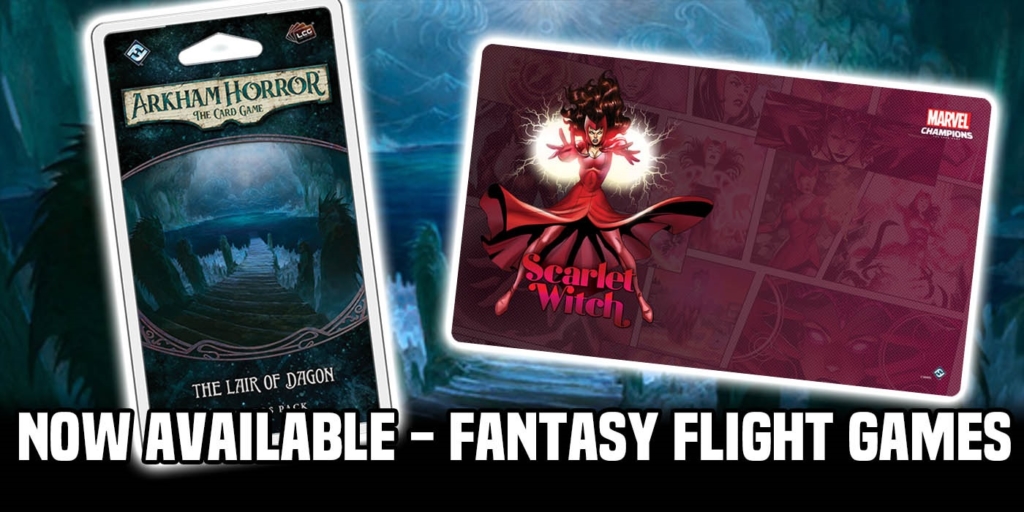 Fantasy Flight Games has started shipping the latest Arkham Horror: The Card Game Pack and a new play mat for Scarlet Witch.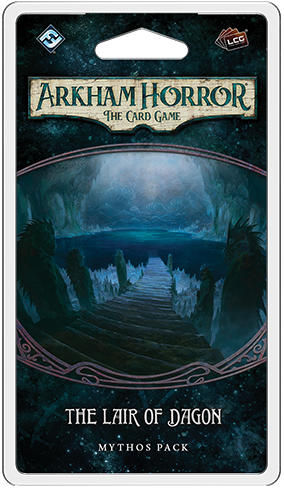 The separate timelines of your Innsmouth investigations are quickly converging, as the pieces of your memory begin to click into place. You've seen uncanny happenings and sinister meetings, and it's clear that the Esoteric Order of Dagon lies at the heart of the conspiracy. It's time for you to step across the nightmare frontier and venture into the Order's decrepit and crumbling halls… and the tidal caves that lie beneath.
As The Innsmouth Conspiracy cycle approaches its climactic conclusion, you'll find the next chapter of the unfolding story within The Lair of Dagon Mythos Pack, beckoning the investigators deeper into danger and closer to the heart of the sea. You'll need new tools and skills if you plan to take the Order of Dagon head-on, and fortunately, this Mythos Pack comes filled with an assortment of new player cards for every aspect, giving you the perfect cards to upgrade your deck as you gain more experience and ramp up to the finale of your campaign.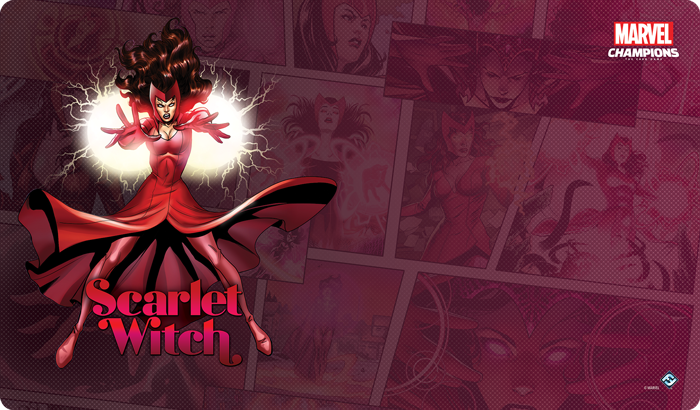 Alongside the Scarlet Witch Hero Pack, you'll also find the accompanying Scarlet Witch Game Mat!
Measuring 24" x 12", this slip-resistant game mat gives you plenty of space for your hero's deck, identity card, upgrades, supports, and more, while showing off arcane art drawn straight from the comics! No matter how Scarlet Witch twists and warps reality, you can keep all your cards organized and orderly by displaying them on this beautiful game mat.
And if you want the Hero Pack to match with your new play mat…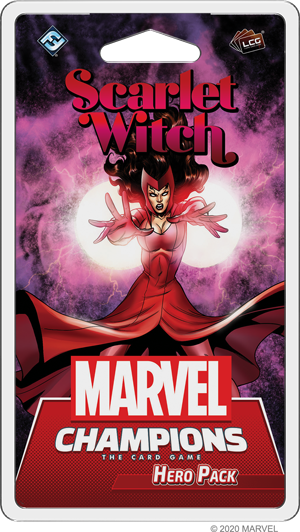 Lost and wandering Europe for years with her brother Pietro, Wanda Maximoff had little idea of the arcane powers vested in her—until she unleashed her reality-warping chaos magic to protect the innocent. Now in the guise of Scarlet Witch, Wanda has joined the Avengers, fighting alongside her brother!
Subscribe to our newsletter!
Get Tabletop, RPG & Pop Culture news delivered directly to your inbox.
Like previous Hero Packs, the Scarlet Witch Hero Pack for Marvel Champions: The Card Game unlocks a brand-new hero for your games, coming with a fully pre-built and ready-to-play 40-card Justice deck. Alongside this pre-built deck, you'll find an assortment of cards for the other aspects of the game, giving you plenty of options for tweaking your Scarlet Witch deck or altering any other deck in your collection. Prepare for reality to twist and warp around you with this new Hero Pack!
A New Hero Mat and another adventure into Arkham Horror!
Latest News From BoLS: