Goatboy here. The new Dark Eldar codex gives us a new and neat little detachment – the Realspace Raid. Let's play!
The Realspace Raid is a neat combination detachment that lets you take 3 different HQs and is almost like 3 patrols wrapped up within one detachment.  With this combo and the Archon as the Warlord – you get access to all the obsessions and the Archon's reroll hits ability for all the core units in the army – which is a lot of the army.  That isn't bad and makes for an interesting thing to create the true Bad Touch Raiders.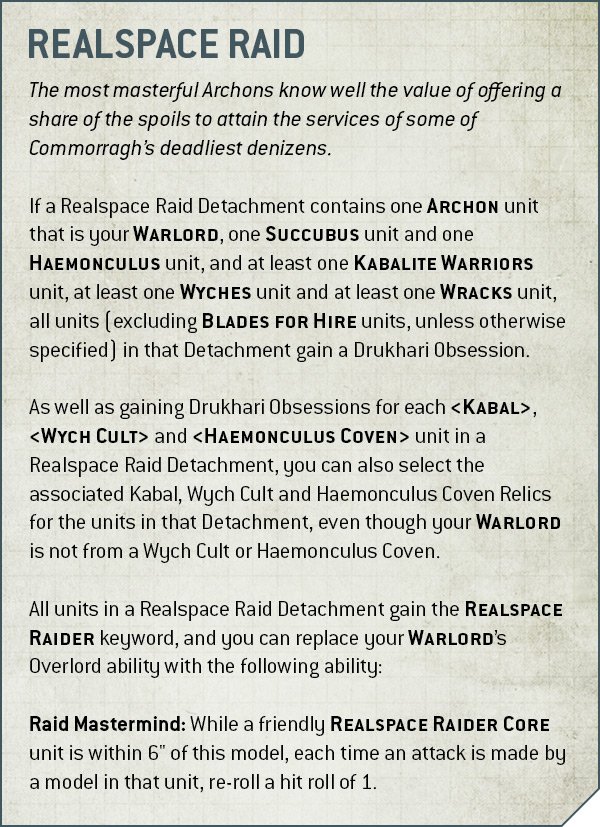 Drukhari Battalion – Realspace Raid – 0CP
Kabal of the Black Heart
Cult of Strife
The Prophets of Flesh
Prizes from the Dark City – 1CP
Tolerated Ambition – -1CP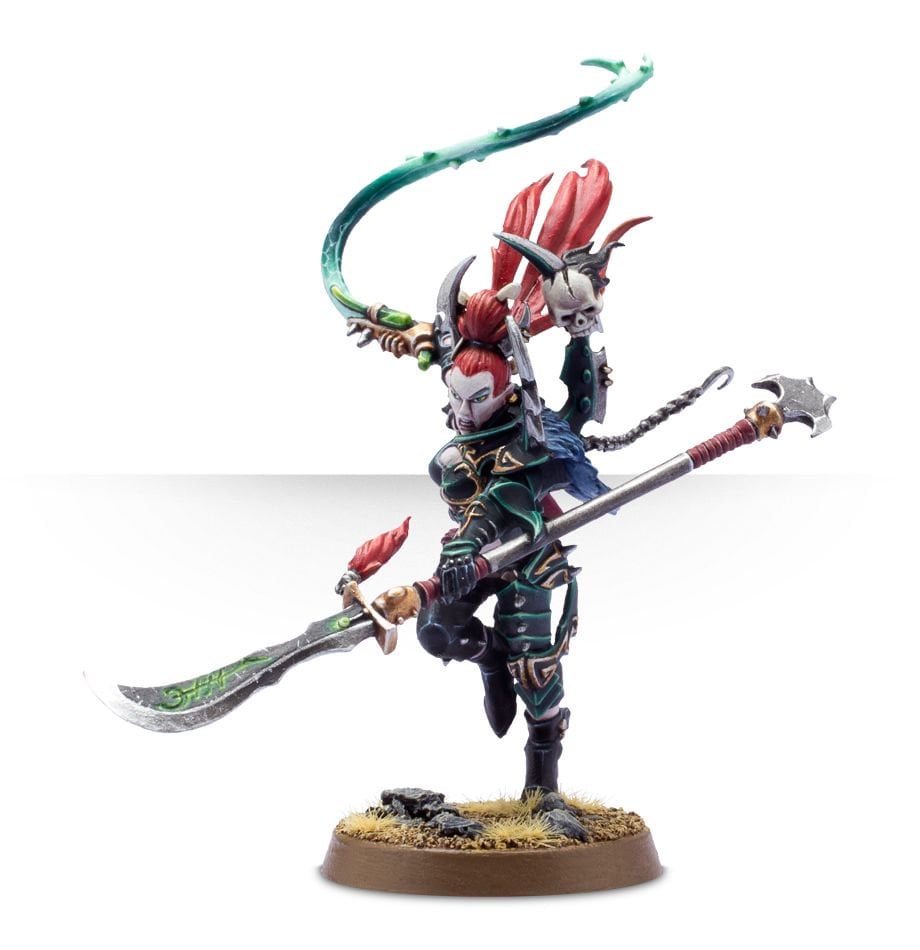 -HQ-
Archon – Splintered Genius, Warlord – Labyrinthine Cunning – Relic – The Helm of Spite, Blast Pistol – 85pts
Succubus – Show Stealer, WL Trait – Precision Blows, Relic – The Triptych Whip – 75pts
Haemonculus – Alchemical Maestro – 100pts
-Elites-
Incubi X 10 – 160pts
Grotesques X 5 – 200pts
-Troops-
Kabalite Warriors X 10 – Trueborn, Blaster X 2, Dark Lance – 115pts
Hekatrix Bloodbrides X 10 – Shardnet/Impaler, Razorflails, Hydra Gauntlets – 120pts
Wracks X 10 – Haemoxytes, Hexrifle – 85pts
-FA-
Hellions X 20 – Agoniser – 345pts
Scourges X 5 – Blaster X 4 – 100pts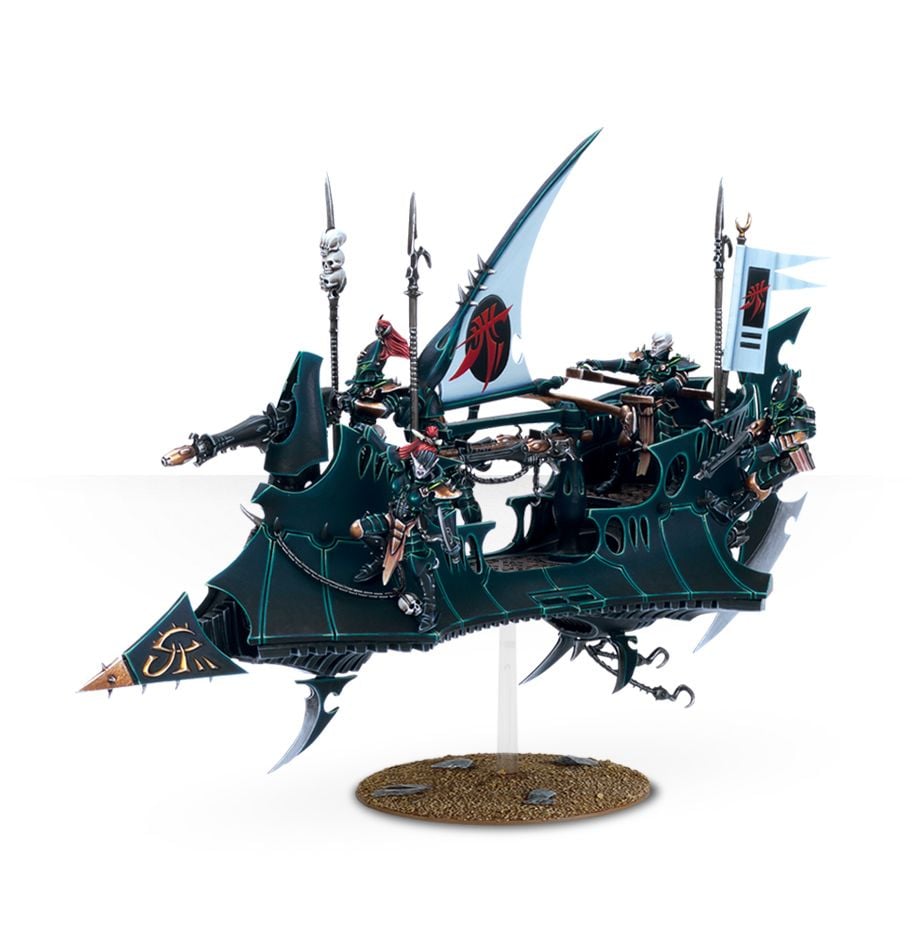 -Dedicated Transport-
Raider – Disintegrator Cannon – 90pts
Raider – Disintegrator Cannon – 90pts
Raider – Disintegrator Cannon – 90pts
Raider – Disintegrator Cannon – 90pts
Raider – Disintegrator Cannon – 90pts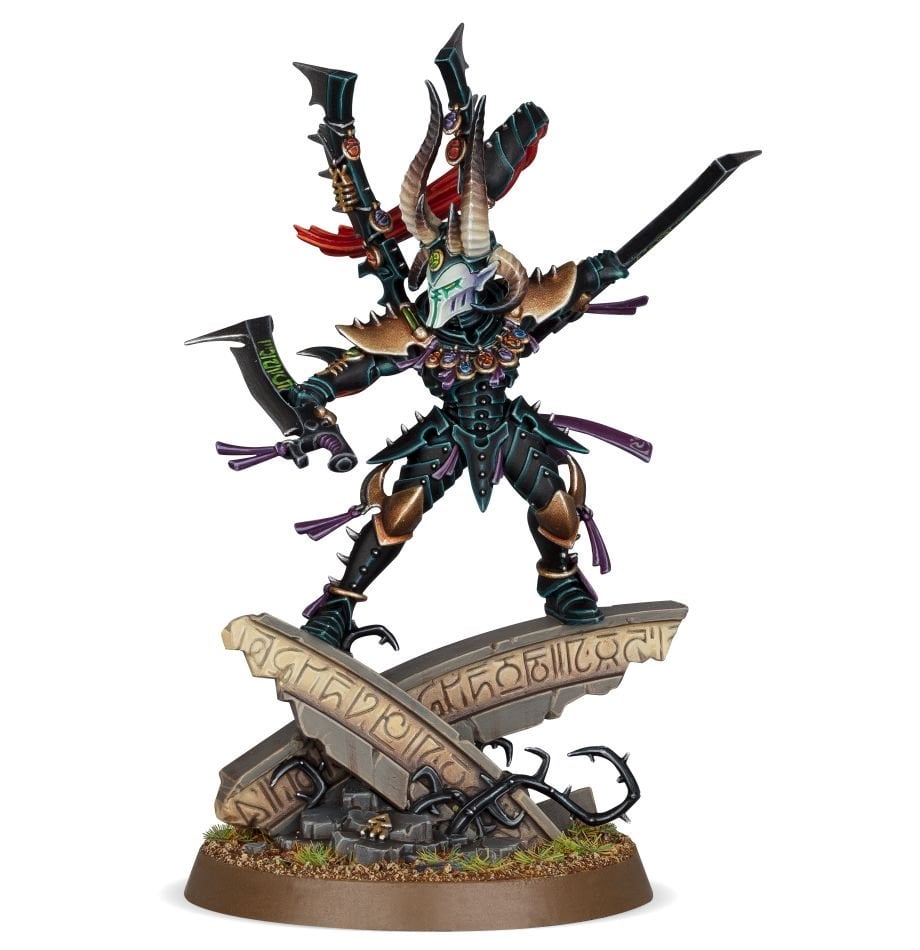 Drukhari Auxiliary Detachment – -2CP
-HQ-
Drahzar – 135pts
PTs: 1970 CP: +8

Plundering Tactics
This is a pretty basic idea – everything is riding in a Raider and your are trying to move around, get assault moving, and hopefully some cool damage.  I like the Hellions as you can use them to move fast, jump over people, and throw some mortal wounds as needed with that lovely drive by strat.  I wanted to build a list that look like a weird battle force pile – but might actually work.  I am sure you can tweak all the raiders to get Venoms or other things – but I just like the idea of Raiders doing their business.
Vect is everywhere!