New Trailers – 'Fear Street', 'Jungle Cruise', and a New M. Night Shyamalan Tale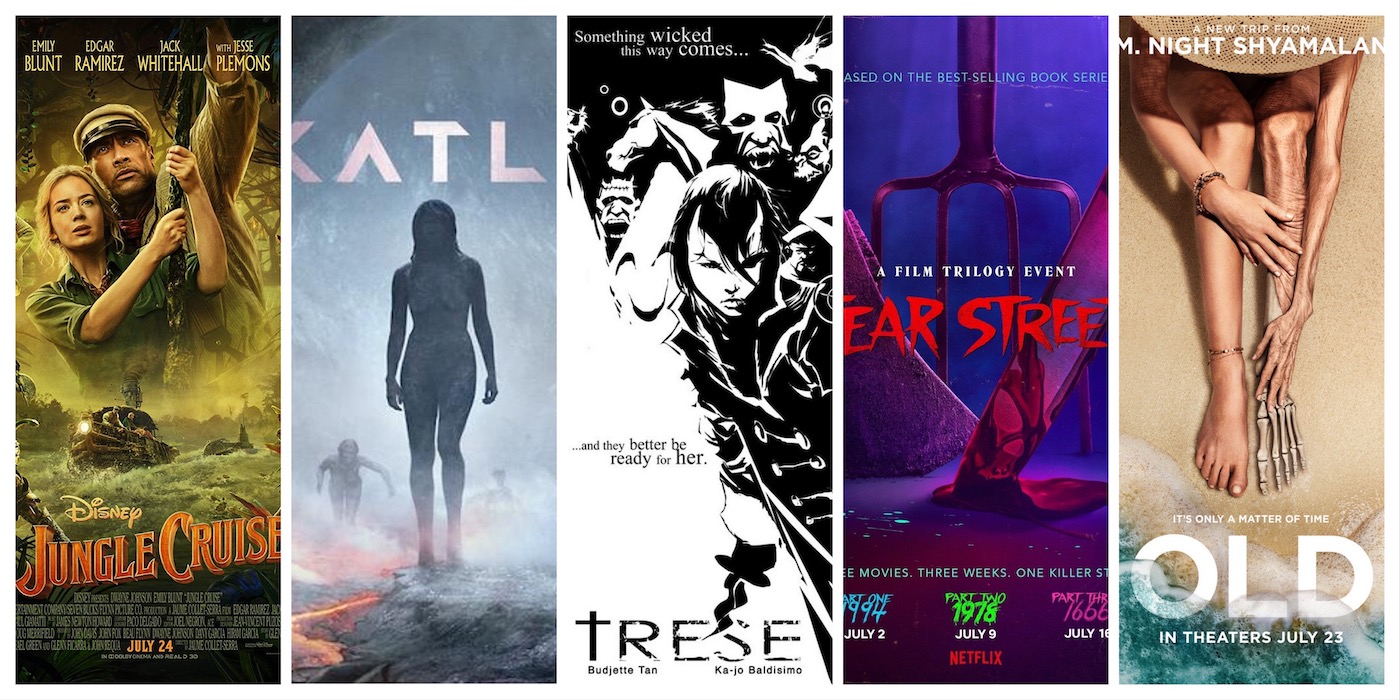 Teenage horror, a volcano eruption brings weird happenings, mobsters, and another Disney ride movie are coming up.
Trese – Netflix June 11th
When it comes to the supernatural, the cops have Alexanda Trese on speed dial. Set in Manila and based on the award-winning Filipino comic, TRESE brings horror folklore like you've never heard before.
Katla – Netflix June 17th
You never really know what happens when a volcano erupts. The population of the Icelandic town Vik must face this a year after the eruption of the volcano Katla. Suddenly they are experiencing mysterious incidents that disturb the town piece.
The Birthday Cake – Theaters and VOD June 18th
On the 10th anniversary of his father's mysterious death, Gio (Shiloh Fernandez) brings a birthday cake prepared by his mother (Lorraine Bracco) to a memorial celebration hosted by his uncle Angelo (Val Kilmer), a Brooklyn mafia boss. Gio's life begins to change as he pieces together what really happened to his father all those years ago, coming face to face with a kind of violence he has been trying to avoid his whole life.
Fear Street – Netflix First Episode July 2nd
In 1994, a group of teenagers discovers that the terrifying events that have haunted their town for generations ​may all be connected — and that they may be the next targets. Based on R.L. Stine's best selling horror series, the trilogy follows the nightmare through Shadyside's sinister history.
Old – Theaters July 23
This summer, visionary filmmaker M. Night Shyamalan unveils a chilling, mysterious new thriller about a family on a tropical holiday who discover that the secluded beach where they are relaxing for a few hours is somehow causing them to age rapidly … reducing their entire lives into a single day.
Jungle Cruise – Theaters and Disney+ Premiere Access July 30th
Inspired by the famous Disneyland theme park ride, Disney's "Jungle Cruise" is an adventure-filled, rollicking thrill-ride down the Amazon with wisecracking skipper Frank Wolff and intrepid researcher Dr. Lily Houghton. Lily travels from London, England to the Amazon jungle and enlists Frank's questionable services to guide her downriver on La Quila—his ramshackle-but-charming boat. Lily is determined to uncover an ancient tree with unparalleled healing abilities—possessing the power to change the future of medicine. Thrust on this epic quest together, the unlikely duo encounters innumerable dangers and supernatural forces, all lurking in the deceptive beauty of the lush rainforest. But as the secrets of the lost tree unfold, the stakes reach even higher for Lily and Frank and their fate—and mankind's—hangs in the balance.
Subscribe to our newsletter!
Get Tabletop, RPG & Pop Culture news delivered directly to your inbox.