Come take a look at some of the draconic secrets revealed in the upcoming Fizban's Treasury of Dragons. See if you can figure out an Elder Brain Dragon.
Well now that Wild Beyond the Witchlight has hit shelves near you, and D&D Celebration is scant days away, it seems that previews of the next book in line, Fizban's Treasury of Dragons are making their way up through the wild, giving us a glimpse at powerful new draconic secrets hidden away in the future. From Ancient Greatwyrms to Elder Brain dragons that you'll wish you could unsee, check out some of the new dragon types and more revealed in the latest wave of previews.
All of the previews come to us today via Twitter, as WotC has unleashed a tide of information through some well-known D&D influencers. Which, let's all reflect on what a wild thing it is that "D&D Influencer" is a thing, but we live in the future folks. Enjoy.
Thank you to D&D and Wizards for sending me this preview for Fizban's Treasury of Dragons!

I am most excited about that Ancient Moonstone Dragon, personally. What about y'all?

The #DNDCelebration is just around the corner, find more info here: https://t.co/GwbjJFOs1O pic.twitter.com/ZR2ji8Or4i

— jude ⚔ godslayer (@MermaidRoyal) September 20, 2021
First up, a look at the dragons in the book by challenge rating, which reveals several new dragons included in the book, courtesy of @MermaidRoyal, whose From Dusk till Dark actual play delves deep into Icewind Dale and beyond.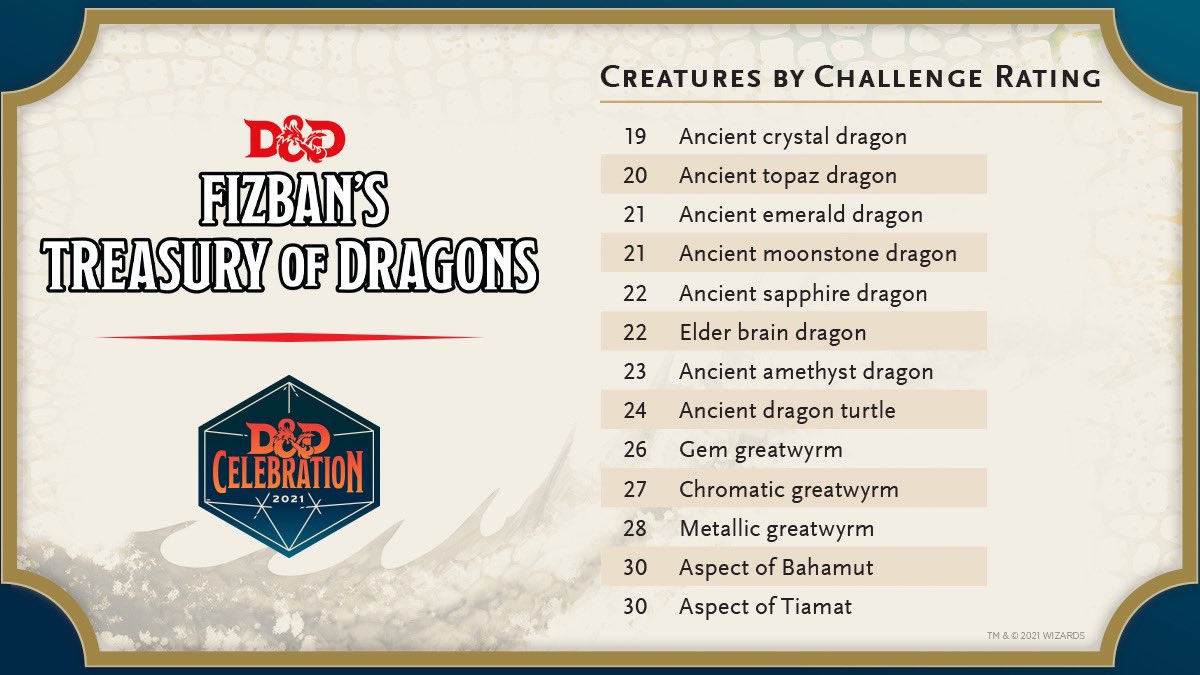 In order we have:
Ancient Crystal Dragon
Ancient Topaz Dragon
Ancient Emerald Dragon
Ancient Moonstone Dragon
Ancient Sapphire Dragon
Elder Brain Dragon
Ancient Amethyst Dragon
Ancient Dragon Turtle
Gem Greatwyrm
Chromatic Greatwyrm
Metallic Greatwyrm
Aspect of Bahamut
Aspect of Tiamat
The Aspect of Tiamat seems like it's about the same Challenge Rating as Tiamat as encountered in Tyranny of Dragons, so perhaps there's some clarification incoming, but more importantly, Elder Brain Dragon?
First look at Elder Brain Dragon, which will appear in next month's Fizban's Treasury of Dragons. pic.twitter.com/PzboZIsf87

— Christian Hoffer (@CHofferCBus) September 21, 2021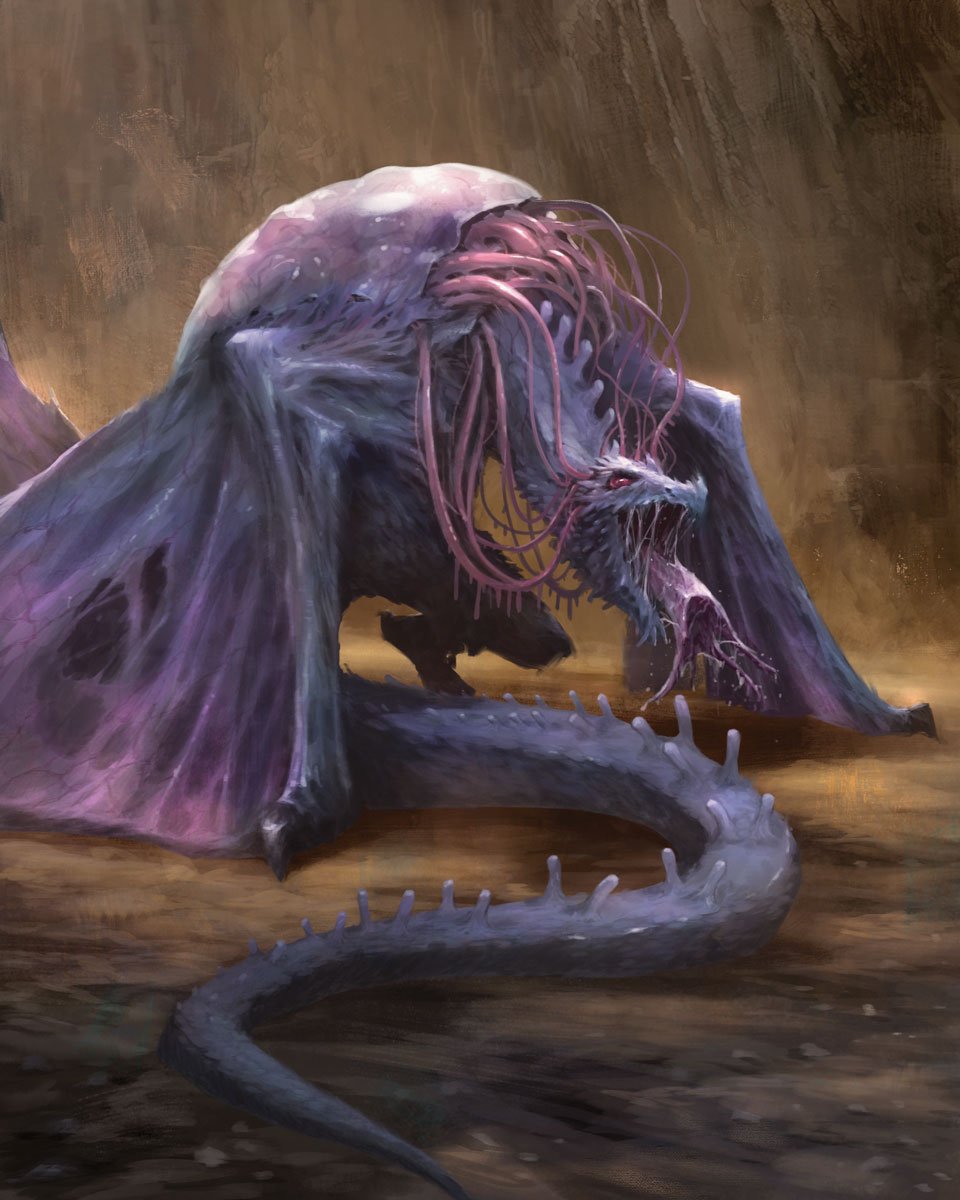 Oh. Well, that's an image I'll never be rid of–but what an amazing boss fight. An Elder Brain that has latched onto a dragon somehow? It apparently does not have a traditional breath weapon, but instead spews out mind flayer tadpoles to infest hosts and start a new colony of mind flayers. @CHofferCBus also revealed the Eye Drake, a beholder-kin created when a beholder becomes obsessed with a dragon.
This is an Eyedrake, a CR 8 beholder-kin that is created when a beholder becomes obsessed with a dragon. pic.twitter.com/rGDDGRARFb

— Christian Hoffer (@CHofferCBus) September 21, 2021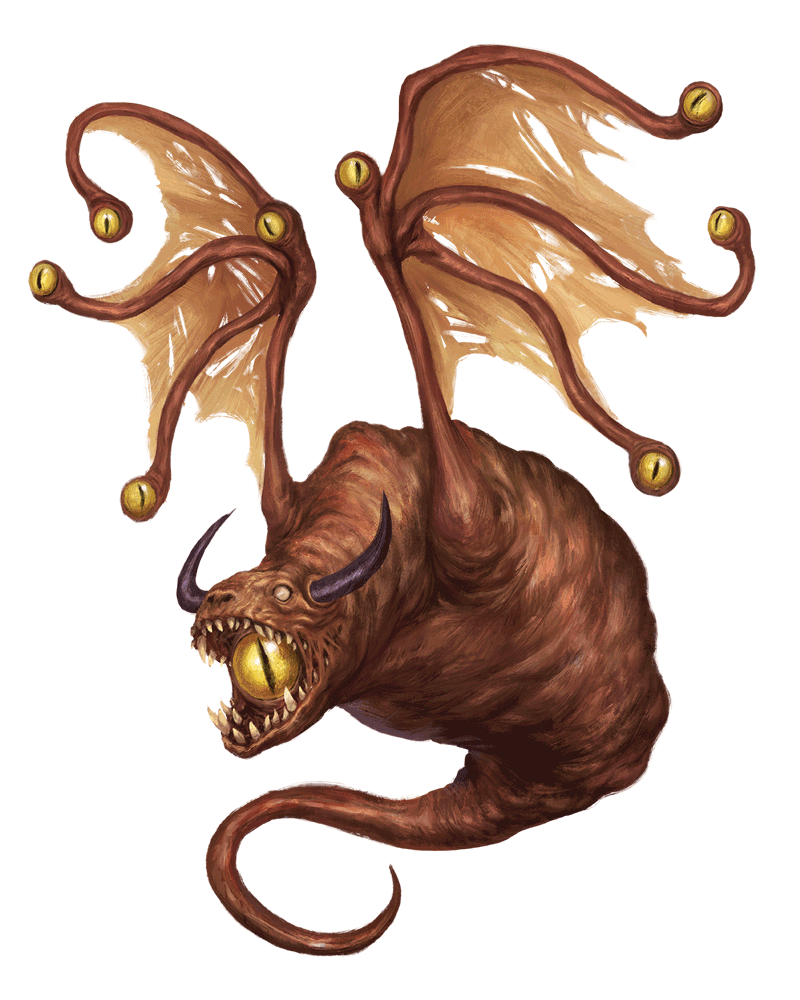 But what about the Greatwyrms? These are powerful dragons that have lived long enough and drifted through the multiverse enough that they have absorbed some of their "echoes" from other planes and become a "Greatwyrm." They look absolutely metal.
DRAGONS!!! 🔥🐲

Here's a lil preview from @Wizards_DnD "Fizban's Treasury of Dragons" 📚 Thx Wizards for letting me share this as a part of #DNDCelebration 😁

Q for Twitter: Do you have a favorite type of dragon? pic.twitter.com/4ySh6I8yru

— Trisha Hershberger (@thatgrltrish) September 20, 2021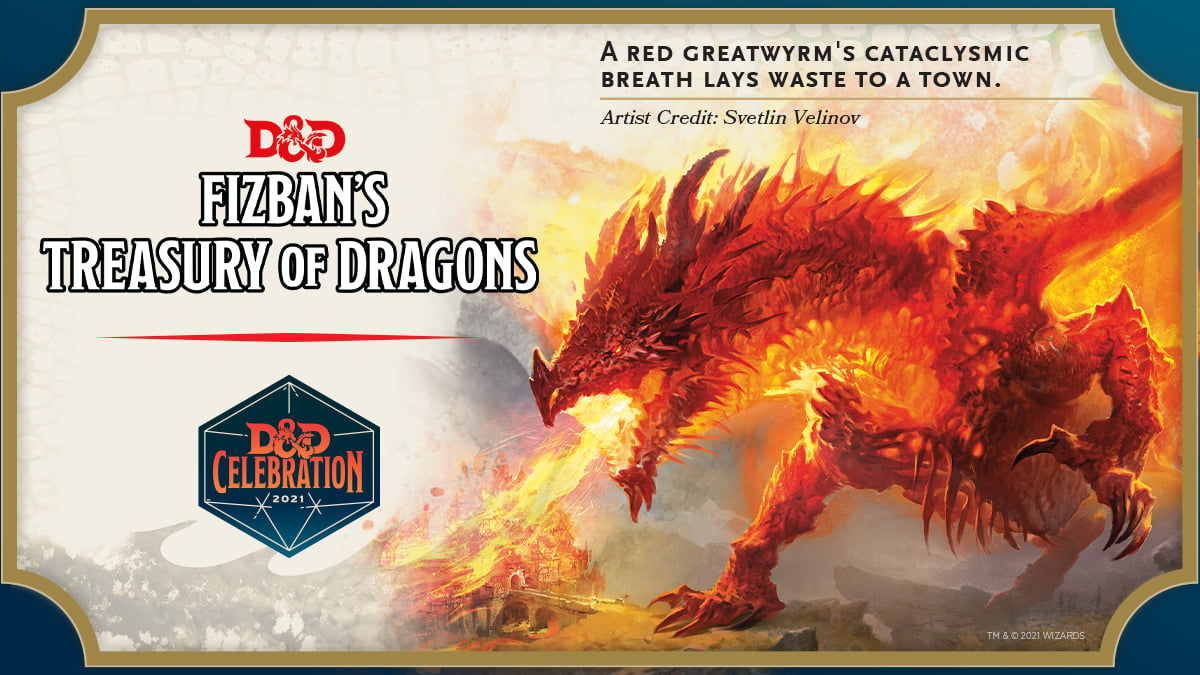 Look at how monumentally big that dragon is. It absolutely could lay waste to a whole entire town in one fell swoop. But dragons aren't always cataclysmic creatures you need to fight, they can be the source of adventures to launch entire campaigns, as we see in a preview of the adventure hooks for dragons:
Looking for adventure? I've got a special quest just below…#dndcelebration pic.twitter.com/MeD4GY9yqj

— Kailey Bray (@HapaBarbarian) September 20, 2021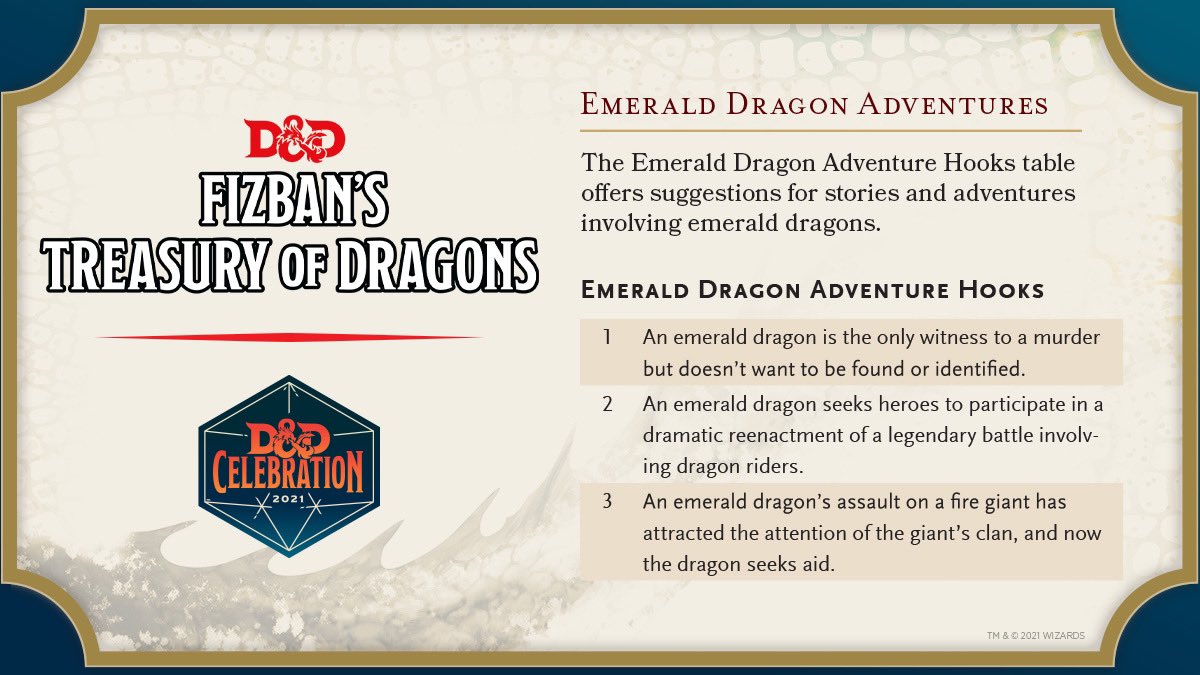 And that's just a taste of what awaits you. Any one of those hooks would be a perfect way to jump start a session. Finally here's a look at every dragon in the book:
Schaut was mir @Wizards_DnDDE tolles gegeben haben! Ein erster Eindruck in Fizban's Treasury of Dragons.

Es wird Details zu Drachen geben, die wir DM's & Spieler aufsagen und bespielen können!

Ich bin suuuuper auf "Sapphire Dragon" gespannt!!!😄#DNDCelebration pic.twitter.com/1GgtLE08P6

— Snowryo (@Snowryoo) September 20, 2021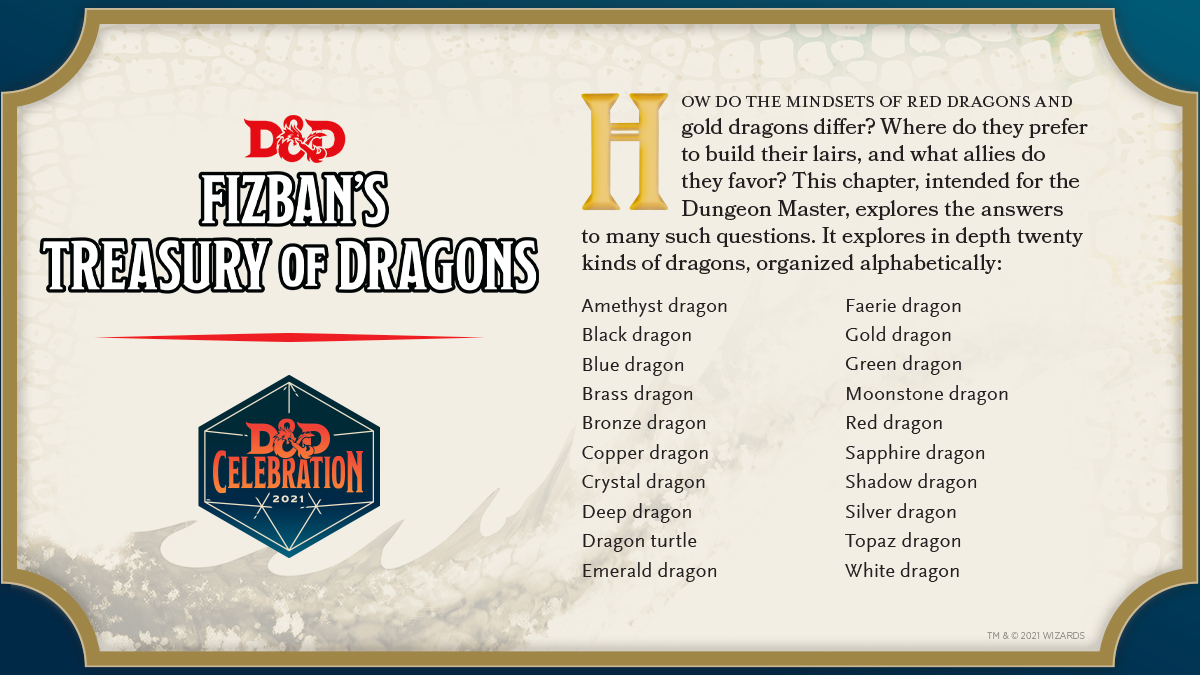 Find out more about Fizban's Treasury of Dragons at D&D Celebration this weekend!