After more than 3 years, Saga returns to comic shop shelves– and the second half of the series promises to be more exciting than the first.
Last weekend, Image Comics gleefully announced the return of its fan-favorite series Saga. The 44-page double-length issue #55 will premiere in January 2022. That's ten years after the debut of its first issue– when Marco and Alana first laid eyes on each other.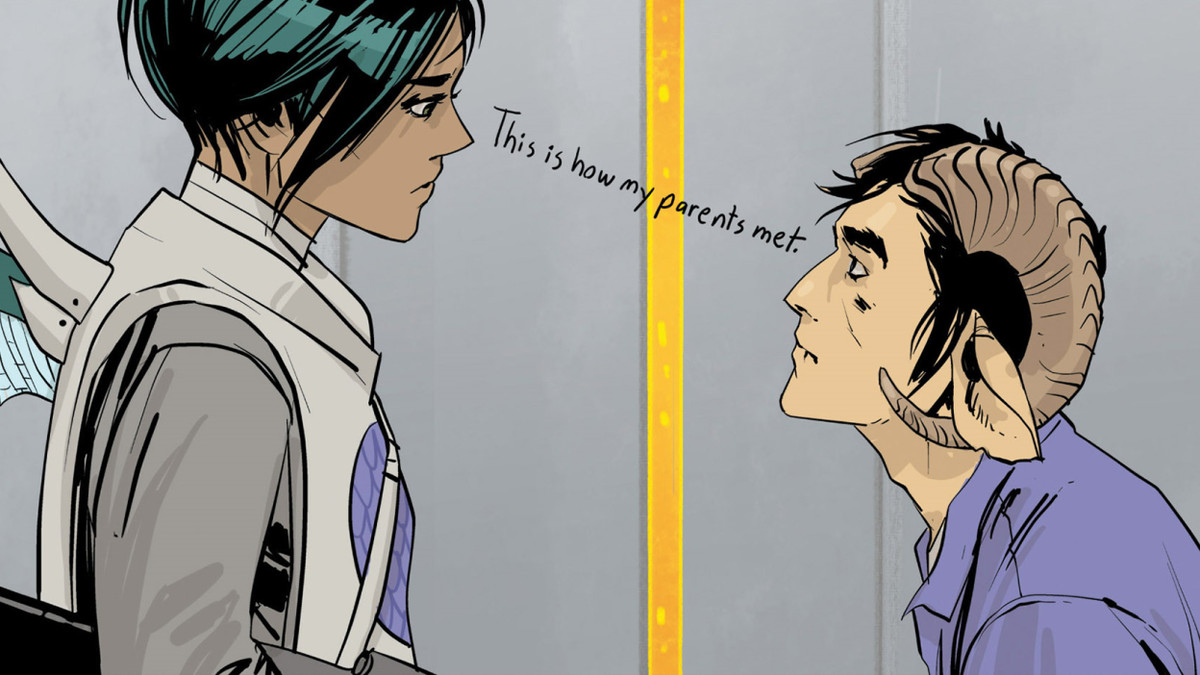 Saga tells the tale of two star-crossed lovers in another galaxy. Marco and Alana are two soldiers from warring planets. Alana's home, the tech-savvy planet of Landfall, and Windfall, the moon full of magic-wielding people that orbits Landfall. Landfall is the largest planet in the galaxy, and the war between the two worlds has fanned out all across their galaxy, forcing every other planet to choose a side.
The pair meet when Marko is being held as a war prisoner on the planet Cleave. Alana is in charge of guarding his cell, but the two soldiers quickly feel a connection. Only 12 hours after meeting each other, the two escape together. The first issue begins their story several months later– just as their daughter Hazel is born.
The story features all kinds of supporting characters. The governments of both Landfall and Wreath want this couple and their daughter quietly assassinated. The series also features the stories of Sir Robot of Landfall, a bounty hunter named The Will and his truth-knowing companion Lying Cat, and Marko's snubbed fiancé, Gwendolyn. As they face more peril, they meet more characters, and their strange little family of outcasts grows in size– and in our hearts.
This beautifully drawn space odyssey follows this growing family as they search the universe for a place they'll be safe. The series is written by Brian K. Vaughn of Y: the Last Man fame after the birth of his child inspired him to breathe new life into a world he imagined when he was a kid himself.
"…I guess I've been thinking about what it means to bring children into the world during a time of multiple ongoing wars, and noticing how a lot of our childhood entertainment maybe helps prepare us for a state of perpetual conflict, for good or bad." –Vaughn to CBR
The book's incredible artist Fiona Staples said in the announcement:
"I've really missed connecting with readers through the pages of 'Saga,' so I'm thrilled to roll up my sleeves and dive into this world again," Staples added. "The next arc is really going places I never imagined and I'm so grateful that we're able to keep doing this."
Saga went on hiatus after ending issue #54 on a major cliffhanger. Between a major change in the story and a need for a break to focus on self care, Vaughn and Staples decided to take a break from the title and give audiences some time to process what went down in the last issue's panels.
We've been waiting a good, long while to have Saga back in our lives again. The last issue, #54, came out in the summer of 2018. Compared to the story's hiatus, a couple of months will be easy! Which Saga character are you looking forward to seeing again?
For me, it's gotta be the adorable little carnage cottonball himself, Ghüs.
'Saga' #55 will hit the shelves of your local comic book shop January 26, 2022.