This Week in Pop-Culture: 'Red Notice', 'Raised by Wolves', 'Dune', and More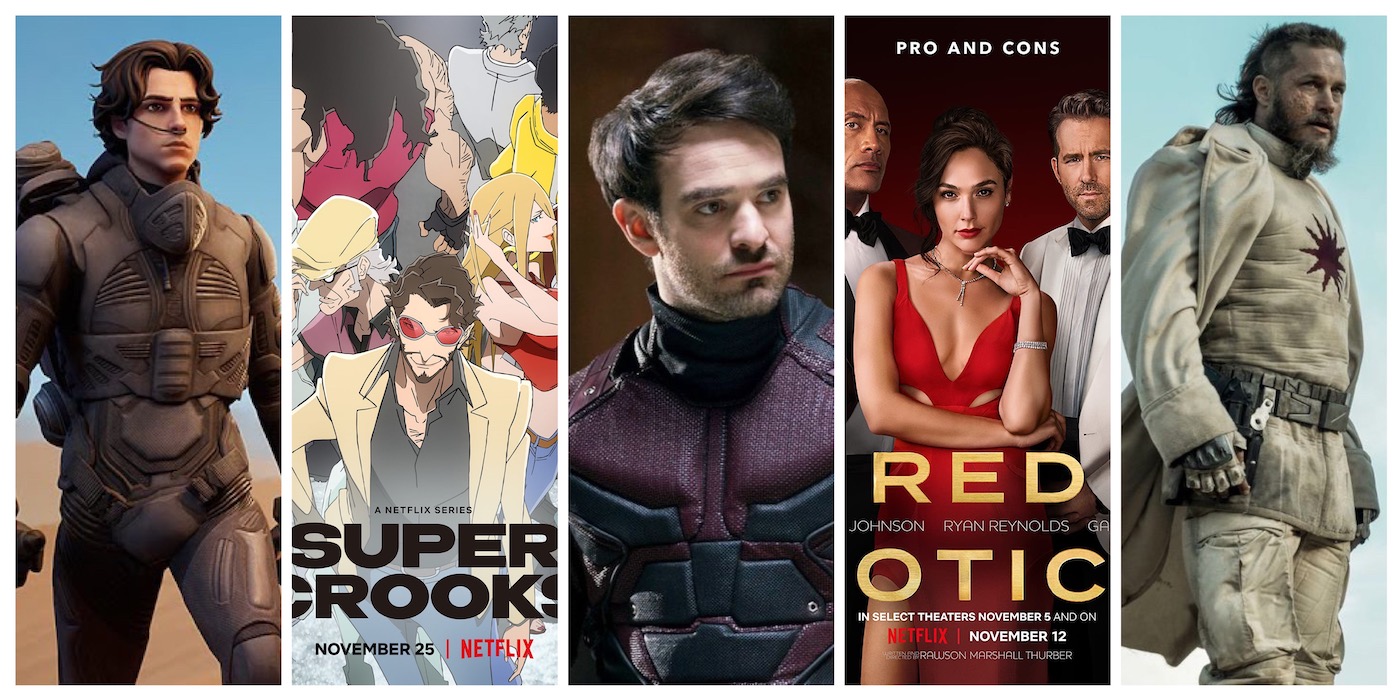 There have been a bunch of announcements, trailers, and news this week – let's catch up, shall we?
News
Trailers:
Eternals – Theaters November 4th
Marvel Studios' Eternals features an exciting new team of Super Heroes in the Marvel Cinematic Universe, ancient aliens who have been living on Earth in secret for thousands of years. Following the events of Avengers: Endgame, an unexpected tragedy forces them out of the shadows to reunite against mankind's most ancient enemy, the Deviants.
Red Notice – Netflix November 12th
When an Interpol-issued Red Notice — the highest level warrant to hunt and capture the world's most wanted— goes out, the FBI's top profiler John Hartley (Dwayne Johnson) is on the case. His global pursuit finds him smack dab in the middle of a daring heist where he's forced to partner with the world's greatest art thief Nolan Booth (Ryan Reynolds) in order to catch the world's most wanted art thief, "The Bishop" (Gal Gadot). The high-flying adventure that ensues takes the trio around the world, across the dance floor, trapped in a secluded prison, into the jungle and, worst of all for them, constantly into each other's company.
Night Raiders – Theaters and VOD November 12th
In a dystopian future, a military occupation controls disenfranchised cities in post-war North America. Children are considered property of the regime which trains them to fight. A desperate Cree woman [Elle-Máijá Tailfeathers] joins an underground band of vigilantes to infiltrate a State children's academy and get her daughter back. A parable about the situation of the First Nations, Night Raiders is a female-driven sci-fi drama about resilience, courage and love.
The World According to Jeff Goldblum – Disney+ November 12th
When you can really experience the, 'Hey, maybe I'm not as smart as I thought I was. Maybe I don't know everything there is to know.' I have my mind set about what reality is, but maybe if it doesn't make me too gullible to people that would want to con me, there are other parts of myself that might benefit from being open and recovering the wonder that I had when I was a kid. And that there's real magic afoot in the universe that I could be open to and look into.
Super Crooks – Netflix Novermber 25th
Luck's never been on their side, but this crew of small-time crooks with super powers recruited by none other than Johnny Bolt are rolling the dice on one last heist. Their target: A ruthless super-powered crime boss. What can go wrong?
Subscribe to our newsletter!
Get Tabletop, RPG & Pop Culture news delivered directly to your inbox.