D&D Beyond's 'The Battle for Beyond'– New Series Six-Part Arena Royale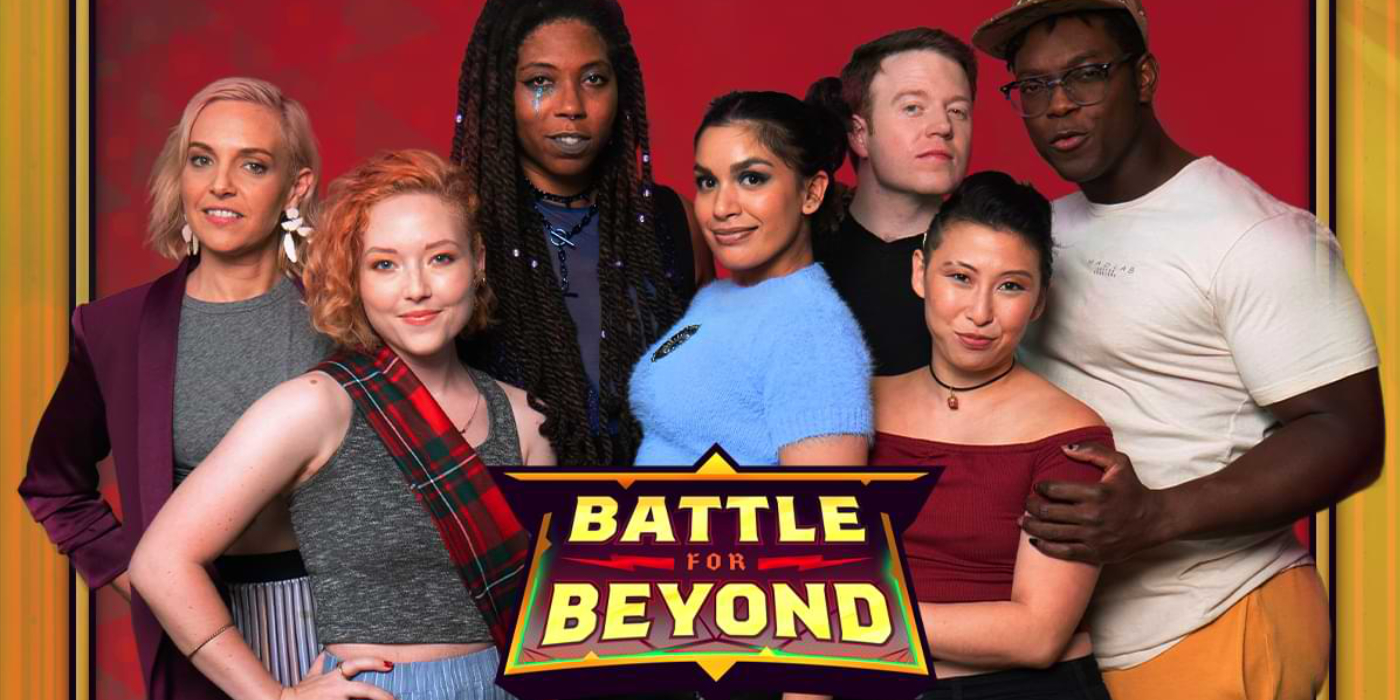 There's a stellar new six-part adventure series premiering this week on Twitch. Check out D&D Beyond's 'The Battle for Beyond'!
Six heroes gather together in the mysterious "Temple of Beyond" to battle for the right to change time and space itself. At least, that's the premise of a brand new six-part adventure, D&D Beyond's The Battle for Beyond.
The series premieres this Friday and runs every Friday for the next six weeks. And judging from the heroes they've wrangled, you won't want to miss out.
Welcome to the Battle for Beyond! In a realm between worlds lies the Temple of Beyond, an arena where adventurers from across the multiverse compete against one another for their chance at glory. Ravenous monsters, terrors, and the mysterious Master of Ceremonies stand in their way. But in the end, only one victor can claim the ultimate prize: the power to change one event from their tortured pasts.
Jasmine Bhullar (Shikar) leads the charge with Aabria Iyengar (Critical Role: Exandria Unlimited), Brennan Lee Mulligan (Dimension 20), Emma Fyffe (Screen Junkies), Erika Ishii (Apex Legends), Ify Nwadiwe (Into the Motherlands), and Josephine McAdam (LA By Night) in this six-part Dungeons & Dragons adventure! You can catch all of the action exclusively by subscribing to D&D Beyond's Youtube channel!
The Cast of D&D Beyond's The Battle for Beyond
First up, just look at the folks they've pulled together. Every last one of them is worth the watch:
Jasmine Bhullar
Joining as your Dungeon Master is Jasmine Bhullar (@ThatBronzeGirl). You might recognize her from shows like Into the Mother Lands, Relics & Rarities, and Shikar.
Aabria Iyengar
The Summer of Aabria extends into the fall! You might know Aabria Iyengar (@quiddie) as the Dungeon Master for Critical Role: Exandria Unlimited or from her appearances on Dimension 20 and Into the Mother Lands. 
Brennan Lee Mulligan
Brennan Lee Mulligan (@BrennanLM) is the creator and Dungeon Master for Dimension 20 and a cast member for CollegeHumor. He has taught and performed at the Upright Citizens Brigade Theater, co-created the webcomic Strong Female Protagonist, and written dozens of LARPs for the Wayfinder Experience summer camp in upstate New York. He recently started putting a little bit of cinnamon in his morning coffee, which he has described as a real game-changer.
Josephine McAdam
Josephine McAdam (@JCVIM) is a Los Angeles-based actress that has appeared in over 20 independent films, including Emmy award winning "Tower." She also appeared in the HBO series "The Leftovers" and a longtime D&D player!
Emma Fyffe
Emma Fyffe (@EmmaFyffe) is a gaming content producer at Fandom. She previously hosted The Download, a gaming news variety show on VENN TV, and served as a digital content producer for VENN's YouTube and TikTok. You might also recognize her as a former producer at Hyper RPG or from the liveplay series she appeared in, including Pencils and Parsecs and He Left it Dead.
Subscribe to our newsletter!
Get Tabletop, RPG & Pop Culture news delivered directly to your inbox.
Erika Ishii
Erika Ishii (@erikaishii) is known for their voiceover work in games and animation. You might recognize them as Valkyrie in Apex Legends, Ana Bray and Kridis in Destiny 2, and as Lumu in the upcoming Halo Infinite. They have also performed with and produced for media outlets, including Critical Role, Geek & Sundry, Nerdist, and CollegeHumor.
Ify Nwadiwe
Comedian, actor, writer, and professional nerd Ify Nwadiwe (@IfyNwadiwe) joins us in the Battle for Beyond! He has appeared on shows like Um, Actually, Dimension 20, and other RPG shows. He's written for TV, video games, and RPGs like Black Birds and Into The Mother Lands.
Aabria Iyengar will soon be running every game in every AP, a fate we all just have to accept. Shikar luminaries Jasmine Bhullar and Josephine McAdam are also involved.
The series also includes Erika Ishii. Her character helped me get a Linear Fusion Rifle that was real good, right up until it wasn't. Brennan Lee Mulligan is also cast. You either recognize him from two of the top videos on r/perfectlycutscreams or Dimension 20.
Ify Nwadiwe is also involved, and if you don't know about Markus St. Vincent and John Feathers, just go watch Escape from the Bloodkeep. And last but not least, Emma Fyffe, producer of gaming content for Fandom, but whose turn as Kylara Fey in Pencils and Parsec is absolutely worth watching.
And they all come together this week in D&D Beyond's Battle for Beyond.
Happy Adventuring!