Every Earth in 'Spider-Man: Across the Spider-Verse' Will Feature Unique Animation Style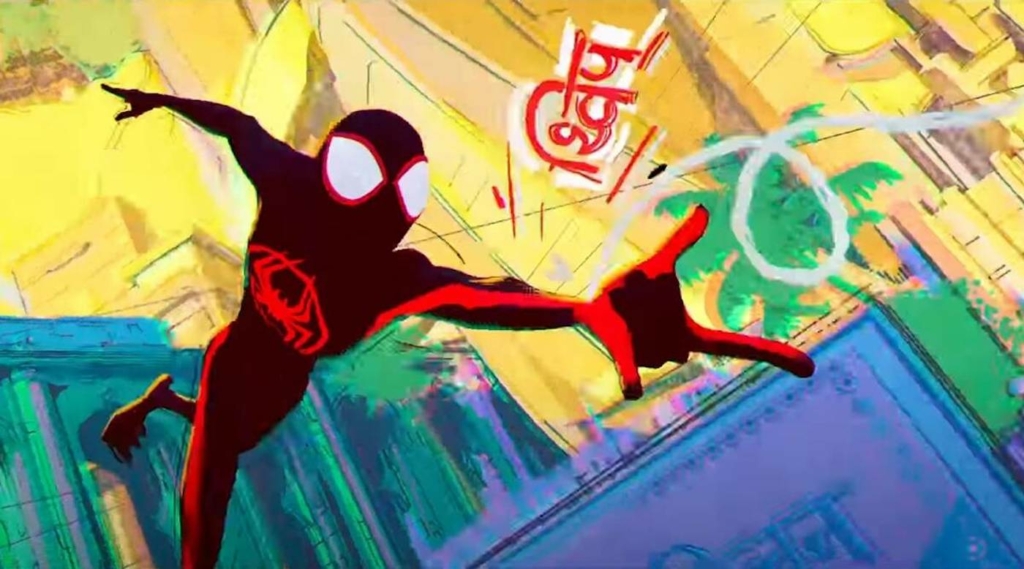 The two-part series will be another artistic revelation– Across the Spider-Verse animation will be different in every dimension.
Miles Morales' first adventure as Spider-Man was lauded as an animation masterpiece. It combines the classic pop art of old comics with bright, bold colors and street art. This time, Miles ventures into other dimensions. We'll see how his animated reality changes from Earth to Earth.
In an interview with Collider's Steven Weintraub, Phil Lord and Chris Miller confirmed that each dimension will have its own unique animation style. And the style we saw in the first Spider-Verse film is unique to Earth-1610.
Of course, we've already seen little bits of other Spider-verse. We've seen the stylings of Spider-Man Noir, Spider-Ham, and Penny Parker.
Right now, it's unknown if any of these characters aside from Gwen will appear in the new film. But we're crossing our fingers.
Spider-Man: India
The first look at Across the Spider-Verse gave two peeks at animation styles. That's right, we've seen two new Earths already,
The first is Earth 50101 in the city of Mumbattan, a cross between Manhattan and Mumbai. There's a change of theme music and comic book exclamations in Hindi that mean we could meet Spider-Man Pavitr Prabhakar.
Spider-Man 2099
Next, we thwip into the neon-glowing, futuristic Earth-2099. Oscar Isaacs will voice the engineer Miguel O'Hara. This alternate Spider-Man had his DNA spliced with a spider's.
Chris Miller says each universe in 'Spider-Man: Across the Spider-Verse' will have its own art style 🕷

Subscribe to our newsletter!

Get Tabletop, RPG & Pop Culture news delivered directly to your inbox.

"Going to different dimensions really opened up an opportunity artistically to have each world [feel] like it was drawn by a different artist's hand"pic.twitter.com/W0rYAbckr7

— Culture Crave 🍿 (@CultureCrave) January 14, 2022
Will Tom Holland Appear in Across the Spider-Verse's Animation?
Zendaya and Tom Holland both have expressed interest in being cast for the series. The folks at Sony aren't talking yet though. Honestly, we're okay with some surprises after the hype surrounding No Way Home.
Latest News From BoLS: