Warhammer 40K: ITC Standings – The Week in Review – July 21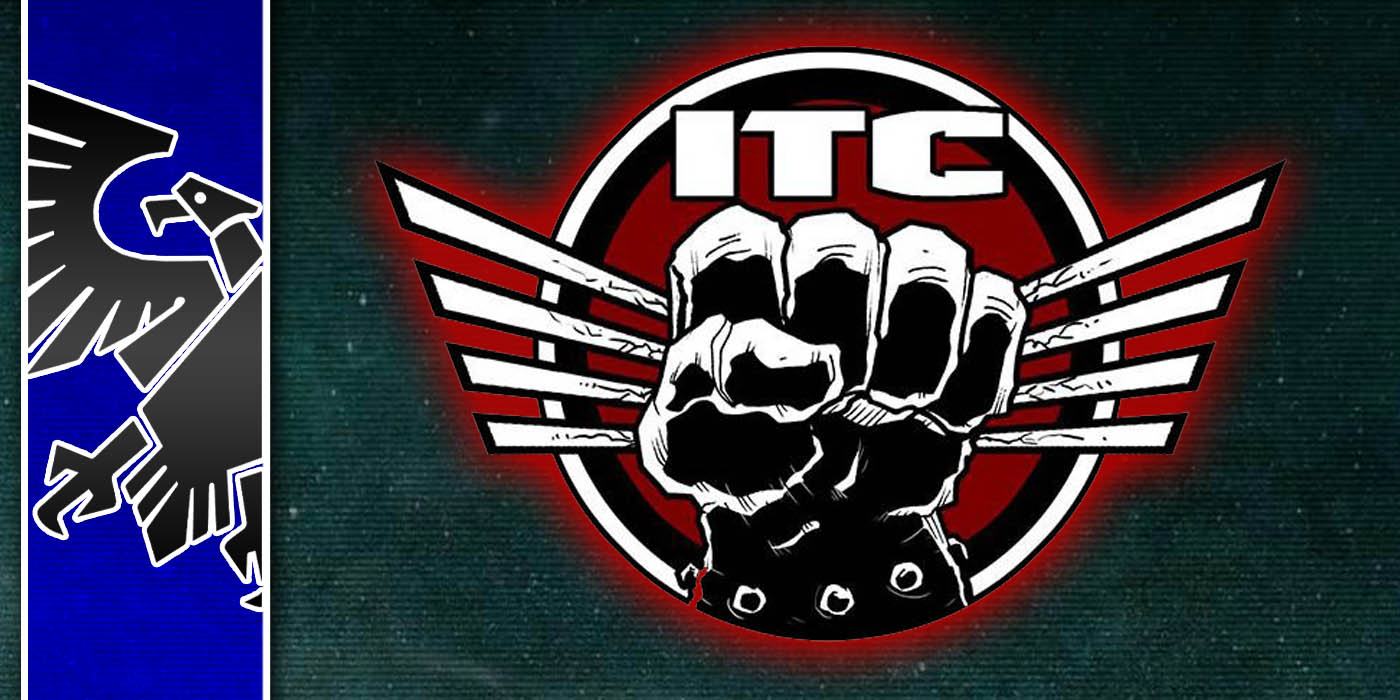 SaltyJohn from TFG Radio here to review the current Warhammer 40k ITC Standings now that we're about 5 months into the season!
So the ITC 2022 Season is about 5 months in and the meta is currently feeling the first rumblings of the massive Nephilim GT Pack quake that's about to shift the landscape of the rest of the season. It is safe to say that the new Chapter Approved will catalyze a paradigm shift in the competitive 40k meta. Now, whether that shift is positive, negative, neutral, or some other option that is unknown to me, it is yet to be seen and not what I am going to discuss. If you want opinions on the new Matched Play rules from the Grand Tournament mission pack they are very easy to find on social media, YouTube, and the various 40k blogs. Instead, I will give you a quick run down of where the standings as the landscape shifts beneath our feet.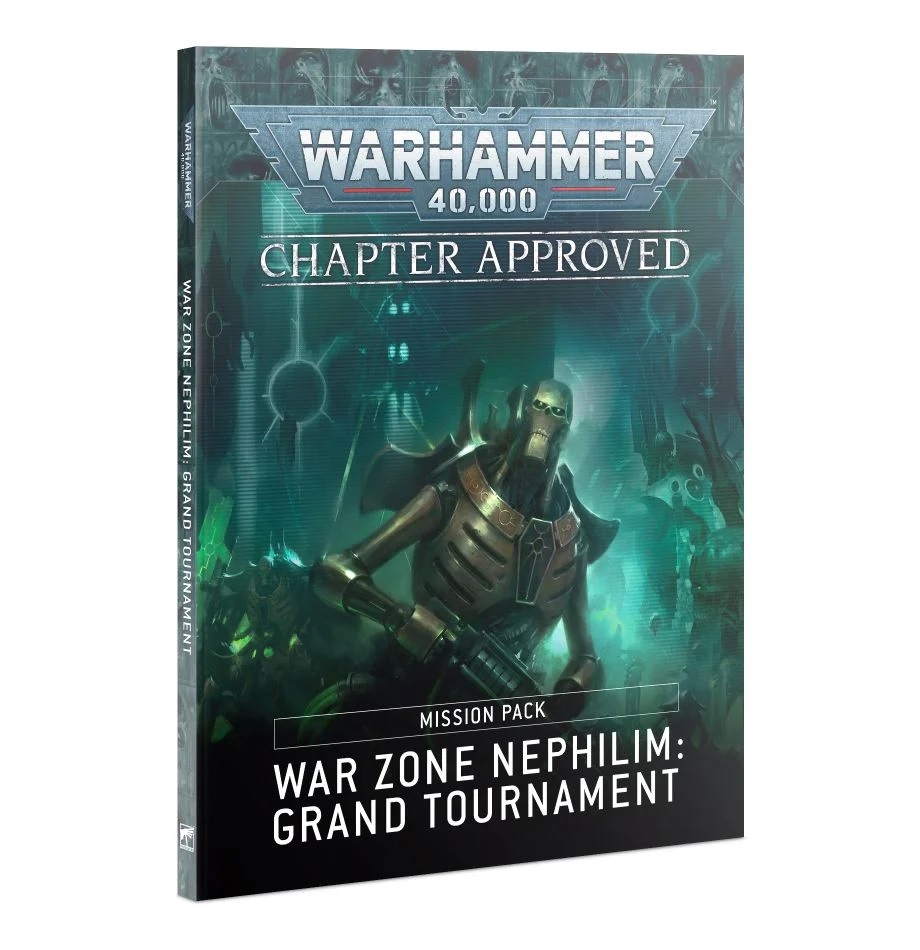 The Top 30
First, let's look at the overall top 30, then we can dive into a few specific players and their season so far.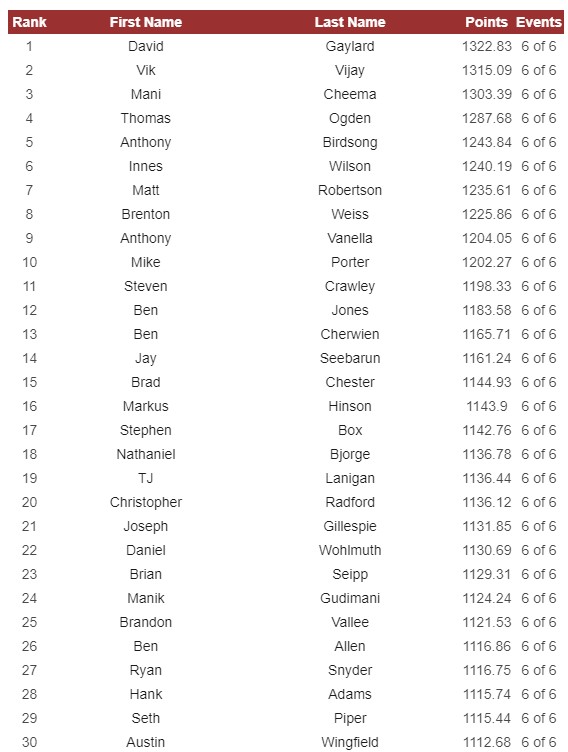 While the top 30 contains some very recognizable names there are also a lot of names that have never, or have rarely, graced the top of the ITC charts. Notably absent are some of the top-performing players from the last few years. Nayden, Lennon, Nanavati, Grant, Kilton, Poole, and Seigler to name just a few. Obviously, that isn't necessarily because they have lost interest in competitive 40k, some players take a long-burn approach to the season, others make a mad rush at the end for points, still, other players might be waiting for a codex etc. It is nice to see a variety of names in the top spots that you can go into the rankings and see their results, the faction they are playing, and (if you have a BCP subscription) you can go look up the lists they've been performing well with too!
David Gaylard is currently sitting atop the leaderboard, let's look at his events so far.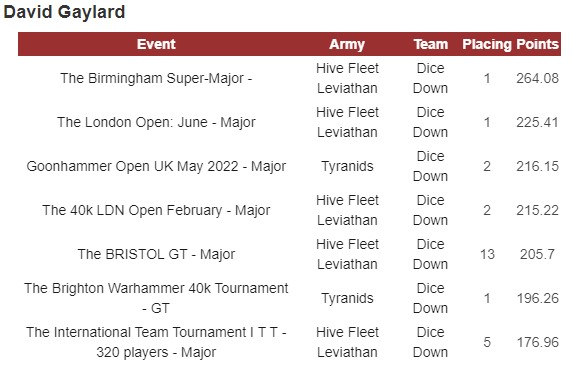 David has put together quite the ITC Point Farming operation in the United Kingdom so far this season. From Bristol and Brighton to London and Burmingham, he has taken Tyranids the distance at 3 events. Notably winning the Birmingham Super Major on May 21st with Hive Fleet Leviathan. His list for that event is one that *might* have to be changed a bit as he is purchasing additional Warlord Traits and Relics, and now that you'll have to pay for all of them not just additional ones it may become too CP indebted to run effectively. Or not. Here is the list he used at Birmingham:
It's a fairly standard Leviathan build, while many people still try to take more than one Malceptor really just the one, plus Warriors and Harpies are a legit building point for the list. It is cool to see Warriors be a relevant choice again after so many years of them languishing unused on people's shelves. It will be fun watching if David can keep his spot on top of the leader board as we get deeper into the season.
Some other notable players from the top 30 I want to feature quickly are names we generally hear throughout the season in some capacity, but they might not be top 10 regulars for a long stretch of time.
Subscribe to our newsletter!
Get Tabletop, RPG & Pop Culture news delivered directly to your inbox.
Anthony Birdsong is a tournament regular that often finishes a season high up in the rankings.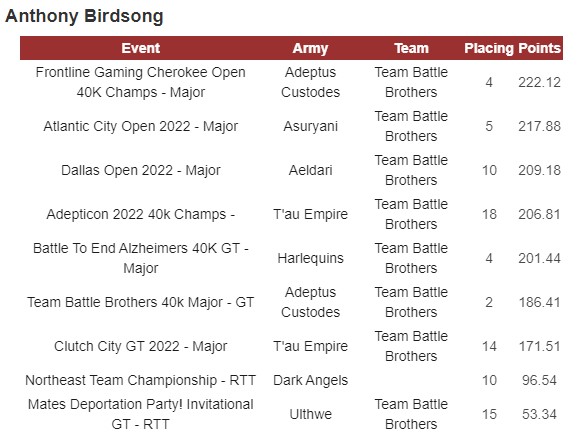 Anthony has put together an impressive run, sitting at 5th place overall without a single first-place finish. Farming points via strong finishes at big events is a solid way to keep yourself in the running.
Brad Chester is a notable season after season, often being a major contender to win the entire ITC at LVO each year.

So far Brad is putting together a great season with Aeldari. The new Aeldari book is definitely a thinking man's codex, it requires a strong grasp of the rules in the book itself but also an intimate understanding of the overall rules of 40k coupled with the ability to encounter something for the first time at the table and be able to remember and adapt to it on the fly. It's an unforgiving army, and Brad is using it to great effect so far.
Next, we've got another man from the UK, Stephen Box.
Stephen Box from Vanguard Tactics has put together an impressive number of wins in both the UK and in the US! Recently Stephen finished an impressive 3rd at the Frontline Gaming Bay Area Open with Blood Angels! That third-place finish at an American Major earned him his most points to date! Stephen is often found at various events doing seminars, he is a great guy and an accomplished hobbyist. If you get a chance to go to one of his seminars at an event it would be a great use of your time.
Stay tuned  for more articles about Warhammer 40k and the world of competitive play in the ITC as the 2022 season kicks into overdrive this summer!
And remember, Frontline Gaming sells gaming products at a discount