Age of Sigmar Warcry: Heart of Ghur Unboxing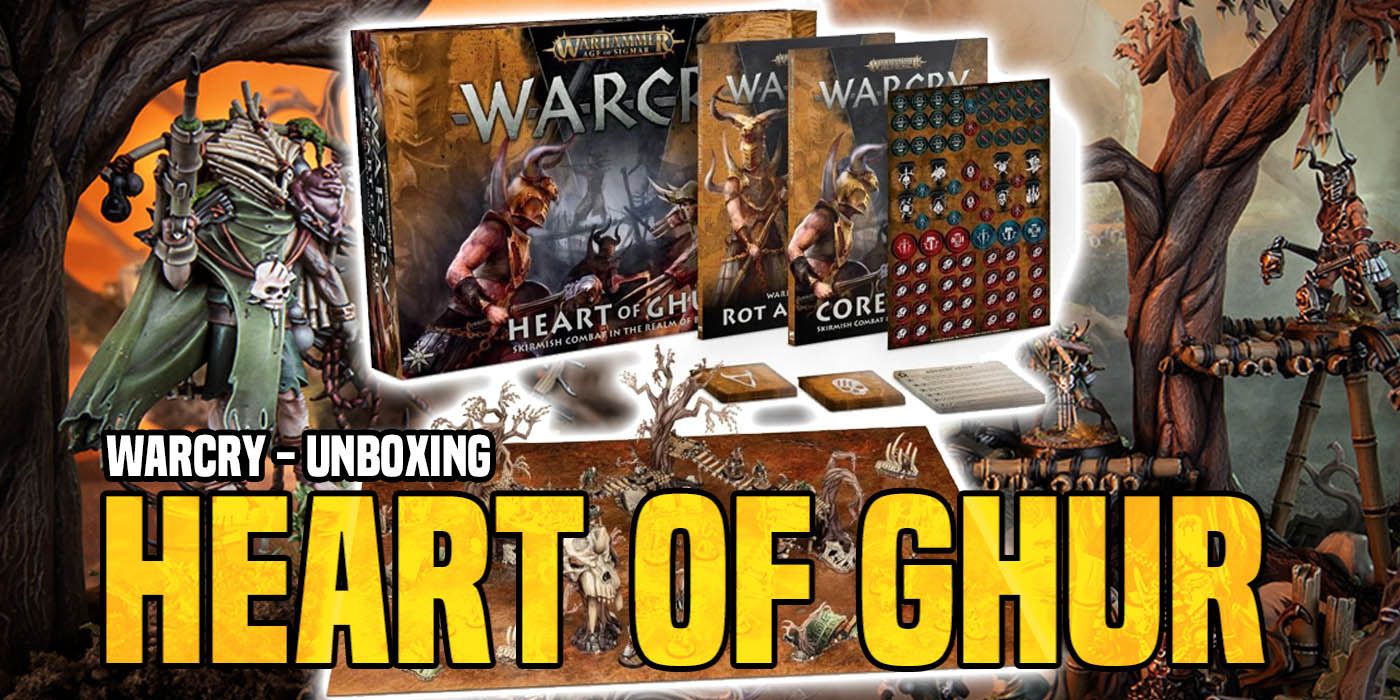 We got our hands on the Heart of Ghur box for Warcry! Join us as we take a closer look inside and cover some of the changes ahead.
Warcry is getting a major update with the release of Heart of Ghur. There's some new rules to check out plus a whole bunch of new plastic to peruse.
Heart of Ghur – Big Changes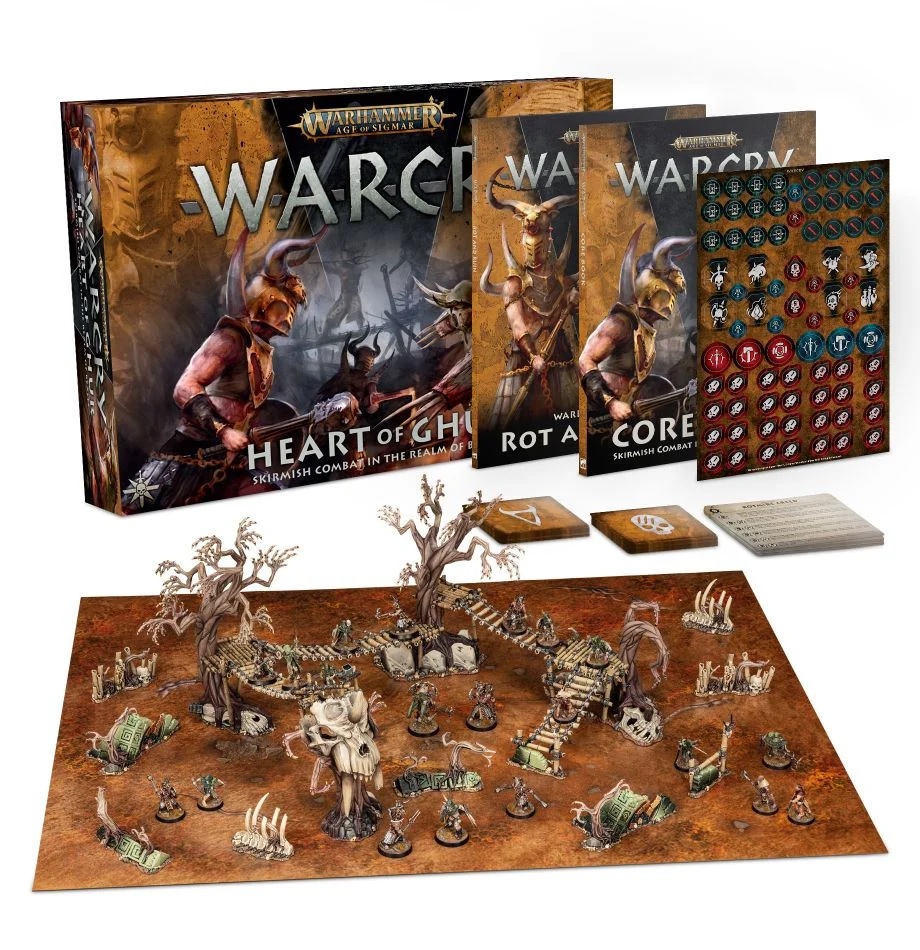 Reactions
Before we get to the models we need to talk about the new Reactions in the game. These are a major change and add some tactical depth to your options. Essentially, Reactions are a "thing" a fighter can do during the enemy fighter's activation. No more than 1 Reaction can be made for each action an enemy fighter makes and each time a fighter uses a Reaction they will give up one of their own actions in that battle round.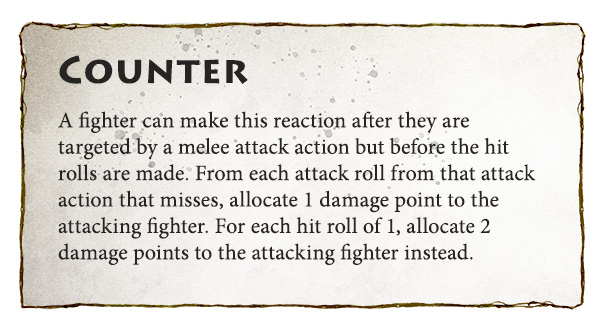 This does add a bit more bookkeeping to the game — but that's what those tokens are for. For more details about the Reactions check out the video. But if you don't, just know that this new mechanic is a BIG deal for Warcry moving forward. It might even be worth using with fighters that you might have skipped over before. Having a more defensive/reactionary fighter use Counter might be more effective than having them use their basic attack. Just something to think about.
Terrain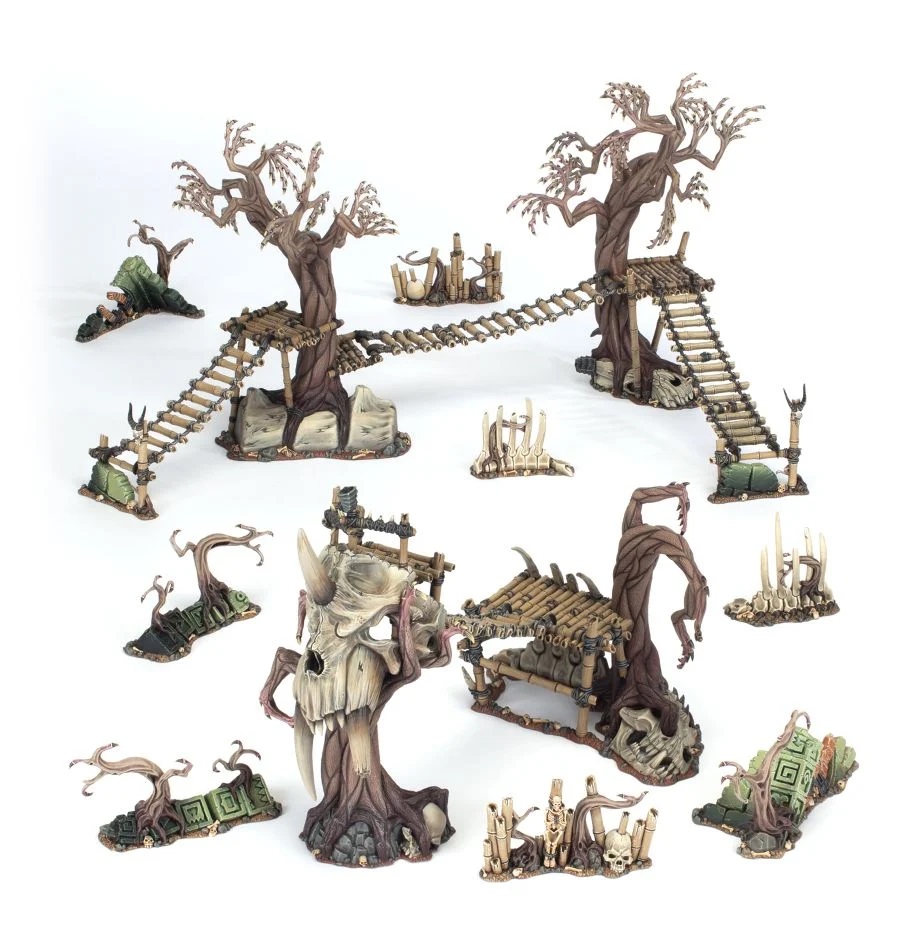 We've got to mention this fantastic new Terrain Set from Heart of Ghur! It's a fun mix of Seraphon themed bits, fossils, and a haphazard batch treetop terrain. It's really unique and different from previous kits from Games Workshop. Personally, I hope they add even more kits like this to the range. Building a treetop settlement or outpost within this style would be really cool. Heck, a building or two with that bamboo look in a those trees would do it.
This terrain really adds some verticality as well. We have seen GW do a similar thing with the vertical movement options with the Red Harvest Terrain set. That was another really great kit. Thematically, this is very different but functionally it's similar.
Subscribe to our newsletter!
Get Tabletop, RPG & Pop Culture news delivered directly to your inbox.
Models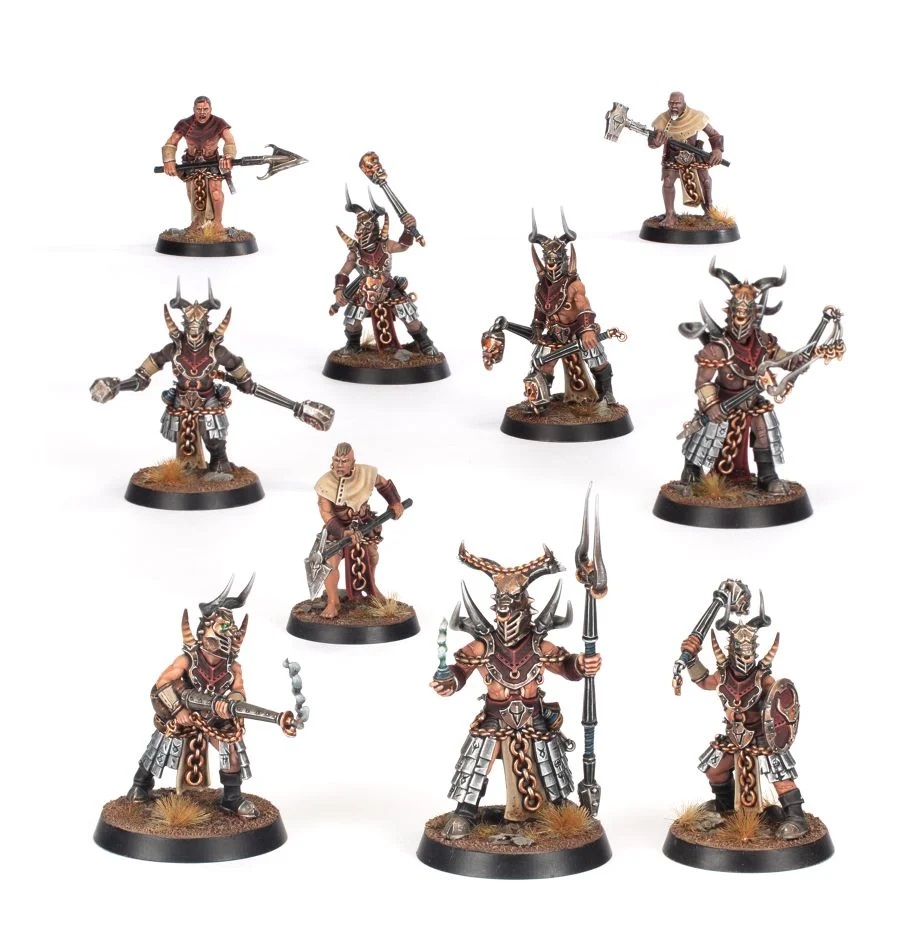 We have to mention the two new Warbands included in this set. The Horns of Hashut (pictured above) and the Rotmire Creed (pictured below). Both of these sets are great in their own ways and both open up lots of new story hints and more. We already covered those lore hints in a previous post for the Horns of Hashut and the Rotmire Creed. Check out those links for the juicy lore-bits. For now we just want to talk about the models.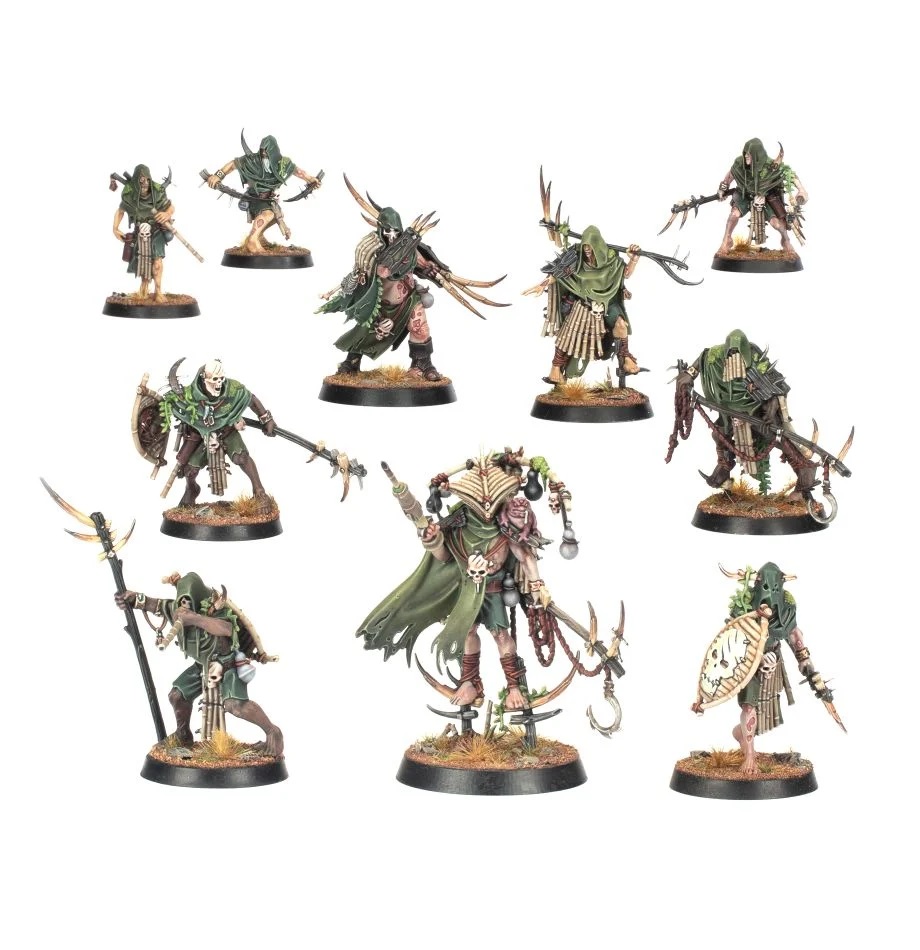 Thematically, these two warbands are very different — and not just from a visual standpoint. They are also ideologically different and it helps fit the theme even more. The Horns of Hashut are very metal and industry-orientated and they want to convert the Gnarlwood into a volcanic desert. The Rotmire Creed also want to convert the land into a different biome: a swamp filled with pestilence. However, they are more into the "nature" side of things. That's reflective in their armor and weapons.
Both of these warbands have some bad intentions for the Gnarlwood. And they have their own methods to accomplish those goals. It's an interesting difference to note and it's reflective in their respective looks and rules.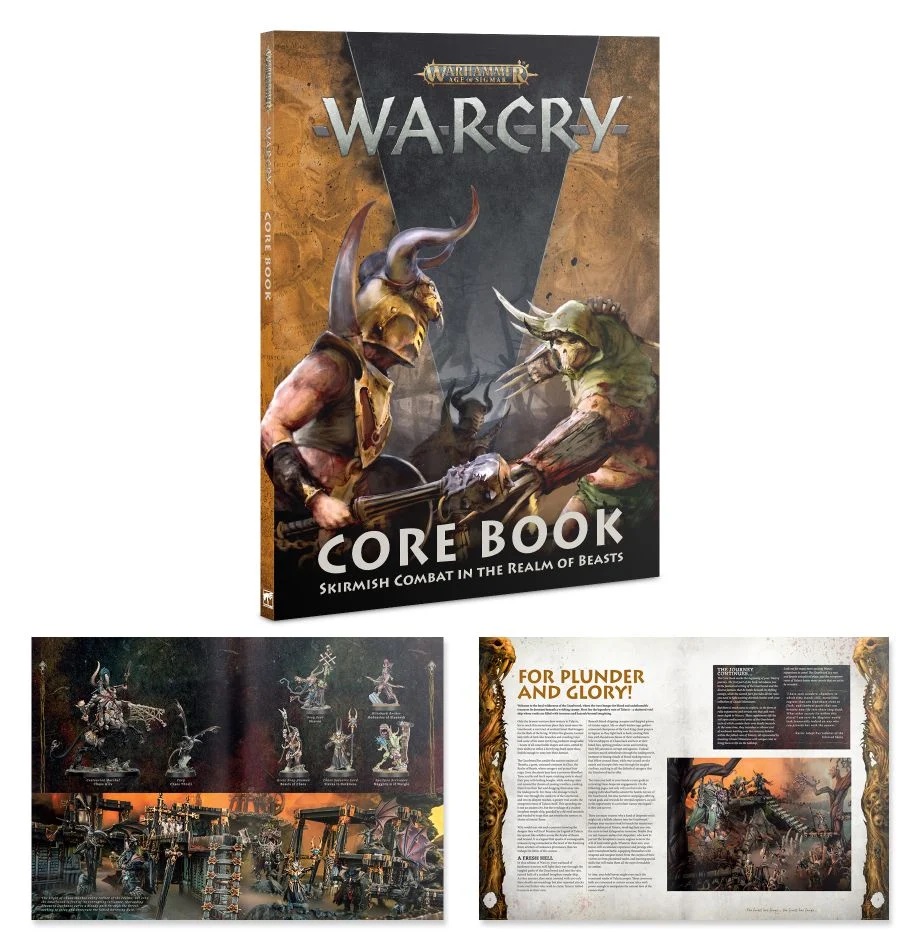 Aside from all the cool models there's also a ton of extras in the box. There's a new Core Rulebook as well as tokens, dice, a playboard, and a Warband Tome, too. You'll just need some glue and clippers and you'll be up and playing as soon as you finish building everything.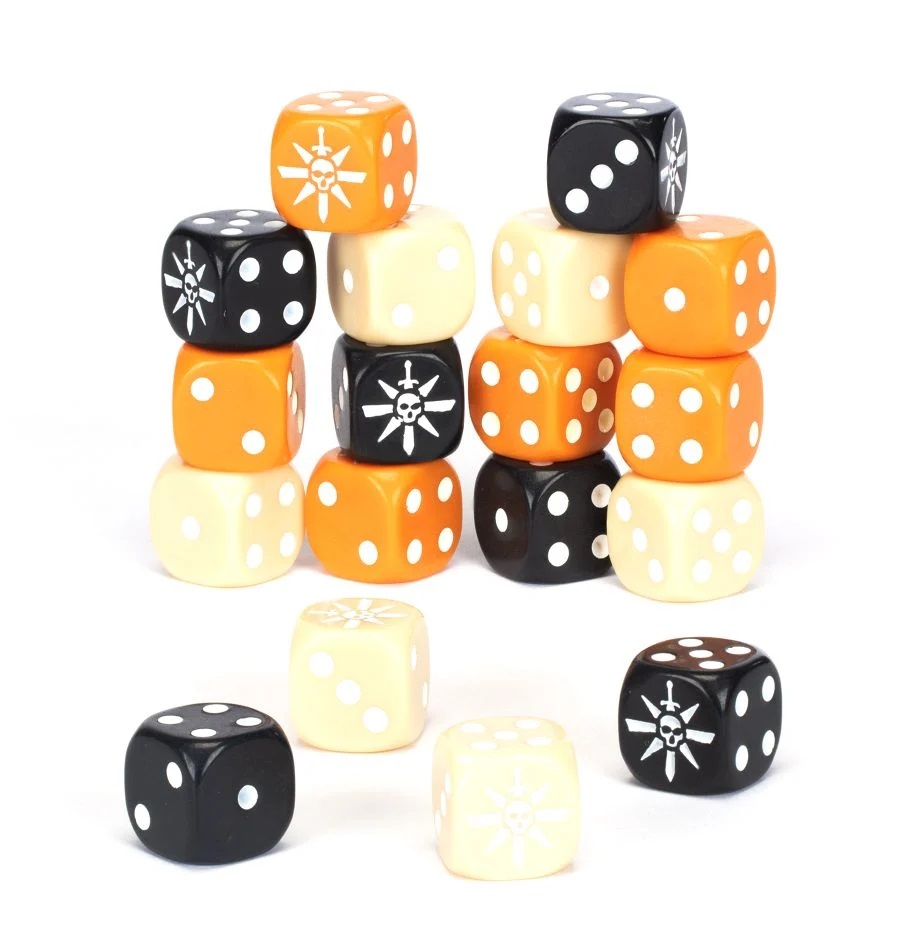 If you're looking to get into Warcry this is a fantastic place to start. And if you're a day 1 veteran this box has a lot of cool, new goodies to get your hands on. The Heart of Ghur box is up for pre-order from Games Workshop this weekend!
I want like 4 of those Terrain kits to make a treetop outpost now…
Promotional Product Provided By Games Workshop, PLC