SDCC 2022 Trailers – Marvel Wasn't The Only One Showing Off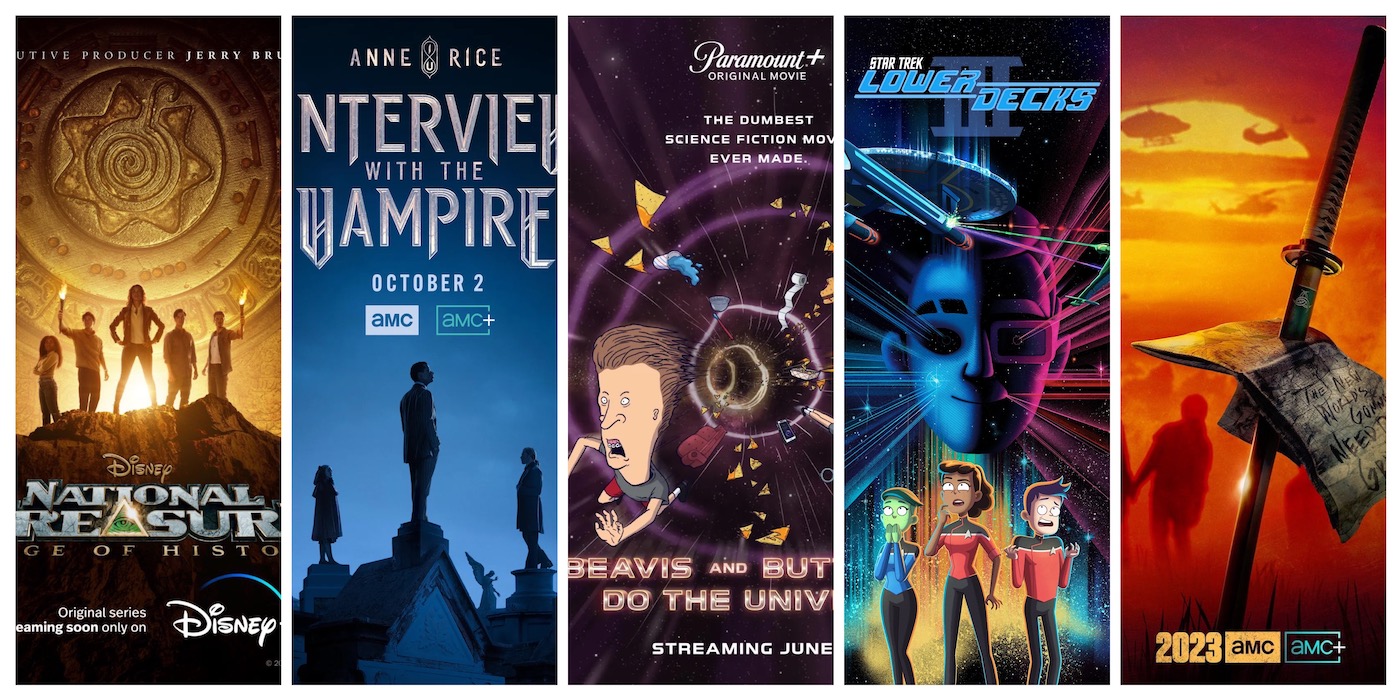 The con's first year back in person has been jam-packed with announcements at trailers. Check out this SDCC 2022 recap to make sure you didn't miss anything!
SDCC 2022 Announcements
There's too much for one post, but I'll get to the big stuff. Stay tuned this week for more news about movies, shows, and all of the toys revealed at SDCC!

---
SDCC 2022 Trailers
These are only a few of the trailers we saw this weekend. Catch up on the big releases from Marvel, DC, Star Trek, and more here.
Star Trek: Lower Decks Season 3 – Paramount+ August 25th
With Captain Freeman on trial, Mariner, Tendi, Boimler, and Rutherford are in for a host of new adventures. Including a trip to Deep Space 9.
The End is Nye – Peacock August 25th
The End is Nye sends Bill Nye into the most epic global disasters imaginable – both natural and unnatural. Then he demystifies them using science to show how we can survive, mitigate, and even prevent them. Each stand-alone episode takes a hell-bent dive into the mystery and terror of one specific threat. 
Don't Worry Darling – Theaters September 23
When cracks in their idyllic life begin to appear, exposing flashes of something much more sinister lurking beneath the attractive façade, Alice can't help questioning exactly what they're doing in Victory, and why. Just how much is Alice willing to lose to expose what's really going on in this paradise?
Interview with a Vampire – AMC October 2nd
A modern, unforgettable retelling of Anne Rice's best-selling novel, Interview With The Vampire. Starring Jacob Anderson, Sam Reid, Bailey Bass, and Eric Bogosian.
Subscribe to our newsletter!
Get Tabletop, RPG & Pop Culture news delivered directly to your inbox.
Mythic Quest Season 3 – AppleTv+ Fall
The team behind the biggest multiplayer video game of all-time is tasked with building worlds, moulding heroes and creating legends, but the most hard-fought battles don't occur in the game — they happen in the office.
Queer for Fear – Shudder Fall
From Executive Producer Bryan Fuller, Queer for Fear is a four-part documentary series about the history of the LGBTQ+ community in the horror and thriller genres. From its literary origins with queer authors Mary Shelley, Bram Stoker, and Oscar Wilde to the pansy craze of the 1920s that influenced Universal Monsters and Hitchcock; from the "lavender scare" alien invasion films of the mid-20th century to the AIDS obsessed bloodletting of 80s vampire films. Through genre-bending horrors from a new generation of queer creators; Queer for Fear re-examines genre stories through a queer lens, seeing them not as violent, murderous narratives, but as tales of survival that resonate thematically with queer audiences everywhere.
Teen Wolf: The Movie – Paramount+ TBA
A terrifying new evil has emerged in Beacon Hills calling for the return of Alpha Werewolf Scott McCall, to once again reunite the Banshees, Werecoyotes, Hellhounds, Kitsunes, and other shapeshifters of the night.
National Treasure: Edge of History – Disney+ TBA
The Disney+ Original series, "National Treasure" Edge of History" is an expansion of the "National Treasure" movie franchise told from the point of view of a young heroine, Jess (Lisette Olivera), a brilliant and resourceful DREAMer in search of answers about her family — who embarks on the adventure of a lifetime to uncover the truth about the past and save a lost Pan-American treasure.