Adam Savage's 'Tested' Unwraps Official MCU Moon Knight Costume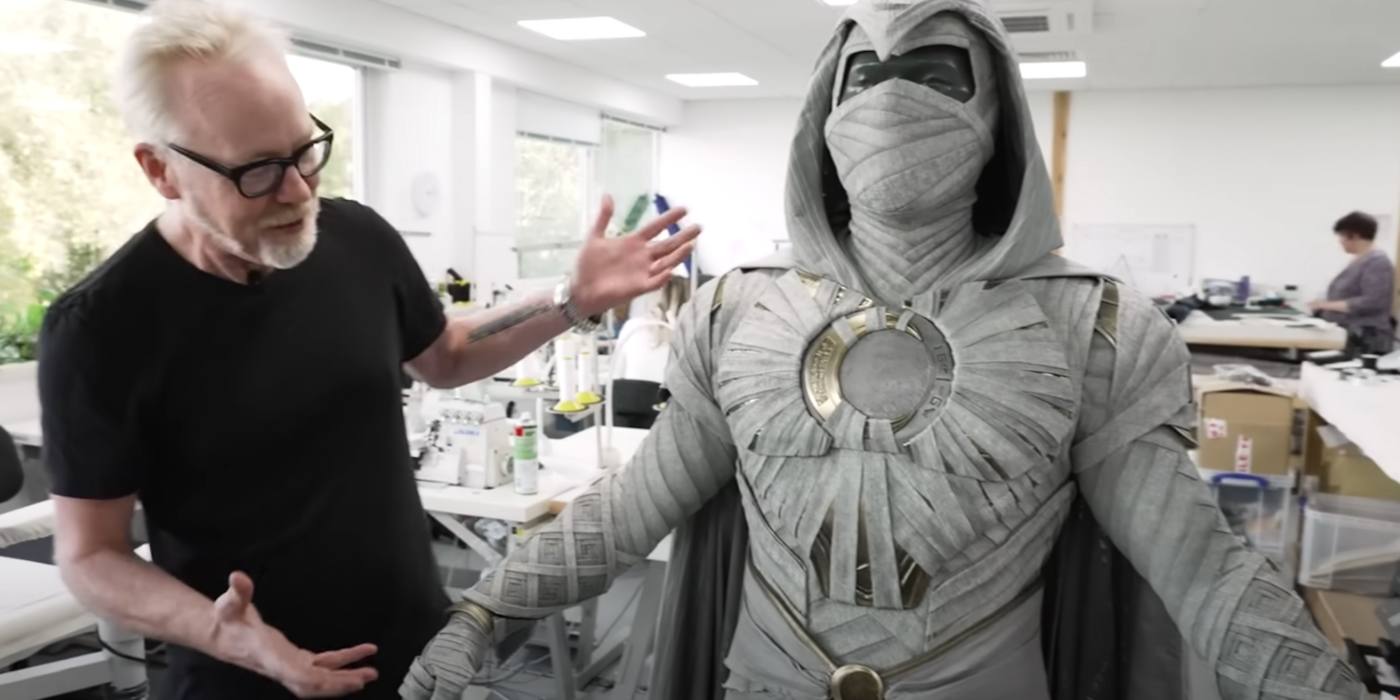 Adam Savage's latest video uncovers the heroes behind the making of Moon Knight's on-screen debut.
Adam Savage is a celebrity special effects designer and cosplayer. He's well-renowned in the cosplay community for his exceptional skills, educational videos, and above all, his heart of gold. He's known for attending events around the world in surprising cosplays (like No Face). It's no surprise this American sweetheart was able to snag an interview with the team behind the gorgeous Moon Knight show costume.
Adam visits FBFX, the specialty costume makers that fabricated the hero and stunt suits for Marvel Studios' Moon Knight show. Bex Elley, FBFX's Head of Soft Costume, walks Adam through the journey of making the Moon Knight suit, and explains the ways she and her team collaborated with costume designer Meghan Kasperlik to layer in all the intricate details that woven throughout this incredible piece!
Moon Knight costume designed by Meghan Kasperlik Moon Knight costume made by FBFX. Learn more about FBFX's work at https://www.fbfx.co.uk/

-Adam Savage YouTube channel
Behind the Scenes of Moon Knight's Costume
The devil is in the details, and this costume is jam-packed with them. Thousands of hours (and stitches, and pleats) went into the precise execution of this costume. Nothing but the best for the Marvel universe, and this is a prime example. It's a shame Moon Knight was only slated for one season!
In his latest video, Adam Savage steps into the maker's studio to uncover the mystery behind Marvel's latest anti-hero project. The Moon Knight show had gorgeous costumes, and Adam was allowed to see the real costume in person. It's rare to hear directly from the source how something was made, and we loved every minute of this exclusive access!
Where Can We Find Adam Savage's Content?
Subscribe for more videos (and click the bell for notifications):
Tested and Adam Savage Ts, stickers, (de) merit badges, and more:
Subscribe to our newsletter!
Get Tabletop, RPG & Pop Culture news delivered directly to your inbox.
Find out more about Tested here
~Join us next week for more Cosplay Coverage~
Have a Cosplay question you would like Mayhem's Muse to answer?
Know a Cosplayer you'd like to see featured? Send an email here!