Marvel's Mutant Comes to Life in this Goddess Mystique Cosplay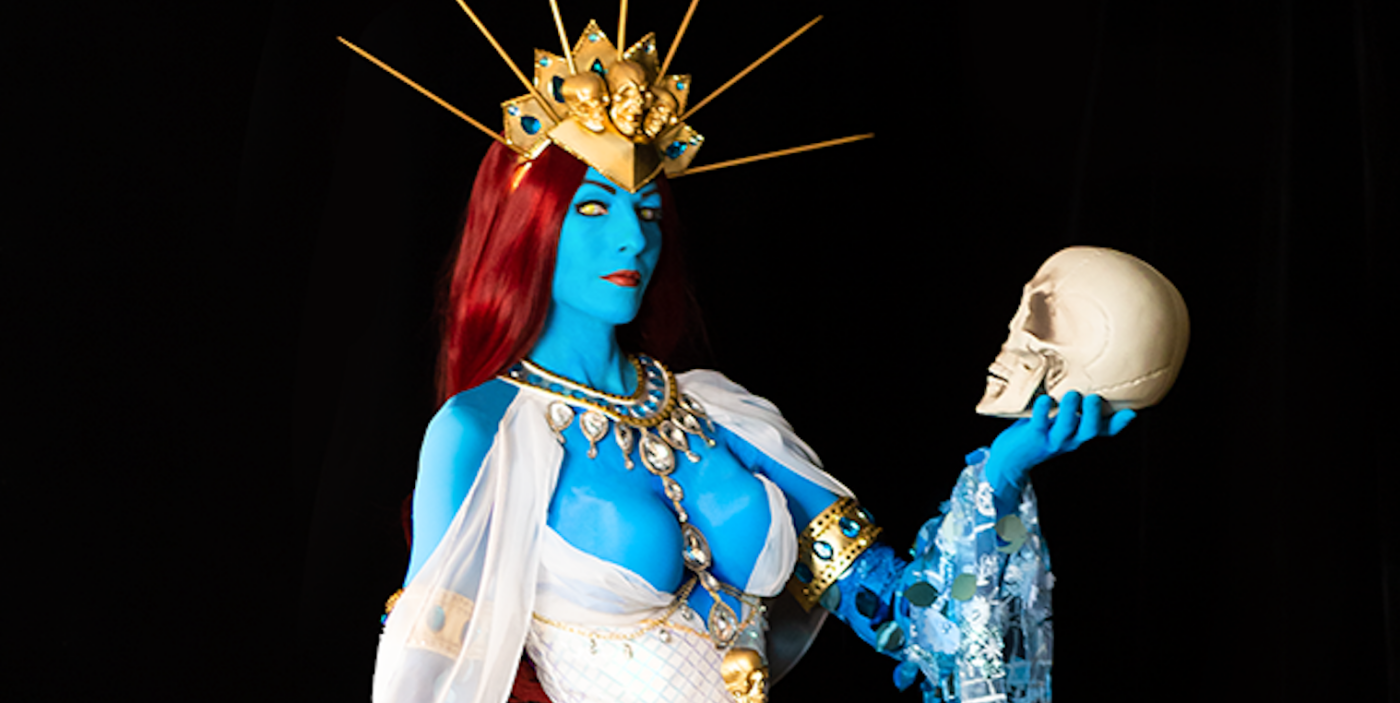 This cosplayer is taking creativity to the next level, embodying the artistic creation of the Goddess Mystique cosplay.
Cosplay is an extraordinary art form where creative passion meets construction ability. Many times, cosplay projects are artistic renderings of characters. We've covered artists like Gladzy Kei Art & Cosplay, who is known for her gorgeous warrior armored cosplay art. This week we're diving into the Marvel universe with a mystical piece of fan art that inspired a sensational cosplay!
Mystique is a character who has inspired many creative cosplays. Whether they are screen-accurate costumes or more creative interpretations, there are a ton of Mystique cosplays to pull from. Mystique has a commanding presence, so seeing her elevated to this goddess-style art is fascinating to see. This week's cosplay construction feature shows a behind-the-scenes look into the creative genius that brought Dessi-Desu Cosplay's fan art to life!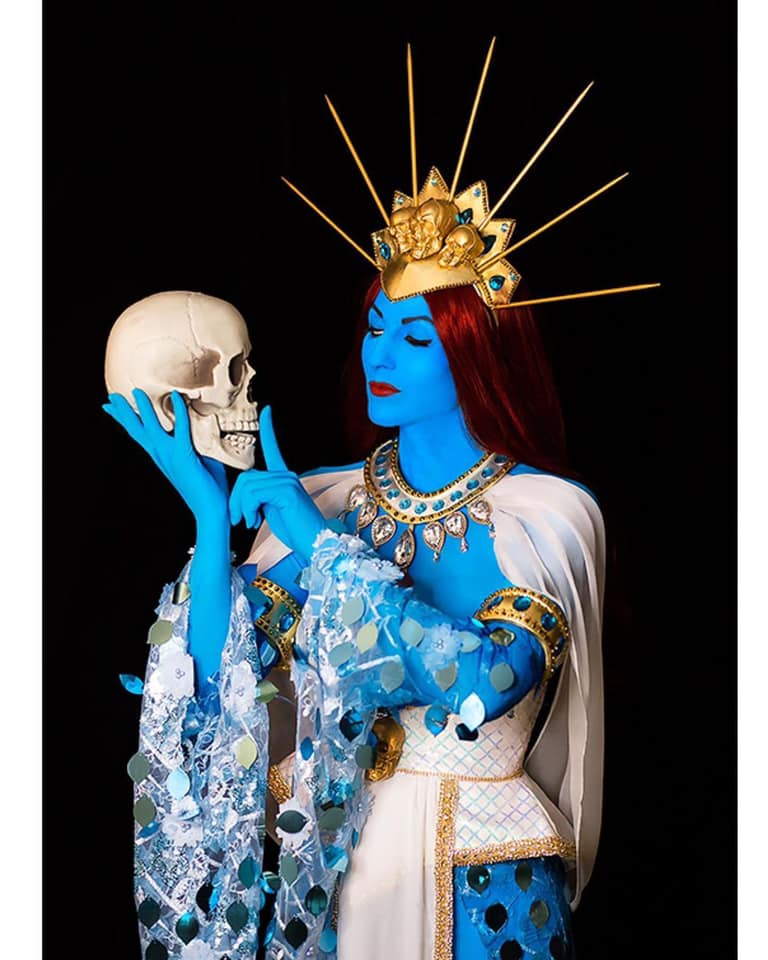 As soon as I saw the design by the artist DessiDesu, I knew I wanted to make that version of Mystique! It has her elegance and sexiness, she looks like a powerful ruler and I think that suits her very well!

Commissions By Amazonmandy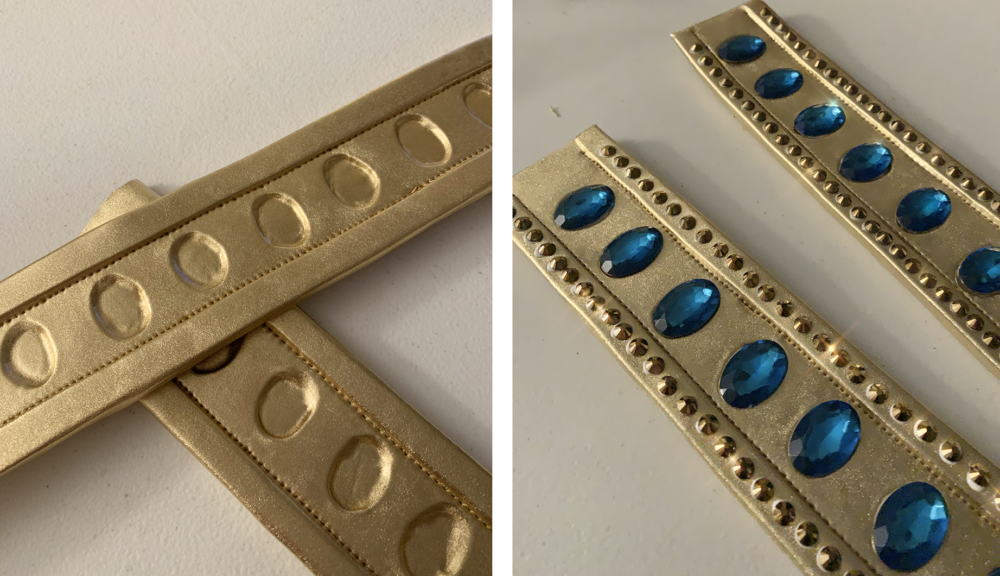 Most of the larger pieces of metallic fabric are laid over foam, with the gems set into it. The crown is also on a base I made from foam and metallic spandex, with wood pointed dowels for the 'rays', the added skulls were little plastic halloween decorations!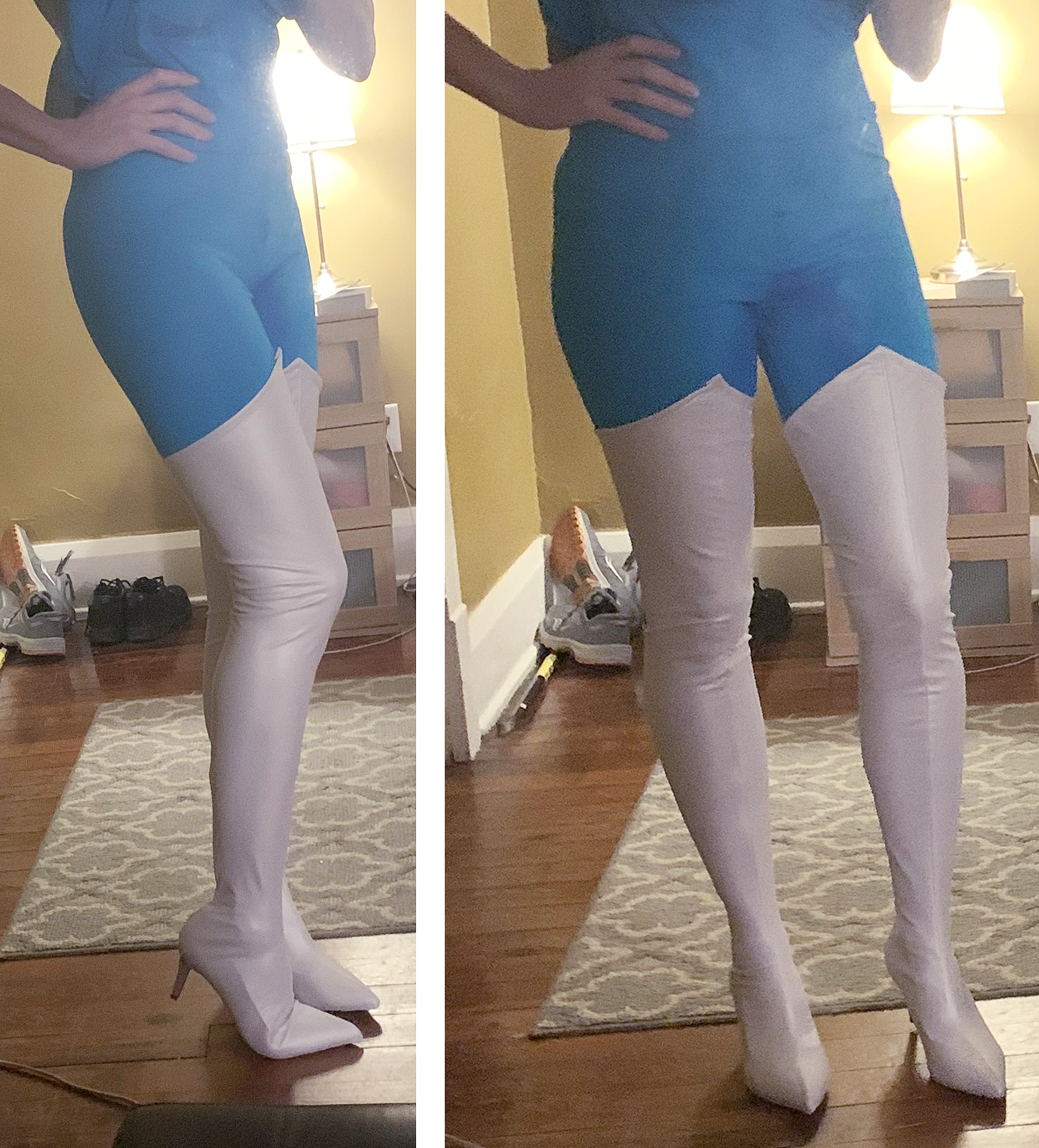 For the bodysuit, I used a thick spandex, and I built the boots into that to make sure they stayed up in place!

For the bodice, I layered a sheer iridescent sequin fabric over a taffeta, and added chiffon drapes and my gem "harness", which fastens onto the bodice with magnets!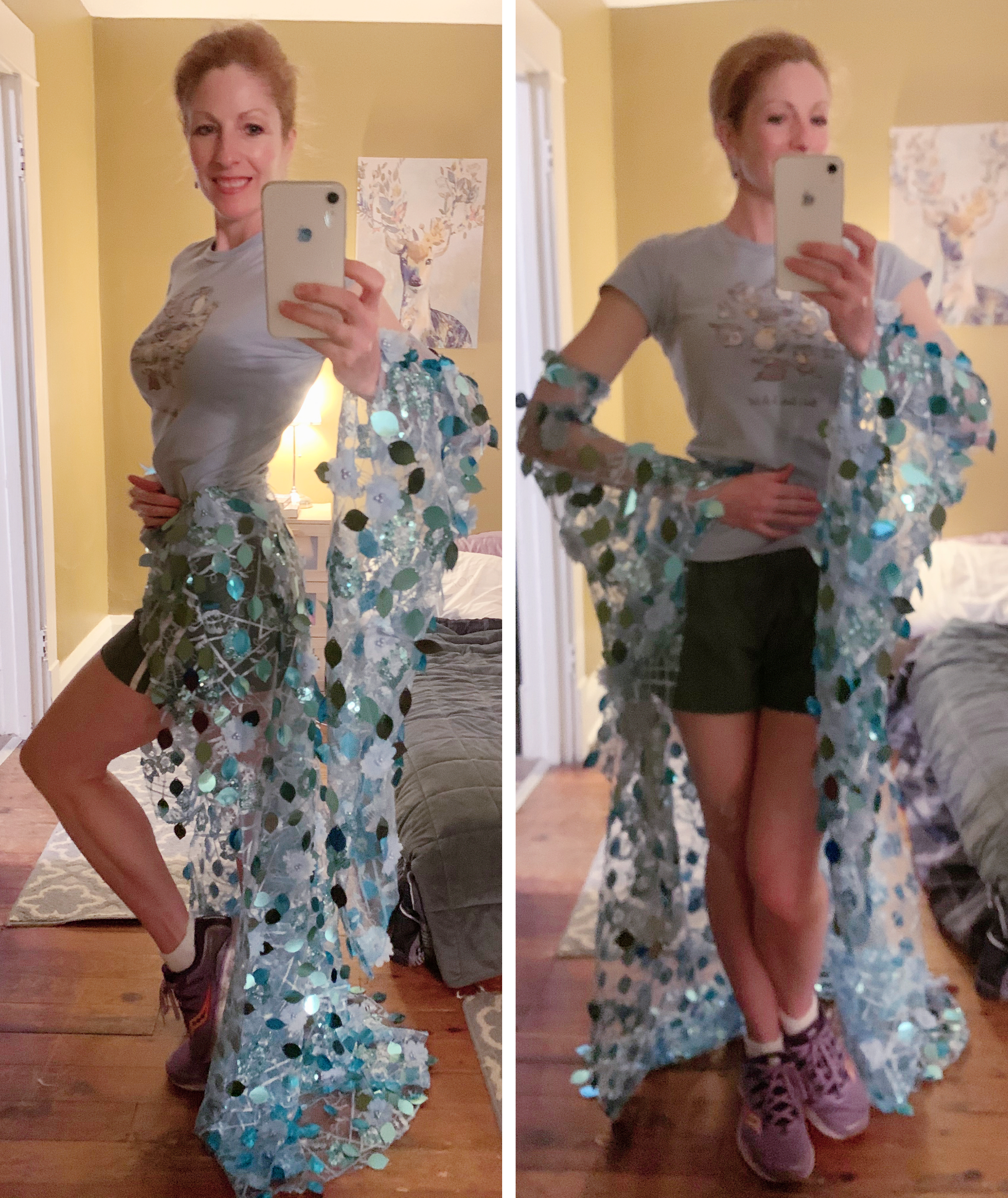 I decided to go with this pale blue sequined fabric, in these images I had cut and draped the skirt and sleeves with it.

Subscribe to our newsletter!

Get Tabletop, RPG & Pop Culture news delivered directly to your inbox.

I dyed an ombre deep blue on the sequin fabrics, so it starts a deep blue at the top and fades down to the pale blue at the bottoms!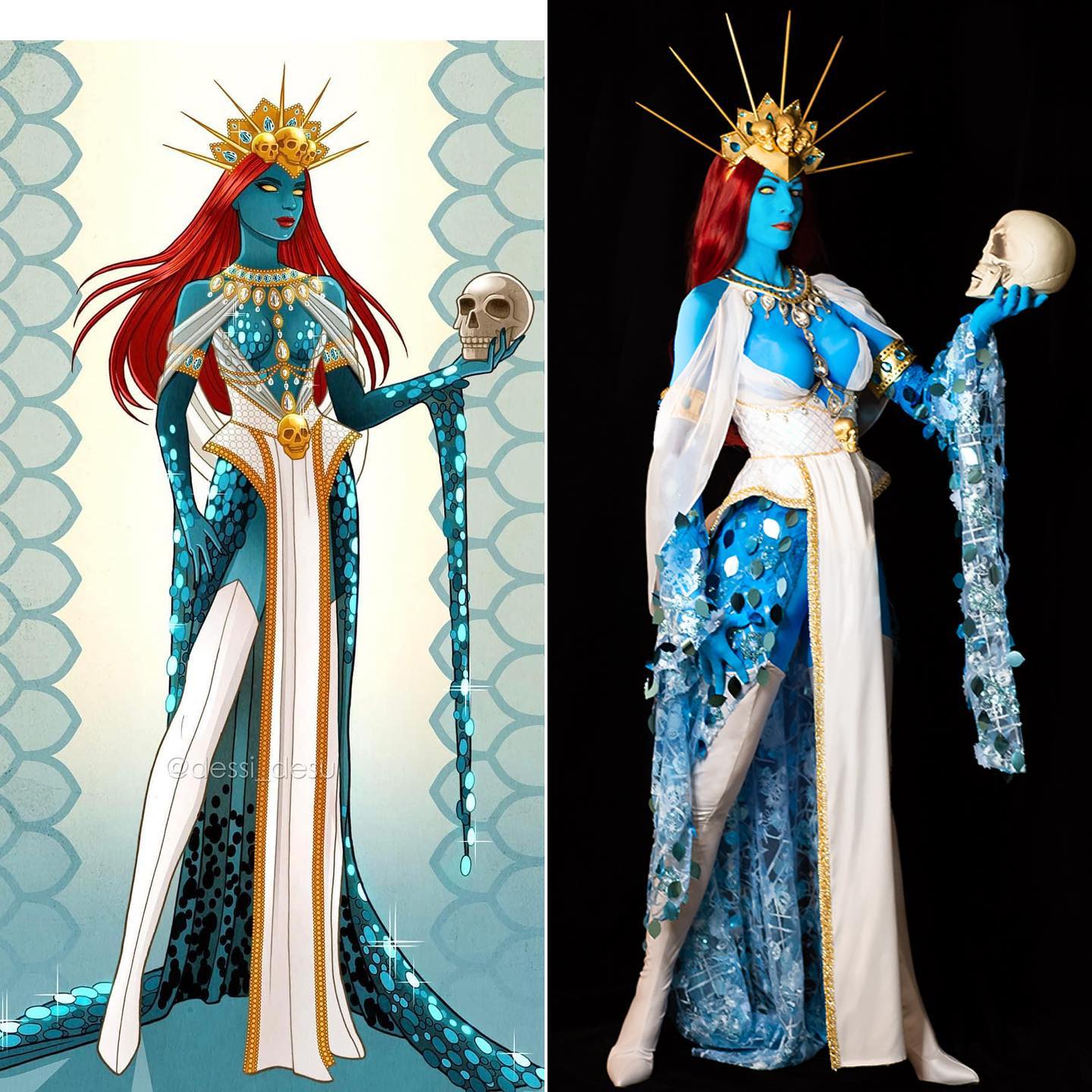 The hardest part of the costume was matching the bodypaint to the spandex color of blue! I also decided to go with a deeper red wig instead of bright red, it just felt more natural and that it paired with the tropical blue color better, visually! Add white mesh eye contacts and that's all!
The photographer: Rob Somers
Cosplayer Facebook
Instagram, Twitter, TikTok: @AmazonMandy
Cosplayer's Webpage/FAQ
~Join us next week for more Cosplay Coverage~
Have a Cosplay question you would like Mayhem's Muse to answer?
Know a Cosplayer you'd like to see featured? Send an email here!