'Guardians of the Galaxy Vol. 3' to 'The Machine': Must-Watch in May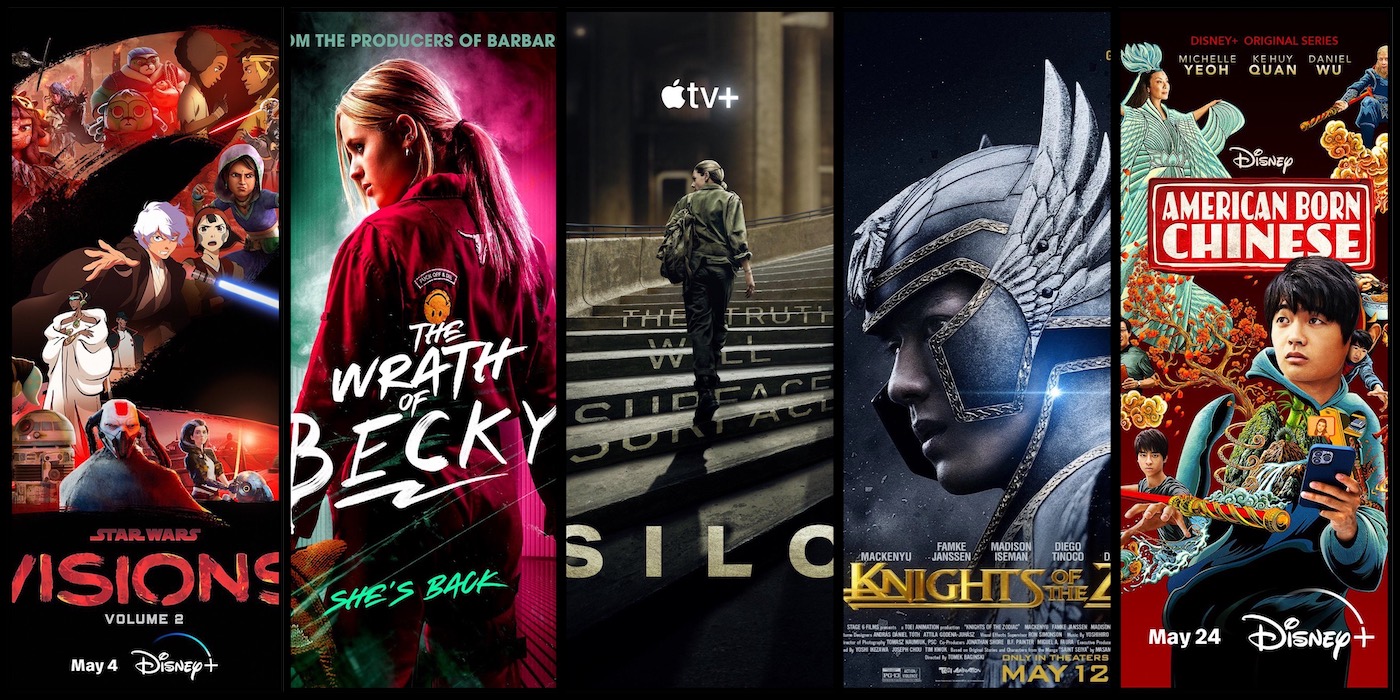 This month brings titles from Star Wars, Marvel, Fast and the Furious – plus a ton of originals. Mark your calendar, so you don't miss anything!
The White House Plumbers – First Episode Out Today
From the producers of Succession and Veep, White House Plumbers tells the story of how Nixon's own political saboteurs and Watergate masterminds, E. Howard Hunt (Woody Harrelson) and G. Gordon Liddy (Justin Theroux), accidentally toppled the presidency they were zealously trying to protect.
Star Wars: Visions S2 – Disney+ May 4th
Volume 2, building on the Emmy Award-nominated first run of Star Wars: Visions in 2021, will feature nine new shorts from nine studios from around the globe; the shorts promise to feature unique animation styles from a variety of countries and cultures, depicting each filmmaker's specific vision of the Star Wars galaxy.
Silo – AppleTv+ May 5th
In a ruined and toxic future, thousands live in a giant silo deep underground. After its sheriff breaks a cardinal rule and residents die mysteriously, engineer Juliette (Rebecca Ferguson) starts to uncover shocking secrets and the truth about the silo.
Guardians of the Galaxy Vol. 3 – May 5th
Still reeling from the loss of Gamora, Peter Quill must rally his team to defend the universe and protect one of their own. If the mission is not completely successful, it could possibly lead to the end of the Guardians as we know them.
The Great S3 – Hulu May 12th
The Great is a satirical, comedic drama about the rise of Catherine the Great from outsider to the longest-reigning female ruler in Russia's history. What will Catherine and Peter risk to preserve the crown in Season 3?
Black Knight – Netflix May 12th
In a dystopian future devastated by air pollution, the survival of humanity depends on the Black Knights — and they're far from your average deliverymen.
Subscribe to our newsletter!
Get Tabletop, RPG & Pop Culture news delivered directly to your inbox.
The Mother –  Netflix May 12th
After years of hiding out in the Alaskan wilderness, a military-trained assassin comes out of hiding to protect the daughter she's never met from ruthless criminals gunning for revenge.
Knights of the Zodiac – Theaters May 12th
Based on the international anime sensation, Knights of the Zodiac brings the Saint Seiya saga to the big screen in live-action for the first time. Seiya, a headstrong street teen, spends his time fighting for cash while he searches for his abducted sister. When one of his fights unwittingly taps into mystical powers he never knew he had, Seiya finds himself thrust into a world of warring saints, ancient magical training and a reincarnated goddess who needs his protection. If he's to survive, he will need to embrace his destiny and sacrifice everything to take his rightful place among the Knights of the Zodiac.
Assassin Club – Digital May 16th
Henry Golding stars in this highly entertaining, globe-trotting action thriller. The hunter becomes the hunted when an elite assassin is given his final contract: to kill seven people around the world – only to discover the targets are equally skilled assassins hired to kill him. His only shot to survive is to uncover the mysterious mastermind behind the deadly plot before it's too late.
Fast X – Theaters May 19th
Over many missions and against impossible odds, Dom Toretto and his family have outsmarted, out-nerved and outdriven every foe in their path. Now, they confront the most lethal opponent they've ever faced: A terrifying threat emerging from the shadows of the past who's fueled by blood revenge, and who is determined to shatter this family and destroy everything—and everyone—that Dom loves, forever.
Dark Nature – Theaters May 19th
Joy, a survivor of an abusive relationship, joins her friend Carmen and her therapy group on an isolated weekend retreat in the Canadian Rockies. Led by the enigmatic Dr. Dunnley, whose methods are experimental and, at times, dubious from Joy's outside perspective, the experience eventually shatters the border between reality and delusion.
Master Gardner – Theaters May 19th
[The Movie] follows Narvel Roth, the meticulous horticulturist of Gracewood Gardens. He is as much devoted to tending the grounds of this beautiful and historic estate, to pandering to his employer, the wealthy dowager Mrs. Haverhill. When Mrs. Haverhill demands that he take on her wayward and troubled great-niece Maya as a new apprentice, chaos enters Narvel's spartan existence, unlocking dark secrets from a buried violent past that threaten them all.
Gremlins: Secrets of the Mogwai – May 23rd
Gremlins: Secrets of the Mogwai takes viewers back to 1920s Shanghai where the Wing family first meets the young Mogwai called Gizmo. Sam Wing (future shop owner Mr. Wing in the 1984 "Gremlins" film) accepts the dangerous task to take Gizmo home and embarks on a journey through the Chinese countryside. Sam and Gizmo are joined by a teenage street thief named Elle, and together, they encounter—and sometimes battle—colorful monsters and spirits from Chinese folklore. Along their quest, they are pursued by a power-hungry industrialist and his growing army of evil Gremlins.
American Born Chinese – Disney+ May 24th
Based on the graphic novel of the same name by Gene Luen Yang, "American Born Chinese" chronicles the trials and tribulations of a regular American teenager whose life is forever changed when he befriends the son of a mythological god.
FUBAR – Netflix May 25th
When a father and daughter learn that they've each secretly been working as CIA Operatives for years, they realize their entire relationship has been a lie and they truly don't know one another at all. Forced to team up as partners, FUBAR tackles universal family dynamics set against a global backdrop of spies, fantastic action and humor.
Blood & Gold – Netflix May 26th
On his way to find his daughter, deserter Henrich is stopped by SS troops and hanged from a tree. Courageous farmer Elsa saves him just in time. United by their common enemy, the two fight for justice and for their families. A thrilling and bloody search for stolen gold treasure begins, revealing bitter secrets along the way.
The Wrath of Becky – Theaters May 26th
Two years after she escaped a violent attack on her family, Becky attempts to rebuild her life in the care of an older woman – a kindred spirit named Elena. But when a group known as the "Noble Men" break into their home, attack them, and take her beloved dog, Diego, Becky must return to her old ways to protect herself and her loved ones.
The Machine – Theaters May 26th
Bert Kreischer rose to fame as a stand-up comedian known as The Machine, and in his signature set he recounts his true experience with Russian mobsters while on a booze-soaked college trip. Now, 23 years later, that trip has come back to haunt him as he and his estranged father are kidnapped back to Russia by the mob to atone for something they say he did. Together, Bert and his father must retrace the steps of his younger self in the midst of a war within a sociopathic crime family, all while attempting to find common ground in their often fraught relationship.